We've been grilling a lot of our evening meals outside this summer, because of the "above average" heat we've had, here in the Pacific Northwest. Who wants to bake meals in the oven and heat up the entire house at the end of a long day when it's this hot? NOT THIS GIRL! That's why I made these Grilled Lime-Cilantro Shrimp Kabobs for dinner this week.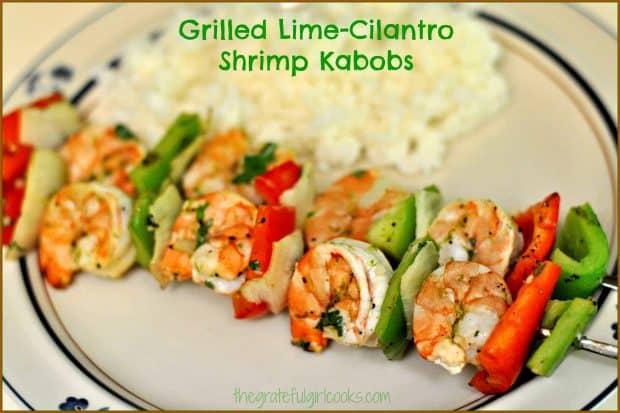 I found the recipe for the marinade on Pinterest, then decided to add onions, plus red and green pepper slices, threaded them all onto skewers and threw 'em onto our trusty Weber BBQ grill. In practically no time at all we were enjoying these tasty bites of shrimp and veggies! Who doesn't like a good kabob? All in all, a QUICK, EASY, HEALTHY and DELICIOUS dinner on a very HOT evening!
Here's how easy they are to make… honestly, the most time these took was the 30 minute marinating time. Other than that, they were a cinch!
Clean, shell and de-vein shrimp, and place them in a bowl.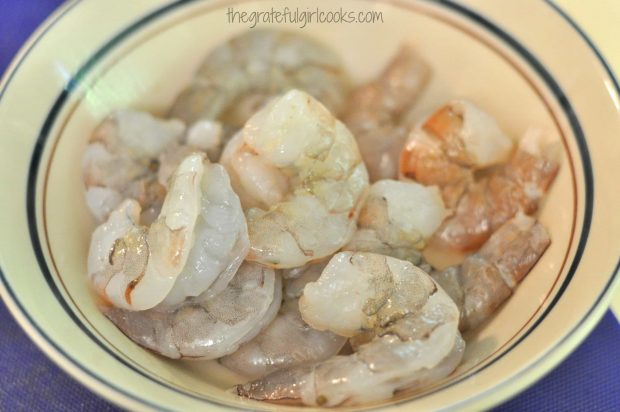 Use a microplane or fine grater to add the zest of one lime.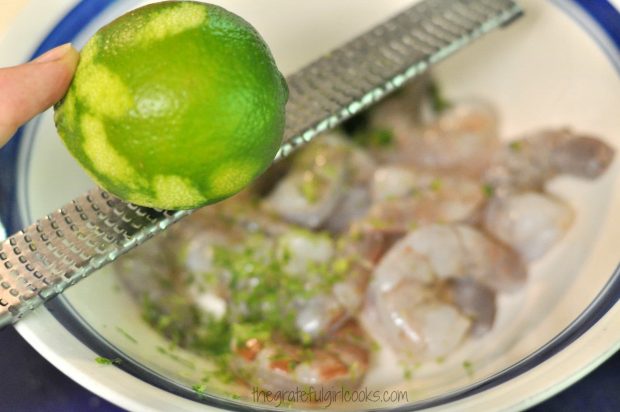 Add the juice from the entire lime (the equivalent of about 1/4 cup).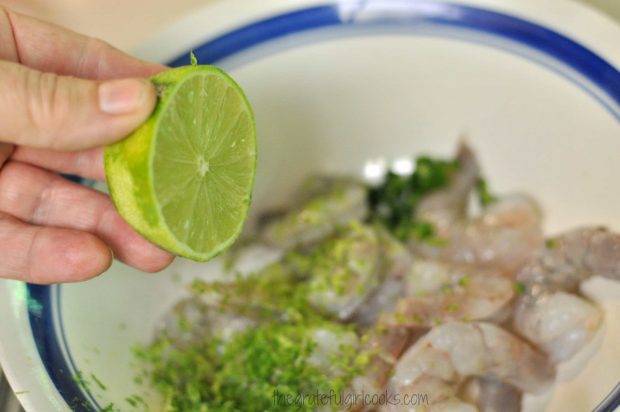 Add oil, chopped cilantro, finely chopped jalapeno, minced garlic, salt, and pepper to the shrimp. Stir, to cover the shrimp with the marinade ingredients, then cover the bowl with plastic wrap and let the shrimp marinate in refrigerator for 30 minutes.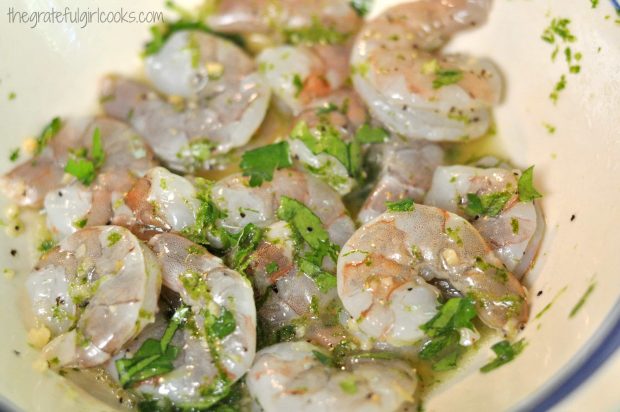 While the shrimp is marinating, cut up the red and green bell peppers and onion. When shrimp is done marinating, add sliced veggies to the bowl, and give them a quick stir, to coat with the marinade. Thread the veggies and shrimp onto skewers for grilling. (Note: I used metal skewers; if you are using wood skewers, be sure to soak them in water for about 30 minutes prior to using, so they won't burn on the grill).
Cook the shrimp kabobs on a hot BBQ grill (medium-high heat). We grilled them about 3 minutes per side (maybe just a tad more, to ensure the veggies got some heat, too).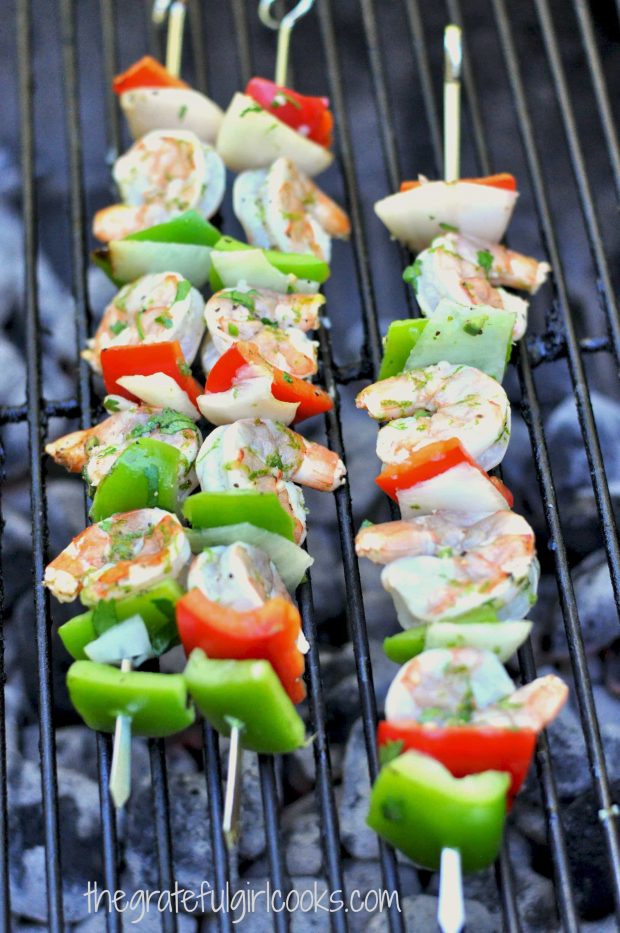 When done, remove from grill, and serve them up right away while they are still hot!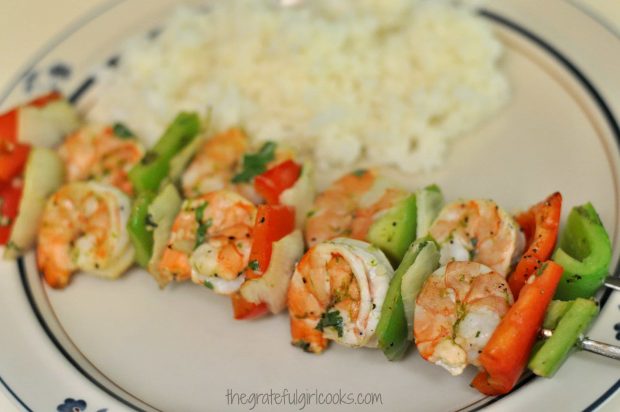 I served the kabobs with my Fresh Corn Sauté with Red Pepper and Onions, some rice, and a couple slices of fresh tomatoes from our garden on the side. YUM!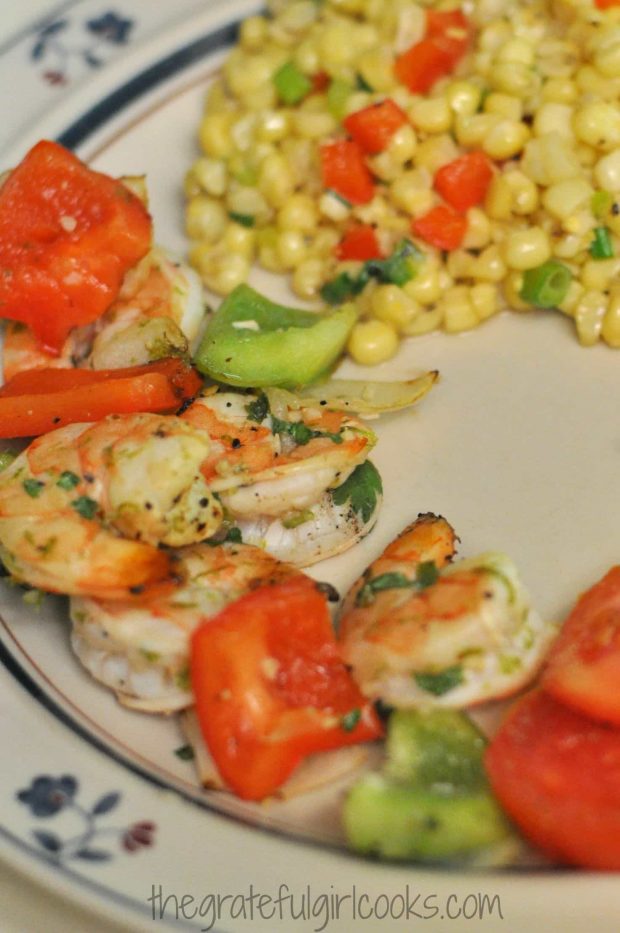 These grilled shrimp kabobs sure were good! Hope you'll give these a try, too! I'm sure they would be just as good grilled on your indoor stovetop grill OR under a broiler (if you don't have a BBQ grill). This would also be a great recipe to take on a family camping trip. Just make everything up ahead of time (chopping veggies, marinating shrimp), then skewer them and cook over a campfire grill!
The recipe I made (and am posting) serves two people, but can EASILY be doubled!!! Have a great day!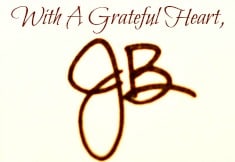 Shrimp Marinade Adapted From: http://www.closetcooking.com/2014/07/cilantro-lime-grilled-shrimp.html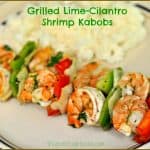 Grilled Lime-Cilantro Shrimp Kabobs
Quick and Easy, these delicious marinated, grilled shrimp and veggie kabobs are a healthy meal to prepare on hot, summer nights!
Ingredients
1/2

pound

shrimp

, cleaned, shelled, and deveined

1

lime

(zest AND juice)

1/2

Tablespoon

vegetable oil

1

Tablespoon

cilantro

, chopped

1/4

jalapeno

, finely chopped

1/2

clove

minced garlic

salt and pepper

(to taste)

1/2

red bell pepper

, cut into wedges (about the same size as the shrimp)

1/2

green pepper

, cut into wedges (about the same size as the shrimp)

1/4

brown onion

, cut into wedge slices (about the same size as the shrimp)
Instructions
In a medium sized bowl, marinate the cleaned, shelled and deveined shrimp in the lime zest, lime juice, vegetable oil, cilantro, garlic, jalapeno, salt and pepper. Stir well, to combine and cover the shrimp with the marinade. Cover bowl with plastic wrap; refrigerate shrimp and marinade for 30 minutes

While shrimp is marinating, cut up the red and green bell peppers, and the brown onion. Cut them into wedges about the same size as the shrimp.

When shrimp has marinated for 30 minutes, add the peppers and onions to the bowl. Toss to coat. Thread the shrimp, peppers and onions onto skewers, alternating items on the skewers.

Grill on a medium-high heated BBQ grill (or under broiler, or on a stovetop grill). Cook shrimp about 3 minutes on each side, or until done.

Serve while hot, and enjoy this simple dish!
Recipe Notes
This recipe is EASILY doubled to serve 4!
Save
Save