"What exactly IS panna cotta", you ask? Well here's your answer: Pan-na Cot-ta: noun. 1) a cold, Italian custard, often served with fruit sauce or caramel syrup. If that description sounds good, then you will LOVE this recipe for Lemon Panna Cotta with Raspberry-Orange Sauce!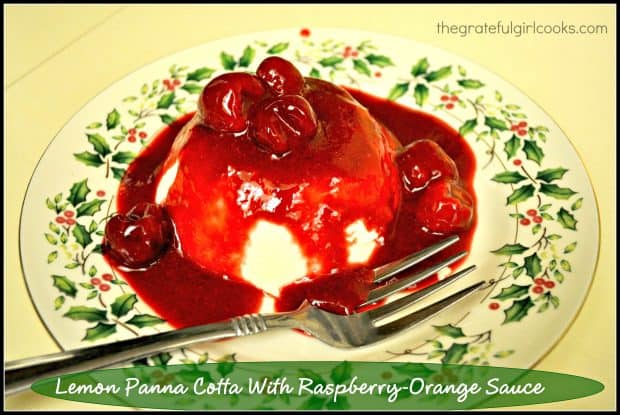 I made this recipe the first time a few years ago for a themed dinner party we enjoyed with some great friends. The theme of this particular dinner was foods from the Mediterranean. Each course had to feature foods from various countries in that region. I'm usually the designated dessert girl, so off I went to research desserts representative of that part of the world. I found several I thought sounded wonderful, and ended up making a few desserts (including this Italian classic) for our themed dinner. It was a big hit and was incredibly delicious! I've made it a few times since then and our guests always seem to enjoy it.
The ivory colored, creamy, lemon-flavored custard pairs wonderfully with the bright flavors of the raspberry-orange sauce (which I could eat by the spoonfuls…but that's another story). It is a treat for the eyes, taste buds, and tummy!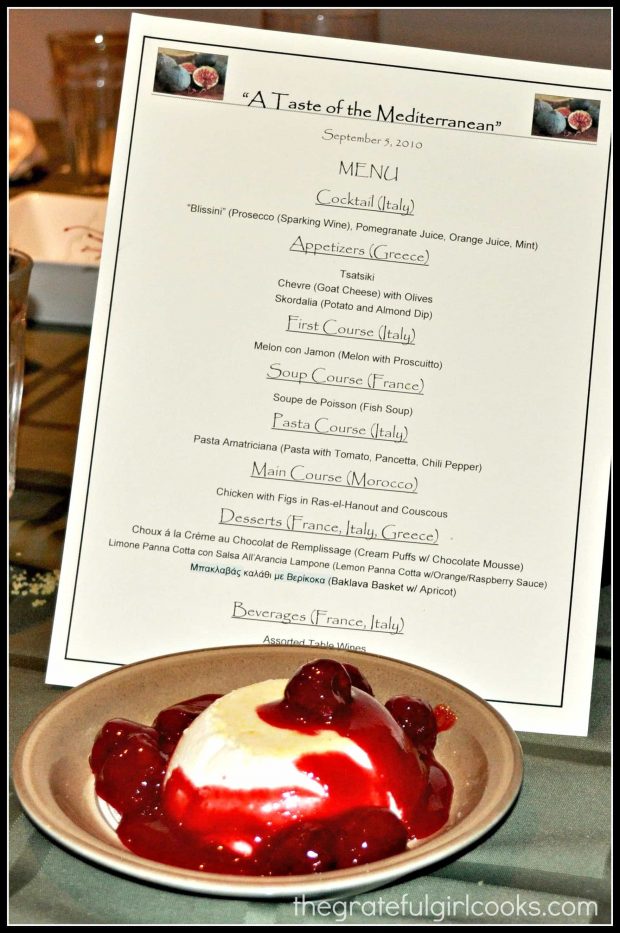 The main title photo (at the top of the page) is the panna cotta I made it for guests during the Christmas holidays a couple of years ago. I think it was a perfect holiday dessert (looks pretty good with my Christmas dishes)!  I took the photo to "document" the recipe to remember how it looked…way back before a food blog was even a thought in my little old head.
Sorry there are no photos of the preparation process, but honestly, it isn't that hard to pull this one off…really. If I can do it, so can you!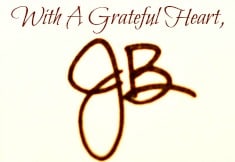 Recipe Source:
http://allrecipes.com
(Submitted by USA WEEKEND columnist Pam Anderson)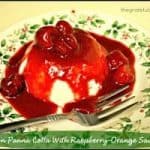 Lemon Panna Cotta With Raspberry-Orange Sauce
Creamy Italian classic dessert, topped with a luscious raspberry-orange sauce! Delicious!
Ingredients
For the panna cotta:
3

cups

heavy whipping cream

1/2

cup

granulated sugar

1 1/2

teaspoons

very finely grated lemon zest

1

(.25 ounce) envelope unflavored gelatin

2

Tablespoons

orange-flavored liqueur

(such as Grand Marnier, Triple Sec)
For the raspberry-orange sauce:
2

Tablespoons

orange-flavored liqueur

(such as Grand Marnier, Triple Sec)

1

(12 oz) pkg. frozen raspberries

6

Tablespoons

granulated sugar

1

(6 oz) container fresh raspberries
Instructions
In a large saucepan (over medium-low heat), bring the whipping cream, 1/2 cup sugar and lemon zest to a simmer (but do not boil).

Soften the gelatin and 2 generous Tablespoons of cold water in a small bowl.

Whisk the softened gelatin and 2 TBSP of the orange liqueur into the cream mixture.

Coat 8 (4 oz.) ramekins lightly with non-stick cooking spray (blot off the excess with paper towel, if necessary).

Pour the cream mixture equally into each ramekin. Carefully place the filled ramekins into a shallow pan. Cover the pan with plastic wrap and refrigerate until set, at LEAST 4 hours (overnight if possible).

While panna cotta is "chilling" in the refrigerator, make the sauce: Partially thaw the frozen raspberries. Once partially thawed, place them in a food processor (fitted with metal blade).

Add 6 TBSP of sugar and 2 TBSP orange liqueur. Blend until smooth.

Transfer the sauce to a bowl. *Note: If you would like a seedless sauce (this is what I used), just strain the sauce first through a fine mesh sieve before placing in bowl*.

Stir in the fresh raspberries, then let the sauce stand for approximately one hour.

When ready to serve the panna cotta, remove ramekins from refrigerator. To remove the custard, run a thin-bladed knife around the edge of each ramekin to loosen it up. Place a dessert plate on top of each ramekin and quickly invert (flip the plate over, while holding both the plate and the ramekin) onto plate to unmold.

Spoon raspberry-orange sauce around (with a little on top) the panna cotta to serve. Enjoy!
Save
Save
Save