The other evening I made a Spinach, Apple and Goat Cheese Salad with Apple Cider Vinaigrette to go with dinner. It tasted wonderful, with crunchy apple slices, creamy goat cheese, spinach, dried cranberries, toasted pecans, and a fantastic dressing – amazing!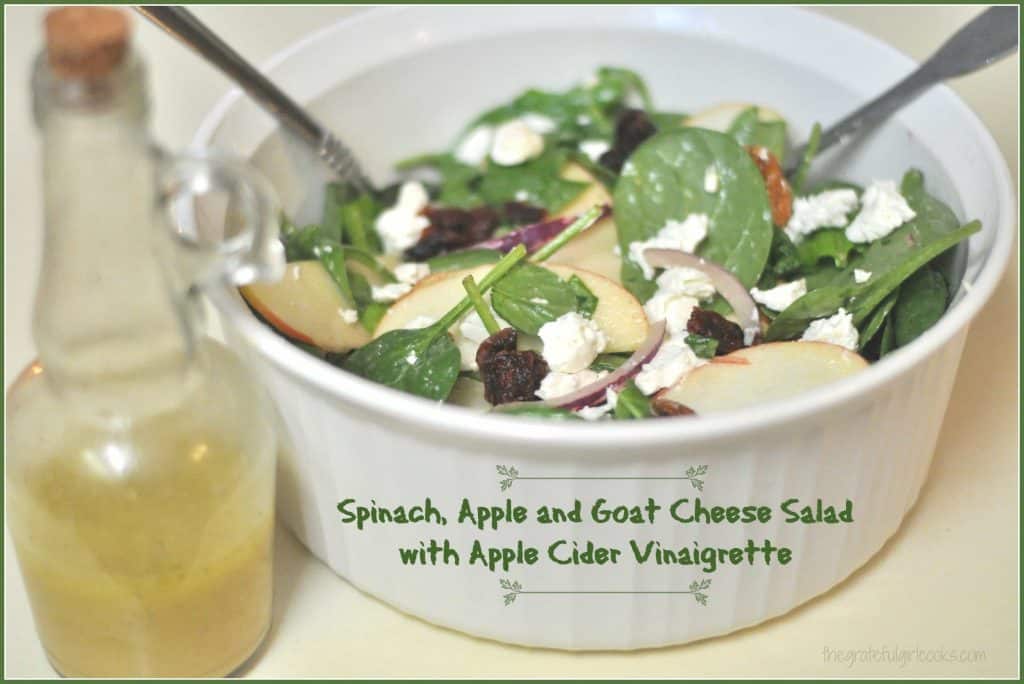 Talk about a quick and easy salad (and homemade dressing)… wow! The entire salad and amazing vinaigrette dressing took only about 15 minutes from start to finish. My husband and I both loved it!
Here's how you make this incredibly EASY salad:  Place baby spinach , thinly sliced apples, red onion, dried cranberries, toasted pecans (or walnuts), and goat cheese (half of total amount) into a large salad bowl.  Note: I sliced the apples right before serving. If preparing this salad ahead of time, remember to brush apple slices with lemon juice, to prevent them from darkening once exposed to air, OR slice the apples and add to salad just before serving.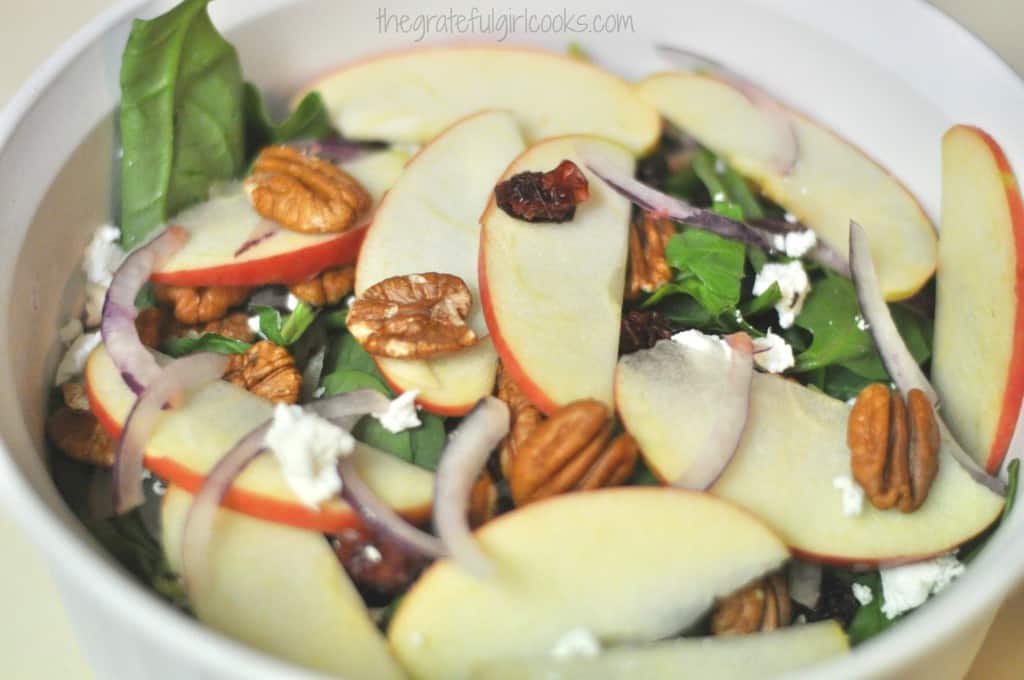 Quickly whisk together the vinaigrette ingredients or place in a bottle or container with lid, and shake to fully combine.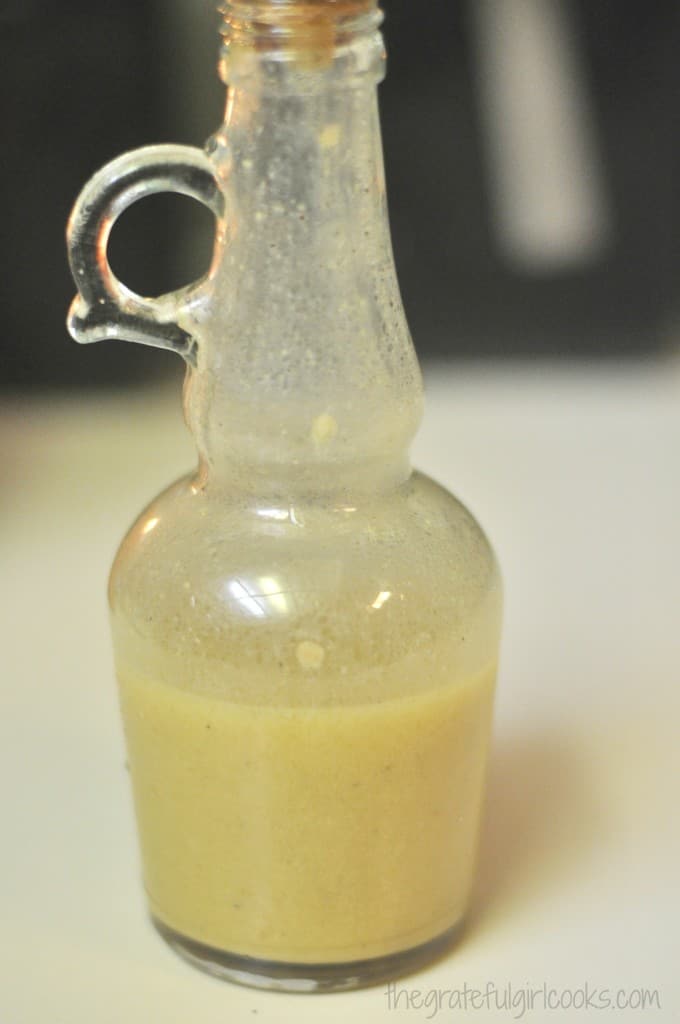 Lightly drizzle the salad with vinaigrette.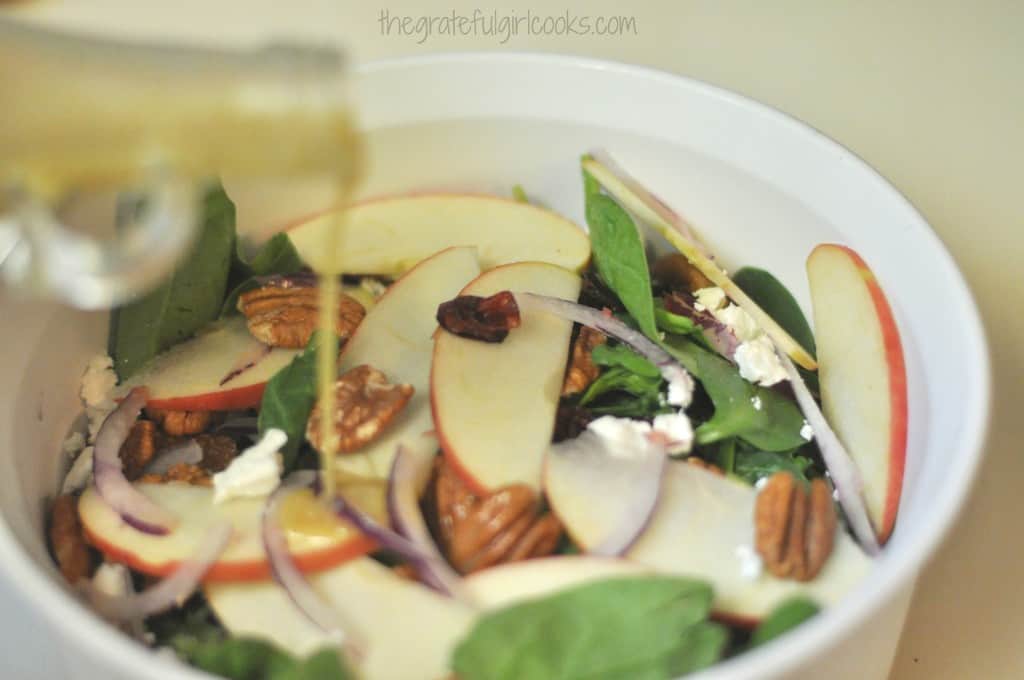 Toss the salad to mix in the salad dressing, covering all ingredients.  Once salad has been tossed, top the salad with the other half of the goat cheese, and serve!  THAT'S IT!
See how easy that was? In case you are thinking that the salad is too easy to taste good, let me assure you, the vinaigrette is absolutely fantastic on this salad, AND the salad itself is FULL of great flavors AND textures (chewy, crunchy, creamy)!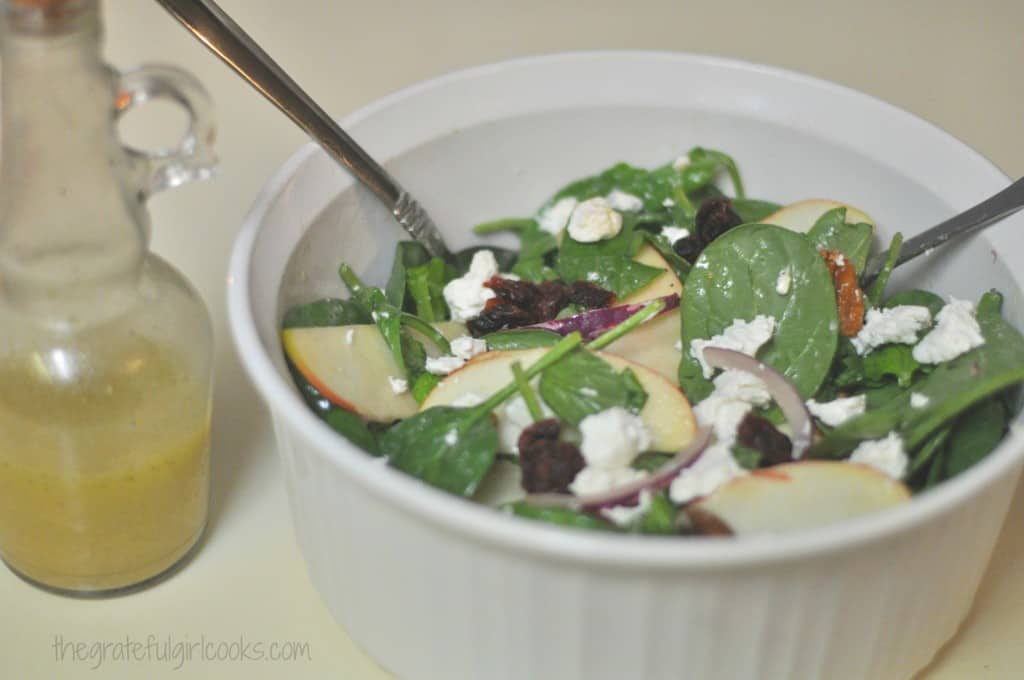 I hope you have a wonderful day. Seek out someone you can encourage or give a helping hand to today.  We can ALL make a difference in this often hopeless world. Blessings.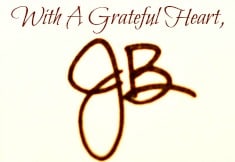 Recipe Source:  http://www.gimmesomeoven.com/my-favorite-apple-spinach-salad/

Spinach, Apple and Goat Cheese Salad with Apple Cider Vinaigrette
Quick and easy to prepare, this salad is full of flavor and textures, thanks to spinach, crisp apple slices, red onion, cranberries, creamy goat cheese, toasted pecans, and apple cider vinaigrette!
As Prepared By:
JB at The Grateful Girl Cooks!
Ingredients
For salad:
10 ounces baby spinach
2 apples (cored/thinly sliced- leave peel ON)
⅔ cup dried cranberries
1 cup pecans (or walnut halves), lightly toasted
Half small red onion, peeled/thinly sliced
5 ounces goat cheese, DIVIDED. (May also substitute feta or bleu cheese)
For Apple Cider Vinaigrette:
⅓ cup extra virgin olive oil
¼ cup apple cider vinegar (may also substitute champagne vinegar)
2 Tablespoons fresh lemon juice
1 Tablespoon Dijon mustard
1 garlic clove, peeled/minced
1 Tablespoon maple syrup (or honey), to sweeten
pinch salt and pepper, to taste
Directions
Place baby spinach, sliced apples, cranberries, toasted pecans (see NOTES section), red onion slices, and crumble HALF of the goat cheese into a large salad bowl.
In separate bowl, jar, or container with lid, mix together the vinaigrette ingredients. Shake or whisk until all salad dressing ingredients are fully blended.
Lightly drizzle the vinaigrette over the salad. Toss salad, to combine.
Crumble the remaining goat cheese over the top of the salad, and serve!
Notes
To toast pecans (walnuts): Place in skillet (a dry skillet) and cook on medium-low for about 5 minutes, stirring/turning often, until nuts are lightly toasted and aromatic. Let nuts cool a minute or two, before adding to salad.
Save
Save
Save
Save
Save
Save
Save
Save
Save
Save
Save
Save
Save
Save
Save