Pomegranates. For me it's a love-hate relationship. I love to eat pomegranate seeds, but was so frustrated trying to pry those wonderfully healthy and tasty little seeds out of the pomegranate. Today's Tip Of The Day #5: How To Easily Remove Pomegranate Seeds.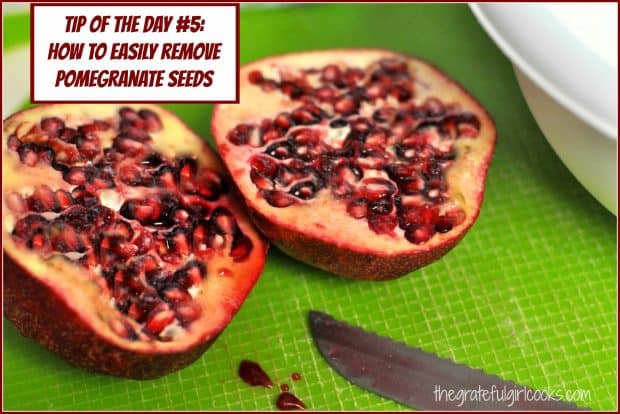 Removing the seeds used to look like a blood bath when I got done. UNTIL… I learned how to easily remove pomegranate seeds quickly and easily, and lived to tell the tale. It's sooooo easy.  Here's how:
Grab a pomegranate. Any pomegranate. Slice it in half horizontally with a very sharp knife.
Grab a meat mallet or or heavy spatula. I go for the meat mallet. Place one half of the pomegranate in your hand seed side down. Spread your fingers out (a friend told me this part-so the cute little seeds can drop through them), and hold your hand directly over a large bowl. Now… (here's the crazy fun part!)… Smack the pomegranate good and hard all over. Not your hand, but the POMEGRANATE!  Aggression therapy at it's very best.  The seeds will come flying out of the pomegranate as you smack it and will land quite impressively in the bowl. YEEHAW!!!!   Pomegranate seeds!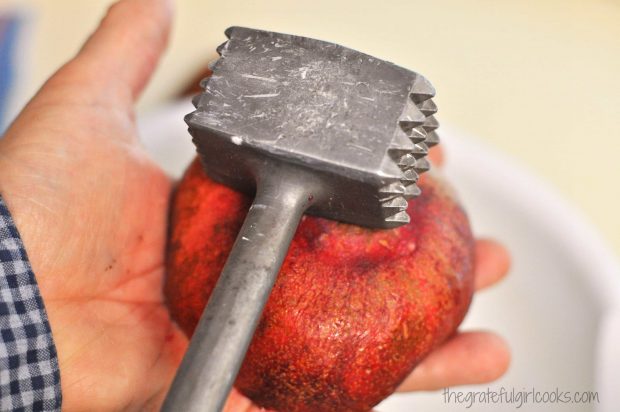 Keep whacking the pomegranate with some force. When it is begging for mercy, turn it over. Most of the seeds should now be outta there. Remove any stragglers. Discard skin and repeat with the other half of the pomegranate.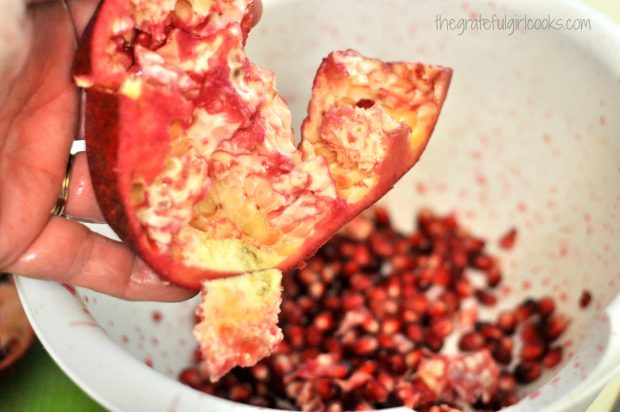 When done, pick out any little pieces of the white membrane that might have jumped for safety into the bowl. Put the seeds in a colander and give them a rinse. Aren't they pretty?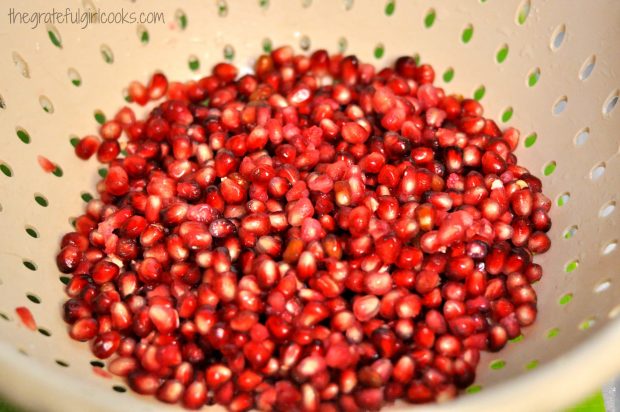 At this point you can put them in a container and store them in the refrigerator for a week or two OR if you want to freeze them for long term use, here's what you need to do: Put the rinsed seeds onto several layers of paper towels. Roll them around in the paper towels until dry.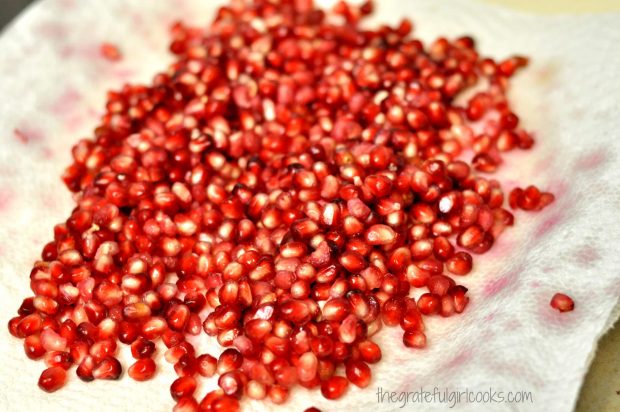 Once moderately dry, spread the seeds out on a cookie sheet and place them uncovered in your freezer for about an hour (this will flash freeze them).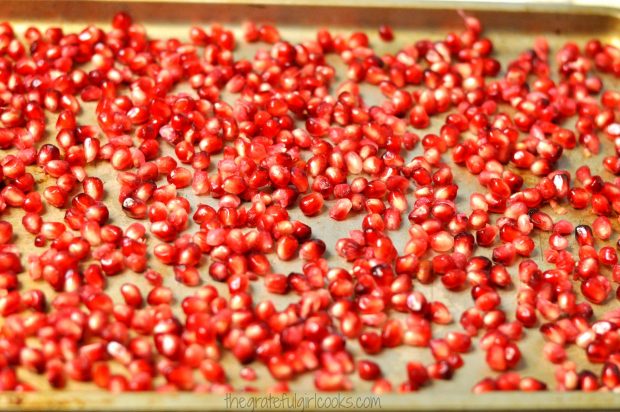 Once frozen, scoop them out into a plastic freezer bag, label it, and place in the freezer until you need them. That's it!!! Learned this little trick a few years back… who knew it could be this easy???   And… given the price of pomegranate seeds where someone else does the work for you (just saw a cup of pomegranate seeds for $4.99 at the local grocery store-YIKES!)  it's a real cost-saver, for sure!
As you see pomegranates on sale this Fall, grab a few extra, and freeze the seeds.They will keep for a month or two if sealed airtight. It's a great way to have these tasty little antioxidants available at a moment's notice!!!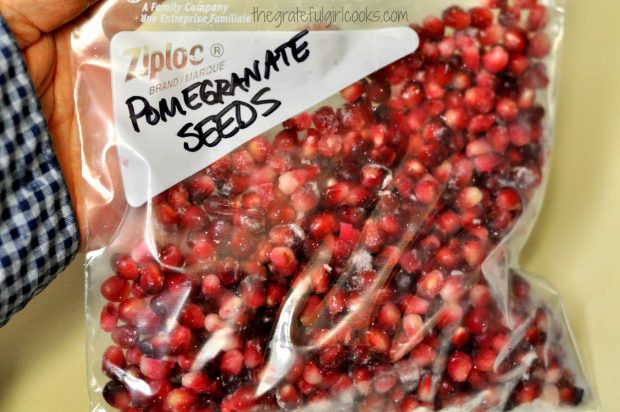 Hope you enjoyed this tip, and will give it a try! May God bless you this day, friend.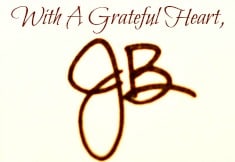 Save
Save