I love to roast a whole turkey at Thanksgiving, but at other times of the year… I don't want to mess with it!  This recipe for Roast Turkey Breast with Herbs and Garlic is quite simple to prepare, and is very delicious!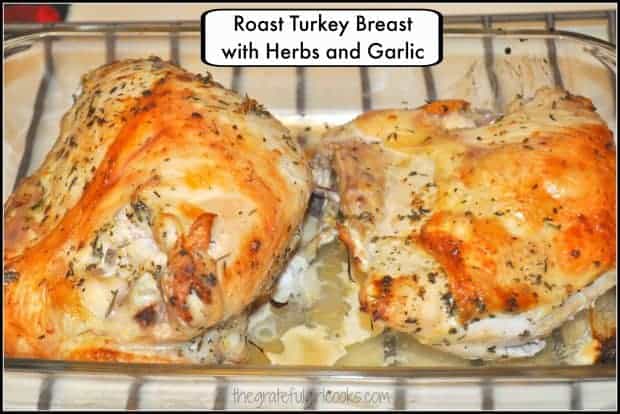 Since our sons are grown and living on their own, I now cook for my husband and myself, and have found that a turkey breast is the perfect size for us!  This roasted turkey was perfect… low calorie, but full of flavor! ! I actually began preparing the recipe with a whole, bone-in turkey breast, but after I had coated it with the herb and garlic seasoning, decided to split it right down the middle and cook it in two portions (one I froze after roasting, for another meal!). The recipe, as written (using a whole turkey breast), serves six, but half the turkey breast was more than enough for the two of us!
The recipe is so easy. You mix up a "rub", coat the turkey with it, then roast it. That's it… easy, right?  Here's what you do:  First, mix up the rub for the turkey (garlic, thyme, rosemary, sage, salt, pepper, and olive oil).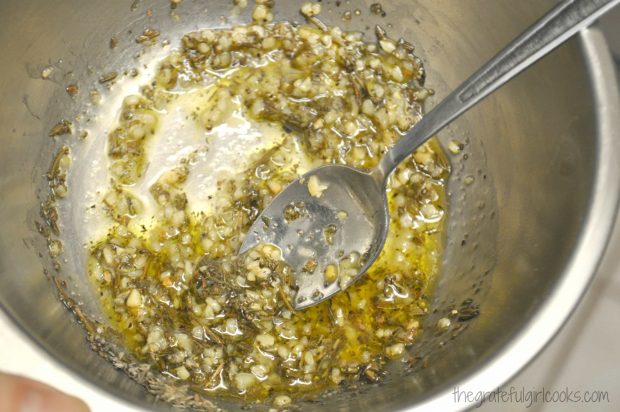 Rinse turkey, then pat it dry with paper towels. Place the "rub" mixture onto the turkey, and spread it all over the surface of the turkey breast (for this recipe, leave the skin "on"). Try to separate skin a little bit from the meat and place some of the "rub" mixture under the skin.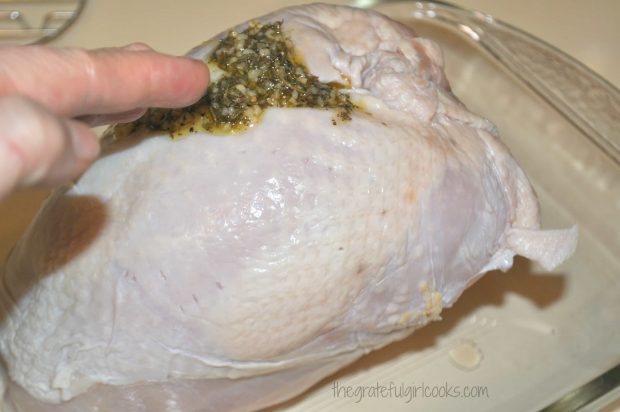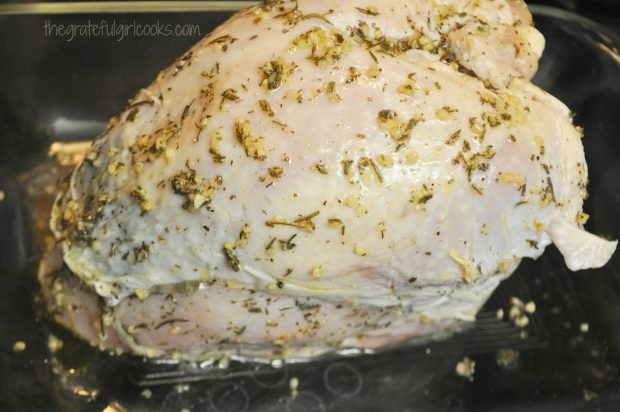 Now, at this point, you roast the turkey breast until it is done… (**unless you are like me, and change your mind**. Then, because you decided in a moment of whimsy to NOT cook an entire turkey breast in one piece,  you would take a humongous sharp knife and carefully split that whole turkey breast right through the breast bone, splitting it into 2 half turkey breasts – **note to self – do this BEFORE applying rub next time).  However you prefer it, whole or cut in half, just roast the turkey breast, and all will be right in the universe!!!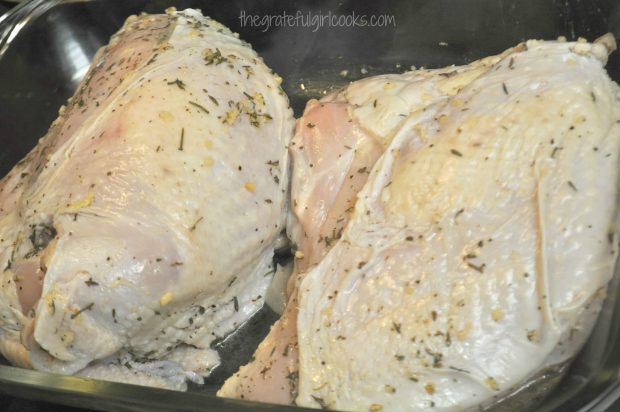 Place the turkey breast (or breasts) in a roasting pan or onto a baking sheet with rimmed edges. You don't need to put the turkey onto a rack for this recipe. Bake the turkey at 350 degrees for 45-60 minutes (oven temperatures vary). Use a digital thermometer to test for "done-ness", and to ensure internal temperature is 165 degrees, for safety. When internal temp. of turkey reaches 165 degrees, remove from oven, and cover the turkey with aluminum foil for 10 minutes to let the juices rest.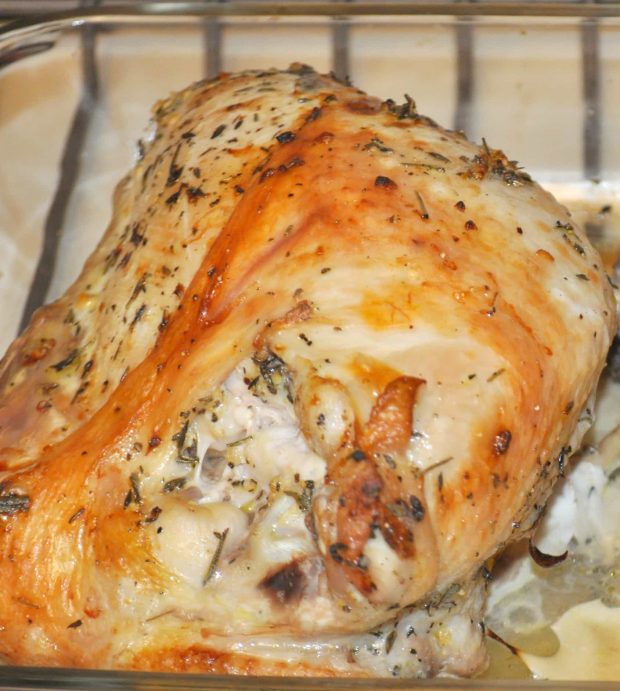 Slice the turkey breast and serve! I mixed up a little gravy using the turkey juices, but that is completely optional.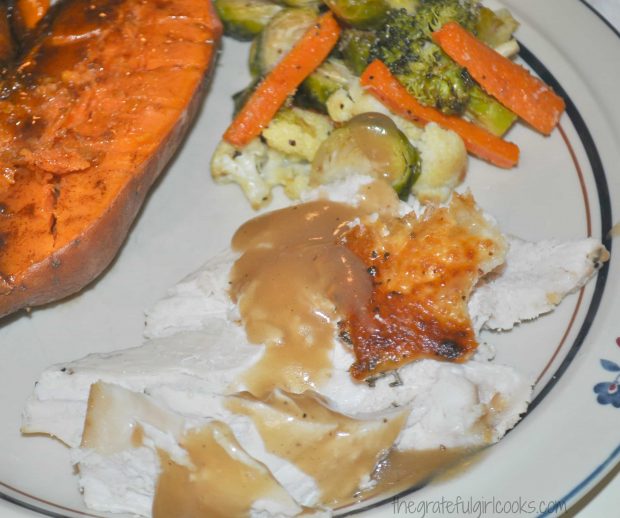 Hope you will consider trying this easy recipe. The only time it took was to mix the rub, and apply it to the turkey. The rest of the "cooking" time was simply that… "cooking" time. No hands-on needed for that!
Have a great day. May you find MUCH to be thankful for as you go about your day!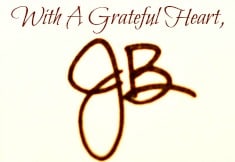 Recipe Source: http://flavorthemoments.com/simple-herb-garlic-roasted-turkey-breast/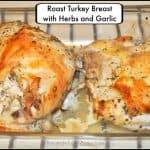 Roast Turkey Breast with Herbs and Garlic
It's so easy (and less "work") to roast a delicious turkey breast with herbs and garlic than it is to roast an entire turkey!
Ingredients
3

pound

turkey breast

(with the bone in, and the skin on)

2

cloves

garlic

, minced

1

teaspoon

dried thyme

1

teaspoon

dried sage leaves

1

teaspoon

dried rosemary

1

teaspoon

salt

1/2

teaspoon

ground black pepper

2

Tablespoons

olive oil
Instructions
Before beginning, rinse turkey breast. Pat it dry with paper towels. Preheat your oven to 350 degrees.

Mix garlic, thyme, sage, rosemary, slat, pepper and olive oil together in a small bowl.

Rub the herb and garlic mixture over the entire surface of the turkey (bottom and top). Separate skin a bit from the meat, and rub some of the mixture under the skin, as well. Place the turkey breast in a roasting pan (or baking sheet with edges).

Bake the turkey breast at 350 degrees for 45-60 minutes. Since oven temps vary, be sure and test for "done-ness", using a digital thermometer in thick part of breast. When properly/safely cooked, the thermometer should show an internal temperature of 165 degrees. If it is not to temp, continue cooking and checking temperature every few minutes.

Once turkey is "done", remove it from oven. Cover with foil, and let the meat rest for about 10 minutes. This will help keep the turkey juicy!

After turkey has rested, slice, serve, and enjoy!
Save
Save