Almost 20 years ago my husband and I were served this recipe for BBQ Glazed Cheese & Spinach Meatballs at our friend Carla's home in Central California. We thought they tasted incredible, and I have been making them ever since!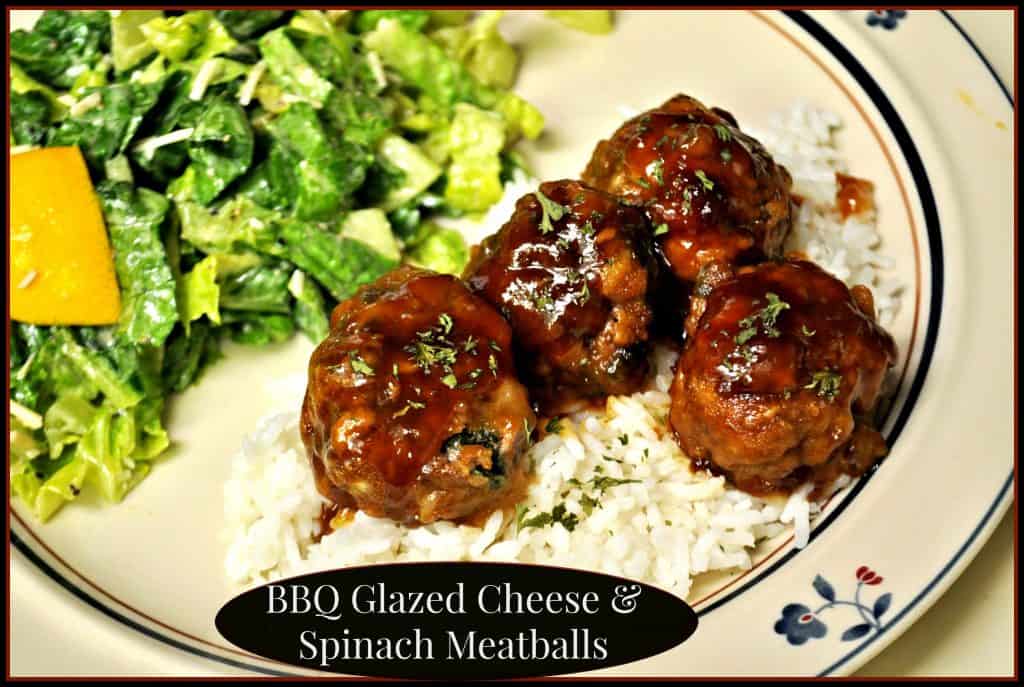 I don't know where she got the original recipe… all I know is my little handwritten 3×5 recipe card is stained from nearly 20 years of making this recipe. The meat is mixed with spinach and grated cheddar cheese, onions, and spices, formed into meatballs, browned in a skillet, then baked in the oven with a wonderful homemade BBQ glaze coating them. Amazingly delicious!
These meatballs are absolutely delicious, and are very simple to make. They're also very economical, because a pound and a half of ground beef can make several servings. Our two sons are grown men and no longer living in our home, so when I make these meatballs nowadays (for just my husband and I), I make extra rice as a side dish, so my husband and I can enjoy another meal with the leftovers!
These meatballs are delicious when served with a side of rice, and a good salad or veggie. I sure hope you will give them a try… I think you're gonna love 'em!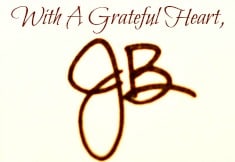 Recipe Adapted from: My friend Carla Merrill

BBQ Glazed Cheese & Spinach Meatballs
You're going to love these meatballs, filled with cheddar cheese and spinach, and topped with a homemade BBQ glaze.
As Prepared By:
JB at The Grateful Girl Cooks!
Ingredients
For Meatballs:
1½ pounds ground beef
1 package frozen chopped spinach, thawed completely and drained well
1 small brown onion, finely chopped
1¾ teaspoons salt
¼ teaspoon garlic powder
½ teaspoon black pepper
6 Tablespoons grated cheddar cheese
3 Tablespoons flour
2 Tablespoons oil
For sauce:
2 Tablespoons white vinegar
2 teaspoons prepared yellow mustard
4 Tablespoons butter
6 Tablespoons ketchup
⅔ cup brown sugar
Pinch of dried parsley, for garnish (if desired)
Directions
Preheat oven to 325 degrees.
In a large bowl, combine the ground beef, thawed and *drained spinach* (see note), onion, salt, garlic powder, pepper, and grated cheddar cheese. (*Note: Make sure the spinach is drained very well. Press the spinach between paper towels to absorb a lot of water!) Completely combine the ingredients.
Using both hands, roll/shape the meat into 2" meatballs (should make approximately 15). Set meatballs (once made) onto non-stick paper or foil while making the rest of the meatballs.
In a large non-stick skillet, heat the oil on medium-high. When skillet is hot, add the meatballs. Do not move them for the first couple of minutes (so they won't break apart). Brown all sides of the meatballs (but do not cook all the way through). Remove meatballs to paper towel to drain.
Place flour into a small bowl. Gently roll browned meatballs in the flour, to completely coat.
Place browned and floured meatballs into an 8x8 or 9x9 baking dish. Set aside.
In a medium saucepan, combine the sauce ingredients: vinegar, mustard, butter, ketchup, and brown sugar. Simmer for a couple of minutes on low heat until butter is melted and ingredients are thoroughly combined. Pour the sauce over the tops of the meatballs (spoon it up to help cover them all).
Bake meatballs, uncovered, at 325 degrees for 45-50 minutes.
When ready to serve, place meatballs onto a bed of rice (or serving plate), and spoon additional sauce from pan over the tops of each meatball. Sprinkle with parsley, if desired.
Serve and enjoy!
Notes

If you want to make more than 15 meatballs, use 2 pounds of hamburger meat. Everything else in the recipe remains the same. You should be able to get about 20 meatballs this way.
A serving size is 3-4 meatballs.


Here's one more to pin on your Pinterest boards!

Save
Save
Save