If you enjoy the flavor of chicken enchiladas, chances are pretty good you will love this copycat recipe of this famous restaurant's much requested item… Chili's Chicken Enchilada Soup! It's so good… all that cheesy, chicken enchilada goodness in a big bowl of soup!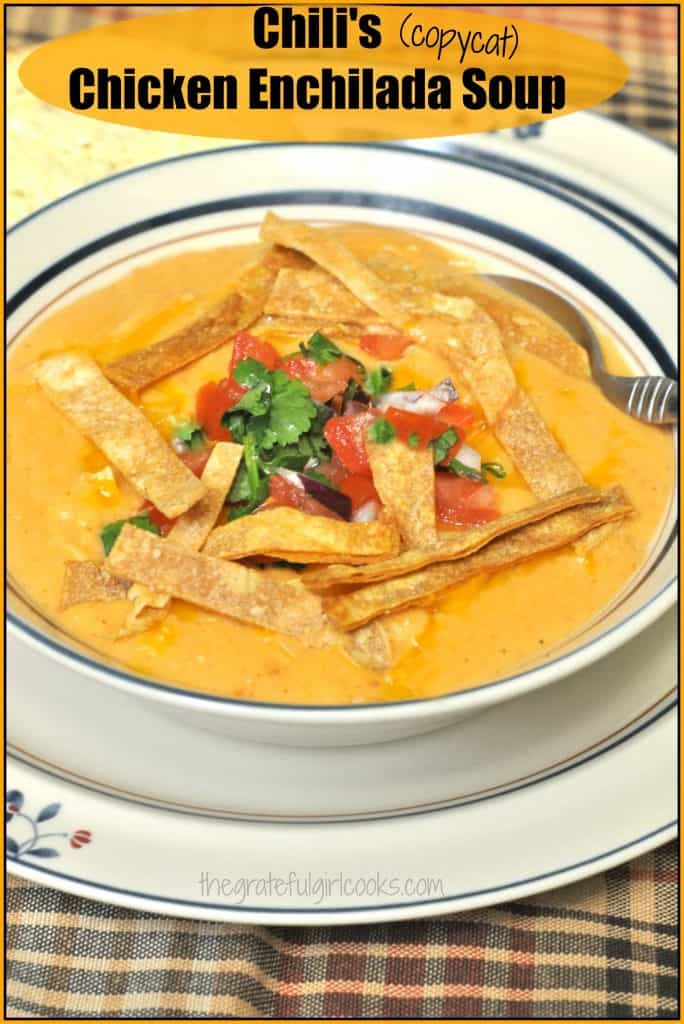 I found this recipe in one of my "Top Secret" cookbooks by celebrity/author Todd Wilbur (I think I've bought them all), where he dissects famous recipes and then creates a copycat recipe to show how to duplicate it at home. This soup is thick and cheesy, packed with chicken, and because of the addition of masa harina, enchilada sauce and spices, tastes just like a good chicken enchilada!
Here's what you do to make this delicious soup:  Add chicken breasts to hot oil in large pan and cook each side for 4-5 minutes, until browned.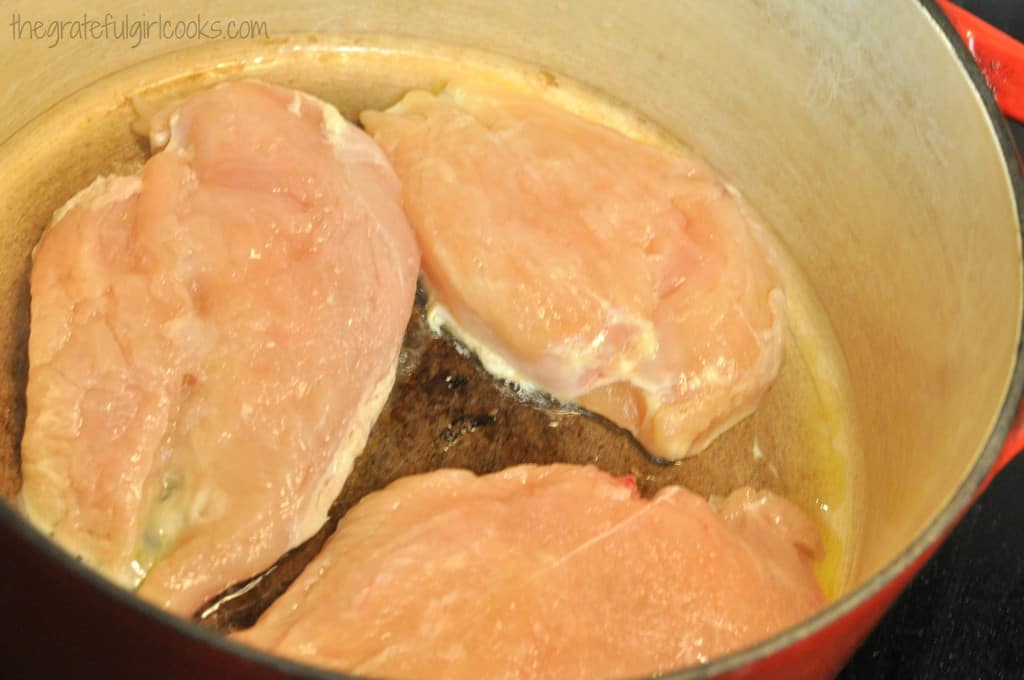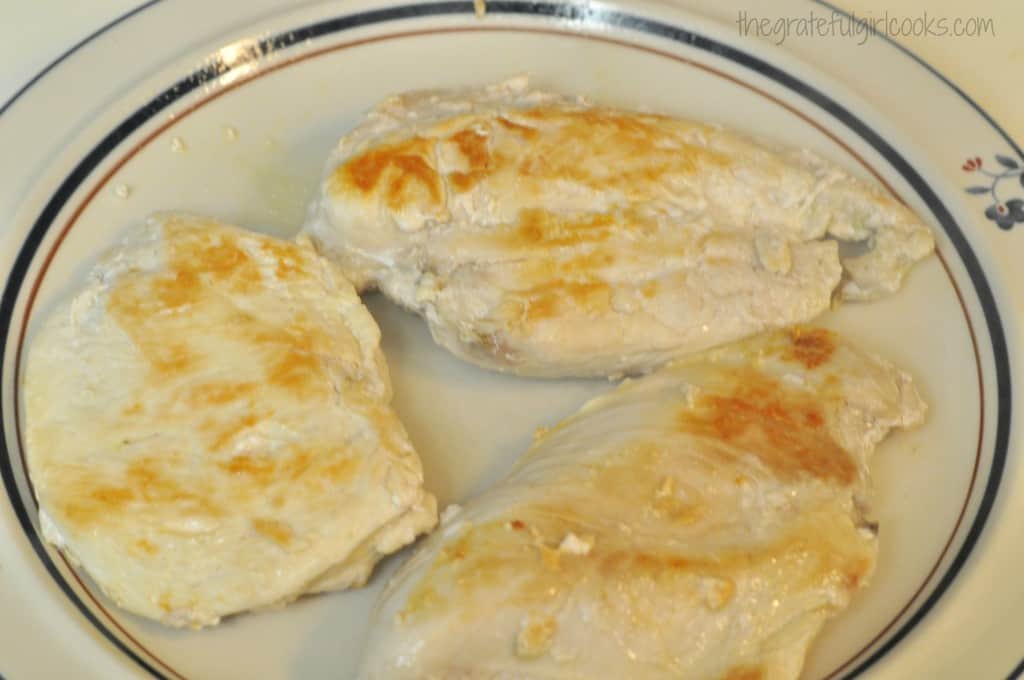 Remove browned chicken from pan. Set aside to cool. Add onion to pan. Cook over medium heat for a couple minutes; add minced garlic for the last 30 seconds (so it doesn't burn and become bitter).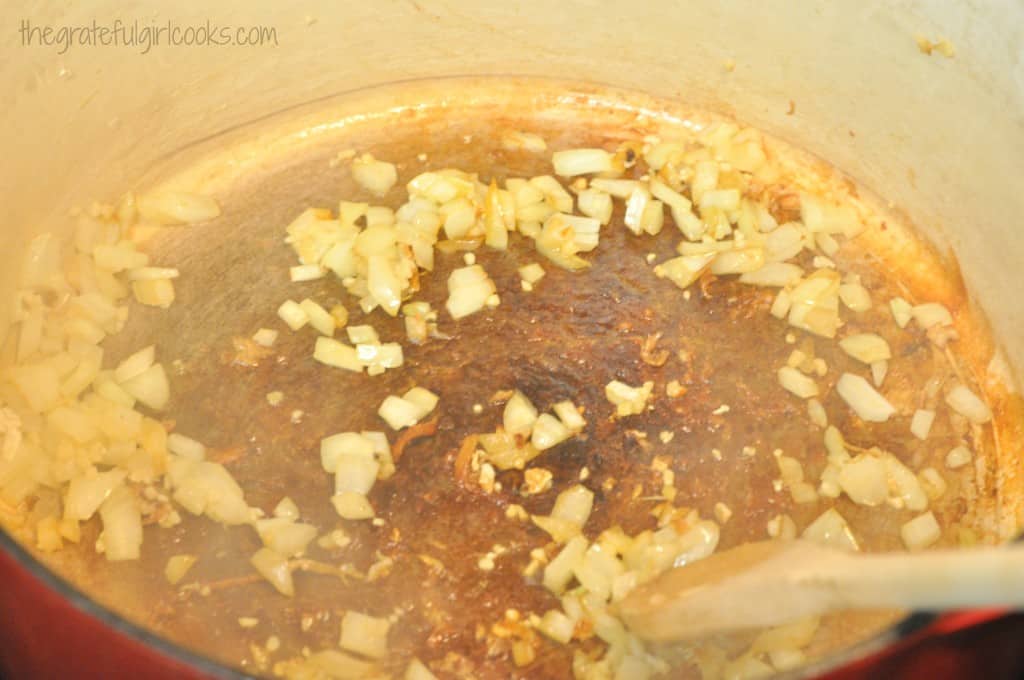 Add chicken broth to pan. In a separate bowl, mix 2 cups of water with Masa Harina (found in Mexican food section in grocery store). Whisk this mixture until it is well blended and smooth. Add the water/Masa Harina mixture to the onion/garlic broth.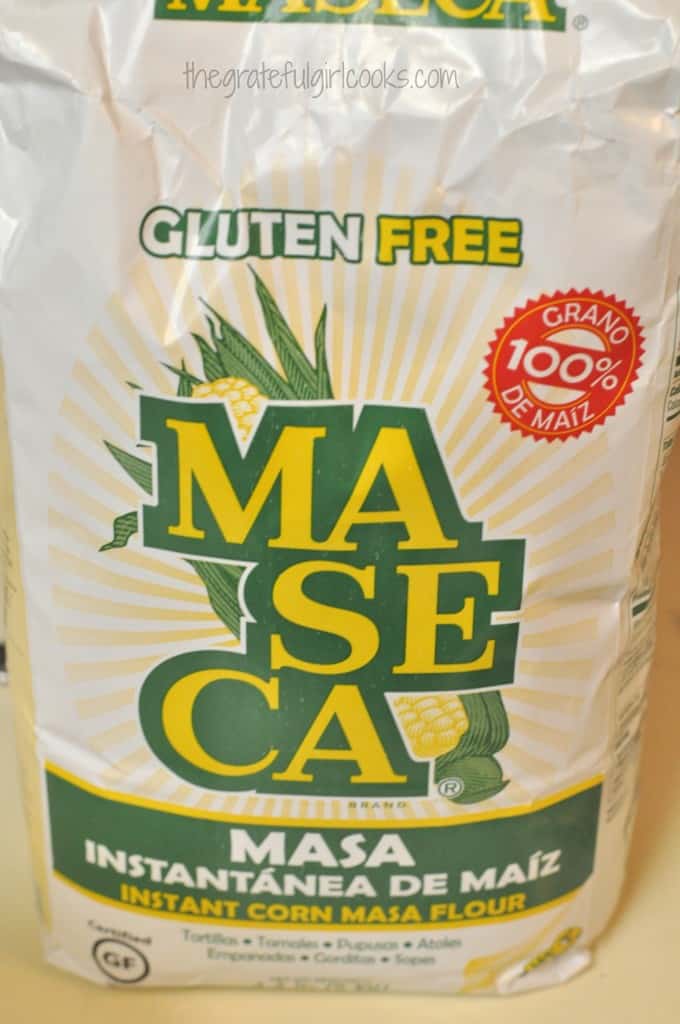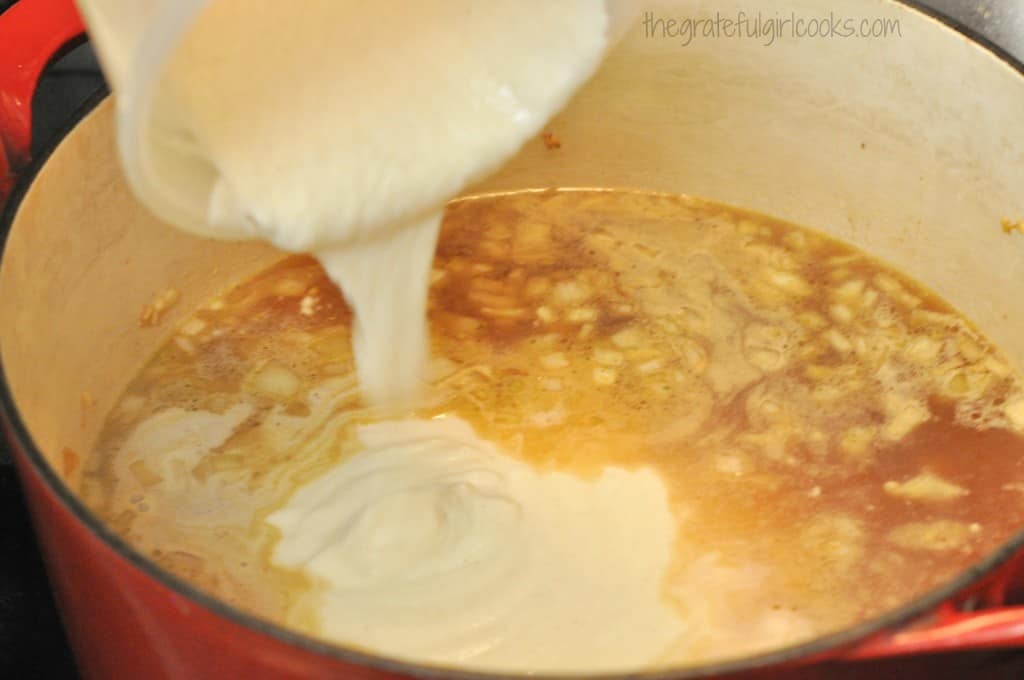 Add 1 additional cup of water, enchilada sauce, cheese cubes, and spices. Stir to combine. Bring the mixture to a boil over medium heat, stirring often (cheese will completely melt).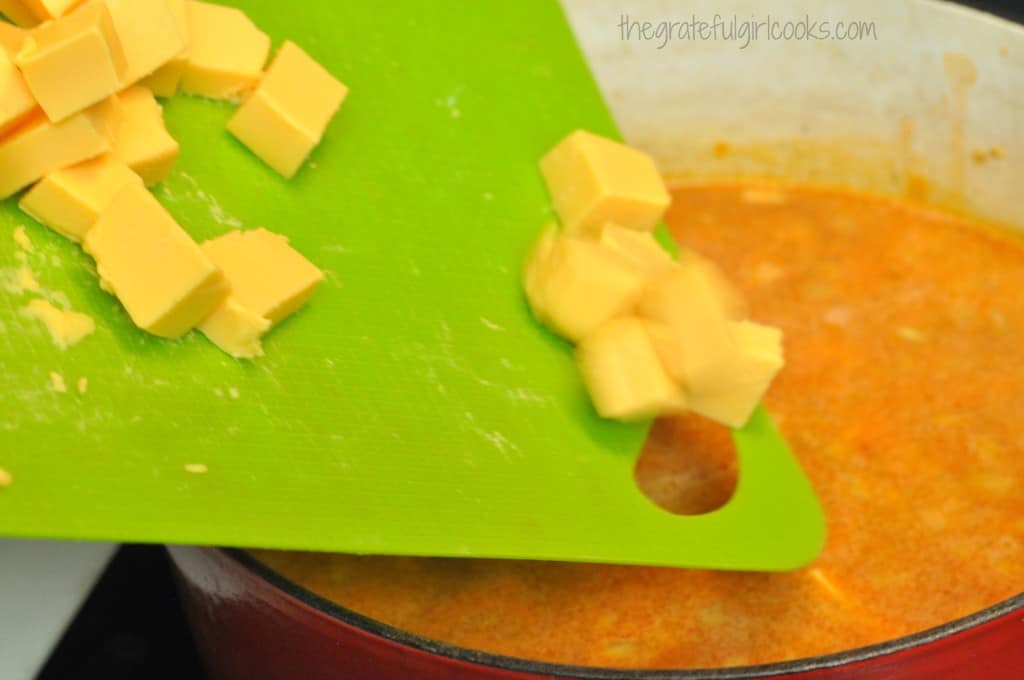 Shred the chicken into small pieces. I use two forks to do this. Add the shredded chicken to the soup pot.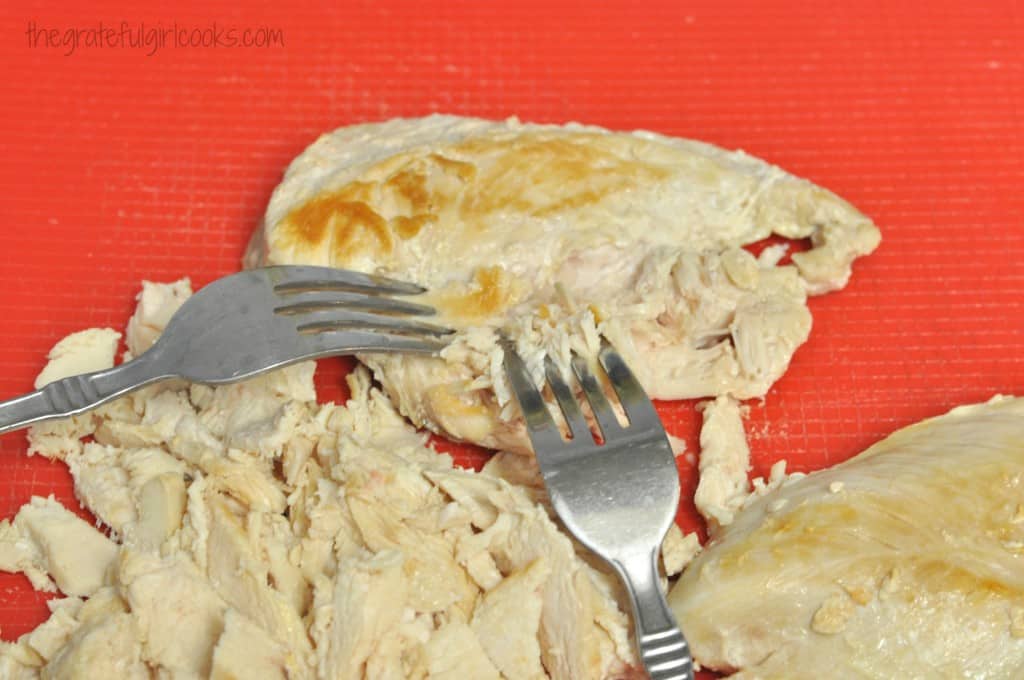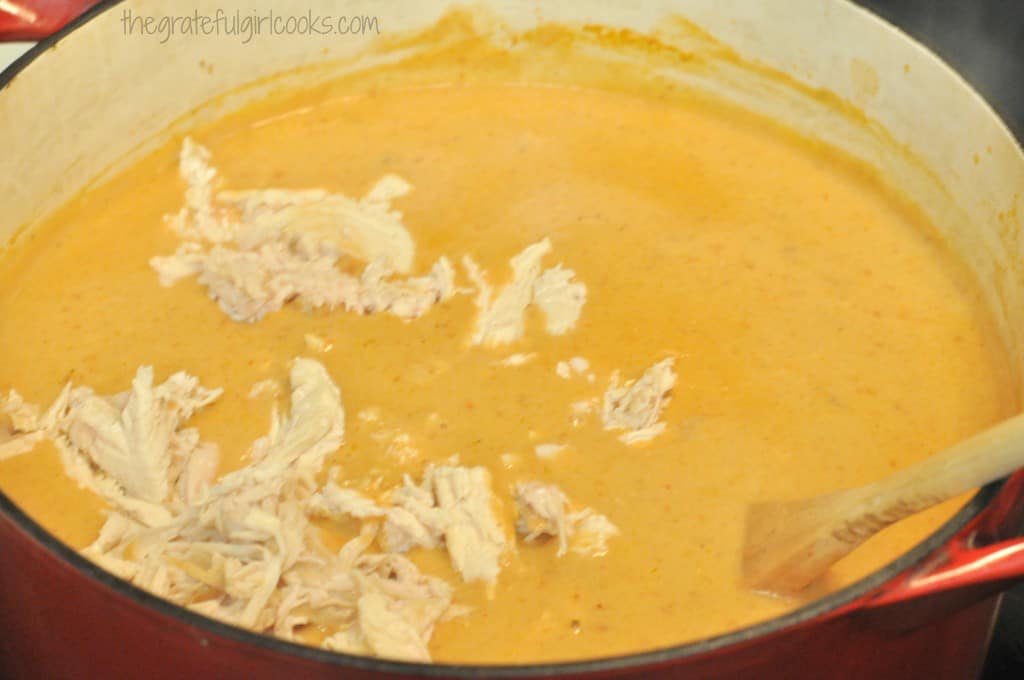 Reduce heat; simmer soup on low for 30-40 minutes. Soup will thicken as it cooks. While soup is simmering, prepare the tortilla strips (for garnish). To do this, cut 3-4 corn tortillas in half, then into thin strips. Coat the strips with a Tablespoon or two of vegetable oil, then spread out on a baking sheet.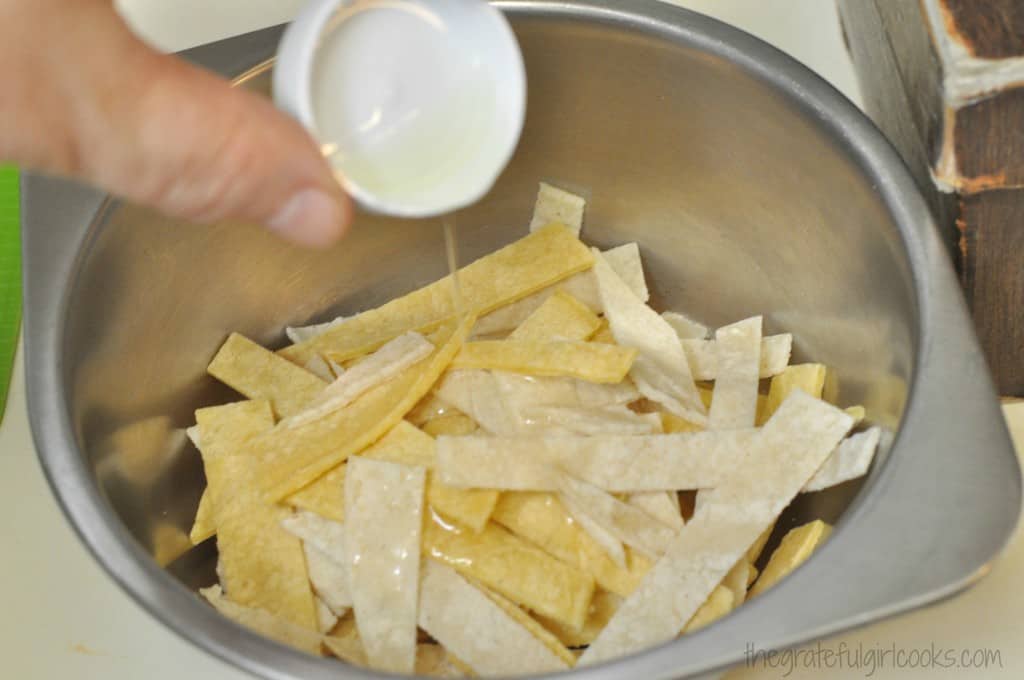 Bake at 375 for 6-8 minutes, then flip the strips over and bake other side for 6-8 minutes, until crispy and light brown in color. When done, set aside to cool completely.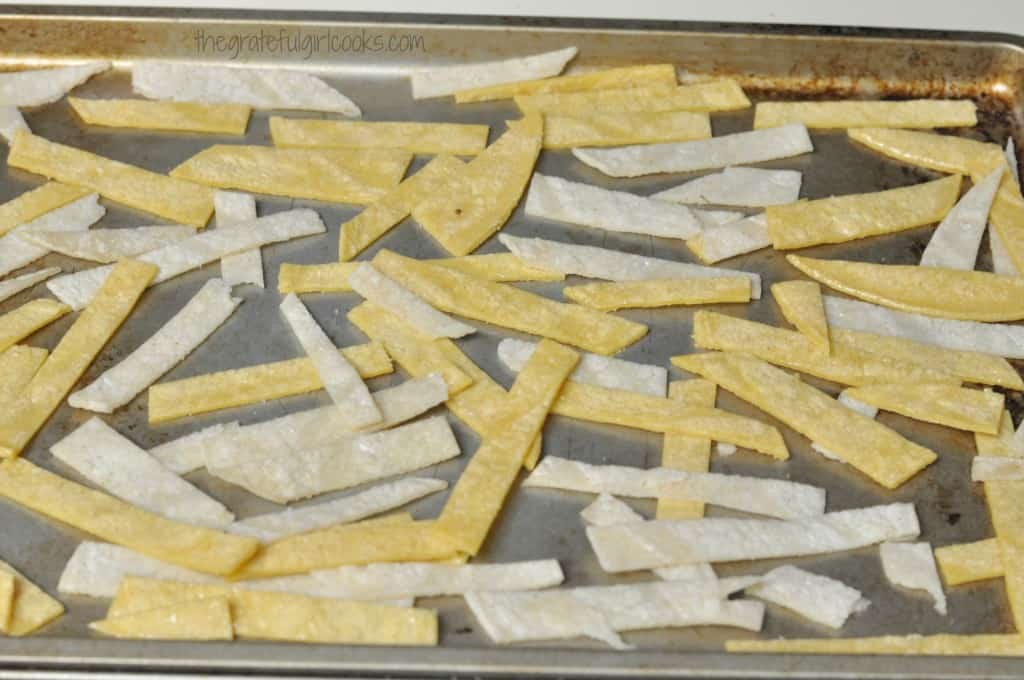 Make a quick pico de gallo while the tortilla strips are baking in oven by chopping and mixing ingredients in bowl (tomato, red onion, cilantro, lime juice, salt and pepper).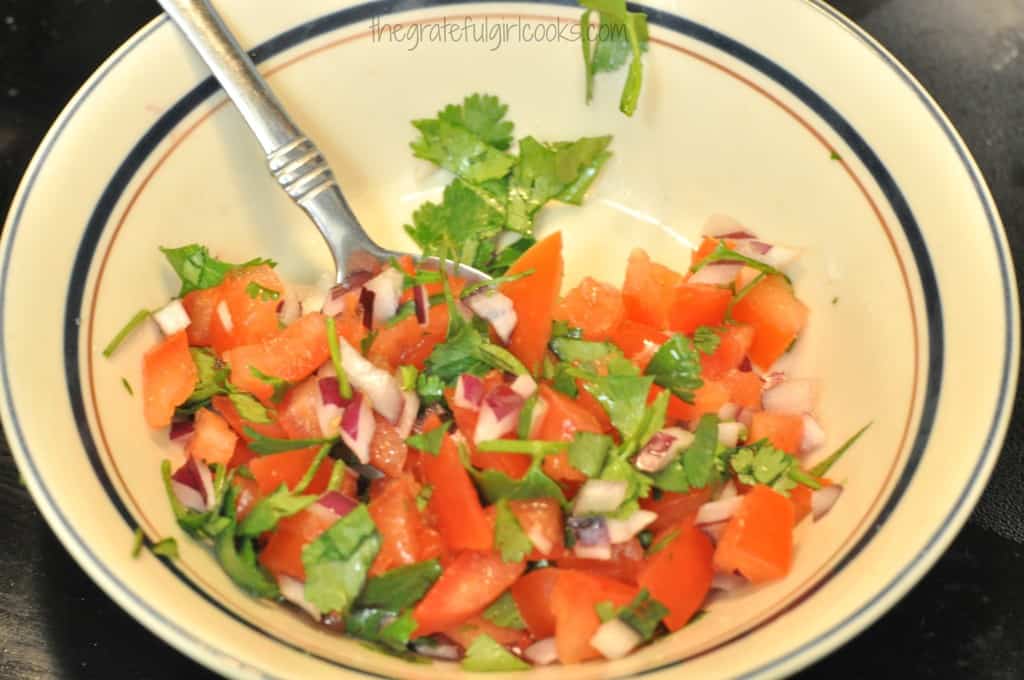 When soup is done, ladle it into bowls. Top soup with pico de gallo, and baked tortilla strips. (May also add grated cheddar cheese or sour cream, if desired).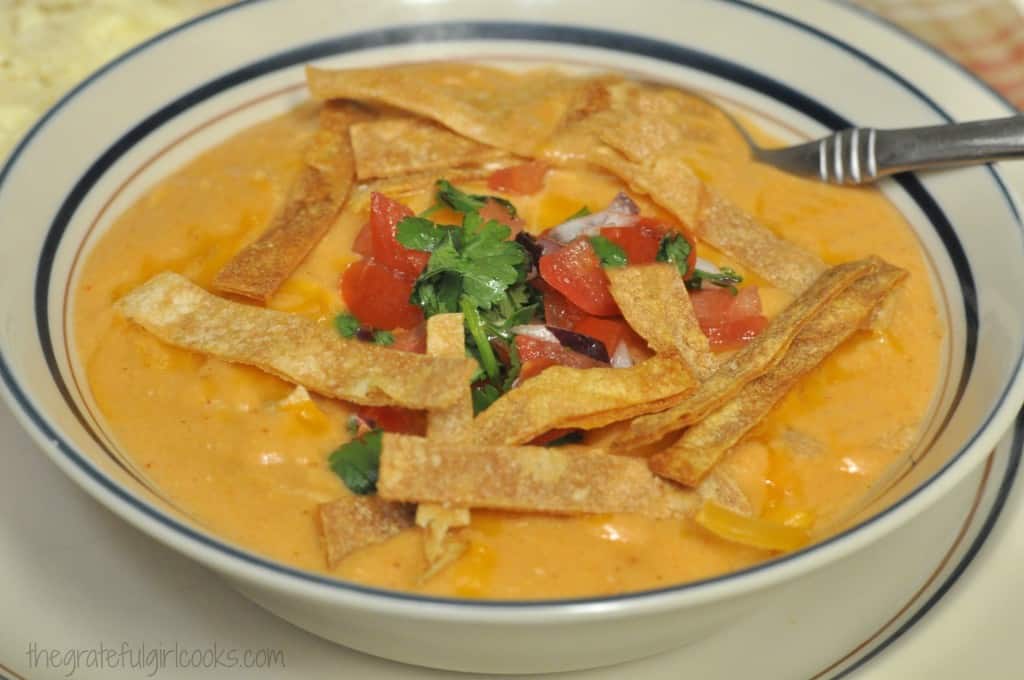 While I think we will agree that this is probably not the "healthiest soup" on the planet, it really is delicious, and tastes just like a fantastic chicken enchilada. And every once in awhile, that's a GOOD thing! Hope you will consider trying this recipe – it's really tasty… (all those people requesting it at Chili's can't be wrong)! Have a great day!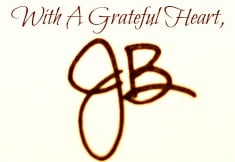 Recipe Source: "Top Secret Restaurant Recipes 2", by Todd Wilbur, Published by Penguin Group, 2007, pages 118-119.

Save