So… I was walking through a local store the other day and found a package of frozen Dover Sole fillets on sale. I bought them and made this light and delicious recipe for Dover Sole In A Browned Butter Lemon Sauce (commonly called Dover Sole Meunière). I think $6.08 (my cost) is a good price for 2-3 main course servings (and it beats fast food)!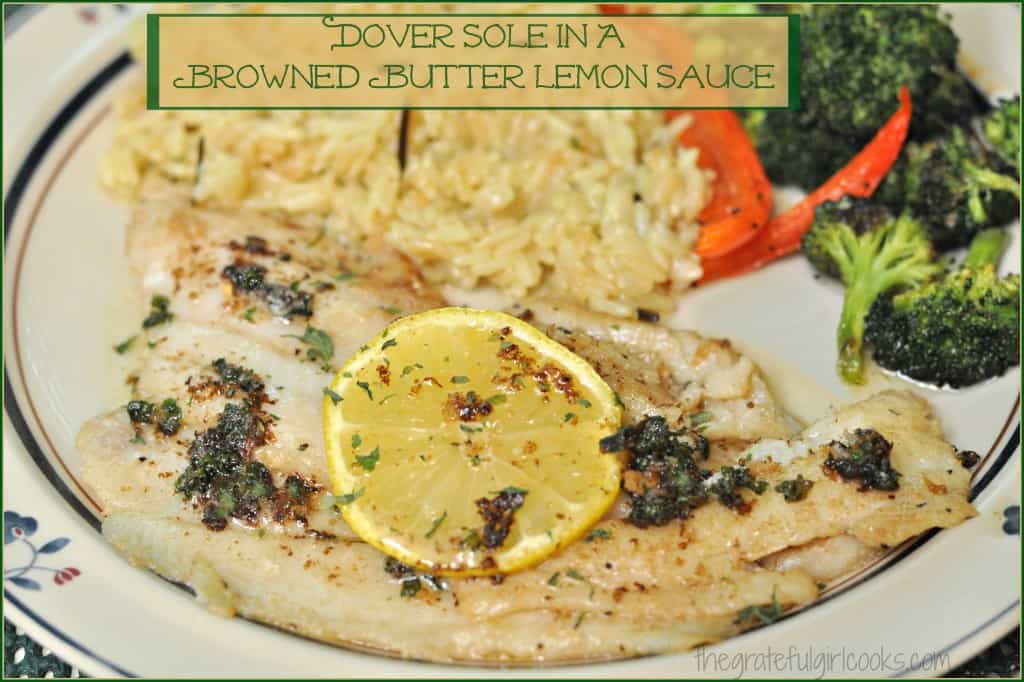 I found the recipe on Pinterest, and decided to give it a try. Sure glad I did, as my husband and I really thought the fish had a great taste, due to a browned butter sauce with fresh squeezed lemon juice, fresh parsley and oregano, cooked and spooned over the lightly browned pan cooked fish. Anytime I find a simple to prepare, good sounding recipe (with only a few ingredients) is a winning combo for me. Here's how to make this:
The recipe calls for four (4 ounce) Dover sole fillets. The fillets are very thin, and my package contained 6 of them (a couple were small), so I made the whole package. Rinse and dry the fish, then lightly season each piece with salt and pepper. (*Note: Some recipes for this classic Dover sole dish call for dredging the fish in flour before cooking, but the recipe I was using did not, which is why I tried it!)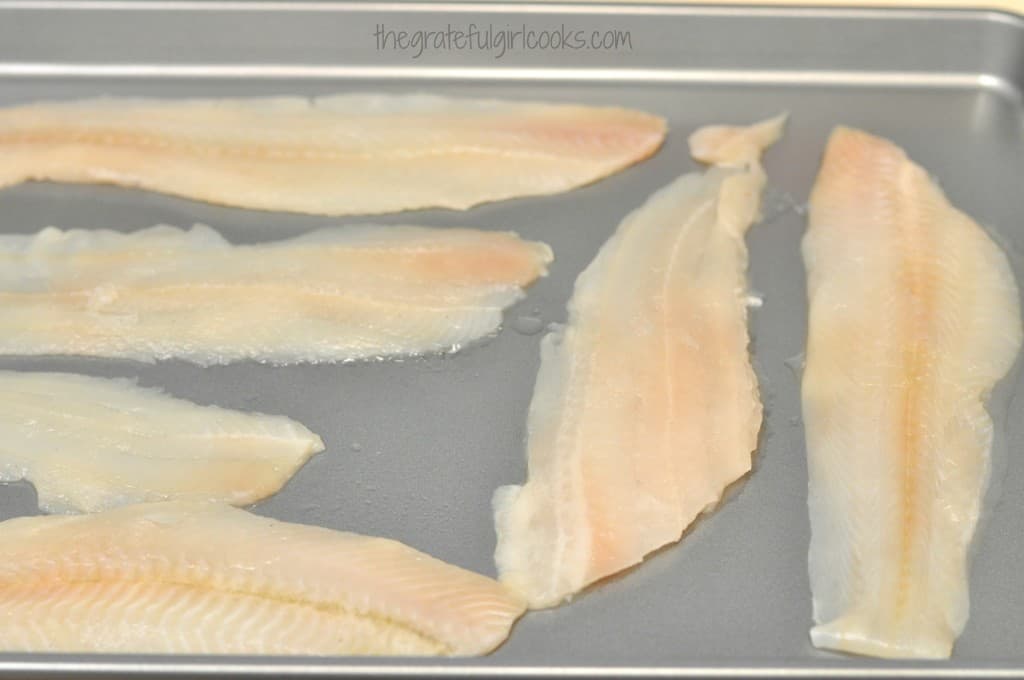 Heat 2 Tablespoons butter in a large skillet on medium heat. Cook the butter until it turns a golden brown color ( a lot of the "foaming" will settle down).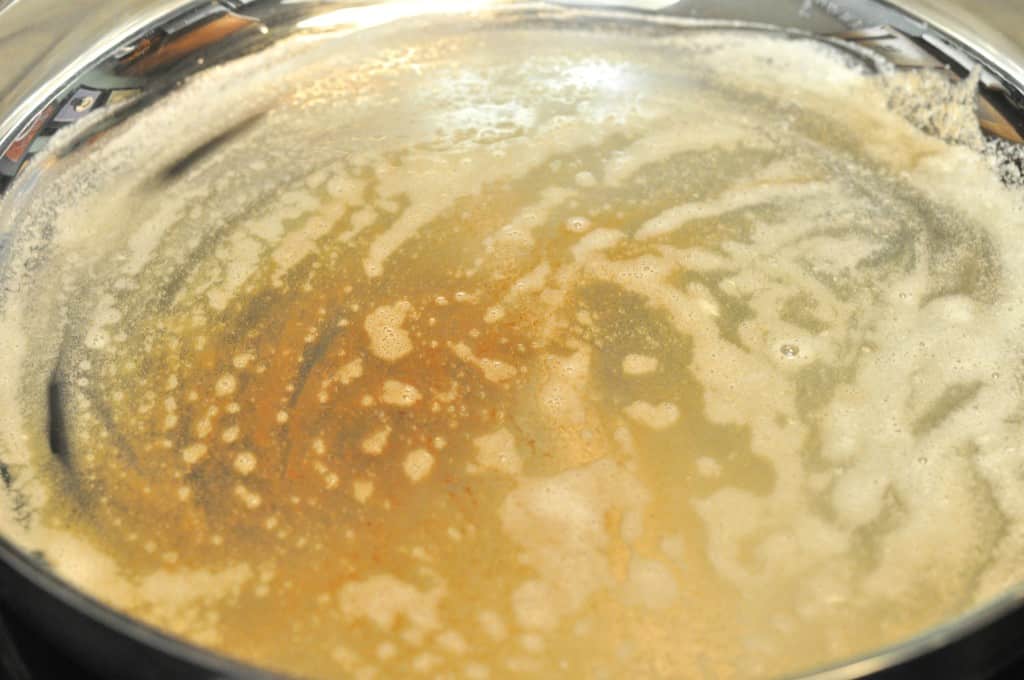 Gently add the fish pieces to the hot skillet. Cook 2-3 minutes on the first side (the bottom edges will begin to turn light brown). CAREFULLY turn the fish to the other side (the fillets are usually very thin…they will tear easily if you are not extremely careful). Continue cooking for 2-3 minutes on other side, until fish is done.  Carefully remove fish to a baking sheet; keep fish warm while you make the sauce.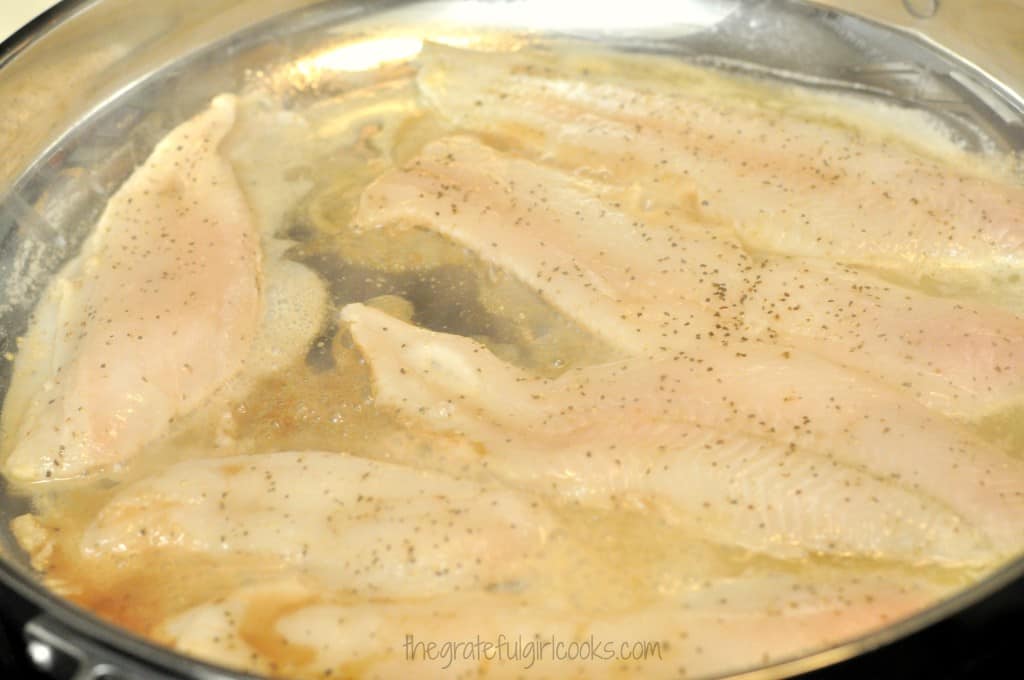 Without wiping out the skillet, add remaining 3 Tablespoons butter to the pan. Let it melt and cook until the butter has turned brown.  Once butter has a golden brown color, add the juice of one lemon (*Note: I cut a couple thin slices off before juicing to use as a garnish on finished fish), chopped fresh parsley and fresh oregano (oregano is totally optional, but adds a bit more flavor to the sauce). Stir to fully combine herbs and butter/lemon sauce.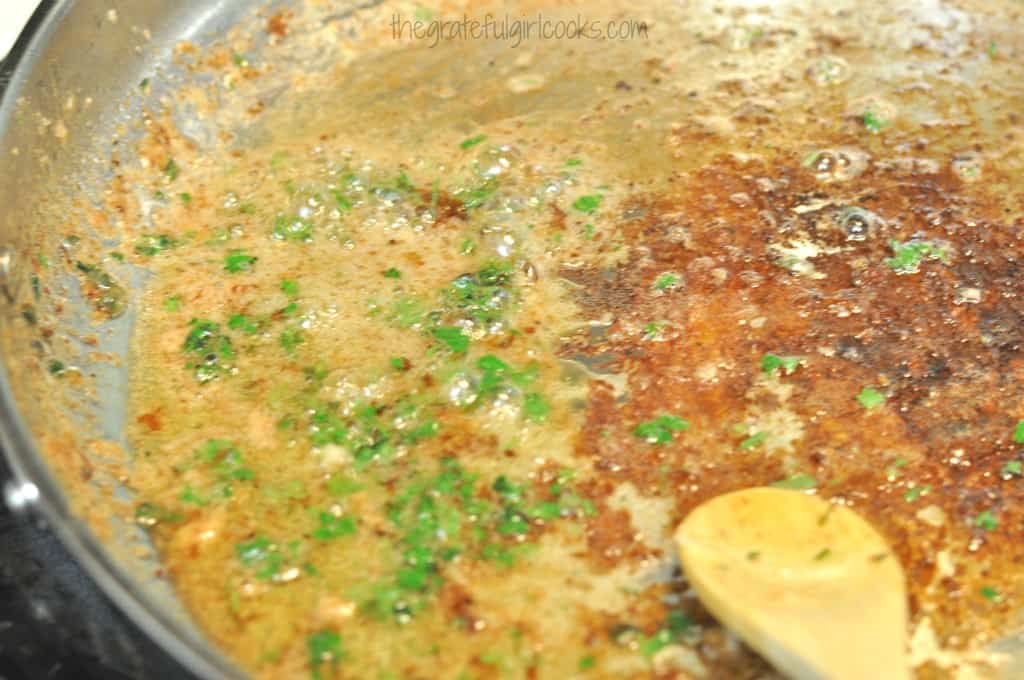 Remove sauce from stove. Place one or two fish fillets onto individual serving plates; spoon some of the sauce over the top of the fish. If desired, you can also garnish each portion with a thin slice of lemon.  I served the fish with a side of roasted broccoli/red peppers and some Easy Homemade Rice Pilaf.  And… in case you're wondering…It was absolutely delicious (and NOT "fishy tasting"), filling, but not "gut-bomb" heavy!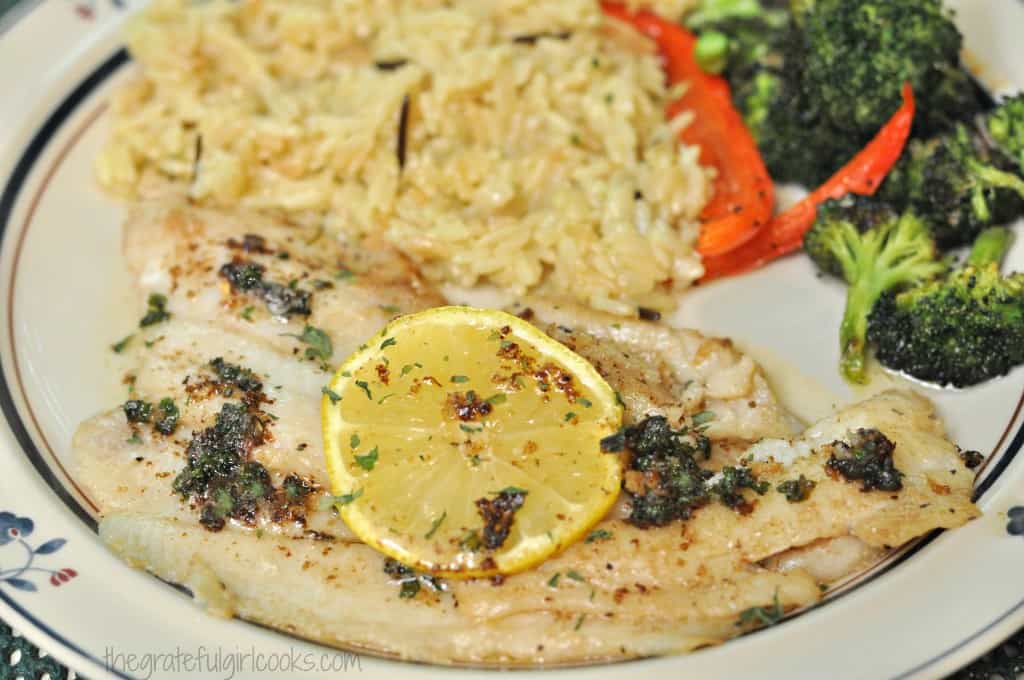 This was such a simple, delicious, easy meal to prepare. My husband and I agreed we will enjoy having this again!
Have a wonderful day… the sun is finally out here in Portland and it is stunningly gorgeous as I write this blog post. After several weeks of rain, I can honestly tell you we are THRILLED!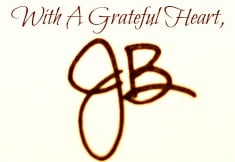 Recipe Adapted From:  http://www.coffeeandcrumpets.com/dover-sole-meuniere/

Save