A few weeks ago, I made these delicious Pork Chops With Mushroom And Onion Gravy for our dinner. I had some pork chops (bone in) that I wanted to use, and decided on the spur of the moment to create a gravy that is from my Salisbury Steak recipe to cook with the chops.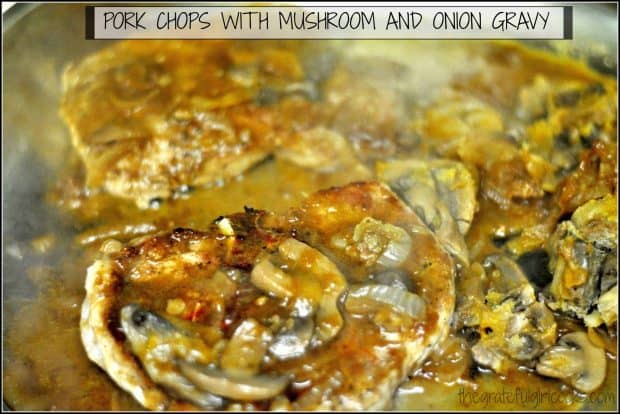 Good decision. These pork chops were easy to prepare AND incredibly delicious with the flavorful gravy! We loved them!
Pork chops are seared in olive oil over medium/high heat, until lightly browned on both sides. Grease is drained from pan. Onions are sauteéd in same pan, then the rest of the gravy ingredients are added and cooked until gravy thickens. Pork chops are added back into the gravy in the skillet, and cooked through, until done. The pork chops are served with the mushrooms, onions, and gravy spooned over the top.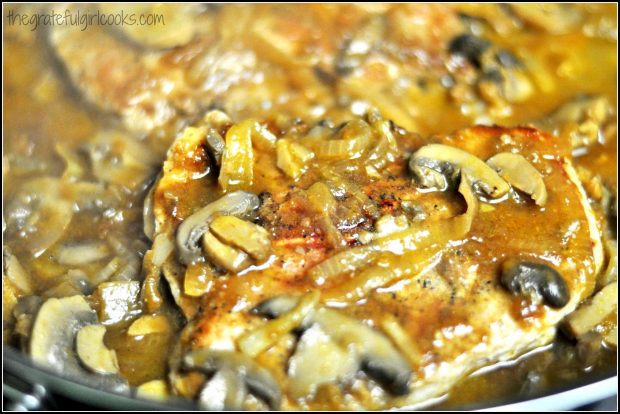 That's it… I told you it was easy! And trust me when I tell you that these pork chops are wonderfully delicious. They are even better when accompanied by a serving of mashed potatoes, topped with a bit of the gravy. Yum, yum, yum. You're gonna love these! Sure hope you'll give them a try!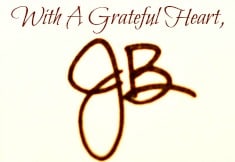 Original gravy recipe is from:  http://tastykitchen.com/recipes/main-courses/salisbury-steak-4/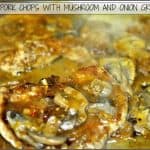 Pork Chops With Mushroom And Onion Gravy
Pan-cooked pork chops, enhanced with a delicious mushroom and onion gravy is a quick and easy meal for on-the-go families.
Ingredients
4

bone-in pork chops

1

Tablespoon

olive oil

1

Tablespoon

butter
For gravy:
1

whole brown onion

, halved then thinly sliced

2

cups

beef broth

1

small can sliced mushrooms

4

dashes Worcestershire sauce

1

Tablespoon

ketchup

1

teaspoon

corn starch

, (mixed with a little bit of the beef broth to blend into a thin paste)

Salt and pepper

, to taste
Instructions
In a large skillet, heat the olive oil and butter on medium high until very hot.

Add the pork chops to skillet. They should sizzle. Cook chops for 3-4 minutes, then turn and cook other side for 3-4 minutes. Pork chops should be golden brown in color. Remove pork chops to a wire rack. Drain off any grease, but do NOT wipe the pan clean.

Prepare the gravy: Reduce the heat to medium and add the sliced onions to the skillet. Cook onions, stirring occasionally, for several minutes until they begin to turn golden brown and have softened slightly.

Add the beef stock, mushrooms, corn starch/beef broth paste, Worcestershire sauce, and ketchup to onions in skillet. Stir well to combine. Cook until sauce comes to a slight boil and thickens (1-2 minutes). Gently add the pork chops back into the skillet. Spoon the gravy, onions and mushrooms over the top of the meat and let them continue to cook on medium heat for about 10 minutes, until pork chops are fully cooked and heated through. Continue to spoon the gravy, onions, and mushrooms over the pork chops while they finish cooking.

When done, remove pork chop to serving plate. Spoon some of the mushrooms, onions, and gravy over top of meat. Serve with a great side dish, and enjoy!
Recipe Notes
The bone-in chops I used were about an inch thick. If you are using thicker pork chops, remember to add more cooking time at the beginning, to ensure they are fully cooked.
Save
Save