Today I want to share with you the way I cook Crunchy Buttermilk Fried Chicken. It's delicious!  Really crispy/crunchy on the outside, and moist, tender, and flavorful on the inside!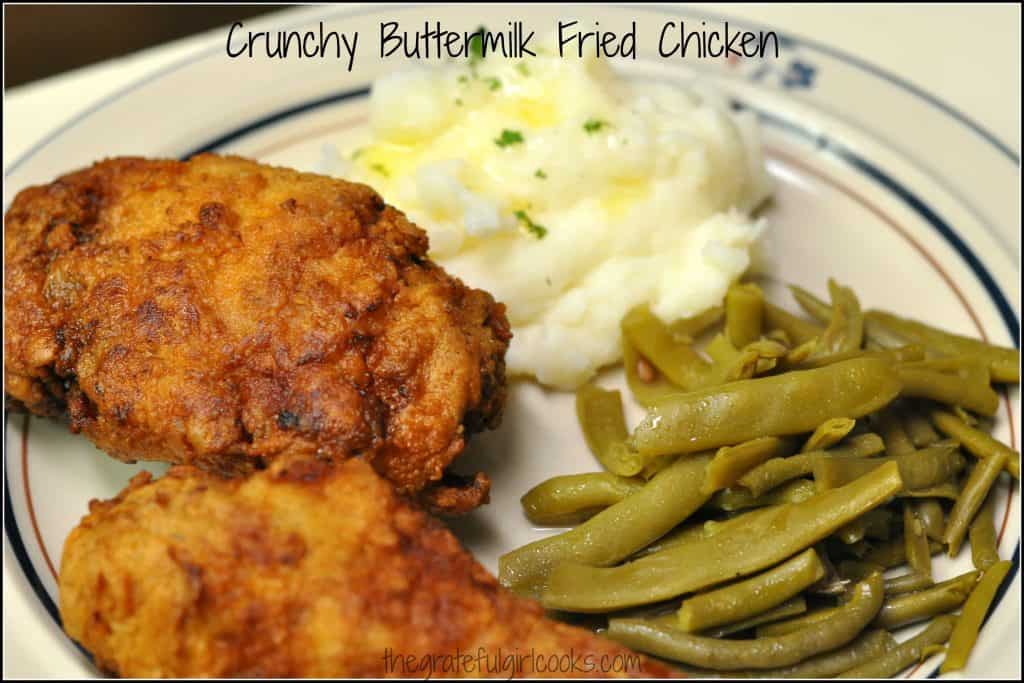 My Mom and Dad were raised in Texas, and both grew up eating fried chicken. As a result, I also grew up eating my Mom's fried chicken. In fact, when we drove from Los Angeles to Texas each summer to visit my grandparents, my Mom ALWAYS made fried chicken before we left, and packed it in an ice chest in the car so we could have it for dinner. My husband's parents were also from Texas, and he loves fried chicken, too.
Hmmm..I guess we both come by our love of Southern fried chicken honestly.  I don't make it too often, but when I do, it's a delicious "old-school" treat, and this is how I prepare it!
First, I mix together a variety of spices with all purpose flour in a bowl.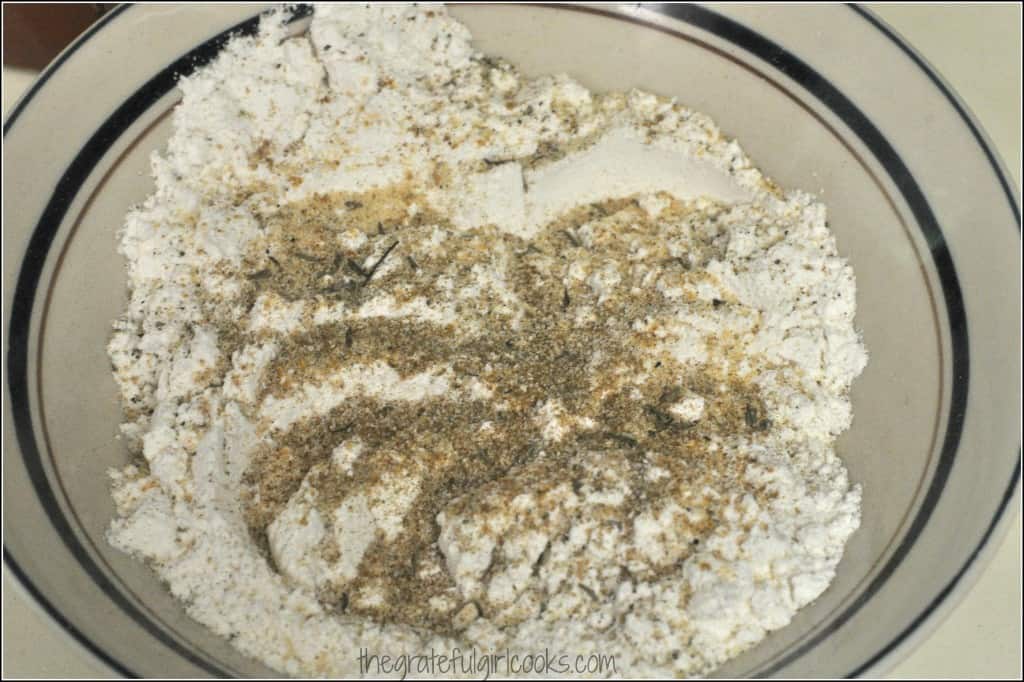 I then pour cold buttermilk into a separate bowl. Now I have a bowl of the flour/spice mixture, a bowl of buttermilk, and the chicken (skin on), ready to go.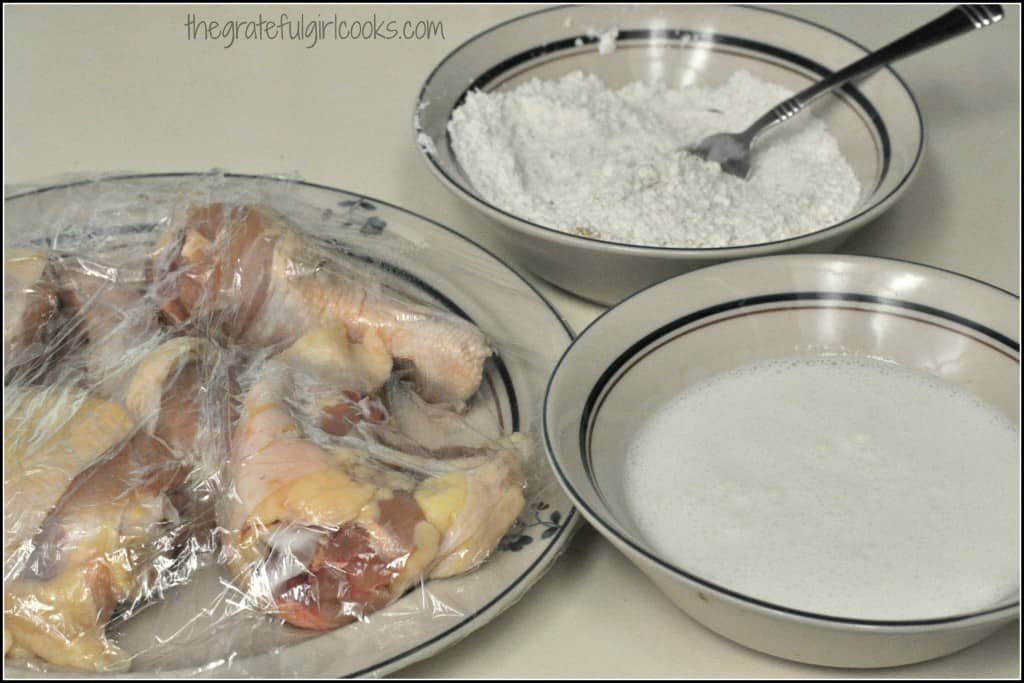 I coat each piece of chicken on all sides with the flour mixture.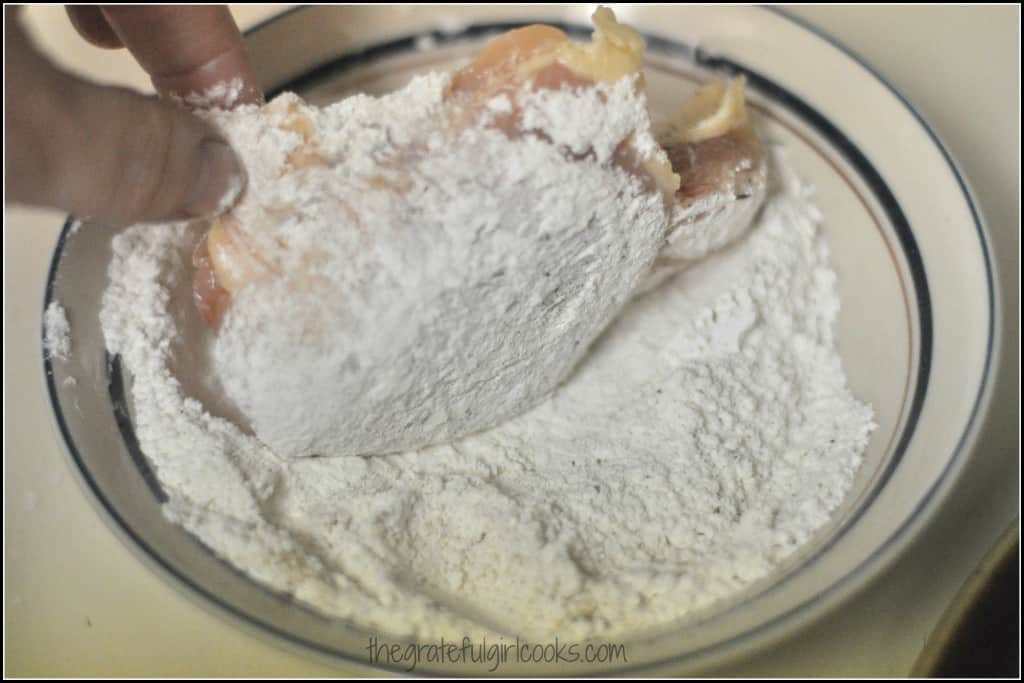 Then I completely coat each piece of chicken with buttermilk, letting the excess drip back into bowl.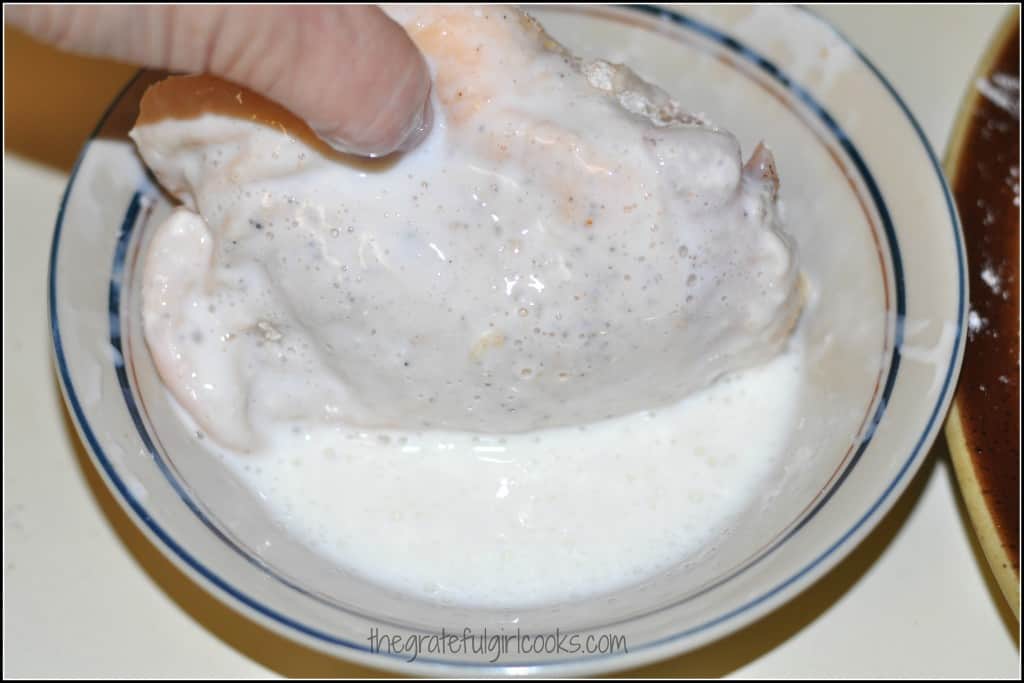 I then put each piece of chicken back into the flour and coat it completely, again.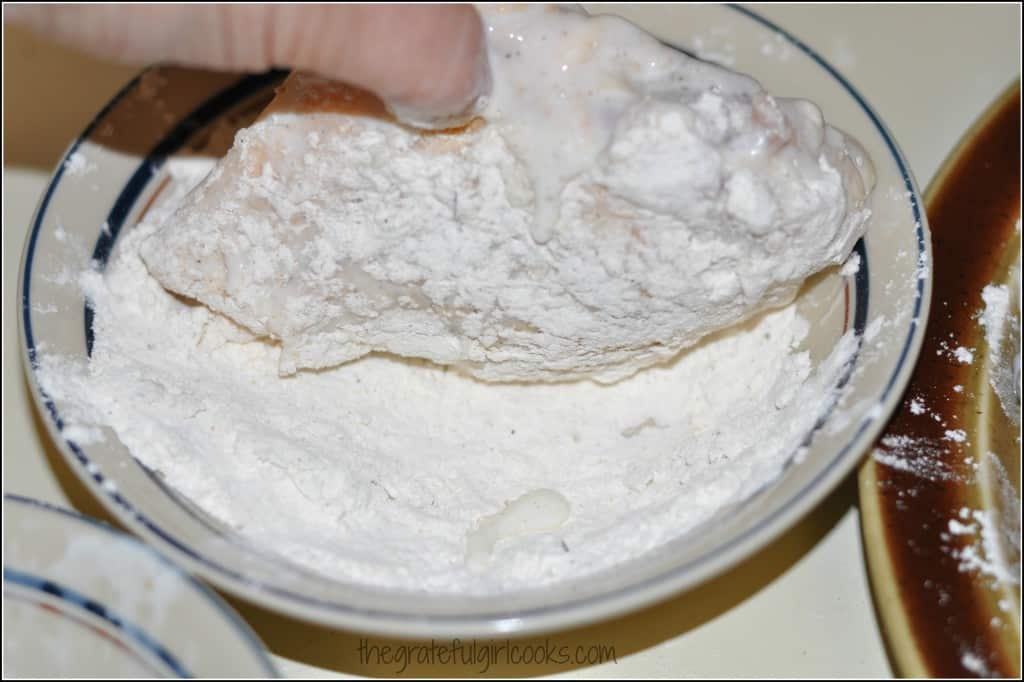 After the coating of flour/buttermilk/flour has been applied to each piece, I set the chicken on a platter to rest while I wash my flour-coated fingers, and heat the pan of oil.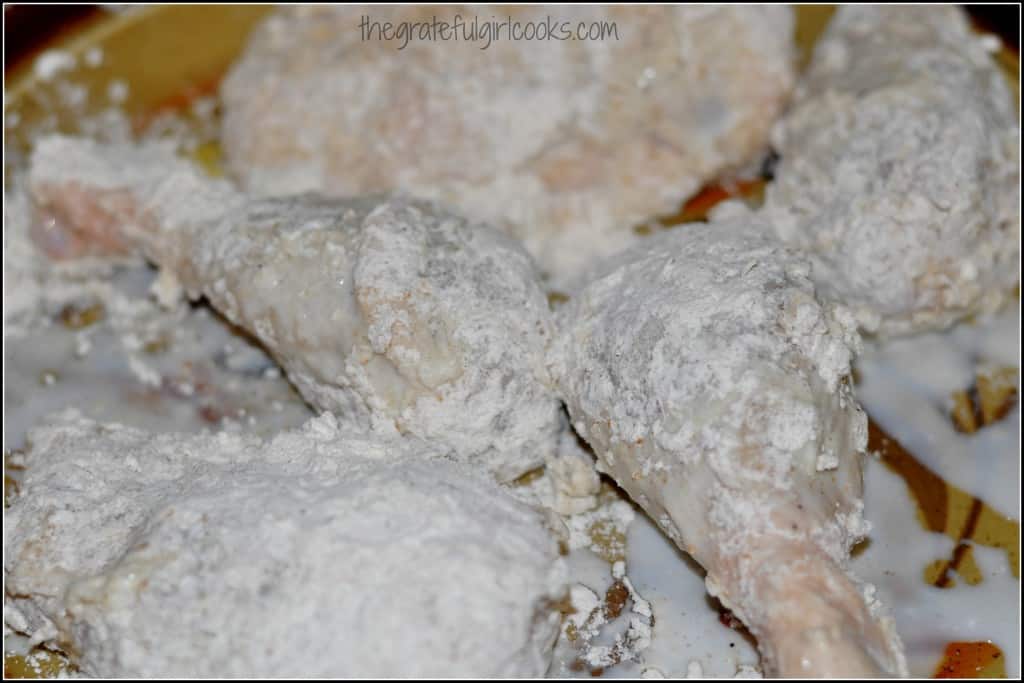 I use a large skillet (or large Dutch oven). I put about 3 inches of vegetable oil in the skillet (or pan), and heat it on high until it reaches 370 – 375 degrees. It is very important to get the oil this hot to ensure a good crisp coating on the chicken. Be VERY careful… this oil is HOT!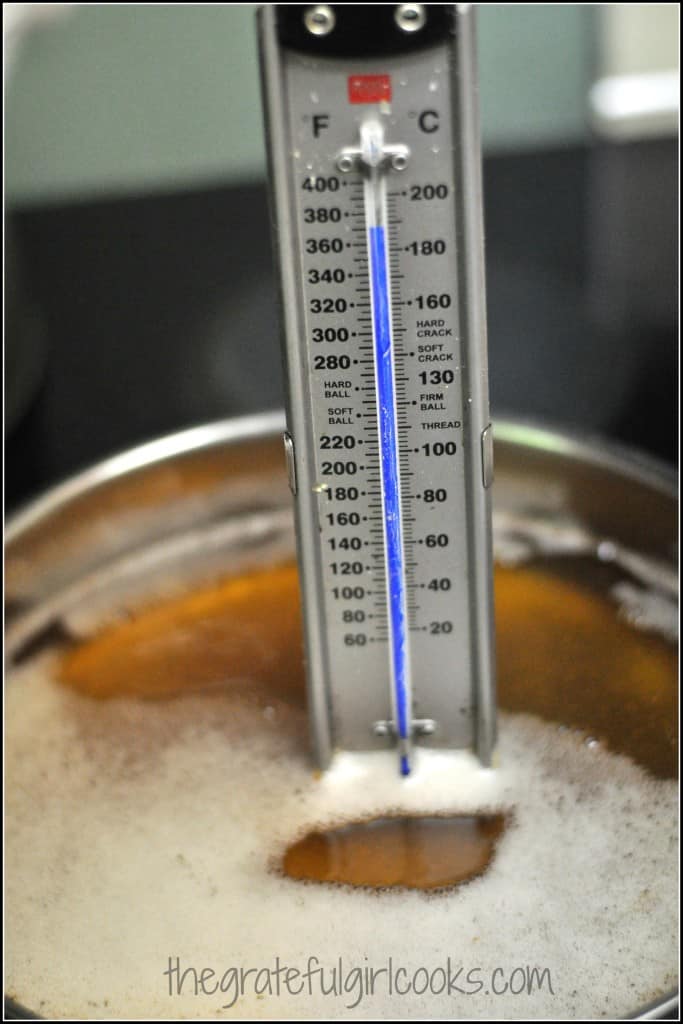 Using tongs, carefully (and GENTLY) place each of the pieces of chicken into the hot oil. It will bubble, etc.  The chicken should begin to brown on the bottom pretty quickly. After 4-5 minutes (once golden brown), turn the chicken carefully to the other side. I usually use a splatter screen on top of the skillet to help keep the "splatter" down to a minimum.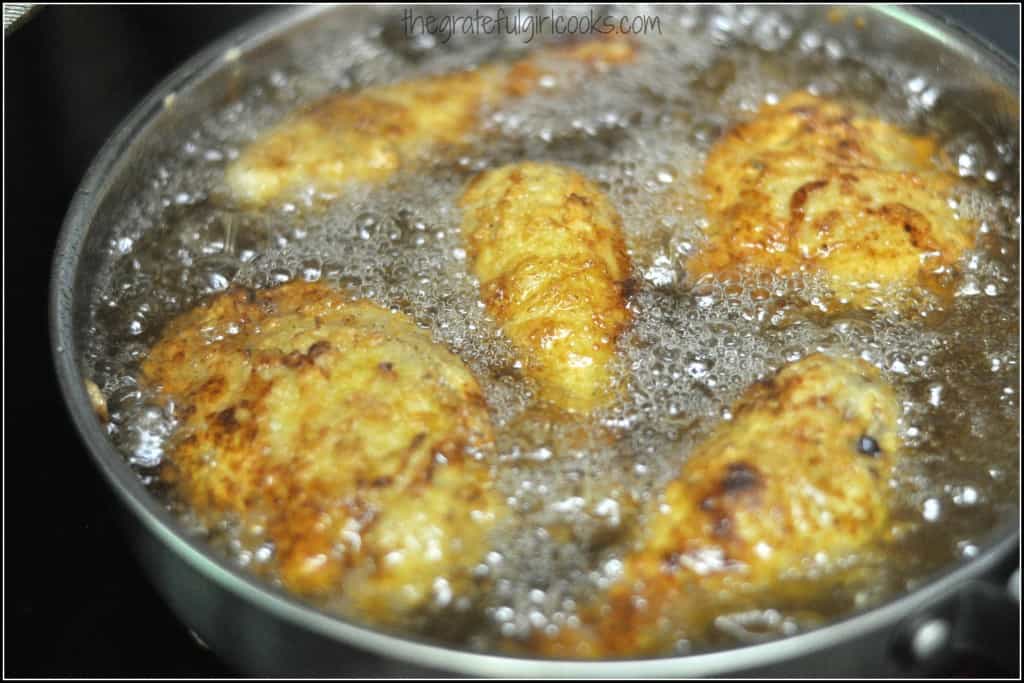 Continue to cook chicken, turning and browning for about 5 minutes. After chicken has cooked for about 10 minutes total (since adding the chicken), reduce the heat from high to medium/low and continue cooking an additional 10 minutes. If you are using extra large pieces of chicken, adapt cooking time to ensure chicken is fully cooked. Chicken should be a wonderful brown color before removing. Place a wire rack on top of some paper towels.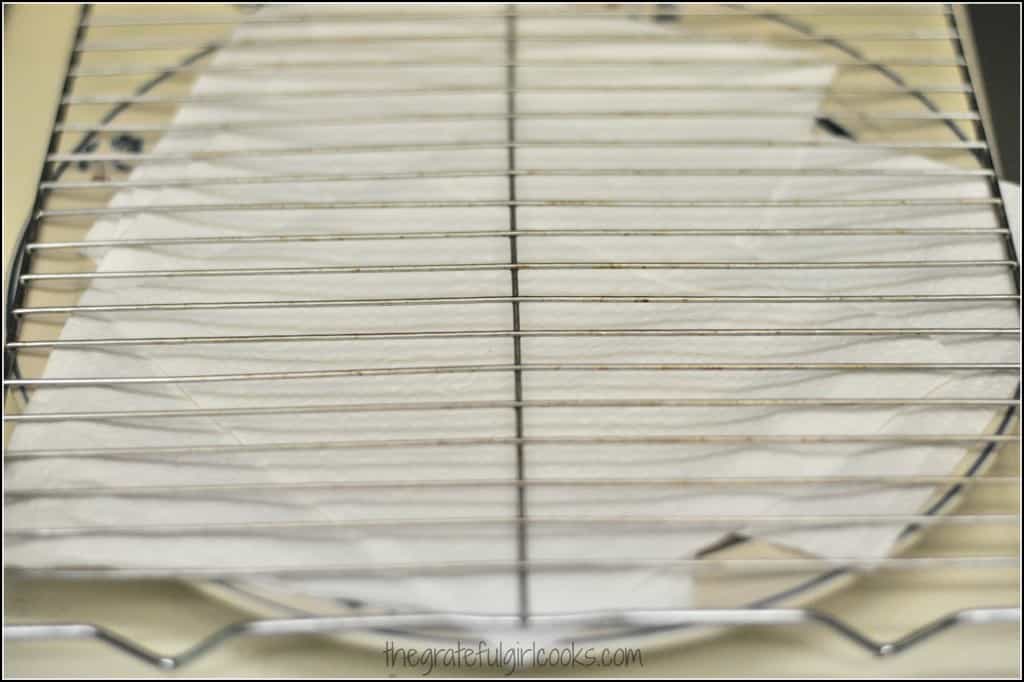 When chicken is done, carefully remove pieces to wire rack to cool and drain.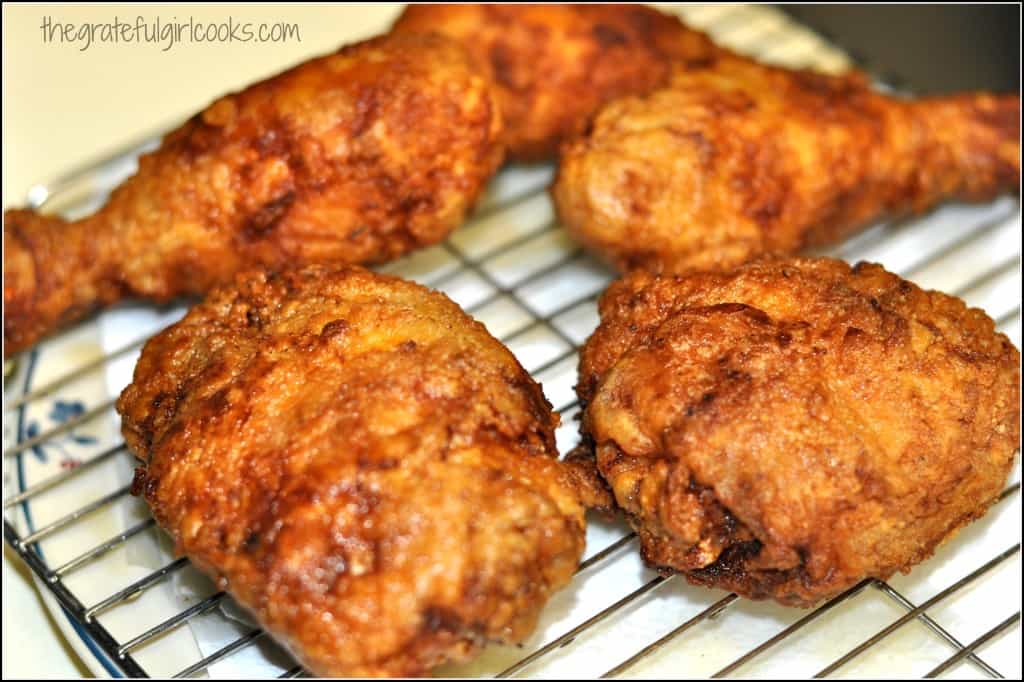 Serve the chicken with some good ol' mashed potatoes and a veggie, and you will have comfort food at it's very best! Enjoy the crunch as you bite into this delicious chicken!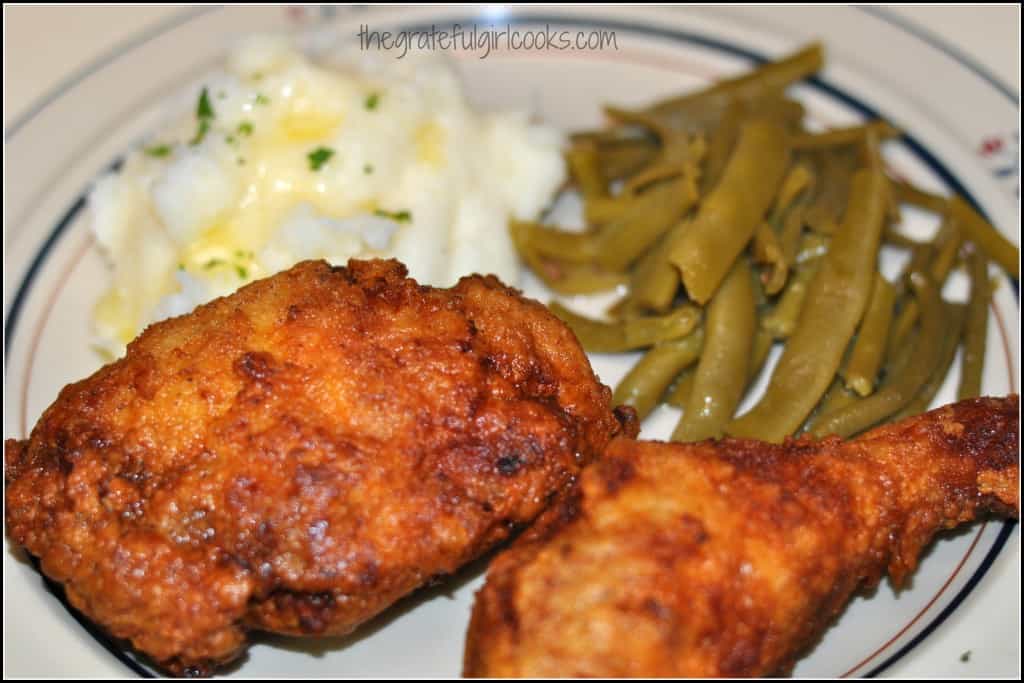 It's really not that hard at all to make good old Southern style Crunchy Buttermilk Fried Chicken. Why pay someone else (KFC) to make it for you when you can make it yourself for a fraction of the cost?  Sure hope you will give it a try!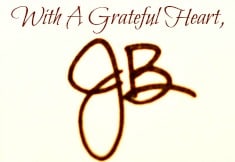 Crunchy Buttermilk Fried Chicken
Why pay for a bucket of chicken when you can make delicious, crunchy fried chicken at home for a fraction of the cost?
As Prepared By:
JB at The Grateful Girl Cooks!
Ingredients
Chicken pieces of your choice (for this recipe I used 5 pieces)
1½ cups all purpose flour
½ teaspoon salt
½ teaspoon pepper
¼ teaspoon garlic powder
¼ teaspoon onion powder
¼ teaspoon celery salt
¼ teaspoon dried thyme
¼ teaspoon seasoning salt
1½ cups buttermilk
Vegetable oil (enough for about 3 inches in bottom of pan)
Directions
In a medium bowl, mix together the flour and spices.
Place the buttermilk in a separate medium bowl.
Dredge chicken pieces in flour to coat all sides.
Dredge chicken pieces in buttermilk to coat all sides.
Re-dredge chicken pieces in flour to coat all sides. Lay chicken pieces on platter to rest while oil is heating.
In a large skillet or large Dutch oven, pour enough vegetable oil to cover bottom with about 3 inches of oil. Turn heat to high, and heat until oil reaches 370 or 375 degrees F.
When oil temperature is at 370 degrees, carefully add chicken pieces to hot oil, using tongs. Let cook for 4-5 minutes (should start to turn golden brown on bottom), then carefully turn each piece of chicken over and cook for an additional 4-5 minutes.
After chicken has cooked for 10 minutes, reduce heat to medium/low and continue cooking (and turning) chicken for an additional 10 minutes. Chicken should be medium brown and cooked through when time is up. Remove chicken with tongs to a wire rack (which is on top of paper towels), to drain and cool down just a bit.
Serve chicken with side dishes of your choice, and enjoy the crunch!
Notes
I only made 5 pieces of chicken for these photos. If you are going to be cooking a large quantity of chicken, you will need to increase the amount of flour/spice mixture, and buttermilk slightly to adequately cover all the chicken.
Save
Save