I typically use Italian sausage when I prepare spaghetti and sauce, but occasionally we really enjoy our pasta with a fire roasted garlic marinara sauce and these Easy Meatballs For Spaghetti!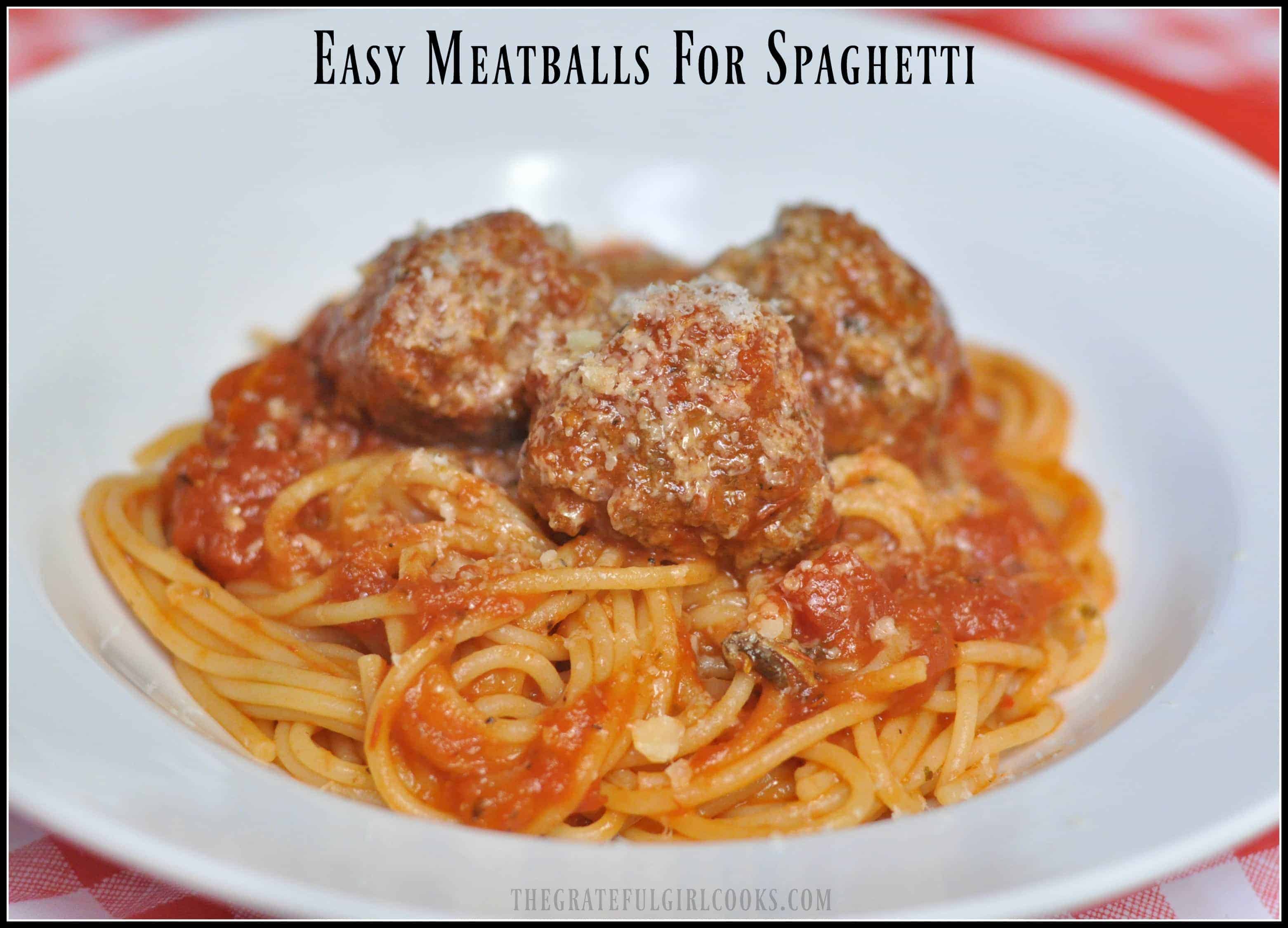 Sometimes Spaghetti and Meatballs really hits the spot! It's completely easy to make 10-12 delicious Italian-seasoned meatballs using only one pound of hamburger meat and a few other readily available ingredients. I've been making meatballs for spaghetti this way for many, many years, and enjoy the minimal prep time involved!  You can even make a double batch of the meatballs and freeze them to use for another meal, which can save you precious time!  Here's how easy it is to prepare them:
In medium sized bowl, combine ground beef, salt, pepper, garlic powder, oregano, diced onion, and freshly grated Parmesan cheese. Mix well, to combine ingredients.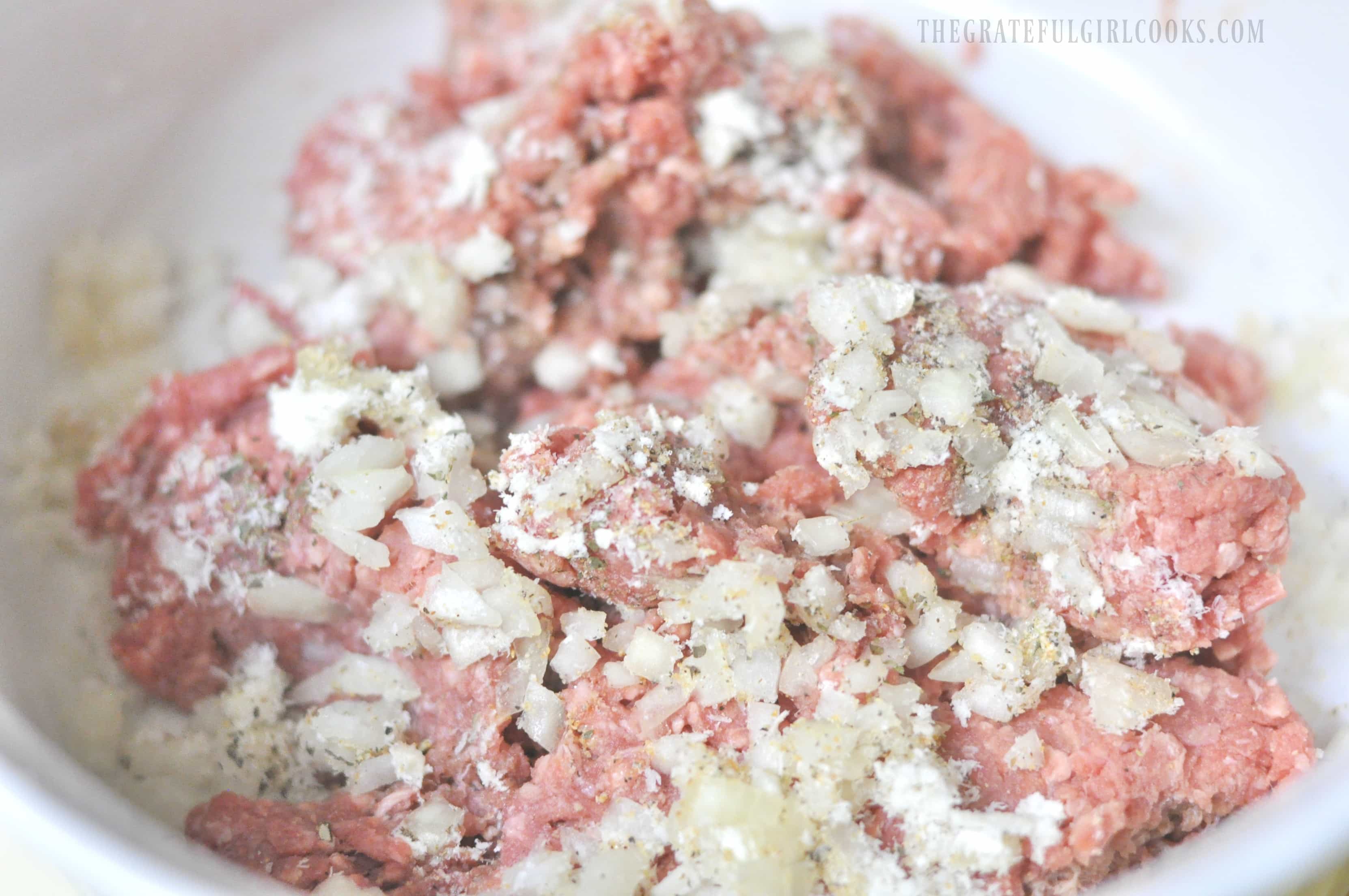 Using your (clean) hands, grab a portion of the meat mixture and form it into a ball, rolling it between your hands.  The ones I made were about 2 inches wide, so I was able to get 10 fairly good-sized meatballs out of one pound of meat. If you make 'em just a tad smaller, you should be able to make 12 or more meatballs. Set meatballs (once formed) onto a plate or wax paper.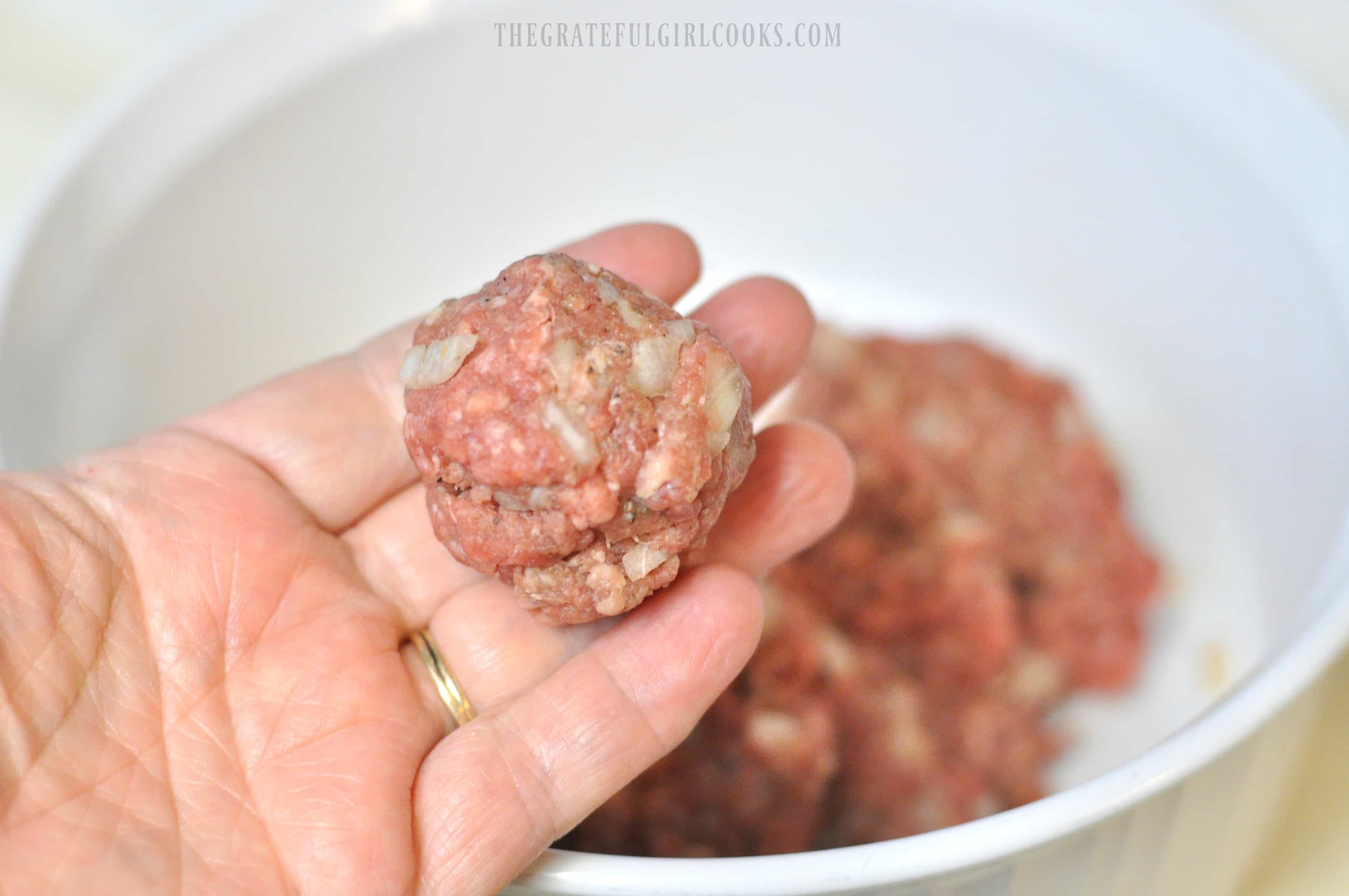 Heat 1 Tablespoon oil (vegetable or olive) in a large non-stick skillet.  Heat on medium heat until oil and skillet are hot (but not smoking).  Add meatballs. They should sizzle as the hit the skillet.  Cook until brown on bottom, then carefully turn over. Continue to cook until all sides are brown (meatballs do NOT have to be completely cooked through – they will finish cooking in the sauce later).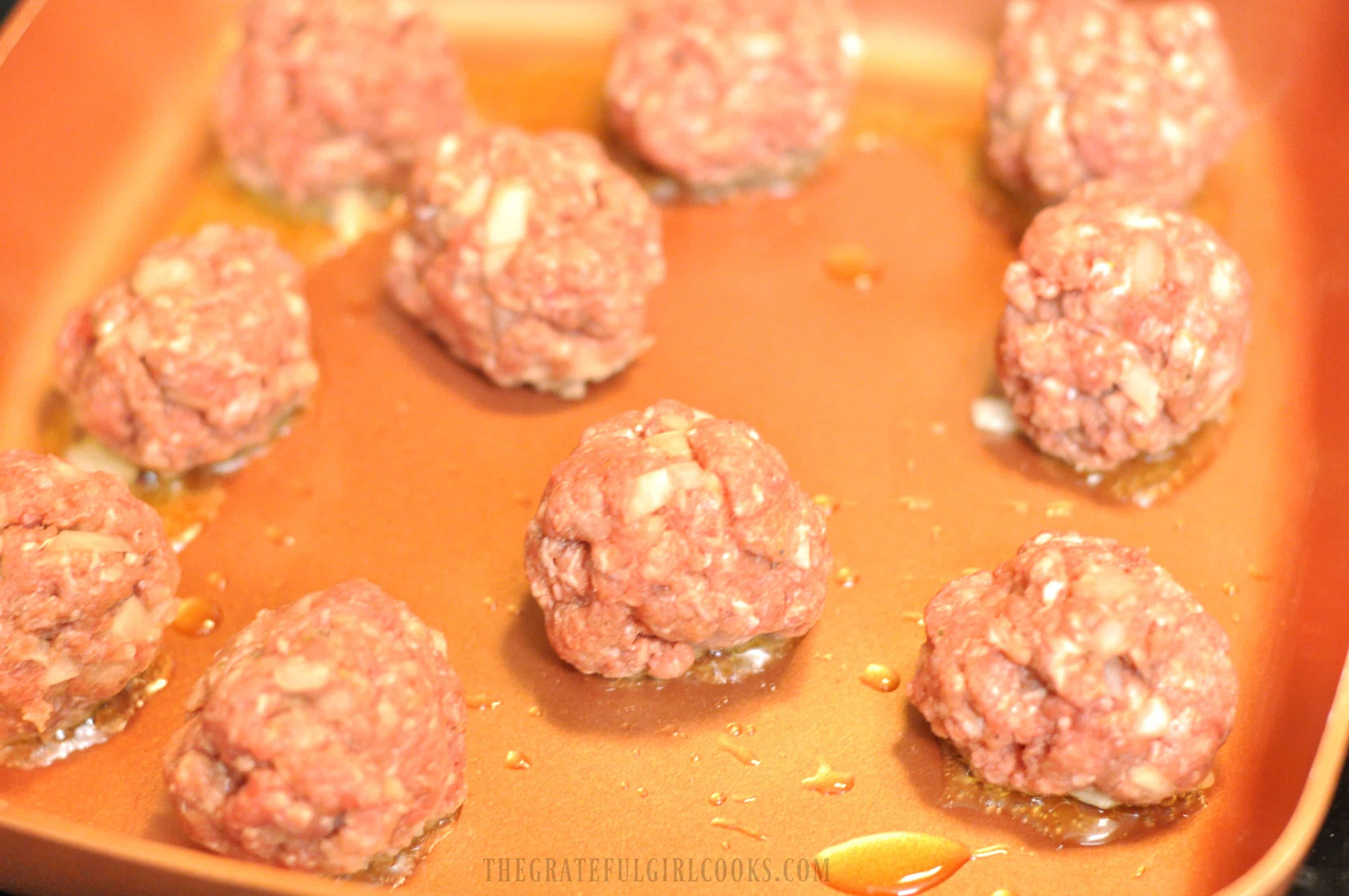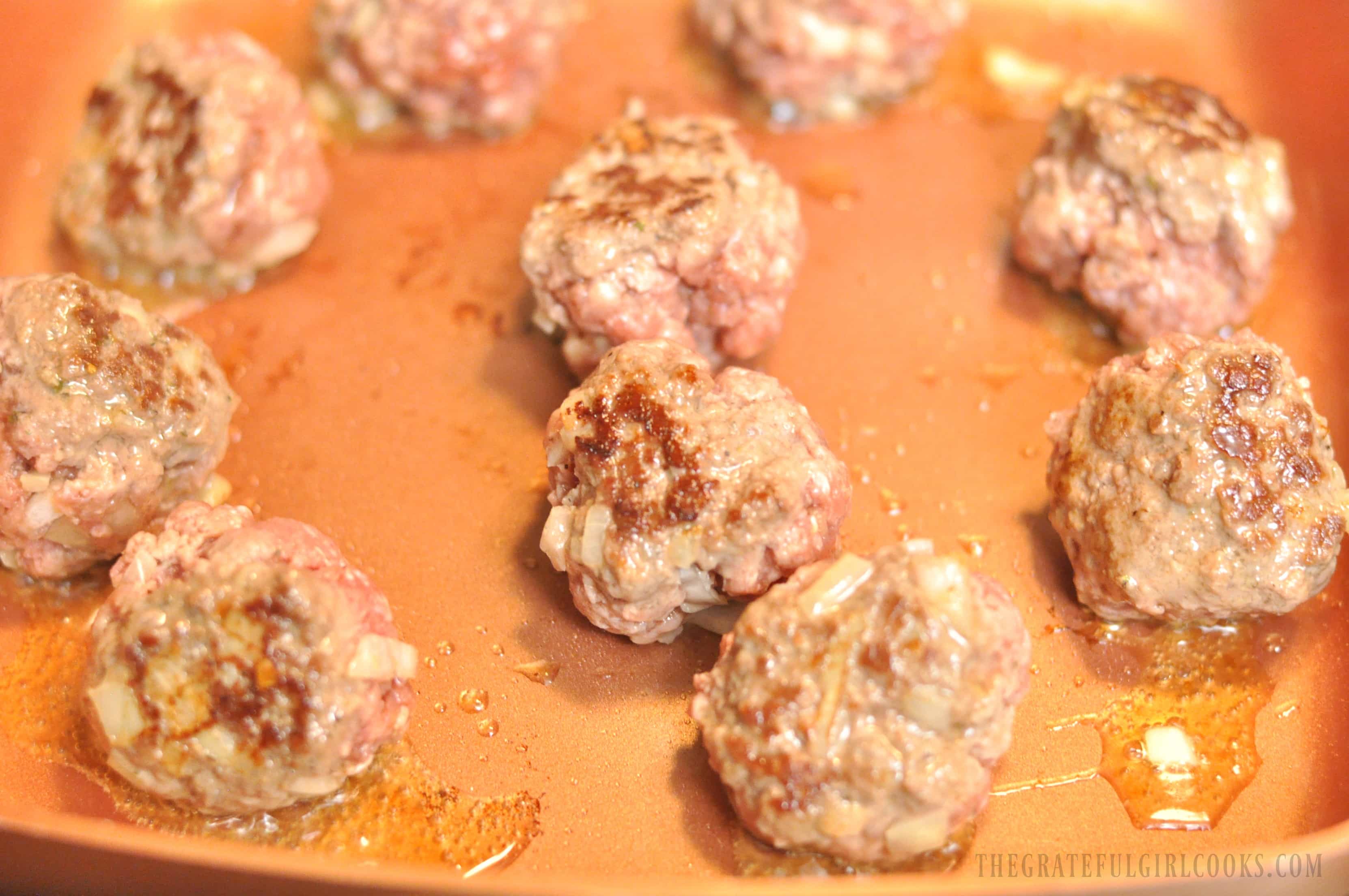 In a separate large saucepan, heat up spaghetti sauce (whatever kind of sauce you have on hand, whether it's homemade or a purchased jar, just make sure you have enough sauce for 4 servings)!  Heat the sauce on medium-low. Carefully add the meatballs to the sauce. Spoon sauce over the top of each meatball. Let the meatballs and sauce continue to cook (uncovered) on medium-low for about 30 minutes, occasionally spooning more sauce over the meatballs as they cook.
When meatballs are about halfway through cooking time, cook spaghetti noodles in separate pan, according to package directions. Drain pasta.  When they are done (and pasta is finished cooking), remove meatballs from spaghetti sauce (keep warm). Mix cooked, drained noodles with the hot spaghetti sauce.  Serve the pasta onto individual plates or into bowls. Spoon any leftover sauce onto pasta.  Top each serving with 2-3 meatballs.  Garnish with some finely grated Parmesan cheese, and serve!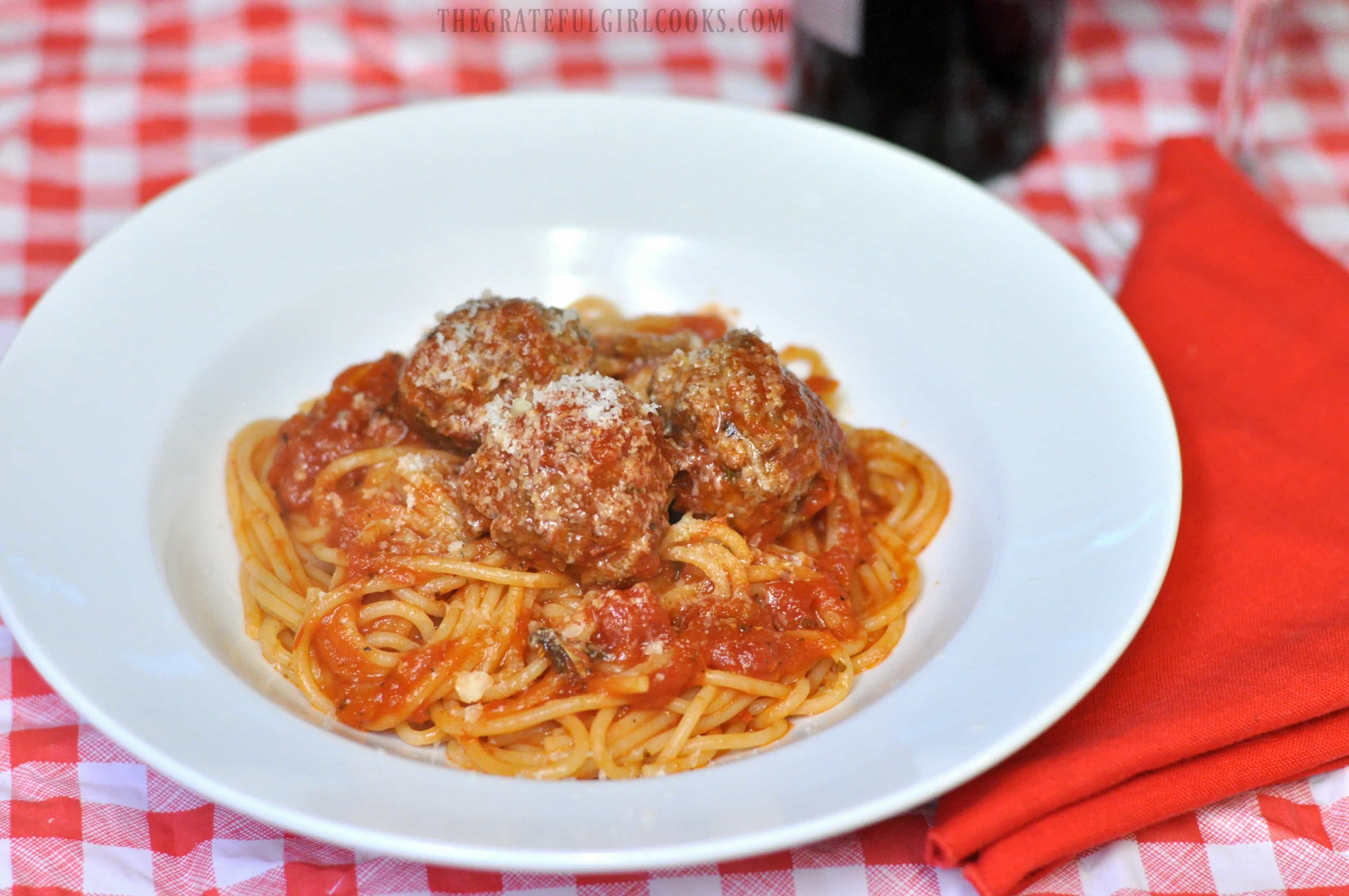 This really is an economical and delicious classic meal, in which you can end up with 4 healthy sized portions using only one pound of ground beef!  Our oldest son popped in for a visit the day after I made this meal, and he enjoyed a big plate of leftover spaghetti and meatballs for lunch!  Yay for leftovers! Hope you'll give these easy to prepare meatballs a try!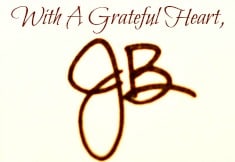 Here's one more to pin on your Pinterest boards!

Save
Save
Save
Save
Save
Save
Save
Save
Save
Save
Save
Save
Save
Save
Save
Save
Save
Save
Save