My husband and I ushered in the New Year with a home cooked dinner, featuring Pecan-Crusted Halibut With Lemon Wine Sauce.  It was just the two of us this year, enjoying a delicious meal, a great movie ("Sully") and a glass of champagne together.  What a great start to the year!!!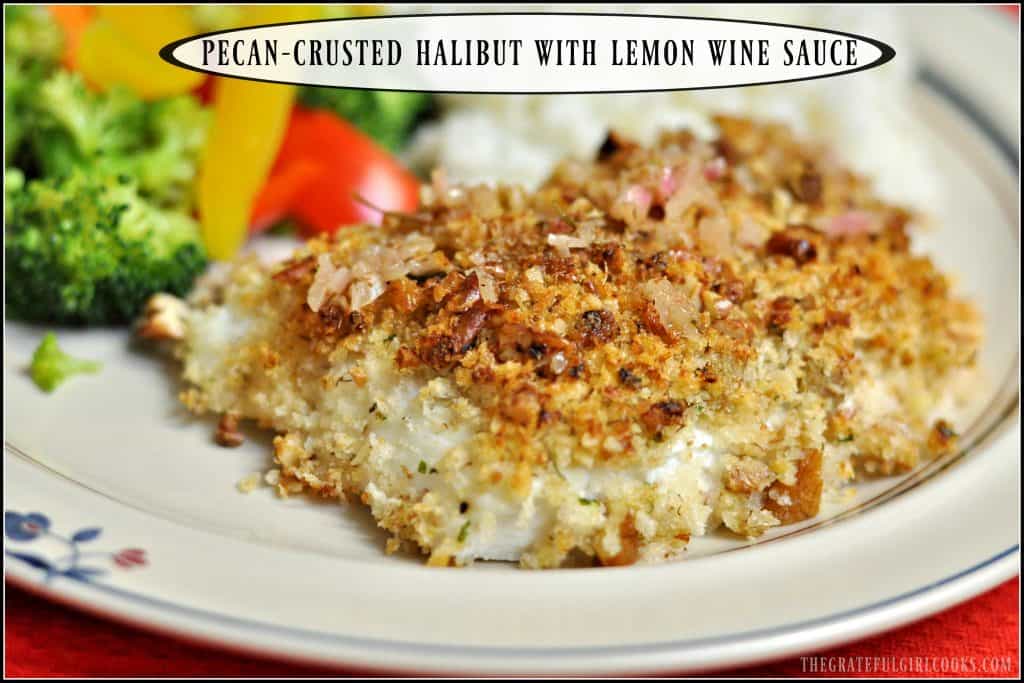 We don't buy halibut too often (it can be a bit pricey), but my husband found a fillet on sale for $14 and we got 3½ servings out of it, so it actually cost less per serving than a fast food meal! I found a recipe that sounded wonderful, so I made it for us, and WE LOVED IT!!!!  The halibut is baked, with an amazing Panko breadcrumb/pecan/seasoning/Parmesan cheese crust on it. Once cooked, a lemon wine sauce is drizzled over the halibut, then served.
If you make the lemon wine sauce while the halibut is baking, this dish can be made in 30 minutes! (*Note: I cut recipe in half so my photos reflect that): Here's how to make this dish:
First things first… make sure to preheat your oven to 425 degrees. While it is preheating, cover a cookie sheet with aluminum foil and give it a good coating of non-stick spray.  Pat the pieces of halibut dry with a paper towel, lightly season with salt and pepper, then place halibut pieces onto prepared baking sheet. Keep pieces about 1/2-1 inch apart. Set aside.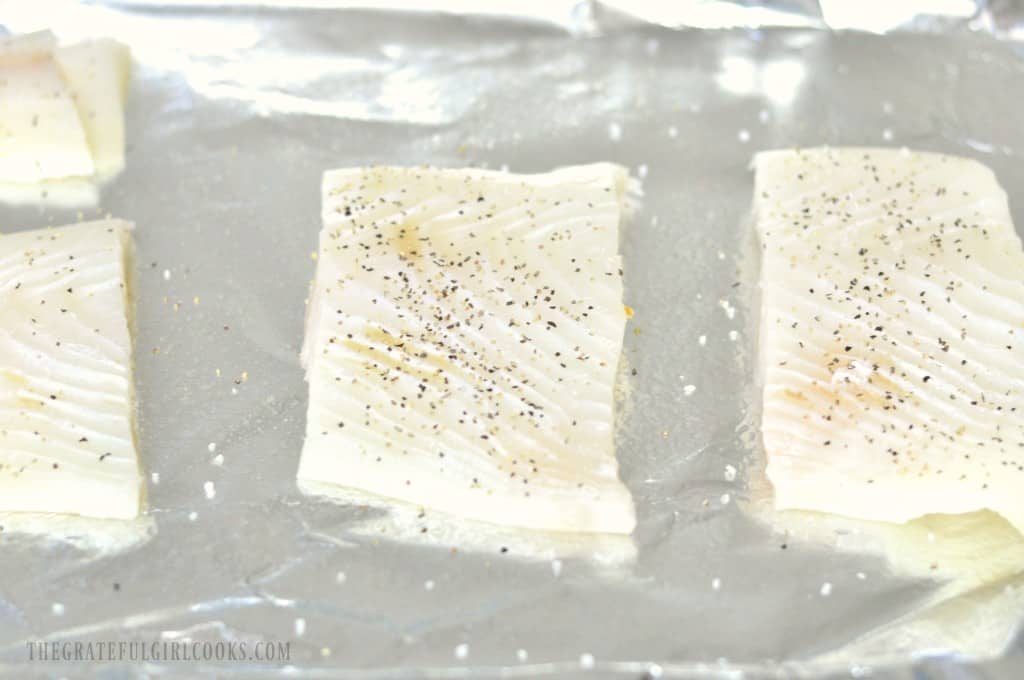 In a separate bowl, combine Panko breadcrumbs, chopped pecans, and freshly grated Parmesan cheese. Stir to combine. Add melted butter, horseradish, Dijon mustard, chopped parsley, dill, and lemon zest. Mix together with a fork until the mixture is fully combined.  It will be crumbly and look like this…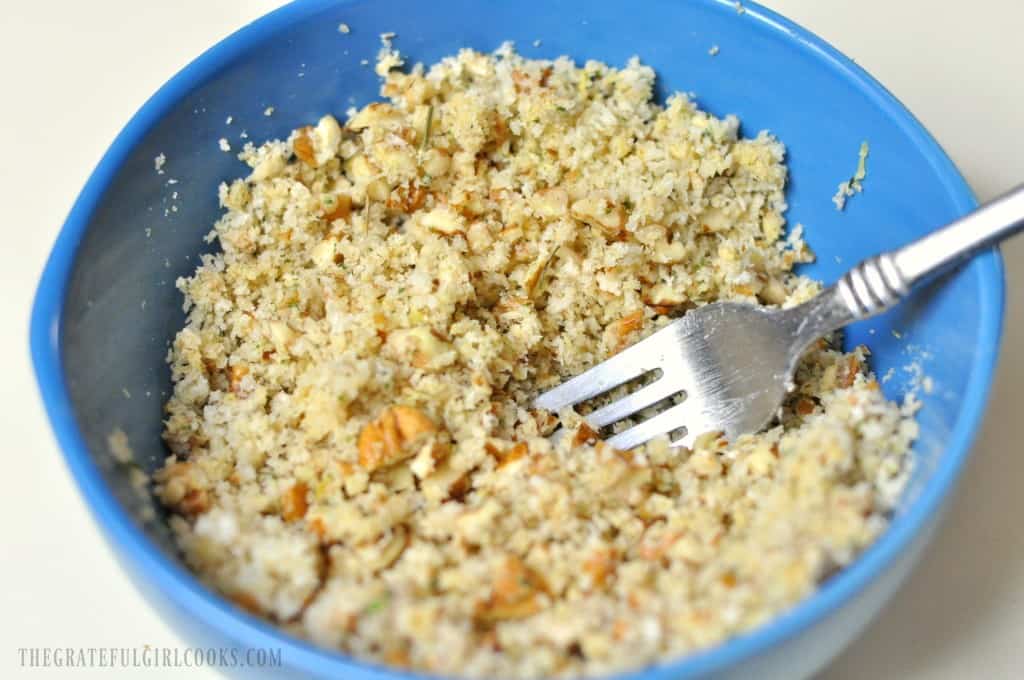 Now use a spoon and/or your clean hands and divide the mixture evenly on top of each piece of halibut. Cover the top completely, lightly pressing the crumbs onto the fish to get them to "stick". Scoop crumbs up that fall off fish and press them back onto fish. When all halibut pieces are coated, drizzle with olive oil.  Place halibut in oven; bake at 425 degrees for 12-15 minutes, until cooked through and crust is golden brown (mine took 15).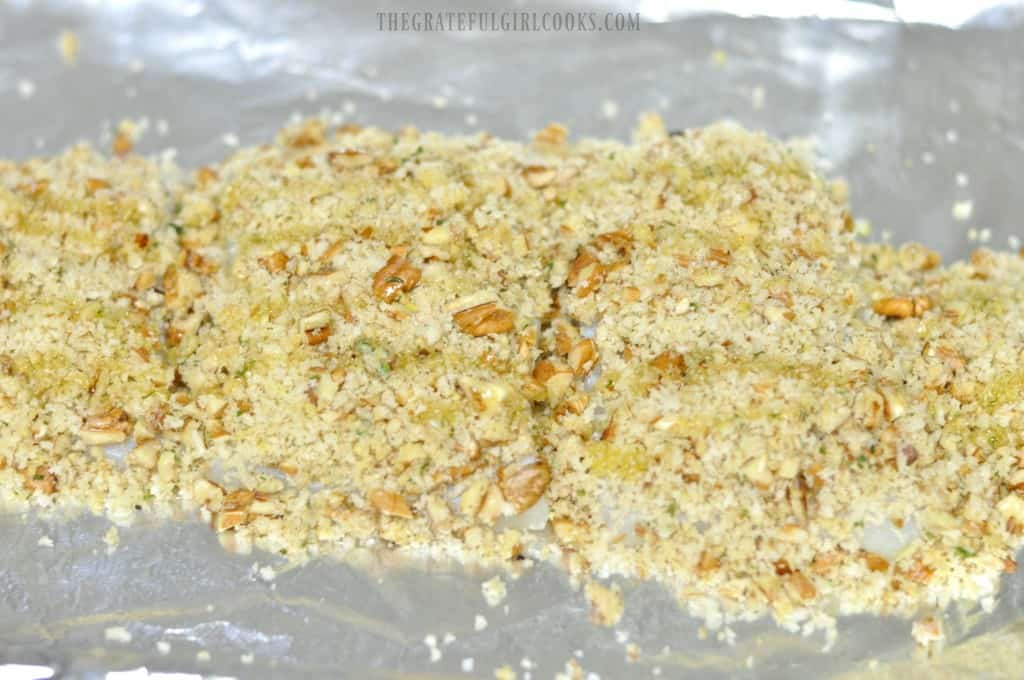 While halibut is baking, make the lemon wine sauce. Heat olive oil in saucepan on medium heat. When hot, add finely chopped shallots. Stir and cook for 2-3 minutes, until shallots are cooked and slightly soft.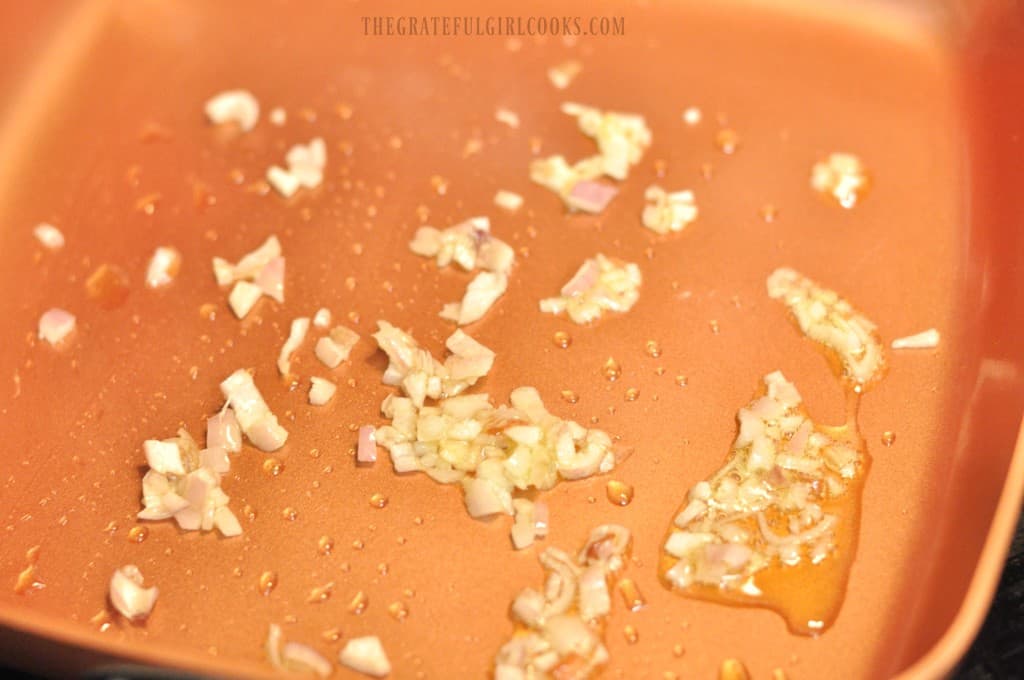 Turn the heat up to High. Pour in the wine and lemon juice. Bring to a boil; continue to cook for 6-8 minutes (or 5-6 minutes if making a half recipe), until the liquid has reduced slightly.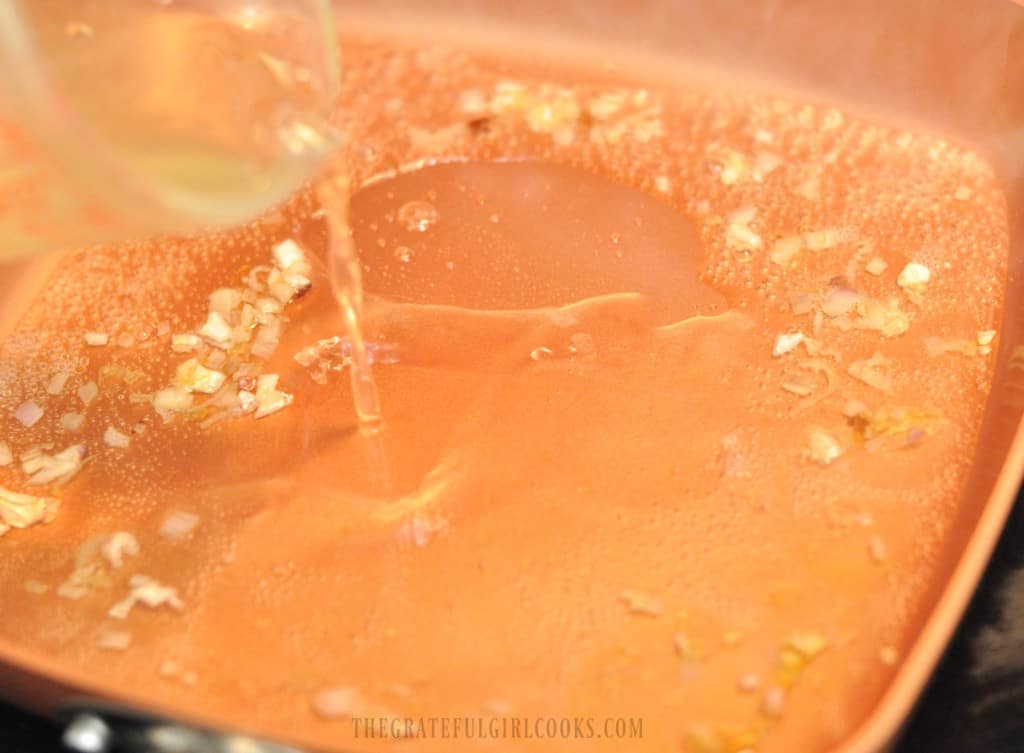 Turn heat down to Low. Add butter. Stir until butter has melted and is incorporated into sauce.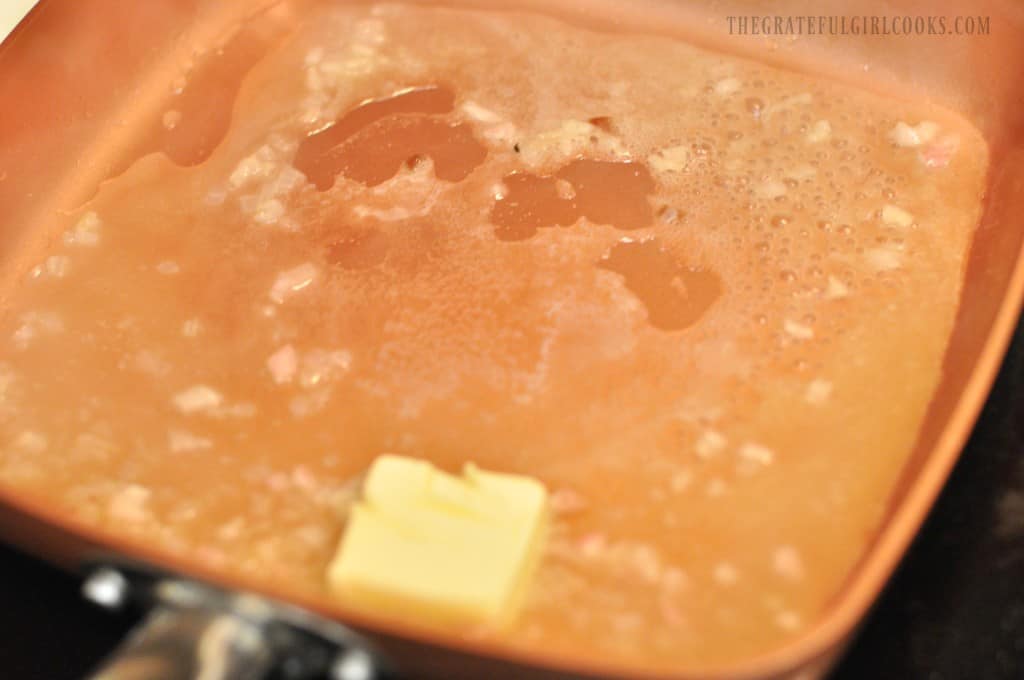 Remove pan from heat. Add fresh (or dried) chopped dill. Season with salt/pepper, to taste.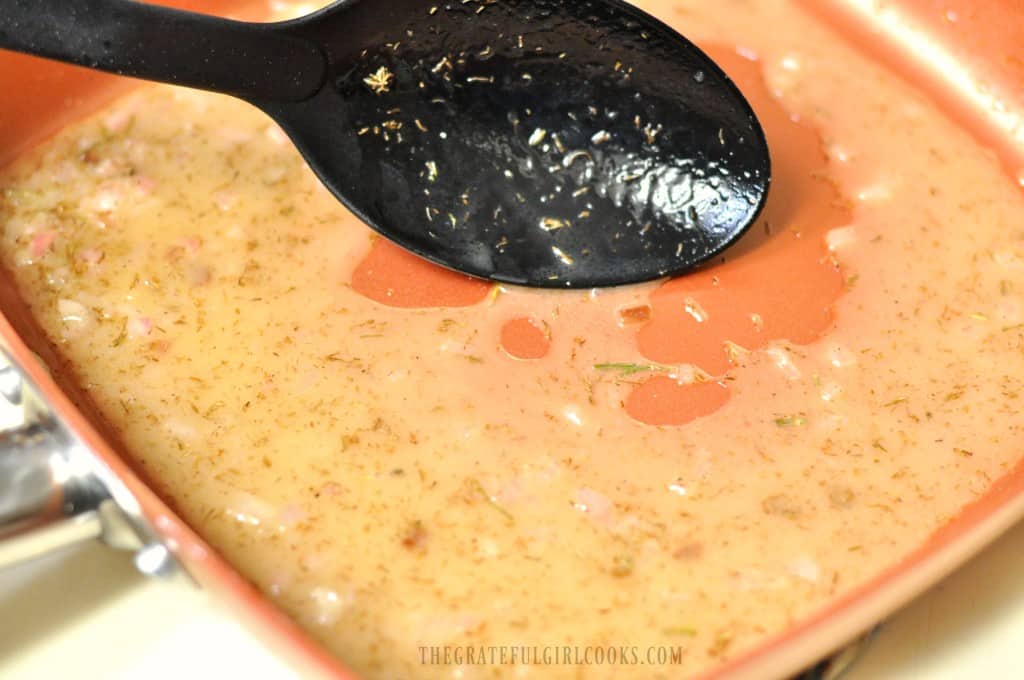 When halibut is done, the crust will be a gorgeous golden brown color, fish should be cooked through, and it will look like this…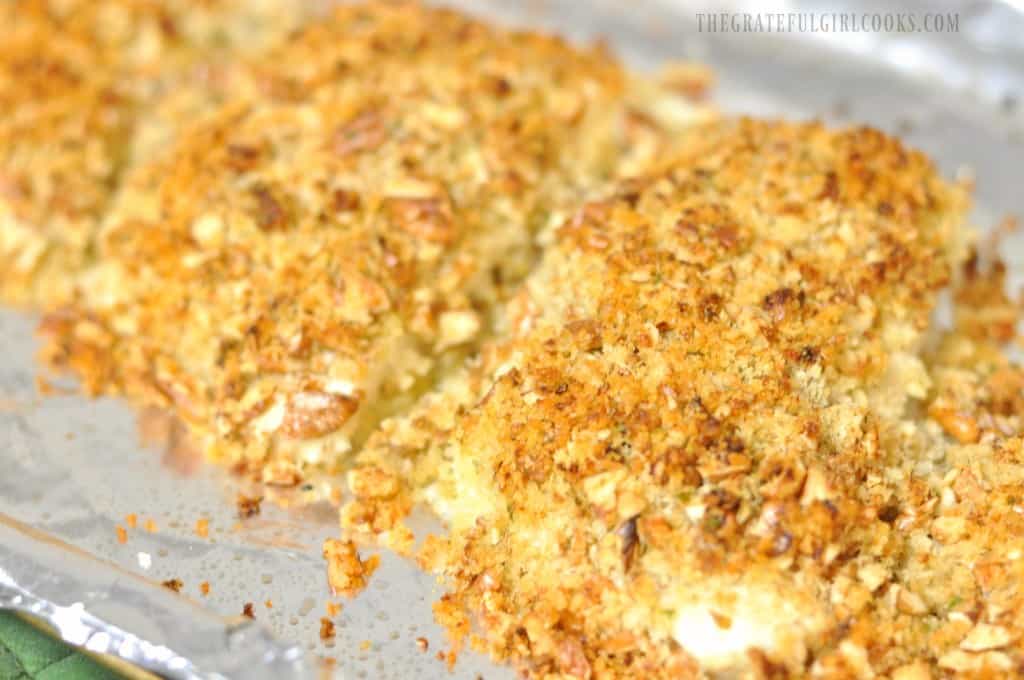 Use a spatula to place the halibut onto individual serving plates. Drizzle some of that delicious Lemon Wine sauce over each piece, then serve and enjoy!  I served the halibut with some rice, and a fresh vegetable medley. The fish flaked so easily, and the crumb topping with the drizzled lemon wine sauce was out of this world good. REALLY good.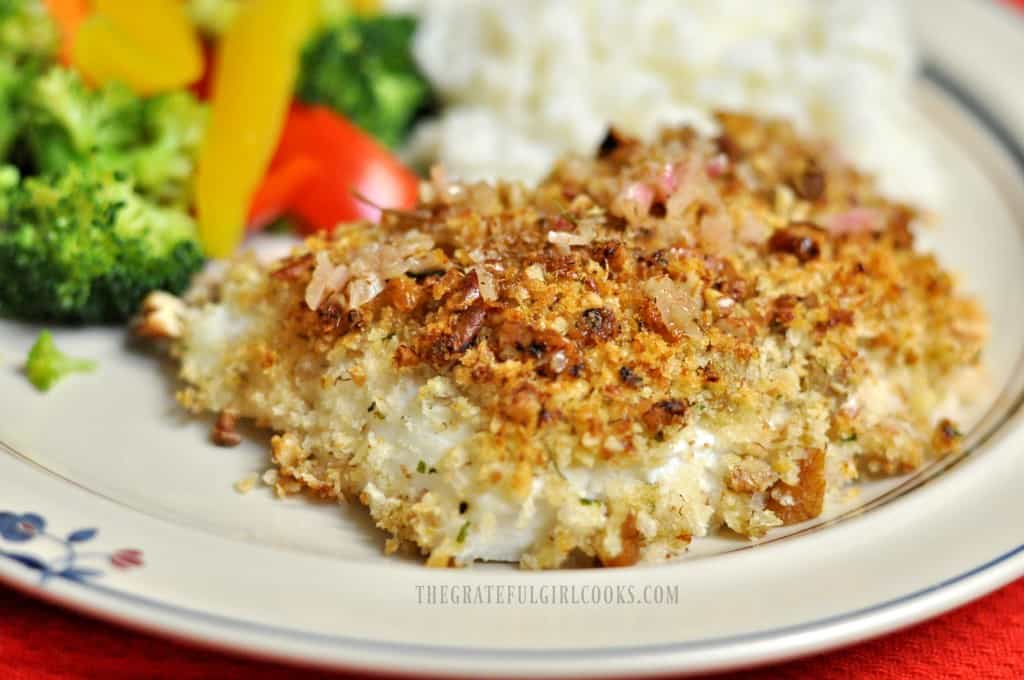 I sure hope you will consider giving this recipe a try. We felt like we had a gourmet meal for a fraction of the cost of ordering halibut at a restaurant… and it was absolutely delicious!
Hope you are looking forward to the New Year ahead with great anticipation for new adventures, making new friends, new (yummy) recipes to fix for the ones you love, serving others, and the peace that comes from knowing how much God loves YOU… just as you are.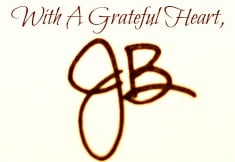 Recipe Source:  http://www.bitememore.com/feedme/125/walnut-crusted-halibut-recipe#

Save
Save
Save
Save
Save
Save
Save
Save
Save
Save
Save
Save
Save
Save
Save
Save
Save
Save