I am always on the lookout for a meatless entree I can serve when we have our Vegetarian son and his girlfriend over for dinner!  I found a recipe for Quinoa Enchilada Casserole (meatless) on Pinterest and decided to give it a "taste-test" before offering it up for a family get-together!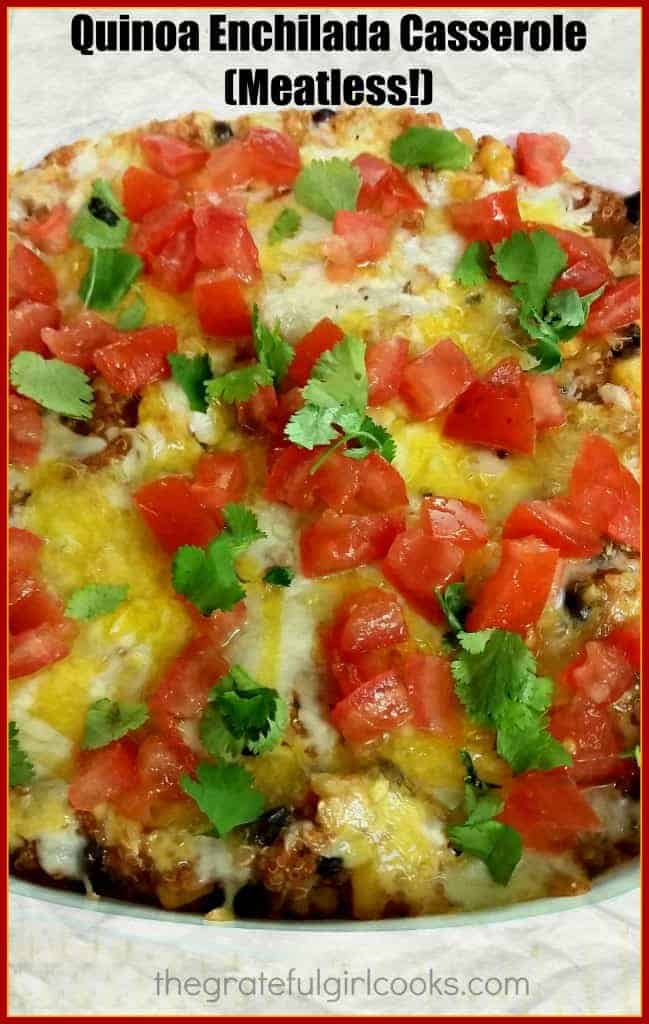 Our youngest son (the one who used to love huge steaks and hamburgers) became a vegetarian a few years ago. His girlfriend is also a vegetarian. That complicated things a bit by making dinners more challenging for our "family get-togethers", soooo… I'm glad I tried this recipe (and only tweaked with it just a little)… it was delicious, and really easy to prepare! If you like a good enchilada, or enjoy a meatless meal occasionally like we do (one with loads of flavor), you will like this recipe… meat eater or not!
Here's how you make it!
Prepare quinoa according to package directions. When done, place quinoa in large bowl with green chiles, corn, black beans, cilantro, green onion, cumin, garlic powder, and chili powder.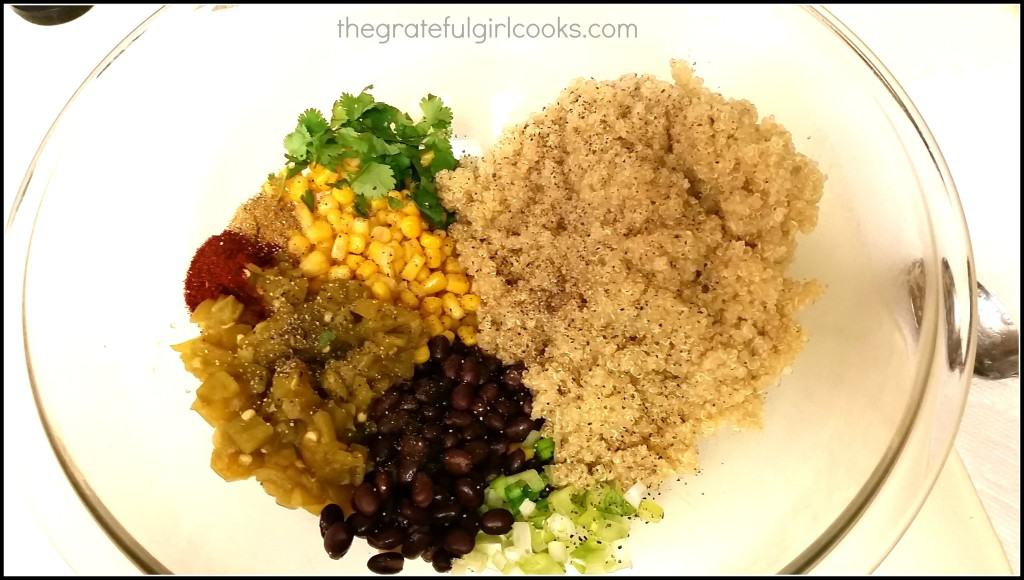 Add the enchilada sauce, salt and pepper. Stir well, to combine.

Stir in a half cup of cheddar cheese and a half cup of pepper jack cheese. Stir until fully combined.

Pour the mixture into a lightly greased (or sprayed) 8×8 inch baking dish. Spread mixture evenly in dish. Sprinkle the remaining cheeses on top.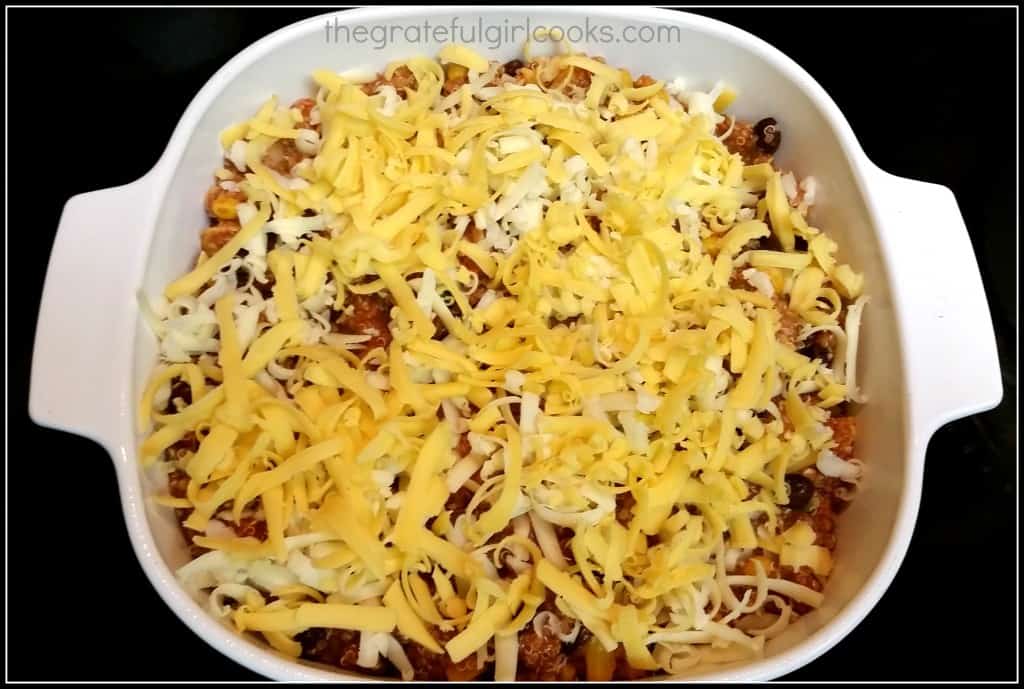 Bake casserole for about 20-25 minutes at 375 degrees (or until cheese is bubbly and fully melted). Remove casserole to a wire rack. Garnish the top with chopped tomato and cilantro. Serve, and enjoy!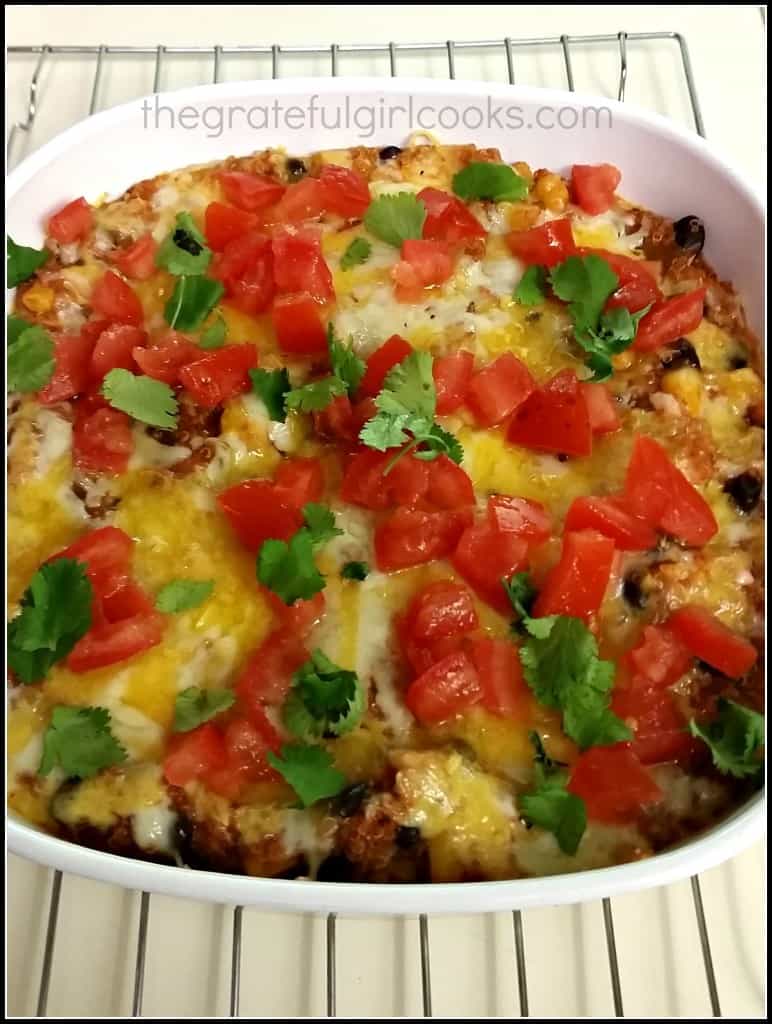 Just a word… the texture of the casserole makes this one to be scooped out with a spoon, rather than cut into pieces with a knife. It tastes fantastic, though, and the flavors are totally that of eating a good enchilada, without the meat.  I refrigerated the leftovers and the next day was able to cut it into pieces (while chilled) and get this photo so you can see accurately what it looks like on the inside.
Hope you will consider trying this recipe… it is packed with flavor and tastes great!
Original Recipe (slightly adapted) from: http://damndelicious.net/2014/07/07/quinoa-enchilada-casserole/

Save