Can't get to England? Why not make your own crunchy beer battered fish and homemade "chips" (french fries) for dinner, in the comfort of your home!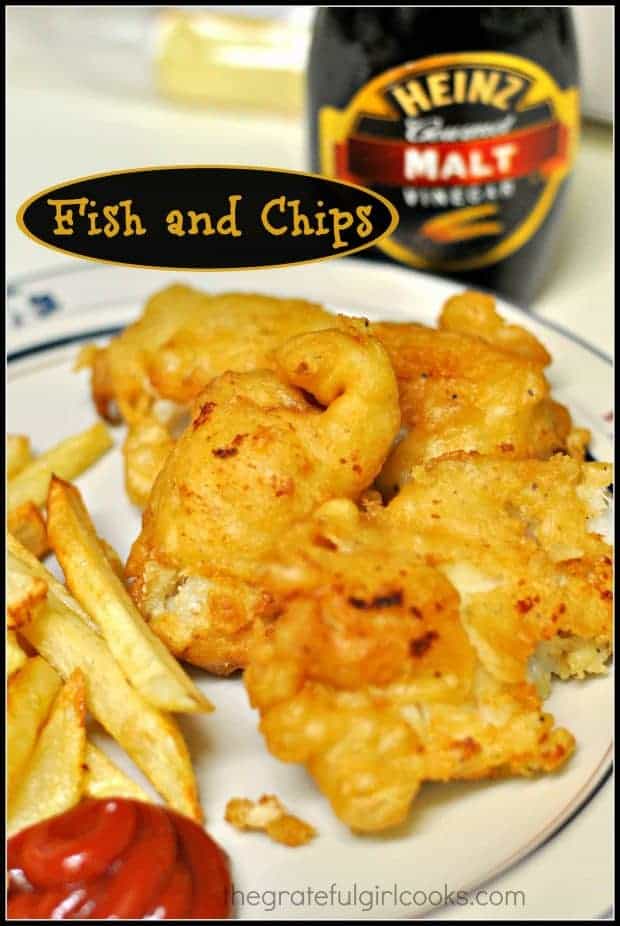 I don't fry food too much these days as a rule… every couple of months I will make fried chicken to honor our family's Southern roots, BUT THEN I SAW IT… a recipe on Pinterest for Beer Battered Fish and Chips.
Against all my common sense, I think I heard the recipe calling to me, bringing back memories of a summer I spent in England years ago.
Fish and chips seemed to be available everywhere, and were served wrapped up in paper, and piping hot! I loved buying fish and chips from local vendors in several of the towns I visited. Such a great memory.
Occasionally my husband or I will now order this meal in a restaurant; but the thought of making my own seemed daunting. However, I love to learn and challenge myself to try new things.
But Could I Make Beer Battered Fish And Chips At Home?
I decided to try and make my own replica of British fish and chips. GULP. I crossed my fingers, toes, eyes, and anything else I could cross, and plunged in!
Well- I used thick pieces of frozen cod for this recipe and found it, as well as the batter, to be wonderful! Plus… "chips"? How can ya go wrong with some good "chips"… FRIES???
I enjoyed every single bite of my crispy coated pieces of fish (with Malt Vinegar on them), and loved the delicious "chips" dipped in ketchup. The chips (fries) are cooked twice to get them nice and crispy, and let me tell you… they were tasty!
So there you have it, and I'm really glad I made this recipe that very first time. Yum! The only thing missing was having this meal served, wrapped up in a big piece of greasy paper… but I can live without that! Here's a peek at the "process" for making this dish:
Scroll Down For A Printable Recipe Card At The Bottom Of The Page
Prepare The Potatoes For Frying
Peel the potatoes, then cut them into sticks for the "chips" (fries). Pat them very dry with paper towels, trying to absorb as much moisture as possible.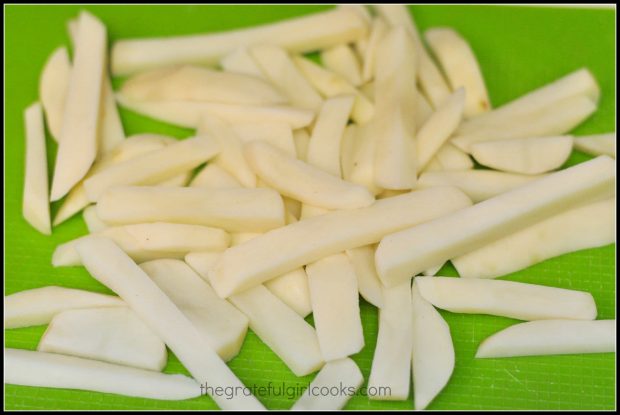 Cook the fries in HOT oil (350°F.) for about 8 minutes.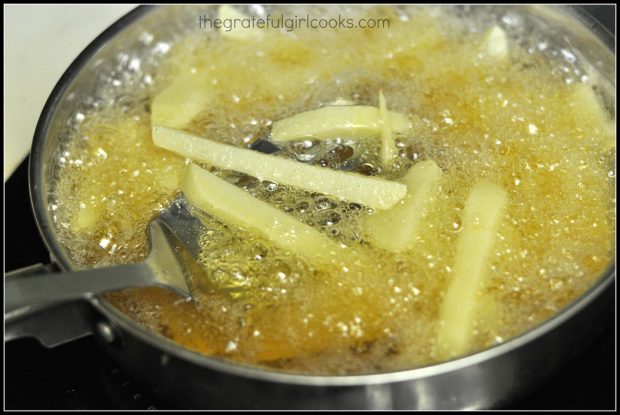 After cooking the "chips" for about 8 minutes, remove them from the oil with a slotted spoon or spatula. Let these semi-cooked "chips" drain on paper towels while you cook the fish.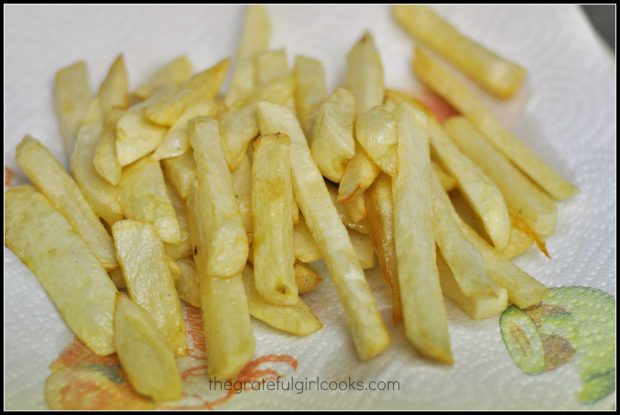 Prep The Fish for Frying
Lightly coat all the pieces of fish in a flour/salt/pepper mixture and then set them aside to rest, while you mix the batter.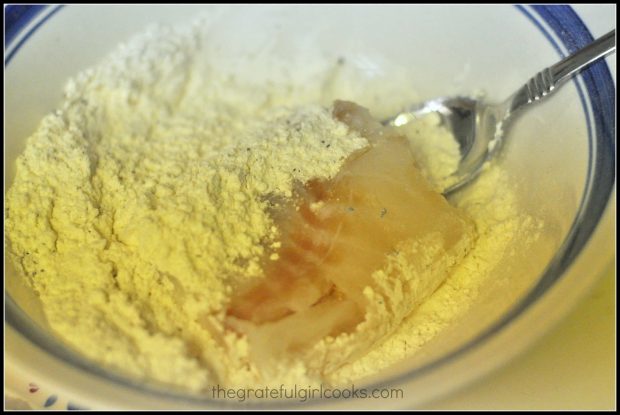 Once the beer batter has been made, dip the flour coated fish pieces in it, one at a time. Fully coat the fish pieces with the batter before frying.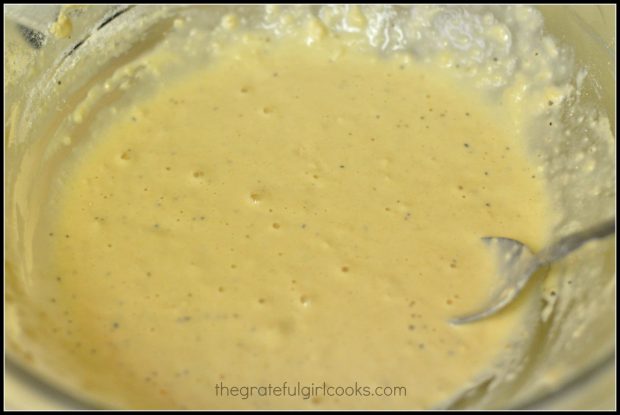 Cook The Beer Battered Fish
Cook the battered fish pieces in HOT oil (350°F) for 7-8 minutes until golden brown and crispy on all sides. It is very important for the oil to be at the temperature before adding the fish.
Cook the beer battered fish for approximately 7-8 minutes, turning the pieces over halfway though the cooking time.
Once done, the batter coating should be golden brown and crispy on all sides. The fish should be fully cooked through.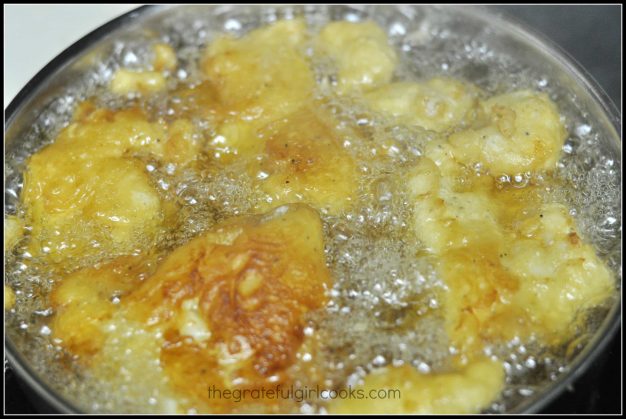 Drain the hot, cooked pieces of fish on layers of paper towels to absorb any excess oil. Reheat the oil back to 350°F. so you can fry the "chips" you set aside earlier a second time.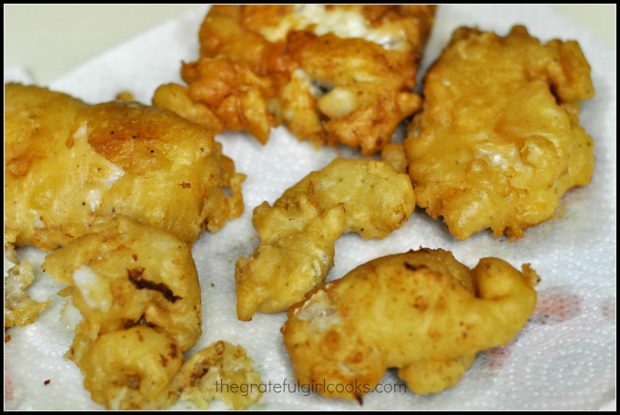 Cook The "Chips" (Fries) A Second Time
Put the half-cooked "chips" (fries) back into the 350°F. hot oil (after removing the fish). Cook them for an additional 3-4 minutes, until they're golden brown and crispy.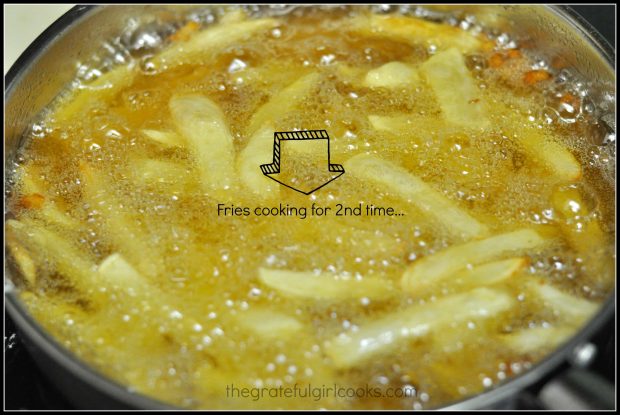 Time To Eat Some Beer Battered Fish And Chips!
Okay… now the beer battered fish and chips are hot, and ready to gobble up! Grab some Malt Vinegar or tartar sauce to serve with the fish.
Serve this delicious beer battered fish and chips, and enjoy! The fish has a crisp outer coating and is flaky inside, and the "chips" taste amazing, too. They're so good!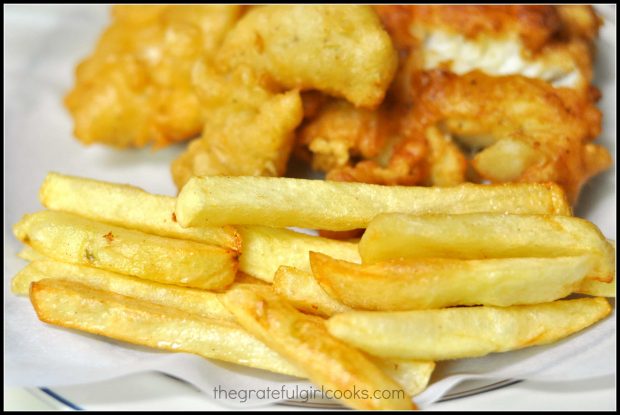 I love experimenting with food in our kitchen. I enjoy getting out of my comfort zone, learning about and trying new recipes for the first time!
Maybe if you're feeling adventurous too, you will give this fish and chips recipe a try. I highly recommend it!
Thank you for stopping by today, and I invite you to come back soon for more delicious recipes. Take care, and have a great day.
Looking For More FISH Recipes?
You can find ALL of my recipes in the Recipe Index, which is located at the top of the page. I have LOTS of absolutely delicious fish recipes you can check out, including:
Want More Recipes? Get My FREE Newsletter!
I publish a newsletter 2 times per month (1st and 15th) with lots of recipes, tips, etc..
Would you like to join our growing list of subscribers?
There is a Newsletter subscription box on the top right (or bottom) of each blog post, depending on the device you use.
You can submit your e-mail address there, to be added to my mailing list.
Find Me On Social Media:
Facebook page: The Grateful Girl Cooks!
Pinterest: The Grateful Girl Cooks!
Instagram: jbatthegratefulgirlcooks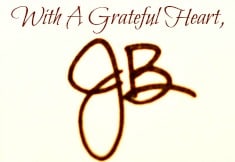 Recipe Source: http://www.lovefoodies.com/british-beer-battered-fish–chips.html
↓↓ PRINTABLE RECIPE BELOW ↓↓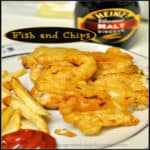 Fish and Chips
Can't get to England? Why not make your own crunchy beer battered fish and homemade "chips" (french fries) for dinner, in the comfort of your own home!
Calories Per Serving
:
901
kcal
Ingredients
For fish:
4

pieces

cod

(thick pieces-about 1 1/2 inches thick- I used frozen cod pieces)

1

cup

all purpose flour

Salt and pepper

, to season fish
For batter:
1

cup

all purpose flour

1 1/2

teaspoons

baking powder

7

Tablespoons

milk

1/2

Tablespoon

olive oil

1

Tablespoon

water

6-7

Tablespoons

beer

(light beer is best). Club soda may be substituted.
For Chips:
2

small to medium potatoes per person (peeled

, cut into "finger thickness"
Serve With:
Malt Vinegar and/or Tartar Sauce
Instructions
Pat fish filets dry with a paper towel. In a medium sized bowl, whisk together the flour, salt and pepper. Gently dredge the fish in the flour, turning to coat completely. Shake off excess flour; set flour covered filets aside.

Make the batter for the fish: Add all batter ingredients to a medium bowl, except for the beer (or club soda). Whisk to combine. There will be some lumps. That's okay. Set batter aside.

Make the chips: Peel, then cut potatoes into finger thickness. Slice potatoes lengthwise, then into strips. Dry the potatoes as much as you can by patting them dry with paper towels.

Heat oil in large skillet or stock pot until it reaches 350 degrees. (No thermometer? Try dropping a tiny bit of batter into oil... it should really sizzle, and come to the surface!). Carefully put cut potatoes into hot oil. Let them cook for about 8 minutes. Remove potatoes from hot oil (I used a spatula to help remove them). Place hot potatoes onto a baking pan or a wire rack with paper towels underneath, to drain, while you cook the fish. (You will cook the potatoes a 2nd time AFTER the fish has cooked).

Add the beer or club soda to the batter, and gently mix to combine. The batter should have the consistency of slightly thinned yogurt. If it is too thick, add just a touch more beer, and stir.

Heat the oil back up to 350 degrees. While it is heating back up, place parchment paper on baking sheet (to hold the fish after you remove it from the hot oil). If you are cooking for more than two people, see notes section for tip). Place flour covered fish pieces, one at a time, into the batter and fully cover with batter. Let excess batter run off fish back into bowl. Gently put battered fish into 350 degree (HOT) oil. Cook a few pieces at a time. Cook fish for 7-8 minutes, turning once, until golden brown and crispy on both sides. Remove cooked fish to parchment paper lined baking sheet to keep warm while you cook additional fish, then re-cook the "chips".

When done cooking the fish, heat the oil back to 350 degrees. Carefully add the chips. Cook for 3-4 additional minutes, until crispy and hot! Remove chips, drain.

Serve hot pieces of fish, a serving of "chips" on the side, along with some Malt Vinegar and/or tartar sauce. Enjoy!
Recipe Notes
I only cooked enough fish for two people. If you're cooking for more than 2, cook the fish in batches. Keep your oven heated to 300 degrees. As you remove cooked fish from oil, place it on paper-lined baking sheets; keep fish warm in oven until ready to serve.
Calculate about 5 ounces fish per person. Malt vinegar and tartar sauce not included in caloric calculation.
Nutrition Facts
Fish and Chips
Amount Per Serving (2 pieces fish+ fries)
Calories 901
Calories from Fat 63
% Daily Value*
Fat 7g11%
Cholesterol 148mg49%
Sodium 231mg10%
Potassium 2621mg75%
Carbohydrates 121g40%
Protein 79g158%
Vitamin A 240IU5%
Vitamin C 22.8mg28%
Calcium 320mg32%
Iron 12.9mg72%
* Percent Daily Values are based on a 2000 calorie diet.
Here's one more to pin on your Pinterest boards!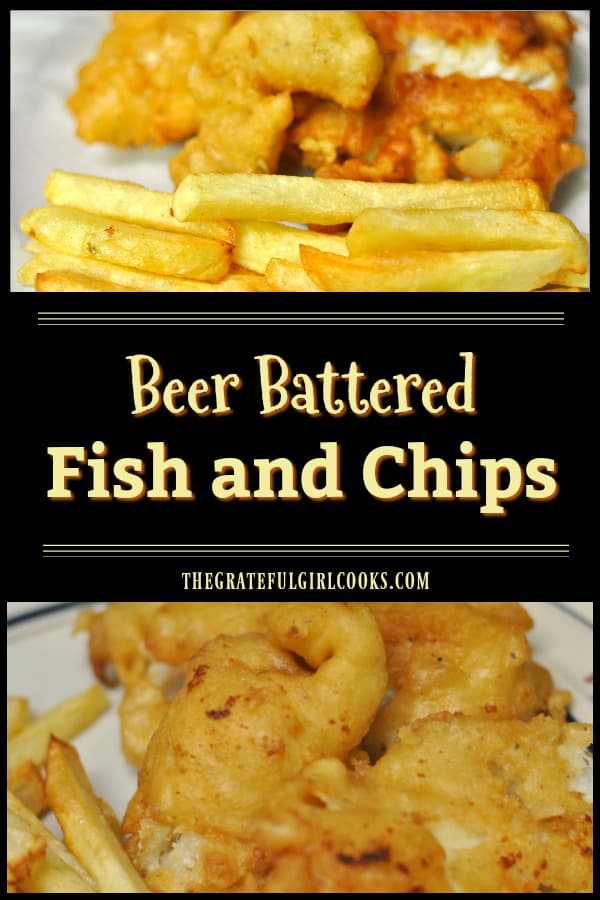 Save
Save
Save
Save
Save