Blueberry Cheesecake Ice Cream is the PERFECT frozen treat! Blueberry sauce, cream cheese and graham cracker crumbles add to the taste!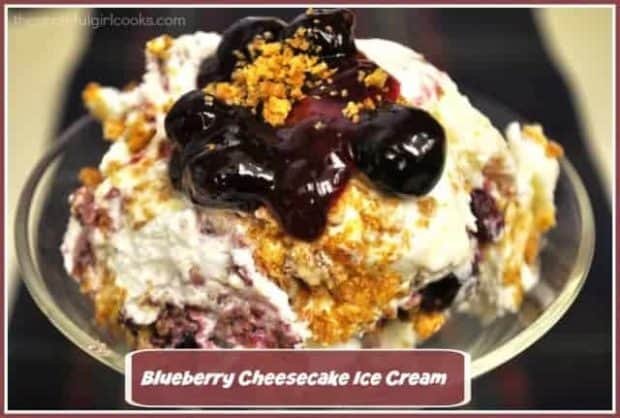 It's Winter (brr!) and guess what? I'm sharing a recipe today for homemade Blueberry Cheesecake Ice Cream (ironic, isn't it?). However… ice cream is good any time of the year, right? THIS ice cream is absolutely amazing! Why? Because it's beautiful and delicious, AND is there ever a reason to NOT have ice cream?! I don't think so… Two summers ago I received a new ice cream maker as a gift, and I've LOVED trying lots of delicious ice cream recipes since then.
Previously I made homemade ice cream outside in our trusty electric ice cream maker, loading the salt and ice in layers, then waiting and waiting. It always turned out wonderful, but was a bit time consuming and messy.
Scroll Down For A Printable Recipe Card At The Bottom Of The Page
I LOVE My Indoor Ice Cream Machine!
I received a Cuisinart indoor ice cream maker for a birthday… and it has been a game-changer! Now it can be pouring down rain or snowing outside (not that it would EVER happen in Oregon-ha ha) and I can be in my warm little kitchen making ICE CREAM (I know…I'm shouting, but don't we all scream for ice cream?) No salt or ice to add, and ready in approx. 25 minutes. Yeah…this little ice cream maker is convenient and dangerous (to my waistline).
"Summer Of the Great Ice Cream Experiment"
So…back to my story: I decided to call that summer the "Summer of the Great Ice Cream Experiment". I tried a new recipe almost every week or two and posted the pics on Facebook. Check out my Recipe Index to see all the ice cream recipes I've posted, including Strawberry, Chocolate Peanut Butter, Peach, and Coffee!
Out of all the recipes I tried, this one was my favorite! I made a couple of changes to the original recipe to suit my taste, and voila! An instant "keeper".
This blueberry cheesecake ice cream is filled with cheesecake flavor, mingled in with with the graham cracker crust swirls, and I must say, the blueberry sauce is amazing! Give this recipe a try…it will NOT disappoint! It's a party for your mouth.
Note: I am posting the recipe the way I modified it for my 2 quart ice cream maker. I made the topping ingredients and graham cracker crust ingredients as per the original recipe (so I would have extras for storing in my freezer). Refer to original recipe if you are making it in full sized ice cream maker.
Making The Blueberry Sauce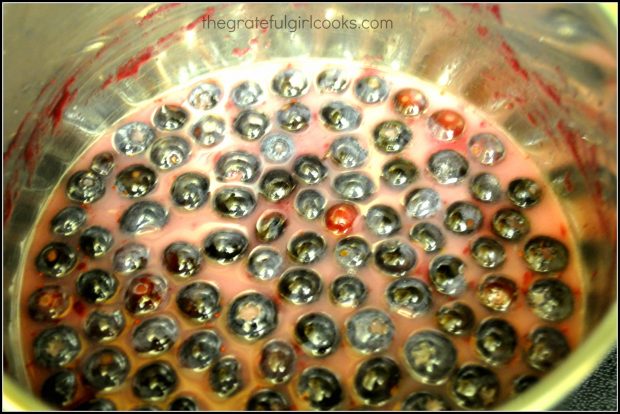 Making Blueberry Cheesecake Ice Cream
A graham cracker mixture is made, then it is layered with the blueberry sauce onto the prepared ice cream…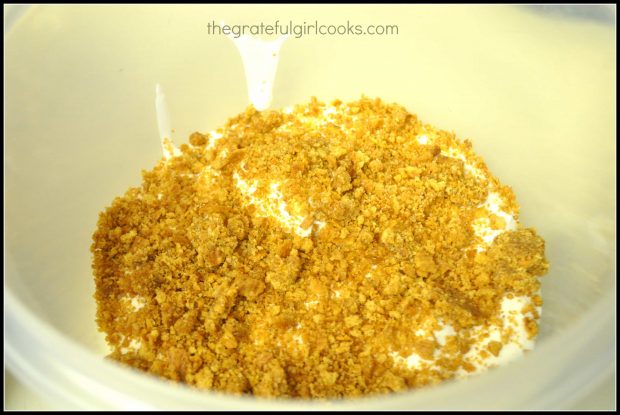 The ice cream is layered with graham cracker mixture, and the blueberry sauce. The blueberry cheesecake ice cream is then put into freezer to fully firm up and "ripen" for several hours.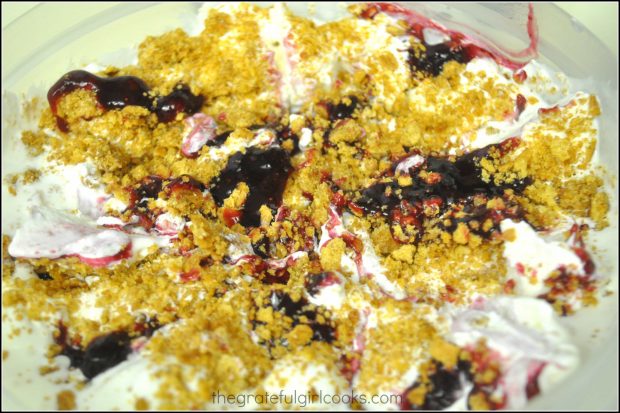 Now the blueberry cheesecake ice cream is almost ready to serve, after it has firmed up in the freezer. Now all that is left to do before serving is to top it with additional blueberry sauce and graham cracker mixture! That helps to make the presentation of the blueberry cheesecake ice cream look amazing, too!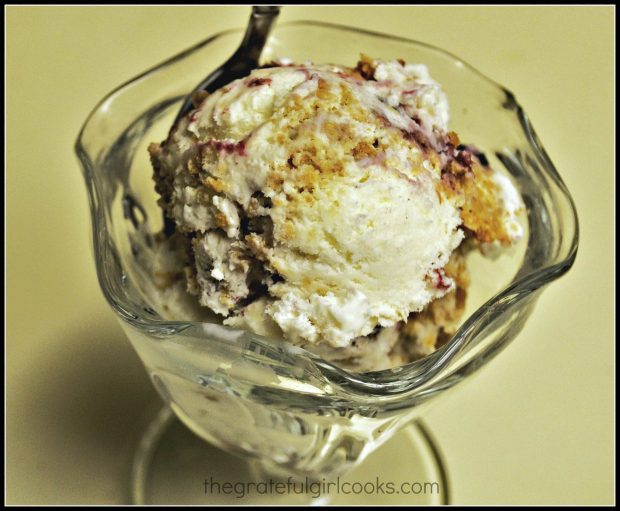 Serving The Blueberry Cheesecake Ice Cream
When you're ready to serve, just add a little bit of additional toppings to make it pretty! A little spoonful of blueberry sauce, and a sprinkle of graham cracker mix finishes off the blueberry cheesecake ice cream beautifully! Isn't it gorgeous??? Grab a spoon, and dig in!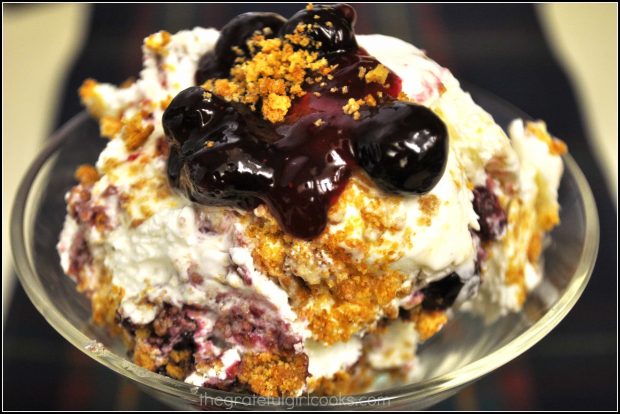 I sure hope you will consider making this delicious dessert! I'm confident you and your friends or family will really enjoy this yummy frozen treat! The only thing left to do is… grab a spoon, take a big bite, and ENJOY some Blueberry Cheesecake Ice Cream!
Looking For More ICE CREAM Recipes?
You can find all of my recipes in the Recipe Index, located at the top of the page. I have quite a few ice cream recipes to choose from, including:
Interested In More Recipes?
Thank you for visiting this website. I appreciate you using some of your valuable time to do so. If you're interested, I publish a newsletter 2 times per month (1st and 15th) with all the latest recipes, and other fun info. I would be honored to have you join our growing list of subscribers, so you never miss a great recipe!
There is a Newsletter subscription box on the top right side (or bottom) of each blog post, depending on the device you use, where you can easily submit your e-mail address (only) to be included in my mailing list.
You Can Also Find Me On Social Media:
Facebook page: The Grateful Girl Cooks!
Pinterest: The Grateful Girl Cooks!
Instagram: jbatthegratefulgirlcooks
Have a GREAT day!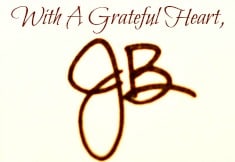 Adapted From: http://www.tasteofhome.com/recipes/blueberry-cheesecake-ice-cream
↓↓ PRINTABLE RECIPE BELOW ↓↓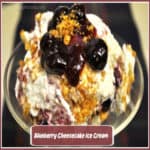 Blueberry Cheesecake Ice Cream
Blueberry Cheesecake Ice Cream is the PERFECT frozen treat! Blueberry sauce, cream cheese and graham cracker crumbles add to the taste!
Keyword:
blueberry cheesecake ice cream
Servings
:
8
1/2 cup servings (2 quarts)
Calories Per Serving
:
669
kcal
Ingredients
For Blueberry Sauce:
1/2

cup

granulated sugar

1

Tablespoons

cornstarch

1/2

cup

water

1 1/4

cups

fresh or frozen blueberries

1

Tablespoon

fresh lemon juice
For Graham Cracker Mixture:
2 1/4

cups

graham cracker crumbs

(about 36 squares)

2

Tablespoons

granulated sugar

1/2

teaspoon

ground cinnamon

1/2

cup

butter

, melted
For Ice Cream:
3/4

cup

granulated sugar

8

oz.

package cream cheese

, room temperature

2

Tablespoons

fresh lemon juice

2

cups

heavy whipping cream

1

cup

milk

1

teaspoon

vanilla extract
Instructions
In a saucepan, combine the sugar and cornstarch. Whisk in the water until the mixture is smooth. Stir in the blueberries and the lemon juice, then bring this mixture to a boil. Reduce the heat, then simmer (uncovered), for 5-6 minutes or until the mixture has thickened slightly. Stir mixture occasionally. Once the berry mixture has thickened, remove from heat. Cover and refrigerate until fully chilled. (I made this hours before making the ice cream)

Preheat oven to 350 degrees. In a large bowl, combine the cracker crumbs, sugar and cinnamon. Stir in the melted butter and mix till combined. Pat this crumb mixture into an ungreased 9x13 baking pan. Bake at 350 degrees for 10-15 minutes or until the crumbs are lightly browned. When done, remove; cool mixture completely. (I did this ahead of time, as well). When the mixture is completely cooled off, crumble the graham cracker mixture and set aside.

To make the ice cream: In a large bowl, beat all the ice cream ingredients together until the sugar has dissolved (you will have some small cream cheese lumps...this is okay). Fill the ice cream container (the FREEZING cold ice cream container) 2/3 full. Freeze as per the manufacturer's instructions.

When ice cream is done, evenly disperse layers of ice cream, cooled and crumbled graham cracker mixture, and blueberry sauce 3 times. Remember to only use half of the crumbled graham crackers and berry sauce for this (it made extra, remember?) Remember to repeat the layers (for a total of 3 times).

Layer 1: Ice Cream

Layer 2: Graham Cracker Crumbles

Layer 3: Blueberry Sauce

Swirl through the layers with a knife, being sure to take the tip of the knife all the way to the bottom of the bowl or ice cream storage container you are using. Freeze for at least a couple of hours for the ice cream to "firm up".

Once you are ready to serve, scoop it into serving dishes; lightly top each serving with a spoonful of the blueberry sauce and a sprinkling of graham cracker crumbles. Enjoy!
Nutrition Facts
Blueberry Cheesecake Ice Cream
Amount Per Serving (1 (1/2 cup) serving)
Calories 669
Calories from Fat 405
% Daily Value*
Fat 45g69%
Cholesterol 144mg48%
Sodium 384mg17%
Potassium 187mg5%
Carbohydrates 61g20%
Protein 5g10%
Vitamin A 1680IU34%
Vitamin C 4.8mg6%
Calcium 127mg13%
Iron 1.2mg7%
* Percent Daily Values are based on a 2000 calorie diet.
Here's one more to pin on your Pinterest boards!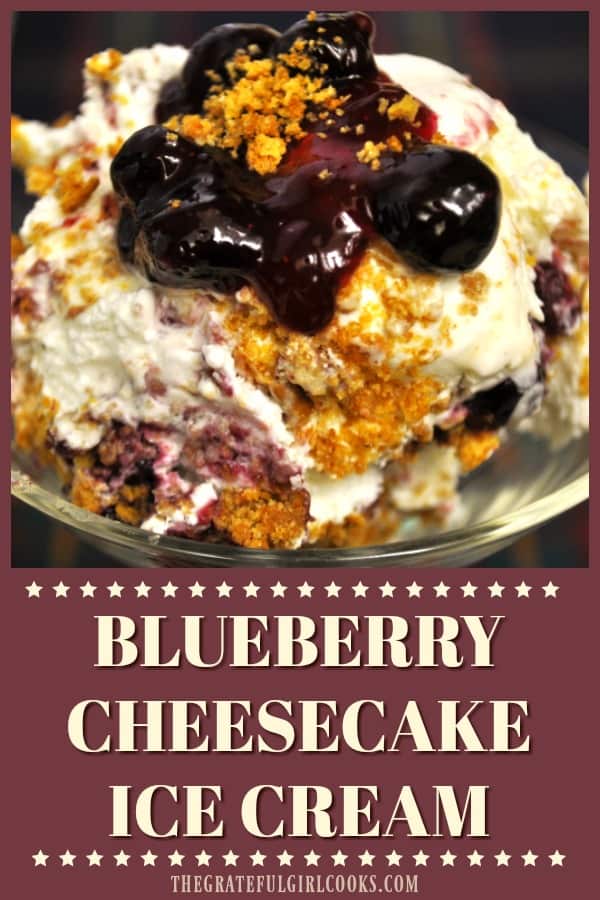 Save