I love to make granola! A few years ago, I decided to try to make Cranberry Almond Granola from scratch. The results? Fantastic tasting breakfast or snack item!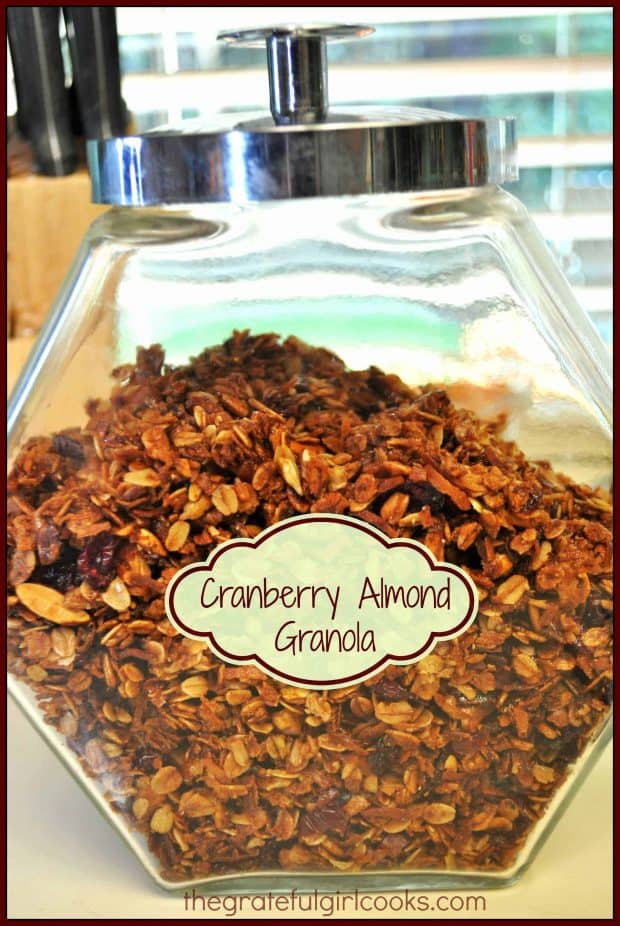 I made it from scratch to save money (granola is getting expensive) and to be able to custom make the granola to include some favorite items in the ingredients. I've been making our own ever since then, and don't miss store-bought at all.
Over the past few years I have experimented with several recipes, but I keep coming back to this simple one that I "morph" (by adding a variety of dried fruits) to suit my taste at any given moment. I love this granola sprinkled on Greek yogurt for a quick little breakfast treat. It is also good as breakfast cereal, swimming in a bowl of milk, or even as a topping for ice cream!
I made this batch up this morning, and while it was baking, it began lightly snowing outside for a few brief minutes…how cool is that? Big, fluffy snowflakes coming down, while the aroma of the granola baking filled our kitchen. What a great way to start the day! Here are a few pics:
Slicing up the almonds…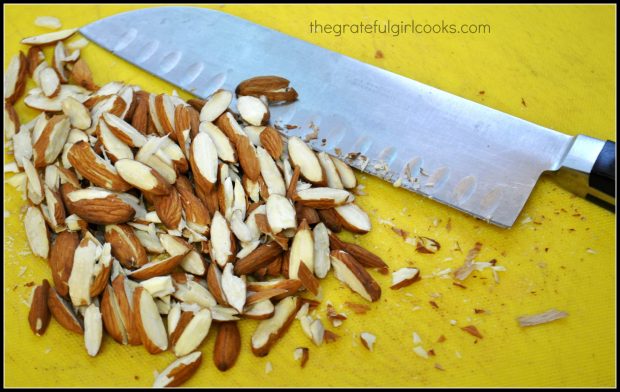 Lightly toast the sliced almonds in skillet…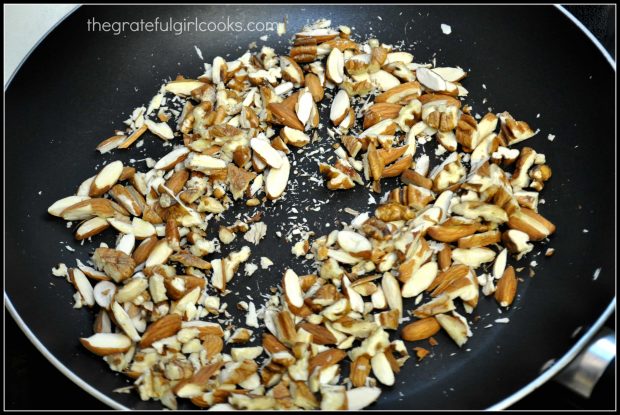 Almost ready to mix in the honey and oil…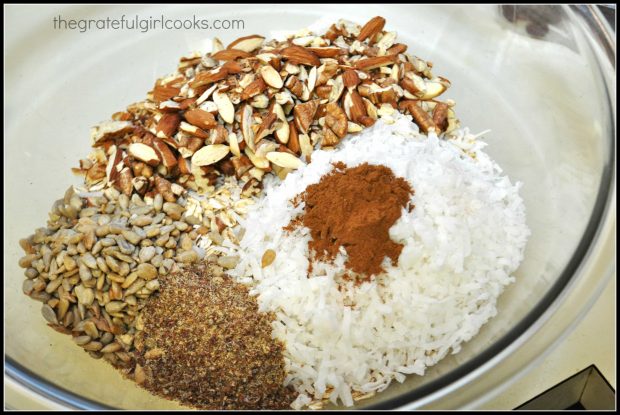 Cooling off, after removing the granola from oven! Almost ready to eat!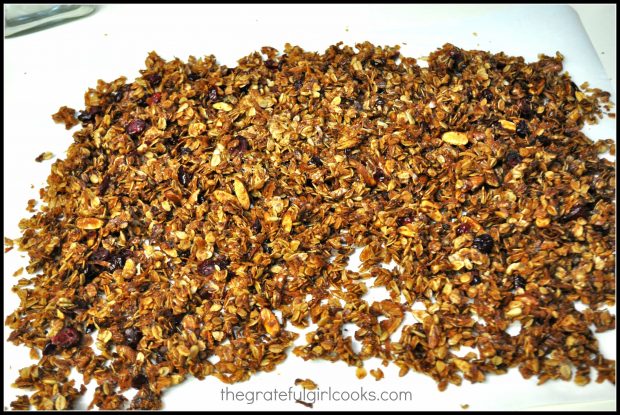 I do hope you will try this recipe…it is easy to make, and very flavorful, but I cannot guarantee random snowfall while making it…sorry! I hope you enjoy it as much as we do.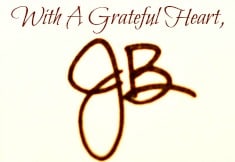 Recipe Adapted From:  http://www.culinary.net/recipes/RecipeDetail.aspx?ID=7090&CourseName=Healthy+Eating&CourseID=55#.T9Y-bCvKVqg.pinterest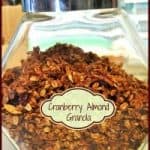 Cranberry Almond Granola
Enjoy this delicious granola as a breakfast treat, or use it as a topping for ice cream!
Ingredients
1

cup

almonds

, slivered and lightly toasted

2 1/2

cups

rolled oats

(I use old-fashioned, but quick cook will work, too)

1/2

cup

pecans

(can use walnuts), chopped

1/4

cup

sunflower seeds

1

teaspoon

flaxseed

(optional)

1

cup

flaked coconut

3/4

teaspoon

cinnamon

3/4

cup

honey

1/4

cup

almond or vegetable oil

(I use vegetable oil)

1/2

cup

dried cranberries

(to add to granola AFTER it is done)
Instructions
Preheat oven to 350 degrees. In a skillet on medium high heat, add the almonds and pecans. Stir the nuts for 4-5 minutes while they toast. They will turn lightly golden once toasted. Be careful not to burn them.

In a large bowl, combine the toasted almonds and pecans with the oats, sunflower seeds, flaxseed, coconut and cinnamon.

In a separate small bowl, add the honey and the oil and mix till combined. Pour over the dry ingredients and mix well, till all ingredients are coated well.

Pour mixture out onto a large (ungreased) baking sheet. Evenly spread the granola out over the entire sheet.

Bake at 350 degrees for 30 minutes. Remove granola from oven every 10 minutes during cooking and give the mixture a quick stir, then pop back into oven.

Once done, remove granola from oven, stir in the dried cranberries, and pour granola onto a sheet of parchment paper to let it cool completely.

Store granola in an airtight container. Makes approximately 9 cups of yummy granola!
Save
Save