My husband and I really love salmon! In my never ending quest to find new recipes, I stumbled upon this simple one for Garlic & Herb Baked Salmon, and it did not disappoint!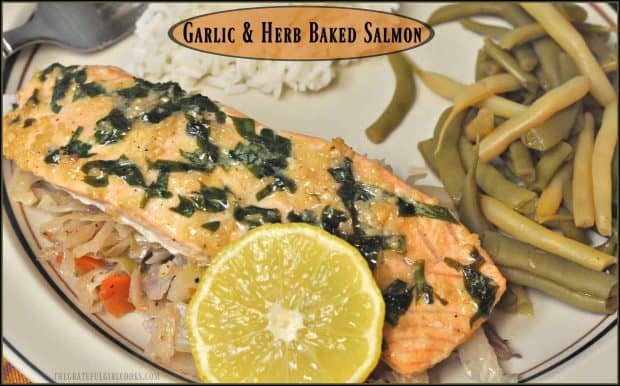 The process for making this salmon dish is extremely SIMPLE. A garlic, butter, lemon juice and herb mixture is combined, then salmon fillets are topped with it. The salmon goes into the oven where it is baked, and then it is DONE!  How's THAT for EASY??? It's quick and it tastes GOOD. From start to finish, it took under 20 minutes, which is perfect for crazy busy days!
Here's how easy it is to make this salmon dish:
Start by preheating your oven to 400 degrees F. (So far so good, right?).  Place the melted butter, garlic, parsley, salt, cayenne pepper, lemon juice and black pepper in a small bowl. Give it a good stir to fully combine ingredients. (Hope you didn't break a sweat doing all that hard work- wink, wink!).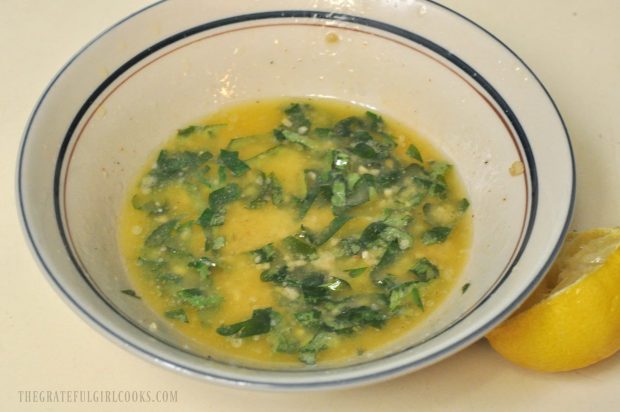 Place the salmon fillets onto a parchment paper-lined baking sheet, leaving a bit of space between each fillet.  Using a spoon, divide the sauce evenly between salmon pieces, coating the fish to cover the top and sides.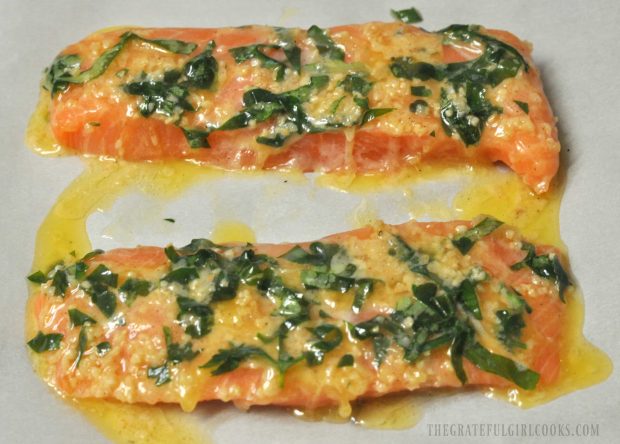 Bake in a preheated 400 degree oven for 12 minutes. When done, remove baking sheet from oven.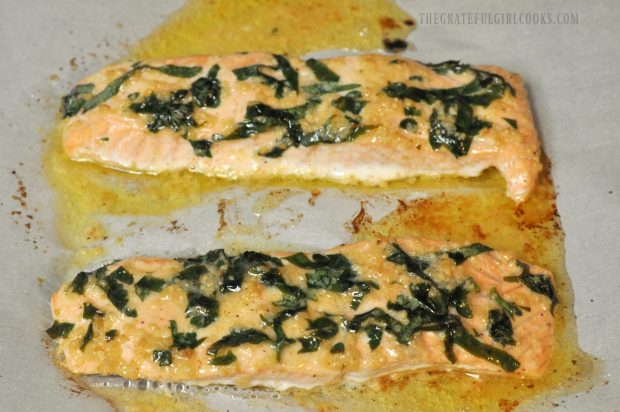 Garnish each piece of salmon with a lemon wedge and serve immediately with your favorite side dish.  I served mine on a bed of cooked sesame ginger slaw, along with green beans (from our garden) and rice.  If you want, you can also drizzle the salmon with any leftover garlic herb mixture that remains on the baking sheet.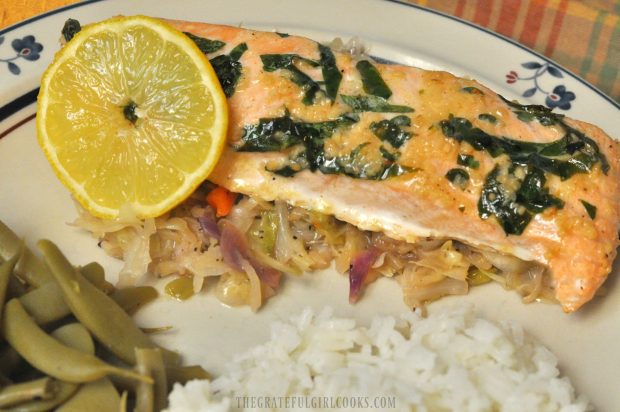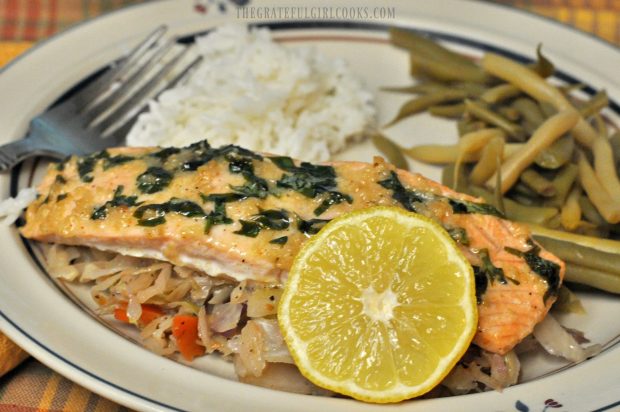 This salmon recipe is really SO EASY!!! It really had a great flavor, as well. As always, I sure hope you will consider making this for yourself, your family or others you love!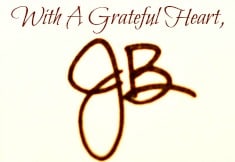 Recipe Source:  http://rasamalaysia.com/garlic-herb-roasted-salmon/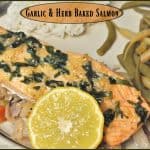 Garlic & Herb Baked Salmon
A simple garlic herb sauce enhances baked salmon fillets in this delicious, quick and simple recipe.
Ingredients
2

(6 ounce) salmon fillets

2

Tablespoons

melted butter

3

cloves

garlic

, minced

1

Tablespoon

fresh Italian parsley leaves

, chopped

1/8

teaspoon

salt

Pinch

of cayenne pepper

1

teaspoon

lemon juice

3

dashed ground black pepper

Lemon wedges

(for garnish-optional)
Instructions
Before beginning, preheat oven to 400 degrees F. Line a baking sheet with parchment paper.

In a small bowl, stir together the melted butter, minced garlic, parsley, salt, cayenne pepper, lemon juice and black pepper until fully combined.

Place salmon fillets onto parchment paper lined baking sheet, leaving space in between each fillet.

Spoon the garlic and herb sauce evenly over the top and sides of the salmon (to cover).

Bake salmon at 400 degrees F. for 12 minutes. Remove from oven.

Serve immediately with lemon wedges for garnish, if desired. Enjoy!
Here's one more to pin on your Pinterest boards!

Save
Save
Save
Save
Save
Save
Save
Save
Save
Save
Save