You'll really enjoy this delicious Orange Glazed Pork Roast, with dry rub spices, baked until tender, coated and served with a sweet citrus glaze.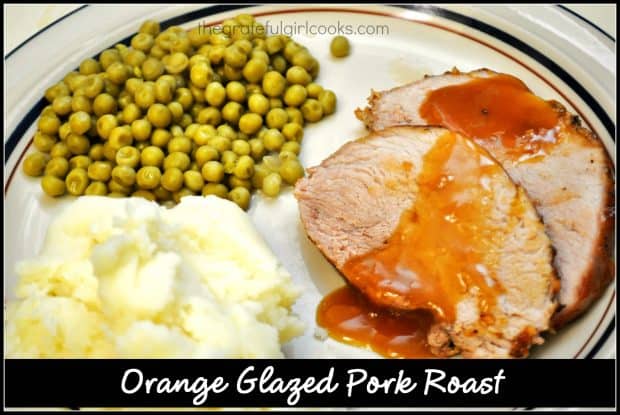 Today's recipe is for an Orange Glazed Pork Roast I made recently for the first time. We loved the flavor the pork receives from the orange sauce… totally scrumptious!
Scroll Down For A Printable Recipe Card At The Bottom Of The Page
Why I Decided To Try This Recipe For Orange Glazed Pork Roast
So here's the "back story"… My husband and I shop at Costco occasionally when we feel the urge to buy a 20 pound jar of peanut butter or some other "can't live without this" product.
This was the case recently when we decided to buy a 4 pack of pork roasts. The price was right, so even though it's usually just the two of us here for dinner, we grabbed a package and threw it into the cart. Can you believe it? FOUR roasts for TWO people.
What On Earth Do You Make With FOUR Pork Roasts?
Then the fun of figuring out new ways to cook 4 pork roasts began for me. Hmmmm. Well, let's see- the first one I threw in the crock pot with seasonings. This was used for shredding, for pork enchiladas. The next roast was used to make BBQ pork for sandwiches.
Now for the one I pulled out of the ol' family freezer this morning. I've been sick for a week now and snowed in. Really snowed in. I needed to fix something that would taste good with food items we already had around the house. Dinner needed to be not too hard…not too fancy…but tasty. I searched online for recipes and came up with this one to try.
A Dry Rub And Orange Glaze Give This Pork Roast GREAT Flavor!
A dry rub on the pork (garlic, ginger, brown sugar, thyme, etc.) gives GREAT flavor to the roast. The real star is the the orange flavored glaze that is "brushed" onto the meat for the second half of cooking! Orange marmalade and juice in the citrus glaze is a perfect flavor addition for this orange glazed pork roast.
My husband and I totally enjoyed our dinner, and look forward to the leftovers! Hope you will enjoy this recipe as much as we did. My husband declared it "A KEEPER"! It is delicious!
Prepare The Pork Roast
A small pork roast is coated with a dry rub mix (including garlic!), then it is baked. The original recipe calls for a 4 pound roast, but I used a 2.5 pound roast, with no problem.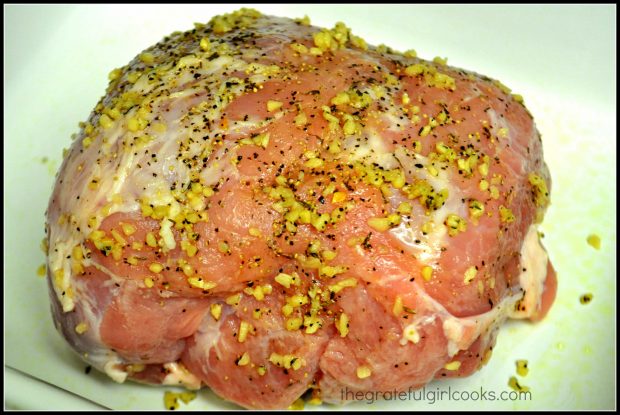 While the pork roast is baking, a simple orange glaze is mixed together. The glaze is simmered on the stove top while the pork bakes.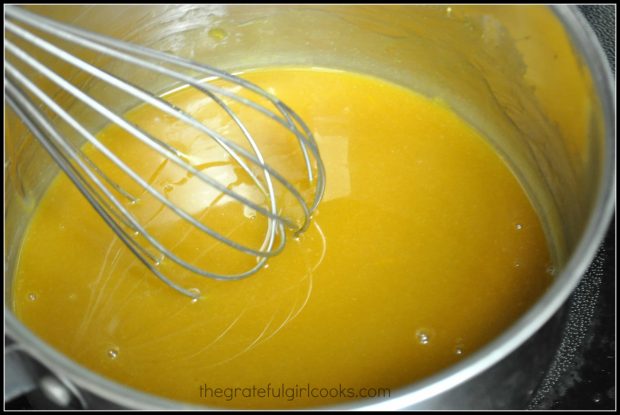 Orange Glaze Is Added To Pork During Baking Time
After the first 2 hours of baking, the glaze is brushed onto the pork roast. The glaze is brushed on, in 15 minute intervals for the rest of the baking time. The slow baking time ensures this orange glazed pork roast is tender and juicy. Who wouldn't want that, right? As an added benefit, your kitchen will sure smell good while it bakes!
Here's a photo of the first time the orange sauce was added to make this a true orange glazed pork roast!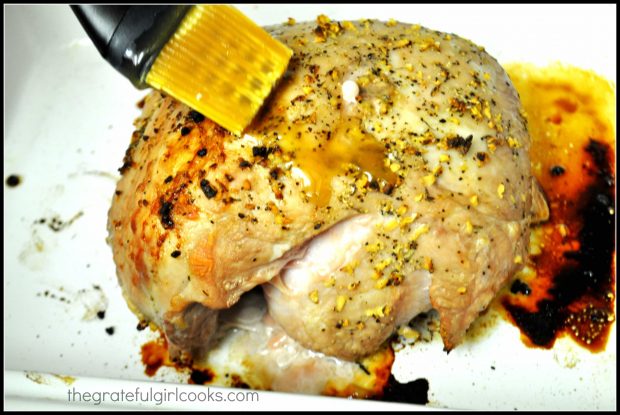 Continue to glaze the pork roast with the orange sauce every 15 minutes. Think of it as adding layer upon layer of delicious orange flavor! The pork roast is ready when it reaches an internal temperature of 160 degrees F.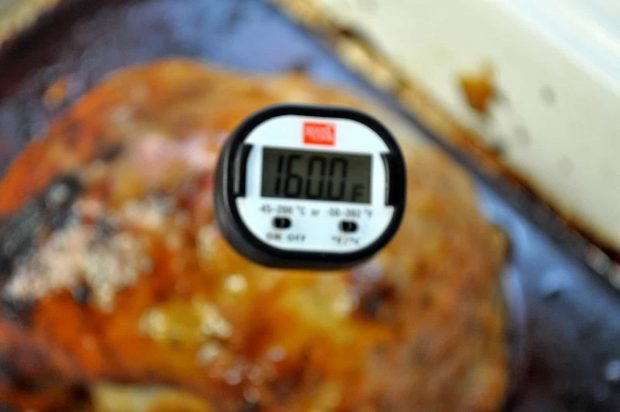 Orange Glazed Pork Roast Is Ready To Eat!
Here is the finished orange glazed pork roast! The roast is golden brown on the outside, and rests for a few minutes before being sliced.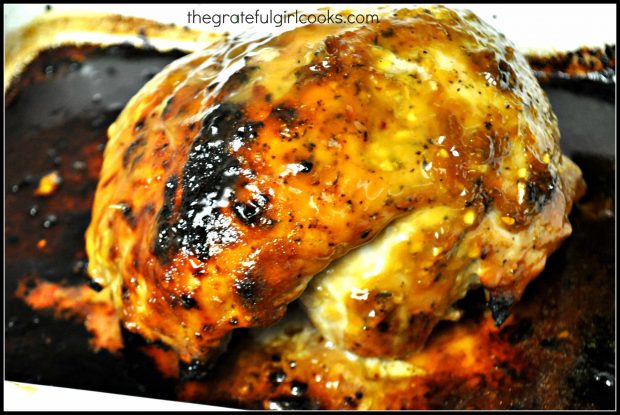 To serve the orange glazed pork roast, place a couple thin slices of pork on plate. Spoon some of the orange glaze over the top. Once that is done, all that is left to do is dig in! I served the pork slices with mashed potatoes and garden peas on the side. It tasted so GOOD! the pork was very juicy, full of flavor, and quite tender!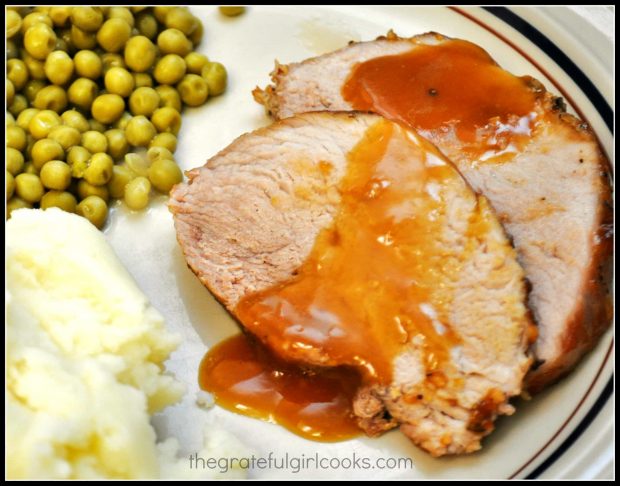 I really hope you enjoy this delicious recipe for orange glazed pork roast! We sure did! Hope you have a wonderful day, full of encouragement and good things!
Looking for More PORK Recipes?
You can find ALL my recipes in the Recipe Index, located at the top of the page. I hav lots of great pork recipes, including:
Interested In More Recipes?
Thank you for visiting this website. I appreciate you using some of your valuable time to do so. If you're interested, I publish a newsletter 2 times per month (1st and 15th) with all the latest recipes, and other fun info. I would be honored to have you join our growing list of subscribers, so you never miss a great recipe!
There is a Newsletter subscription box on the top right side (or bottom) of each blog post, depending on the device you use, where you can easily submit your e-mail address (only) to be included in my mailing list.
You Can Also Find Me On Social Media:
Facebook page: The Grateful Girl Cooks!
Pinterest: The Grateful Girl Cooks!
Instagram: jbatthegratefulgirlcooks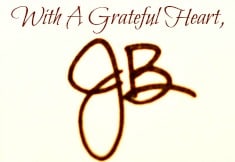 Recipe Adapted from: Cookingwithdoyle.com/index.php/orange-glazed-pork-roast
↓↓ PRINTABLE RECIPE BELOW ↓↓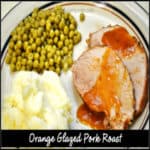 Orange Glazed Pork Roast
You'll really enjoy this delicious Orange Glazed Pork Roast, with dry rub spices, baked until tender, coated and served with a sweet citrus glaze.
Keyword:
orange glazed pork roast
Calories Per Serving
:
358
kcal
Ingredients
4

lb.

boneless pork roast
For the rub:
1

teaspoon

salt

1

clove

garlic

, minced

1/4

teaspoon

thyme

(dried)

1/4

teaspoon

ginger

(dried)

1/4

teaspoon

black pepper
For the orange glaze:
1/4

cup

packed brown sugar

1

Tablespoon

cornstarch

1

cup

orange juice

(I use fresh squeezed)

1/3

cup

water

1

Tablespoon

Dijon mustard

(I used Dijon - original recipe calls for spicy brown)

1

Tablespoon

soy sauce

(I added this just because I thought it would be good.)

2

Tablespoon

orange marmalade

( I added this to original recipe)
Instructions
Combine the rub ingredients in a small bowl. Rub this mixture over the entire pork roast; then place the roast in a baking pan that has been sprayed with non-stick spray. Bake uncovered at 350 degrees for 2 hours.

While roast is cooking, make the orange glaze. In a saucepan, combine the brown sugar and cornstarch, then stir in the remaining glaze ingredients. Bring this mixture to a simmer over medium heat. Simmer for two minutes, then remove pan from the heat. The mixture should have thickened a little bit. Set aside 1/3 of the glaze to drizzle over the meat slices when you serve them.

After the roast has cooked for the first two hours, remove it from oven. With a pastry brush, "paint" the rest of the glaze (the non-reserved) over the roast every 15 minutes for another 60-90 minutes, or until the roast reaches an internal temperature of 160 degrees (check in the thickest part of the meat with a meat thermometer). Once the internal temperature of the roast has reached 160 degrees, remove it from oven. Let it stand for 10 minutes before slicing (if you cut into it too soon, all those great juices will run out...be patient).

When meat has rested for 10 minutes, slice and serve, with additional glaze spooned over the slices of roast. Enjoy!
Recipe Notes
NOTE: I used a smaller 2 1/2 lb. roast and adapted the baking times to match, but have kept the recipe as originally written for a 4 lb. roast. I also used the glaze and rub ingredients in the amounts as originally written.
Nutrition Facts
Orange Glazed Pork Roast
Amount Per Serving (1 g)
Calories 358
Calories from Fat 81
% Daily Value*
Fat 9g14%
Cholesterol 142mg47%
Sodium 494mg21%
Potassium 919mg26%
Carbohydrates 14g5%
Protein 51g102%
Vitamin A 60IU1%
Vitamin C 15.8mg19%
Calcium 22mg2%
Iron 1.4mg8%
* Percent Daily Values are based on a 2000 calorie diet.
Here's one more to pin on your Pinterest boards!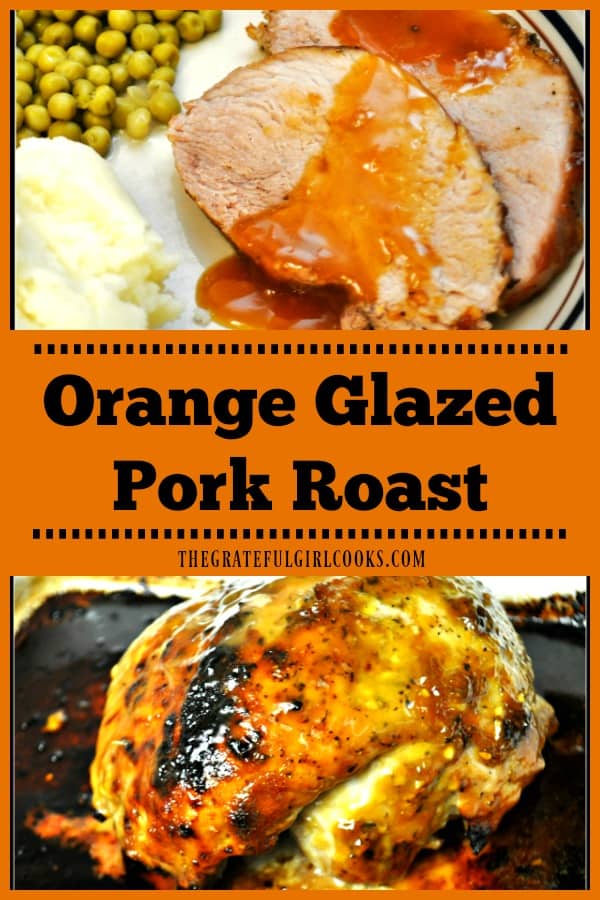 Save
Save
Save