These triple chocolate zucchini muffins have a secret ingredient (shhh… it's a vegetable!) and are an absolutely delicious treat your family will love!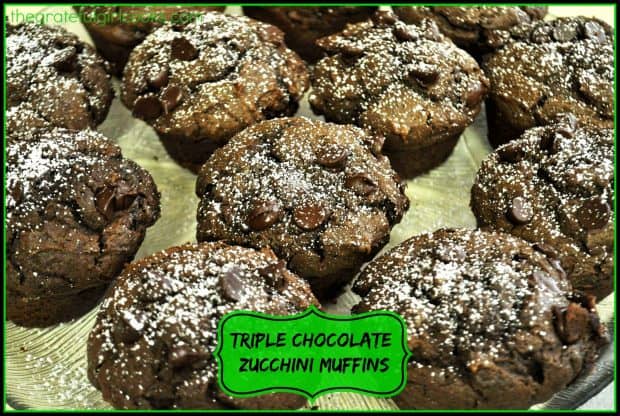 Ah… there's nothing like a good cup of coffee and a good muffin – especially these Triple Chocolate Zucchini Muffins! Chocolate AND zucchini for breakfast? They MUST be healthy, right? Seriously… chocolate AND zucchini? Who knew?
Scroll Down For A Printable Recipe Card At The Bottom Of The Pge
About Triple Chocolate Zucchini Muffins
I found this recipe for muffins on Pinterest several months ago (where else?). These are extremely "chocolate-y" muffins (3 types of chocolate)! Surprisingly, these yummy triple chocolate muffins have zucchini as a secret ingredient!
I'm pretty positive the fact that there is a vegetable inside these muffins makes them HEALTHY, right? RIGHT. I've found these muffins are a GREAT way to use up some of our summer garden zucchini!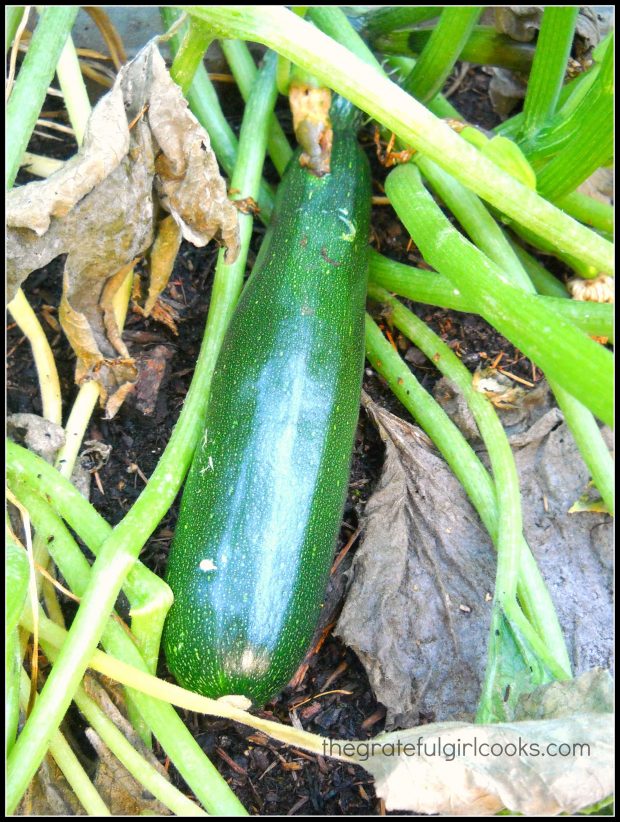 Muffins and Morning Quiet Times Are A Good Combo
Here's something I read this morning: "But I trust in Your unfailing love; my heart rejoices in your salvation. I will sing to the Lord for He has been good to me." (Psalm 13:5-6). I love those verses from the Bible, and am reminded daily of the never-ending love God has for me. He HAS been trustworthy, good, and faithful to me (and our family) over the course of a lifetime of good times, bad times, and everything else in-between…for that I am so grateful!
I love to have a little quiet time in the early morning hours. I delight in this time with God… just little old me and a couple cups of strong coffee. Occasionally I will make muffins and of course, I invite one of the muffins to join me in this special time… where I feed my soul and my tummy.
The Mystery Ingredient Is One Way To Eat More Veggies
Maybe you're looking for a new muffin recipe. Maybe you get excited about camouflaging a vegetable in your child's chocolate muffin (hey, we do what we have to, to get them to eat their veggies!).
Whatever your reasons, this is a fantastic recipe for triple chocolate zucchini muffins! See the grated zucchini that will be hiding in the muffins? You will never know it's there, because all you can taste is the CHOCOLATE!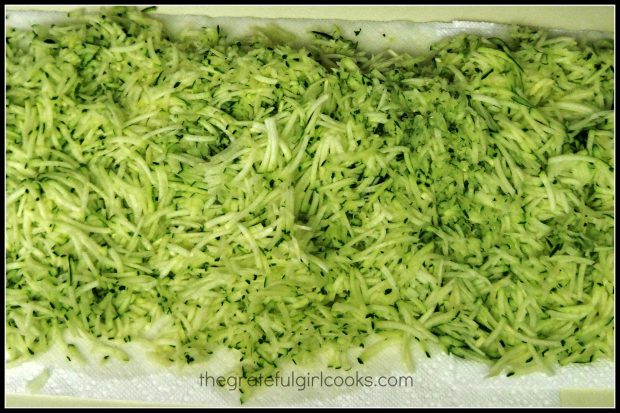 Below you see the triple chocolate zucchini muffins, right after they came out of the oven… all they need is to be lightly dusted with some sifted powdered sugar before serving! Don't they look yummy?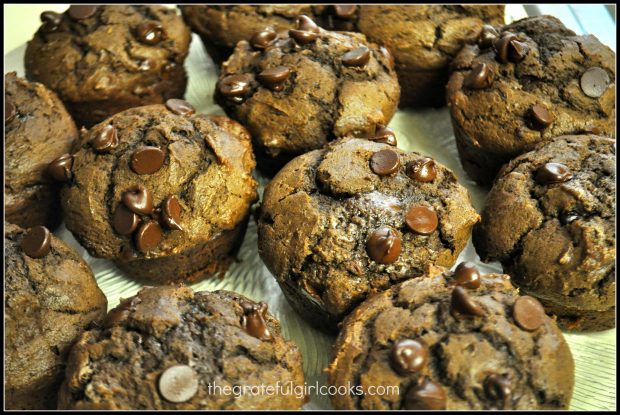 The finished chocolate zucchini muffins sure look good… see that CHOCOLATE? Time to take a bite! Ooh… they are so good! And by the way, if you like these you will probably also LOVE my Banana Espresso Chocolate Chip Muffins!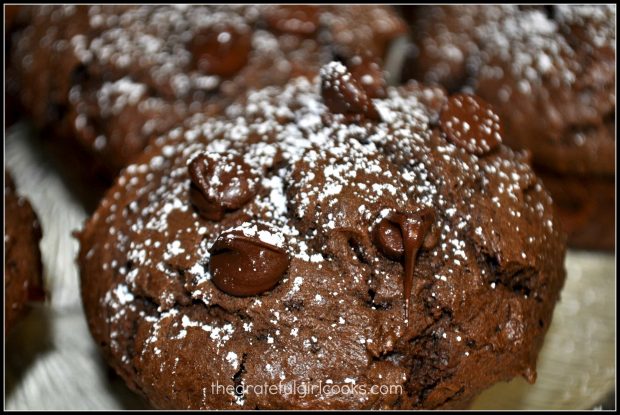 This Recipe Makes A LOT Of Triple Chocolate Zucchini Muffins!
These triple chocolate zucchini muffins are easy to make and extremely yummy; I sure hope you will enjoy them! The recipe as written makes quite a lot of muffins, 30 of them! If that sounds like a lot, cut the recipe in half! These muffins are easily "freezable", if wrapped and sealed well! Then you will have some of them saved for another day after only cooking once!
Hope you will consider making these scrumptious triple chocolate zucchini muffins! They truly are delicious, and because you added zucchini, I'm POSITIVE they must be 100% healthy, as well! (wink, wink!). Have a wonderful day!
Looking For More MUFFIN Recipes?
You can find ALL my recipes in the Recipe Index, located at the top of the page. I have lots of delicious muffin recipes you'll enjoy, including:
↓↓ PRINTABLE RECIPE BELOW ↓↓
Save
Save
Save