A couple of days ago I found another great recipe for Pork. I found this recipe for Pork Tenderloin with Cranberry-Raspberry Sauce on Pinterest, and decided it might be worth a try, to see if it tasted as good as it looked.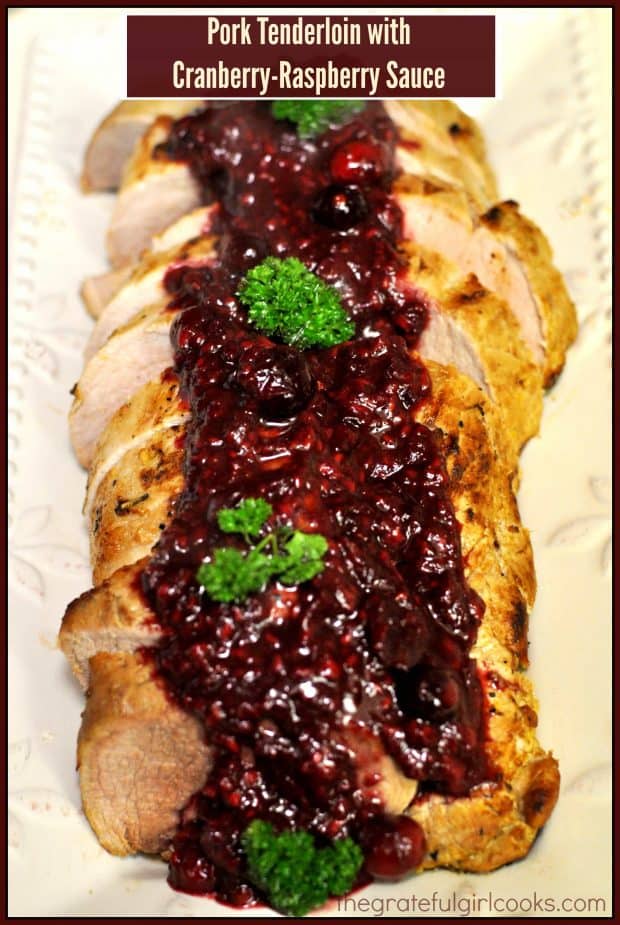 Yep – It did. I served the pork with a side of broccoli, and my recipe for Smashed Potatoes with Mushrooms and Shallots. Yum!
A pork tenderloin is marinated for several hours, then baked. While the tenderloin is baking, you cook this rather amazing garnishing sauce, made from cranberries, raspberries, orange zest, butter, shallots, and red wine. The sauce smells wonderful as it is cooking. I actually might have had to sample the sauce once (at least 5 times) while it was cooking, just to make sure it was "fit for consumption". Somebody has to taste-test it, right??? I do what I can, to ensure any meal I prepare is going to be a good one…except for the nights we might have a bowl of cereal for dinner. Then we're on our own.
The finished meal is not only nice to look at, but it actually tastes wonderful! This would be a great meal to serve company. It's simple enough to prepare, but it looks rather elegant when served. Maybe you will consider making this meal for your family or friends. I heartily recommend it. (As I write this post, I have the leftover pork in my crock pot, "morphing" the pork into another recipe/meal for tonight's dinner).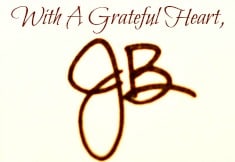 Recipe Source: http://deliciousshots.blogspot.com/2011/11/pork-tenderloin.html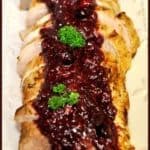 Pork Tenderloin with Cranberry-Raspberry Sauce
Slow-roasted marinated pork tenderloin, topped with a delicious cranberry/raspberry/wine sauce.
Ingredients
For the Pork Marinade:
2 to 2 1/2

pound

pork tenderloin

4

garlic cloves

, minced

2

Tablespoons

dijon mustard

1/2

cup

olive oil

3

lemons

, juiced and zested

2

rosemary sprigs

, or 1 Tablespoon dried rosemary

1/4

teaspoon

each

, salt and pepper

4

Tablespoons

olive oil

(for searing the tenderloin)
For the Cranberry-Raspberry Marinade:
2

Tablespoons

butter

1

medium sized shallot

, finely chopped

1

cup

red wine

1/4

cup

orange juice

The zest of 1 orange

2

Tablespoons

granulated sugar

12

ounces

raspberries

, fresh or frozen

1

cup

of cranberries

, fresh or frozen
Instructions
Make the marinade:
In a medium sized bowl, whisk together the lemon juice, lemon zest, minced garlic, and the Dijon mustard. Add 1/2 cup olive oil to this mixture, while whisking to fully incorporate. Add 1/4 teaspoon salt, 1/4 teaspoon pepper, and rosemary. Mix well.

Place the pork and the marinade in a large resealable plastic bag or container. Squeeze the air out and seal the bag or container. Marinate the pork in the refrigerator for at least 3-4 hours or overnight. Turn bag occasionally to make sure the pork is covered with the marinade. If using a flat container, occasionally spoon marinade over the pork.

When pork has finished marinading, preheat the oven to 425 F.

In a oven-proof saute pan, heat 4 tablespoons of olive oil over medium-high heat. Remove the tenderloin from the marinade. When oil is very hot, add the tenderloin to the hot oil. Sprinkle additional salt and pepper on the tenderloin. Do not move the pork for a few minutes in order to ensure a good sear! Sear both sides of the pork until golden brown. Place the pan in the oven and roast the pork for 30-40 minutes (adjust to less time if using smaller tenderloin) or until the meat registers 165 F. Take pork out of the oven, cover it with aluminum foil. Let the covered pork rest for 10 minutes before slicing (this helps to keep the juice in the meat, not all over the platter).
While the meat is cooking, make the cranberry-raspberry sauce:
In a large non-stick skillet, melt the butter. Add the chopped shallots. Cook shallots for about 3-4 minutes, until softened. Add the orange juice, orange zest, red wine, and sugar to the pan. Mix well; continue cooking on low heat until sugar dissolves.Add the cranberries and raspberries to the pan. Cook over medium heat until sauce reduces and thickens (about 20 minutes). Stir sauce occasionally.

When roast is done and has "rested", slice into serving portions, place meat on serving platter, and spoon the warm sauce over the top of the pork slices.

Enjoy!
Recipe Notes
Note that the lengthy prep time is not "Active" prep time. The length is to allow the pork marinating time.
Also remember to adjust down the cooking time if you are using a smaller pork tenderloin. Smaller tenderloins will cook in 20-25 minutes. Just gauge by the internal temperature of the pork.
.
Save
Save