Do you enjoy omelettes? My husband and I sure do… but only eat them a couple times each month. The other day we enjoyed a homemade breakfast together.  I made us each a Bacon, Mushroom, Spinach and Cheese Omelette, and decided to share it on my blog… because it tasted fantastic!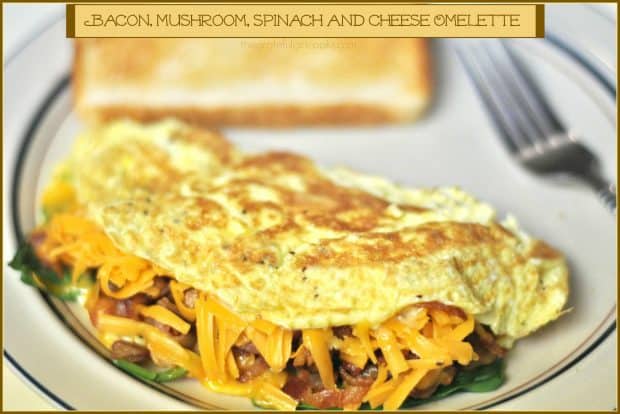 Because we both work from our home, we had a late breakfast… which ended up being so filling we didn't have to eat lunch! I'm so thankful to have opportunities occasionally to leisurely share a nice breakfast together, sip on orange juice and coffee, and talk about the day ahead of us.
I am NOT going to post a printable "recipe" for this omelette, because I know a lot of people like different ingredients in their omelettes. That being said… (and in case you ARE wondering) for 2 omelettes I used: 6 large eggs, tiny bit of milk (approx. 3 Tablespoons), salt and pepper, 2 teaspoon of butter, 4 slices bacon, 6 mushrooms, couple handfuls of fresh baby spinach, and a couple handfuls of grated cheddar cheese.
As to the "process"… this is how I made these delicious omelettes.  To start off, cut 4 pieces bacon into small strips (using kitchen scissors). Slice fresh mushrooms (about 6), then cook mushrooms AND bacon together on medium heat in a large skillet until bacon is done and crisp. The bacon will cook a bit faster because it has been cut into tiny strips.  Remove bacon strips and mushrooms from the skillet and drain them on several thicknesses of paper towels. Set aside.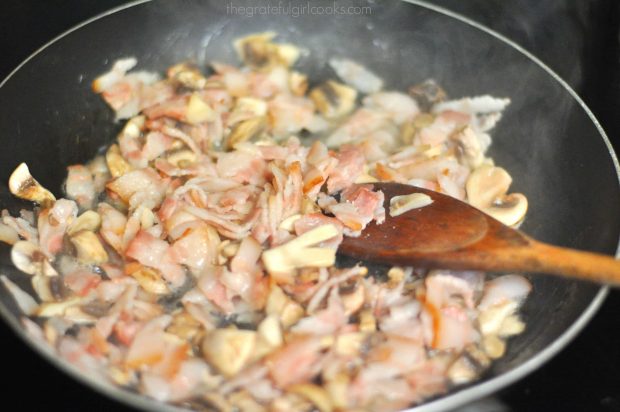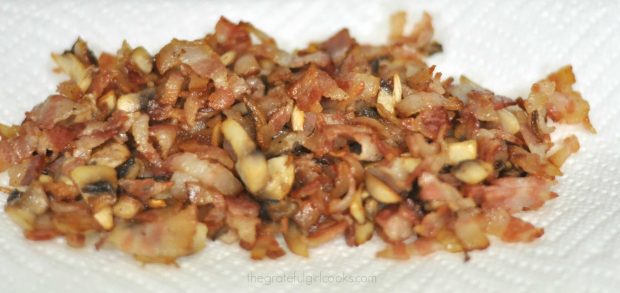 In medium bowl combine eggs, a little bit of milk, and salt and pepper. Whisk well to combine.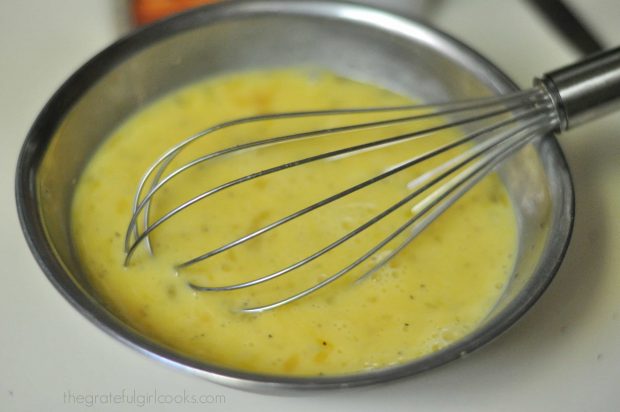 Melt half the butter in a small non-stick skillet on medium-low.  Pour in half the total egg mixture for ONE omelette. As the omelette begins to cook around the edges, slightly lift up the edges with the spatula, tilt pan, and let some of the egg mixture run under the cooked edges all around the pan. I use a rubber spatula to do this. You will slowly let the "runny" uncooked egg mixture run to the underneath side of the cooked egg, and it will cook.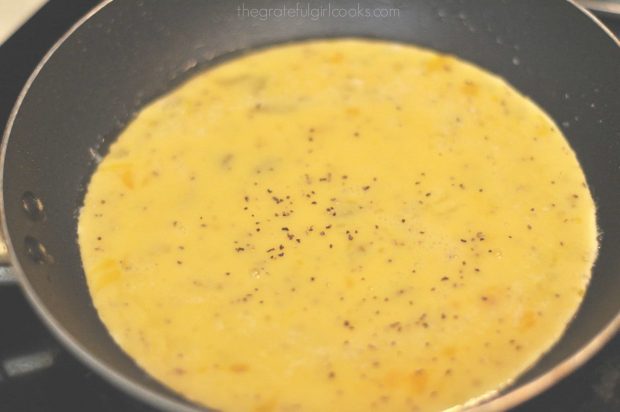 Once almost all of the egg mixture has "cooked", place a handful of fresh baby spinach leaves onto one HALF side of the omelette.  The spinach leaves will slightly wilt from the heat of the egg mixture.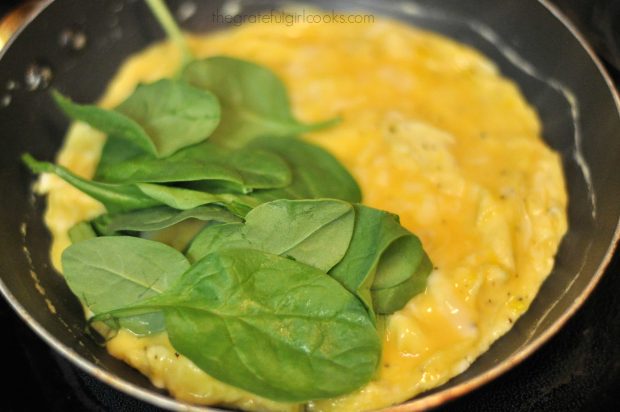 Now add half of the cooked bacon/mushroom mixture to half of the omelette, on top of the spinach.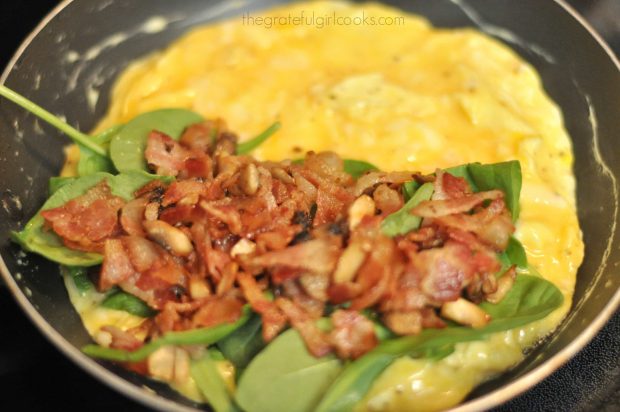 Now add a small handful of grated cheese to HALF of the omelette (on top of the bacon/mushroom mixture). I used Cheddar for this one, but use whatever you prefer!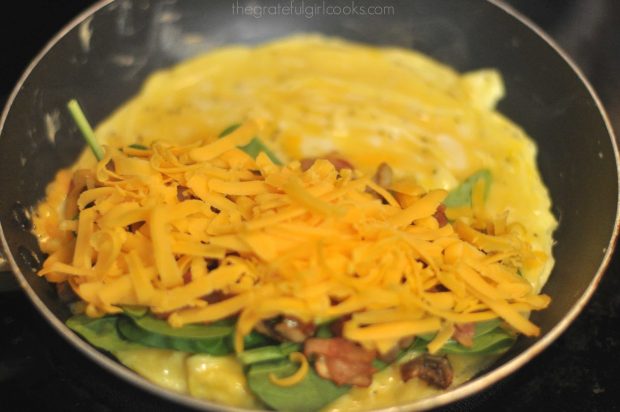 Using a rubber spatula, carefully flip the "empty" side of the omelette over onto the stuffed half, to cover.  The heat from the eggs will slightly melt the cheese. Gently lift and slide the omelette out of the skillet and onto the serving plate.  If you want cheese totally melted, just put omelette (on microwaveable plate) into microwave for a few seconds.  Remove and serve hot.  Repeat same cooking process for the remaining ingredients to make second omelette.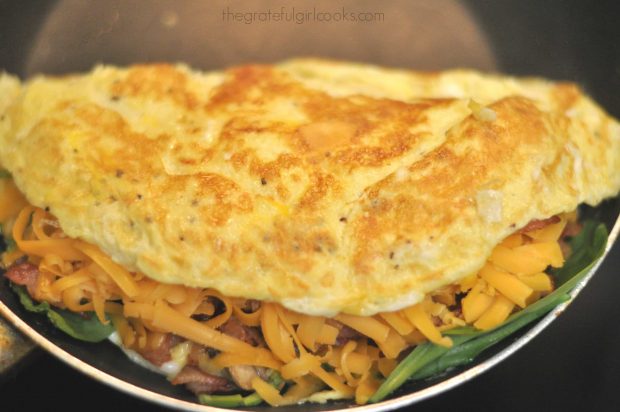 This really is a hearty breakfast… a three egg omelette (can cut back to 2 eggs per person, if desired), a couple pieces of bacon, some healthy spinach and creamy cheddar cheese makes for a delicious start to the day!  If you wish, you can also cut the omelette in half for smaller appetites!  Add a piece of toast, some juice and coffee, and you will be quite full, satisfied, and ready to take on the day!
The beauty of making your own omelette is that you can create one using YOUR favorite ingredients. You can substitute ham for the bacon, add green onions, pepperjack cheese, salsa, etc. The possibilities are endless!  Here's to starting the day with a great breakfast.
Thanks for stopping by this blog.  My sincere hope is that your day will be blessed by the One who made you and loves you the most.  I know that my own life has been changed forever for the better because of the undeserved grace and mercy God has shown me through His son, Jesus. For that I am truly GRATEFUL.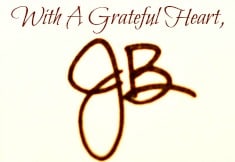 Save
Save
Save
Save
Save
Save
Save
Save
Save
Save
Save
Save
Save
Save
Save