You'll love these yummy, creamy deviled eggs. These classic bite sized appetizers are so simple to prepare, and will be a big hit at any celebration or potluck.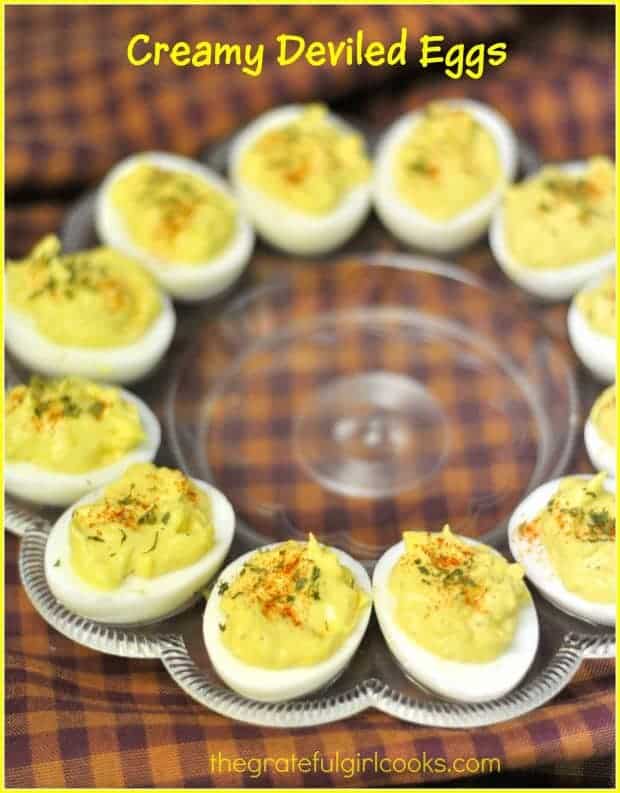 We really enjoyed having our family over for Easter brunch. I made a variety of different foods but when our sons arrived, the first thing they grabbed were the Creamy Deviled Eggs! Sneaky Ninjas! I guess I'd forgotten how much they love 'em. We only have creamy deviled eggs a couple time a year, but they're always a big hit!!! I'm pretty sure deviled eggs are the kind of food that everyone has their own method of making, or memory of how they should taste in their mind.
When I was growing up, I didn't care for deviled eggs too much. My mom put diced onions and sweet pickle relish in them, so I was never the one grabbing them at family celebrations. As an adult however, I've discovered I really like deviled eggs made the simple, basic way I am sharing today.
Now I've been making 'em this way for over 35 years! So… for the sake of my sons having the way I make them down in writing long after I'm gone, I'm posting it here on the ol' blog for their sake.
Scroll Down For A Printable Recipe Card At The Bottom Of The Page
Start By Boiling the Eggs
There must be a million ways to do this, but here's the way I do it. Place the eggs in a large pan. Cover them fully with water. Turn the heat to high, set a timer for 23 minutes, and walk away. (not too far away, like another city, but you get the idea, right?)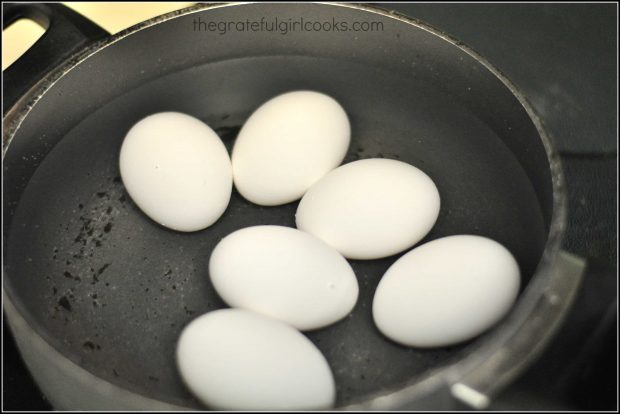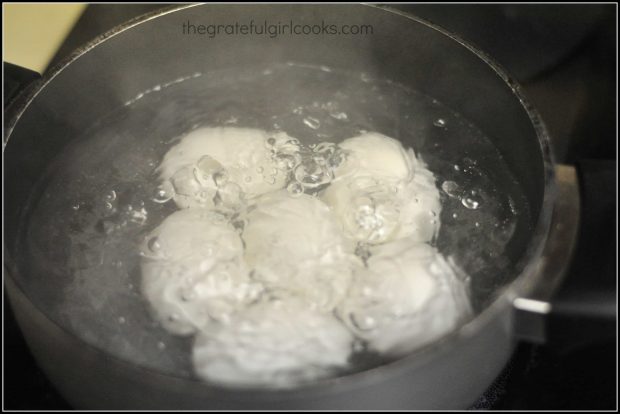 As soon as they are done, immediately drain off the boiling hot water, and fill the pan with cold water. After about a minute, drain the water off and fill pan back up with cold water.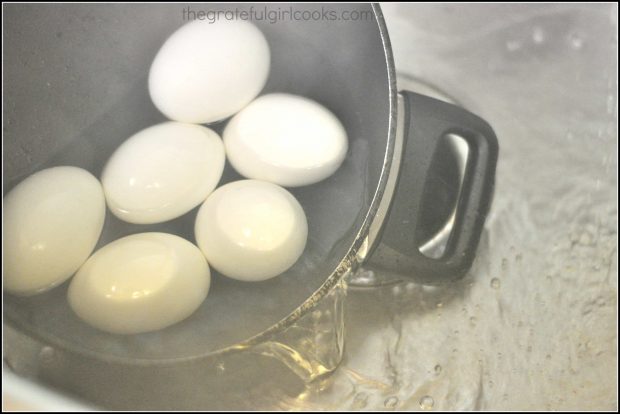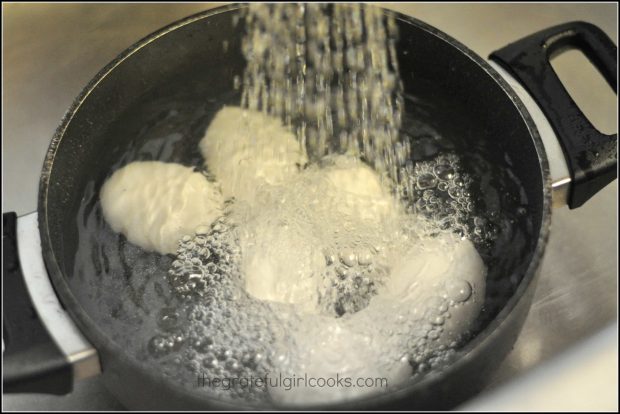 Take each egg, and crack it all around the shell on the kitchen counter, then toss it back into the water (before peeling it). I crack all the eggs I will be using for the recipe and put them back into the water right after cracking them.
Letting the eggs sit with the shells "cracked" in water for a minute or two lets water seep into the cracks of the eggshell between the shell and the egg, which makes peeling them very easy! Once they are all cracked, peel each one. Roll the egg between your hands to loosen the shells first, then peel.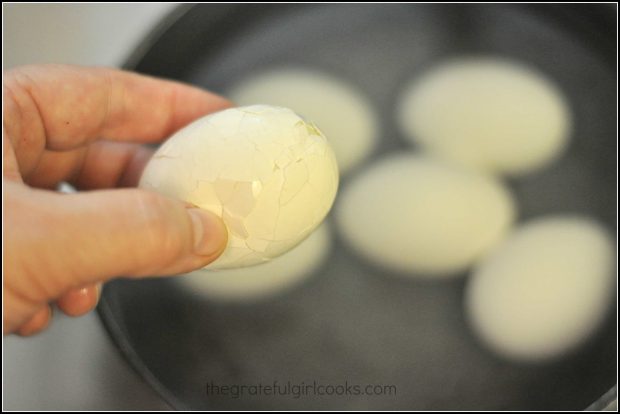 Okay- Now It's Time To Make Some Creamy Deviled Eggs!
Once peeled and rinsed, carefully cut the eggs in half, length-wise, with a sharp knife.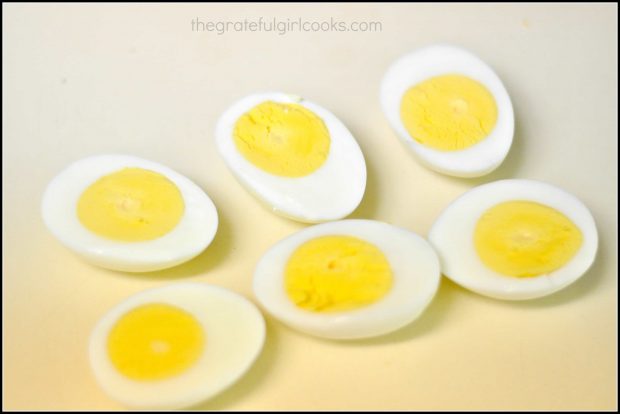 Use a teaspoon to carefully remove the egg yolk from the egg and place yolks into a small mixing bowl. To do this, turn egg yolk side down, gently pull back the egg white, then slide a teaspoon into it and pull out the yellow yolk.
Boom. Gravity takes the yolk right down into the bowl without a lot of work.

Making The Filling For Creamy Deviled Eggs Is EASY
For this recipe I made 12 deviled eggs. Add three large heaping spoonfuls of mayonnaise and about a 1/2 teaspoon of yellow table mustard, salt & pepper (to taste) to the egg yolks.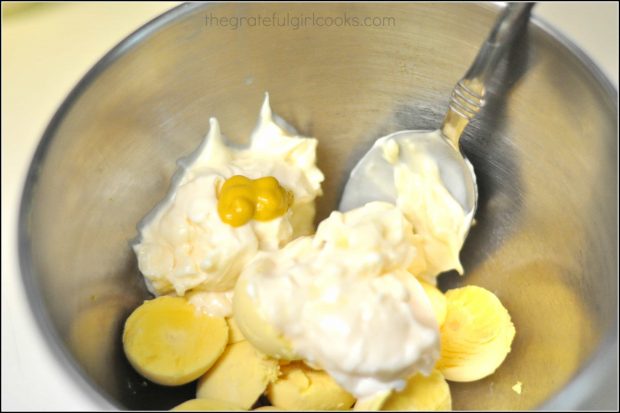 Smash the egg yolks with the back of a spoon or fork, and then mix the filling by hand until it is nice and creamy. You can also use an electric mixer if you want!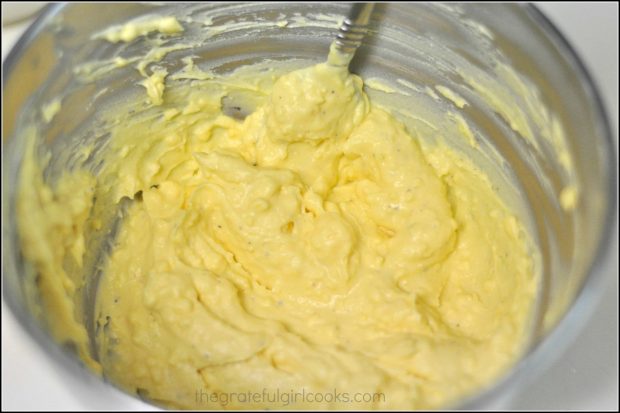 Carefully fill the empty eggs by spooning filling into the egg cavity. Fill each of the egg cavities first, then go back and add any extra filling to the top of the eggs. Some people like to "pipe" the filling in, using a pastry bag for fancy looking eggs, but I like this easy (and less to clean up) way the best!

Ready For Serving
Once the eggs are all filled, garnish the creamy deviled eggs by sprinkling paprika and dried parsley flakes on top of each one. Place the eggs in a covered container and refrigerate (a couple hours is best) until ready to serve. Enjoy!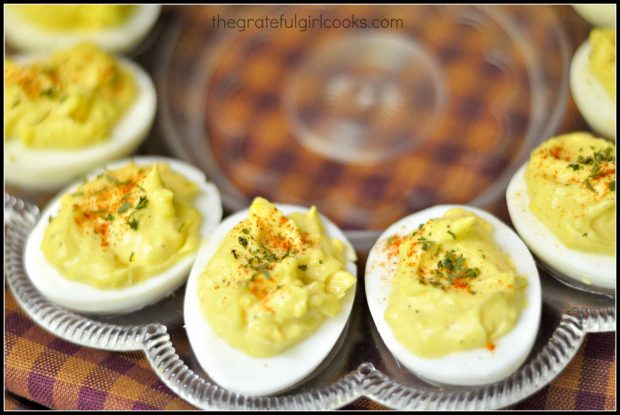 That's it! I think you will find it very easy to make these delicious appetizers! Have a wonderful day!
Looking For More APPETIZER Recipes?
You can find all of my recipes in the Recipe Index, which is located at the top of the page. I have quite a few appetizer recipes, including:
Interested In More Recipes?
Thank you for visiting this website. I appreciate you using some of your valuable time to do so. If you're interested, I publish a newsletter 2 times per month (1st and 15th) with all the latest recipes, and other fun info. I would be honored to have you join our growing list of subscribers, so you never miss a great recipe!
There is a Newsletter subscription box on the top right side (or bottom) of each blog post, depending on the device you use, where you can easily submit your e-mail address (only) to be included in my mailing list.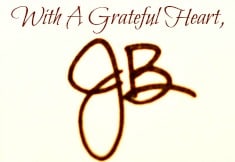 Adapted 40 years ago from my Mom's recipe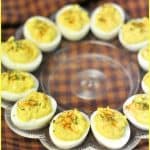 Creamy Deviled Eggs
You'll love these yummy, creamy deviled eggs. These classic bite sized appetizers are so simple to prepare, and will be a big hit at any celebration or potluck.
Servings
:
12
deviled eggs
Calories Per Serving
:
50
kcal
Ingredients
6

large eggs

, hard boiled (approx. 20 min)

3

Tablespoons

very large Tablespoons mayonnaise

1/2

teaspoon

prepared yellow mustard

salt and pepper

, to taste

paprika

(for use as a garnish)

dried parsley flakes

(for use as a garnish)
Instructions
Hard boil eggs. Peel, rinse. Cut eggs in half lengthwise. Carefully scoop out the yolk into a small bowl.

Add the mayonnaise and mustard to egg yolk mixture. Season with salt and pepper (add a bit at a time... season to taste)

Using electric mixer or a large spoon, completely mash and mix the ingredients together until mixture is smooth.

Spoon or pipe mixture into eggs. Sprinkle with paprika and dried parsley flakes for garnish. Put eggs on serving plate in covered container. Refrigerate for a couple hours, until ready to serve. Enjoy!
Recipe Notes
The time for hard-boiling the eggs (23 minutes) is included in the prep time.
Nutrition Facts
Creamy Deviled Eggs
Amount Per Serving (1 egg half)
Calories 50
Calories from Fat 18
% Daily Value*
Fat 2g3%
Cholesterol 81mg27%
Sodium 33mg1%
Potassium 30mg1%
Protein 2g4%
Vitamin A 120IU2%
Calcium 12mg1%
Iron 0.4mg2%
* Percent Daily Values are based on a 2000 calorie diet.
Here's one more to pin on your Pinterest boards!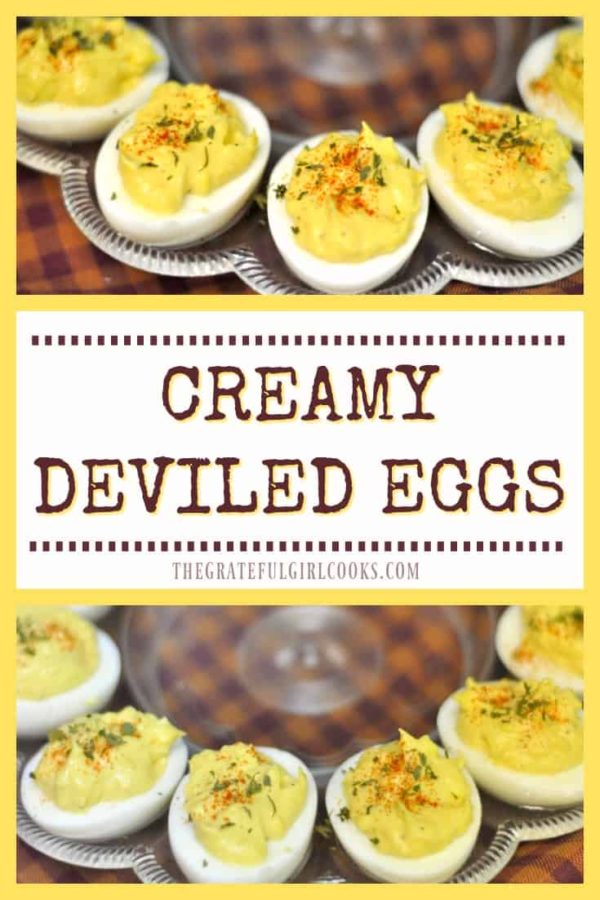 Save
Save
Save
Save