I recently made Baked Dover Sole Rollatini for my husband and I for dinner.  It was absolutely fantastic… Dover Sole fillets are filled with Italian herb-seasoned breadcrumbs, lemon zest, and Parmigiano cheese, then rolled and baked atop a lemon-wine sauce. DELICIOUS!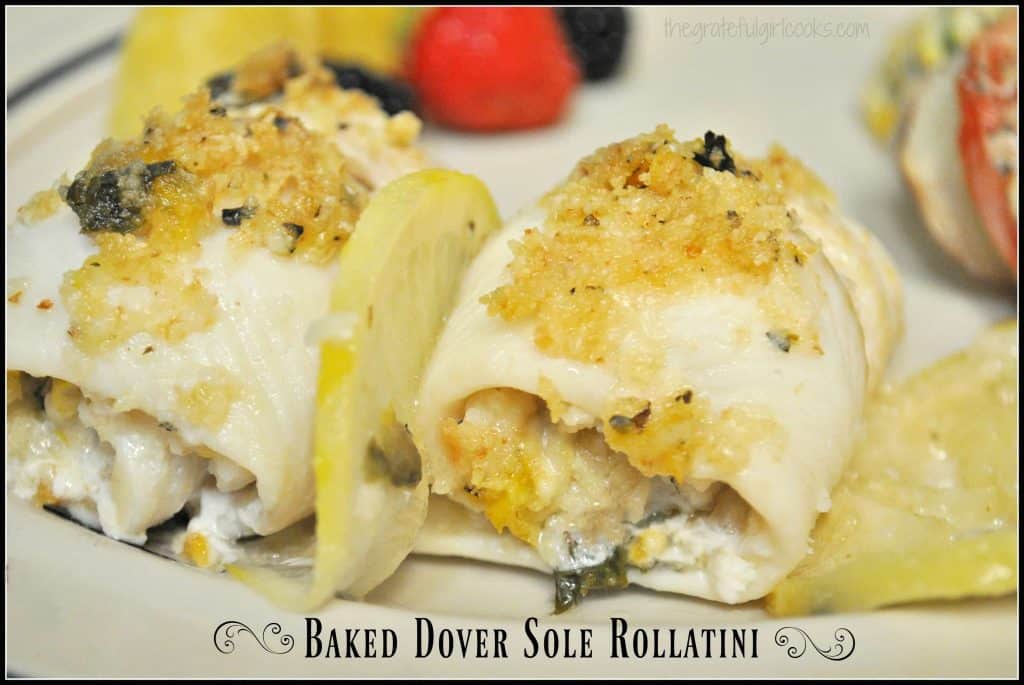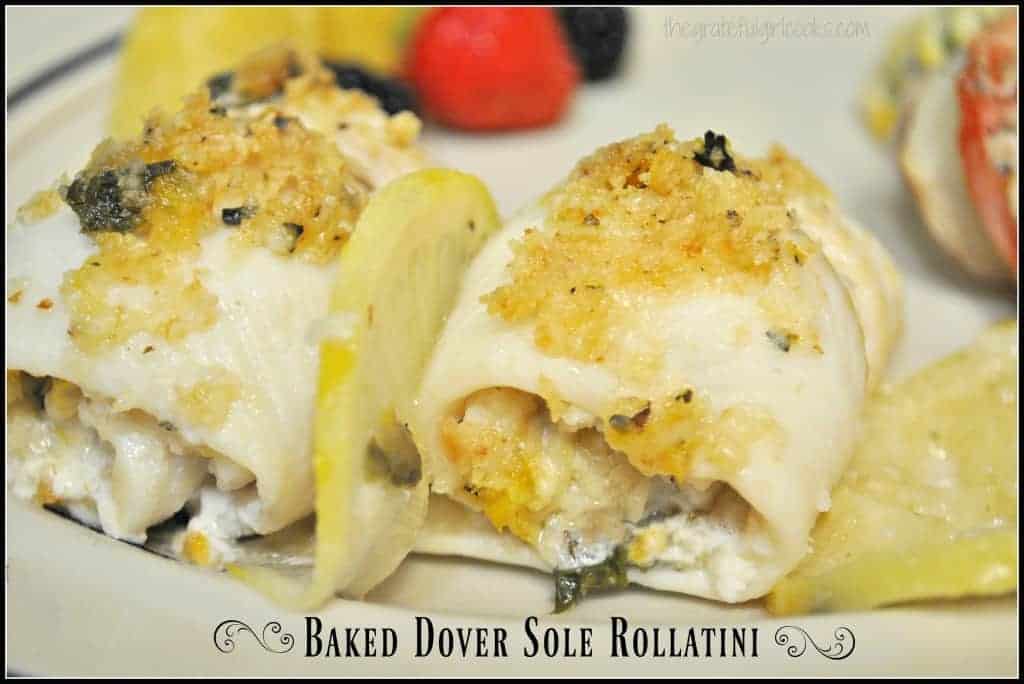 The fish doesn't taste "fishy", and is light, and seasoned very well. I got the Dover Sole fillets at Trader Jo's, and was thrilled that I got a package of 5 fillets (frozen) for only $4.54 (hey- much cheaper than a burger at some fast food joints!). The recipe (which I found on Pinterest), is from famed Italian chef and author Lidia Bastianich, and I found it to be EASY and DELICIOUS!
Here's how you put this delicious dish together:  First, make the filling by mixing the breadcrumbs, shredded Parmesan cheese, lemon zest (from an entire lemon), fresh Italian parsley, and oregano together in a small bowl. Add 4 Tablespoons of olive oil and mix breadcrumbs until all the ingredients are coated.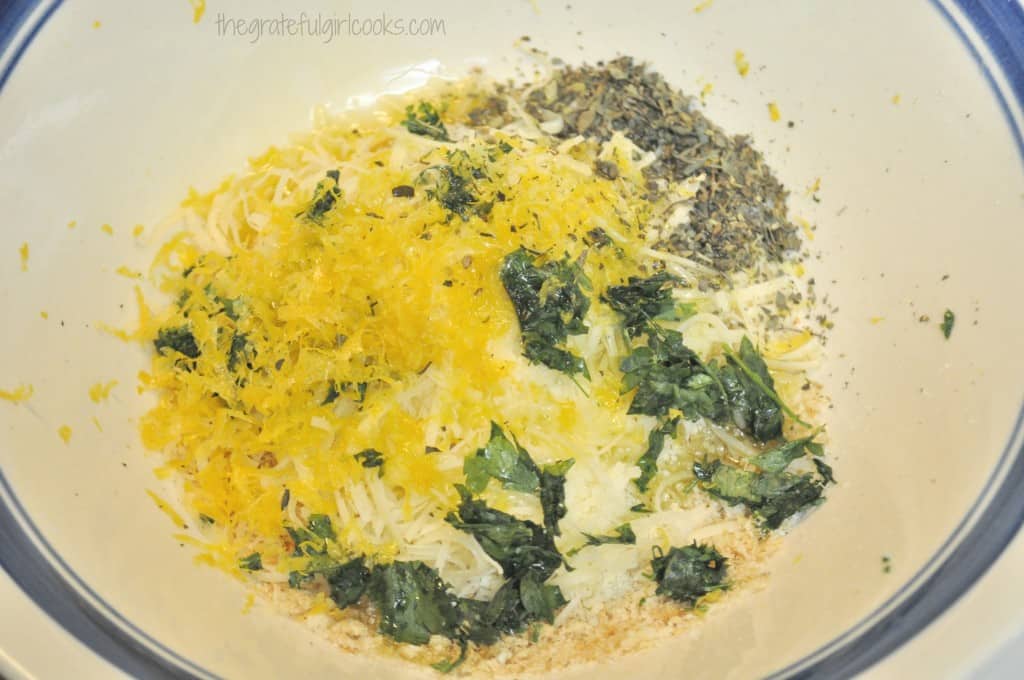 In a baking dish (preferably 9×13), rub softened butter over bottom of dish.  Place the thin slices from HALF of the lemon into the bottom of dish in a single layer.  Juice the OTHER HALF of the lemon; add lemon juice and white wine to baking dish.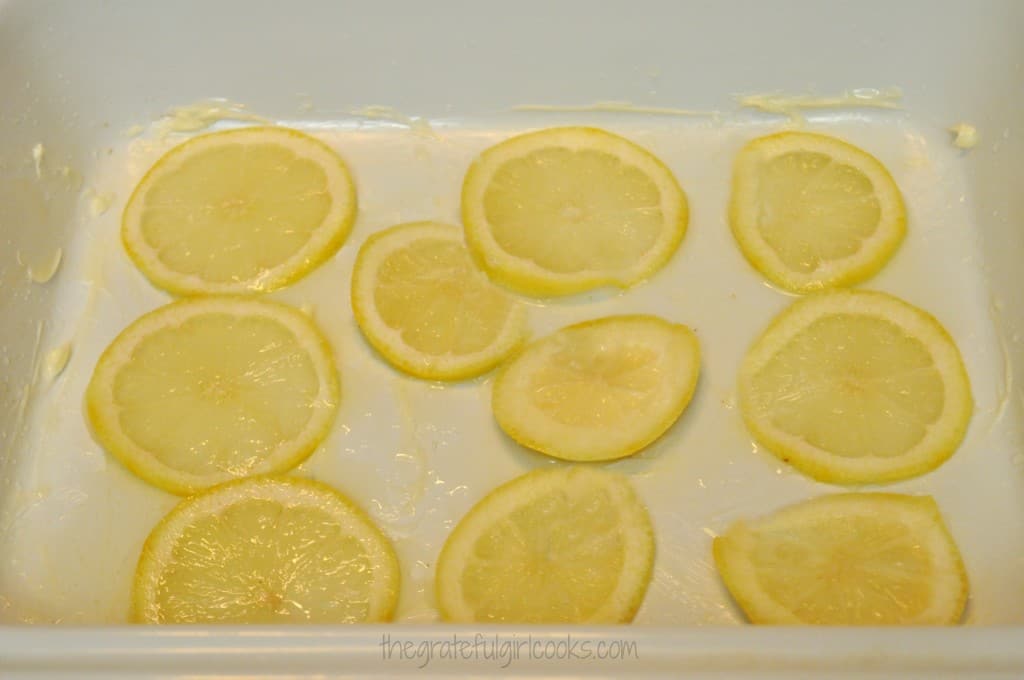 Spread out the sole fillets onto a work surface.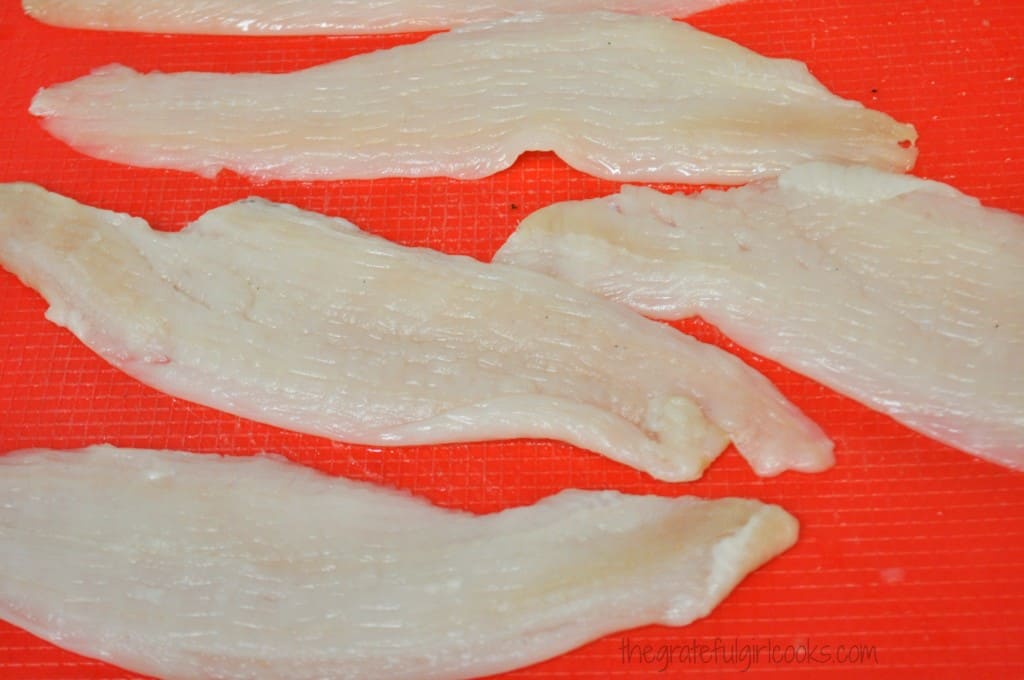 Evenly divide and spread the seasoned bread crumb mixture onto top of fillets, covering surface.  Press the crumbs down into the fish just a bit, so they will adhere better.  Reserve a bit of the crumbs to garnish the top of the fish before baking.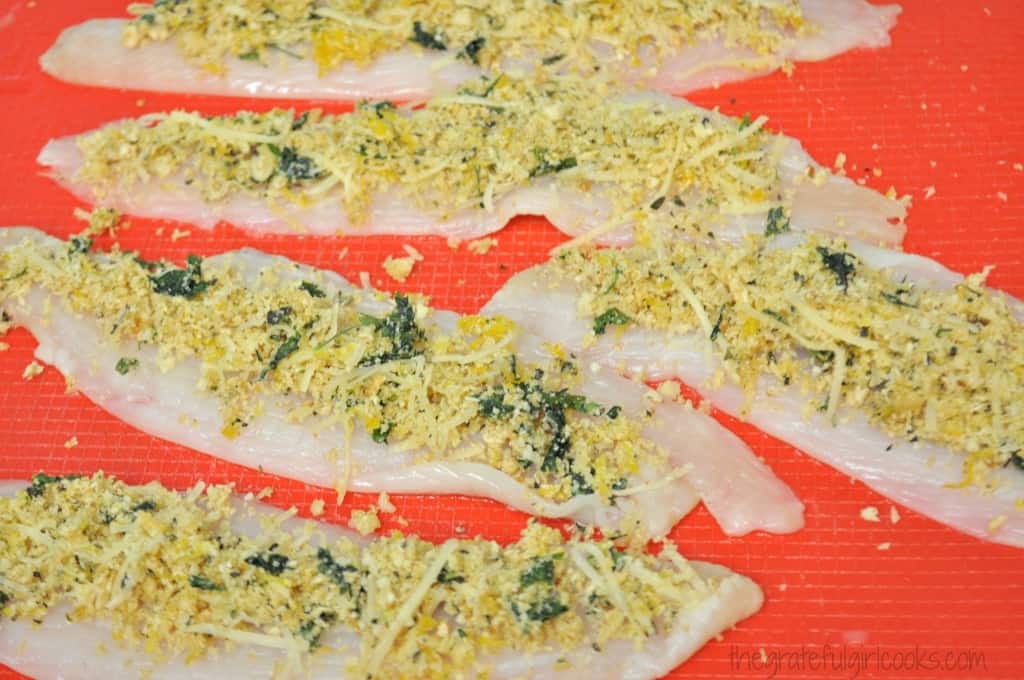 Roll each fillet up, starting with the short end. Once rolled, secure the rolls with a toothpick inserted from top to bottom at an angle (to hold it together while baking!)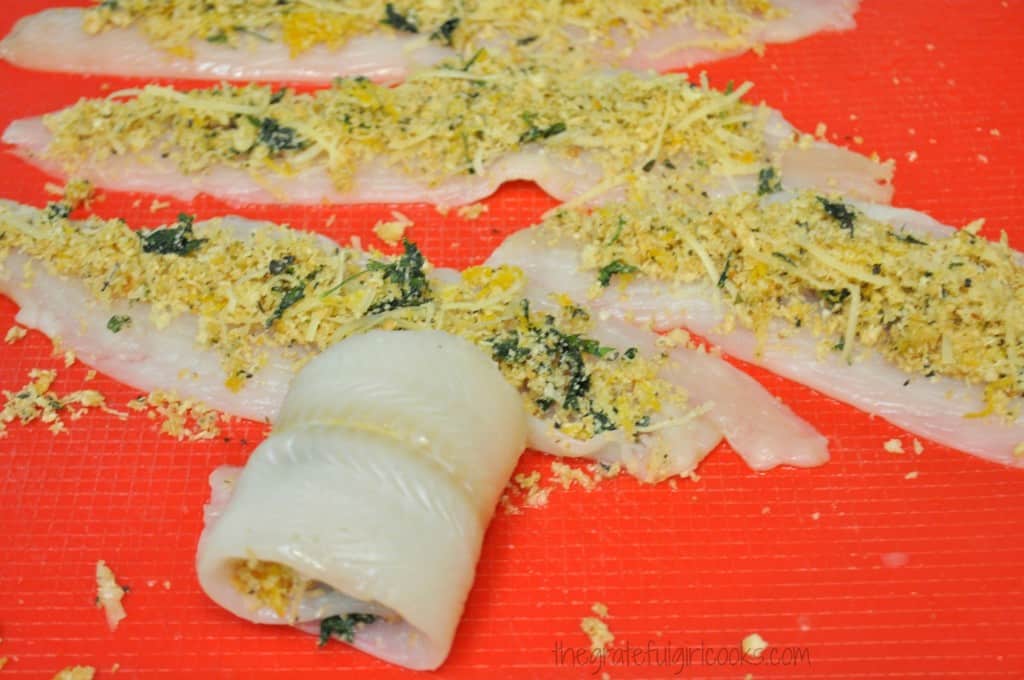 After securing the rolls with a toothpick in each one (top to bottom), gently place the rolls into the baking dish on top of the lemon wedges.  Sprinkle any remaining breadcrumbs onto tops of fish. Add capers to the baking dish in the "open" spaces.  Drizzle the tops of each "roll" with olive oil.  Bake, uncovered, in a preheated 350 degree oven for about 20 minutes, or until the fish is cooked through.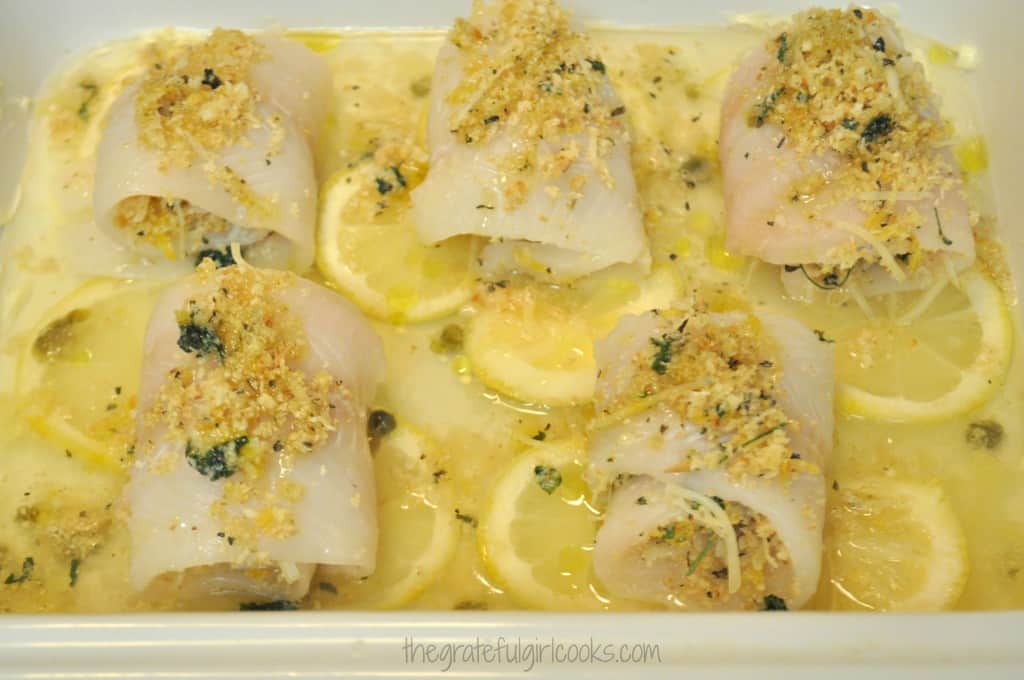 Once fish is cooked through, remove dish from oven. REMEMBER TO REMOVE TOOTHPICKS!  Because the fillets, once rolled, are small, we each had two pieces. Carefully lift each roll out of the baking dish and onto your individual serving plates using a spatula.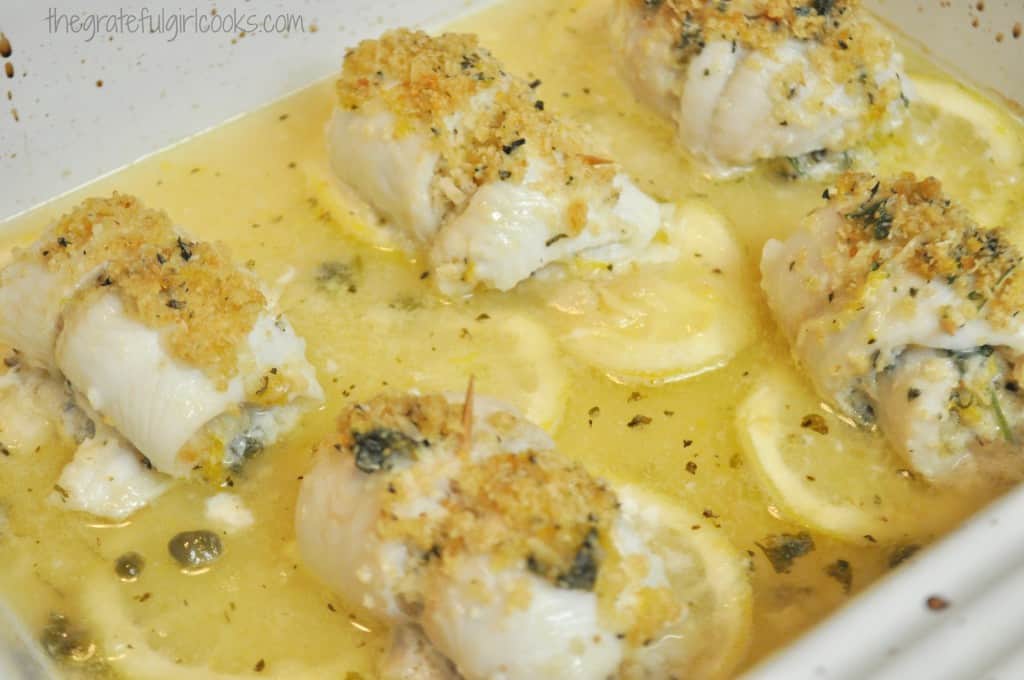 There you have it!  I served the Baked Dover Sole Rollatini with some fresh fruit from our garden, and a Summer Vegetable Tian (recipe coming next week), The meal was light, fresh, and absolutely wonderful!  I will DEFINITELY be making this easy dish again, and loved that we had a healthy delicious meal for less money than eating take-out!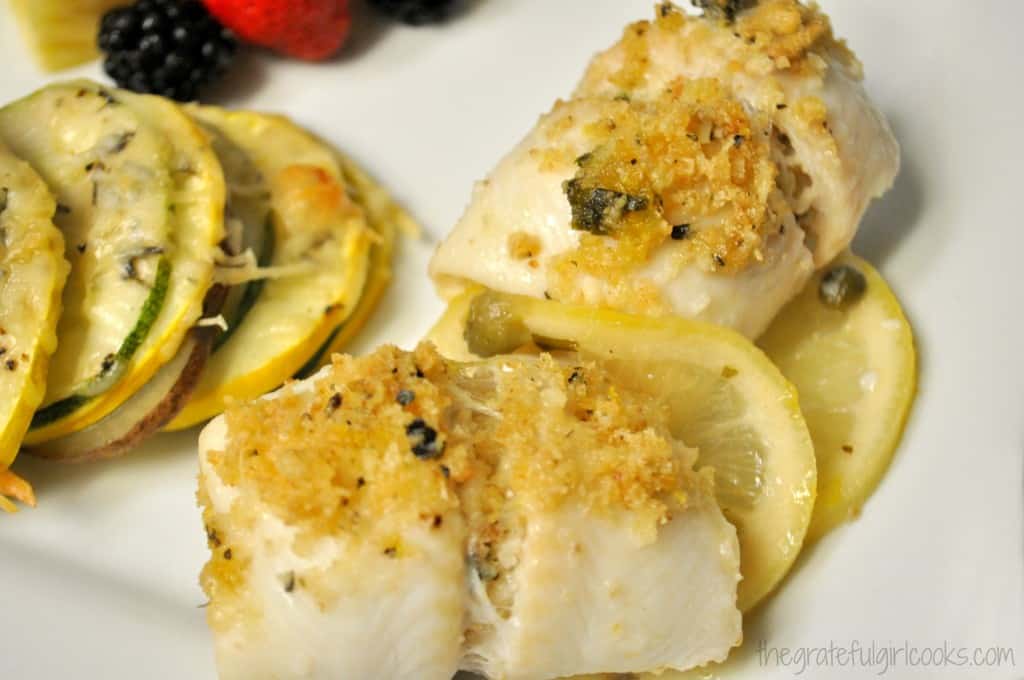 Have a great day!  May you find and take great delight in the smallest of things today.  Look around – there is beauty everywhere, if you choose to see it.  The beauty I find through the 5 senses God gave me with to enjoy life, continues to make me smile and give Him my heartfelt thanks.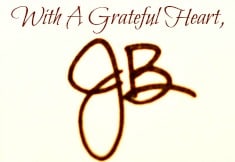 Recipe Source: http://www.thedailymeal.com/recipes/baked-rollatini-sole-recipe

Baked Dover Sole Rollatini
Dover sole fillets, filled with Italian seasoned breadcrumbs and cheese, rolled then baked atop a light lemon-wine sauce.
As Prepared By:
JB at The Grateful Girl Cooks!
Serves:
5-6 small servings
Ingredients
For The Breadcrumb Filling:
½ cup dry breadcrumbs
½ cup shredded Parmesan cheese
¼ cup fresh Italian parsley, chopped
1 large lemon (zest the outside, then juice HALF, thinly slice other HALF for fish prep)
2 teaspoons dried oregano
4 Tablespoons olive oil
For Preparing Fish:
2 Tablespoons butter, softened
6 Dover Sole fillets (boneless, skinless)
Reserved lemon juice and lemon slices (see above)
Reserved thin lemon slices
1 cup dry white wine
2 Tablespoons olive oil
2 Tablespoons drained capers
Directions
Preheat your oven to 350 degrees F.
Mix together the breadcrumb ingredients (breadcrumbs, Parmesan, Italian parsley, lemon zest, oregano). Sprinkle with 4 T. olive oil. Mix to fully combine.
Rub softened butter over the bottom of 9x13 baking dish, to coat. Place the thin lemon slices onto bottom of pan in a single layer. Add the lemon juice and white wine to pan.
Lay out the fish on a work surface. Spread the bread crumb mixture over the length of each fillet (reserving a bit of breadcrumb mixture to sprinkle on top of fish before baking).
Roll each fillet up (with the bread crumb mixture inside), beginning with the short side of the fillet. As you finish rolling each one, insert a toothpick from top to bottom at an angle to hold it securely closed. Place each piece of fish in the baking dish on top of the lemon slices. Sprinkle top of fish with reserved bread crumb mixture (as a garnish). Lightly drizzle tops of fish with 2 T. olive oil. Spread capers in the pan in the open spaces between pieces of fish.
Place pan in lower part of oven and bake for approximately 20 minutes, or until the fish is cooked through. Remove pan from oven. REMEMBER TO REMOVE TOOTHPICKS, then place fish onto individual serving plates using a spatula. Serve, and enjoy!
Notes

The package of sole I purchased contained 5 fillets. The servings are fairly small, so I would recommend planning 2 per adult.


Here's one more to pin on your Pinterest boards!

Save
Save
Save