Do you enjoy pickles? I've been a dill pickle fan since Jr. High School when I ordered HUGE dill pickles to sell to students during our annual Spirit Week.  I even used to buy GIANT SIZED dill pickles in the Main Street "General Store" at Disneyland, as a kid. I never really liked Bread and Butter Pickles… until a year ago, when my friend Sandy let me try hers.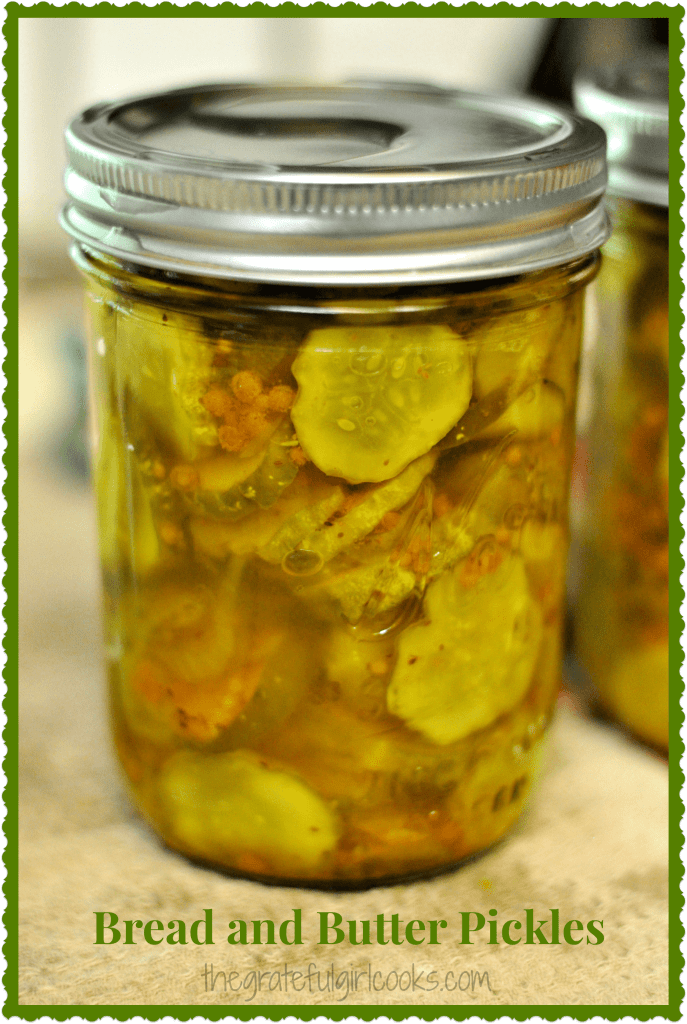 Whoa… they were good! Really changed my opinion of them.  So this year, I decided to make my own with some of the pickling cucumbers I grew in our backyard raised bed garden.I got the recipe out of my "Ball Complete Book of Home Preserving", which I bought last year, and found a recipe for Traditional Bread and Butter Pickles. Sounded good, so I thought I would give it a try! And guess what? It was pretty easy! This recipe makes approximately 5 pint jars, so it's not a HUGE batch, but it IS more than enough for our needs.
First, I sliced both ends off each of the cucumbers (discard ends), then sliced cucumbers into 1/4 inch slices. I also thinly sliced the onions.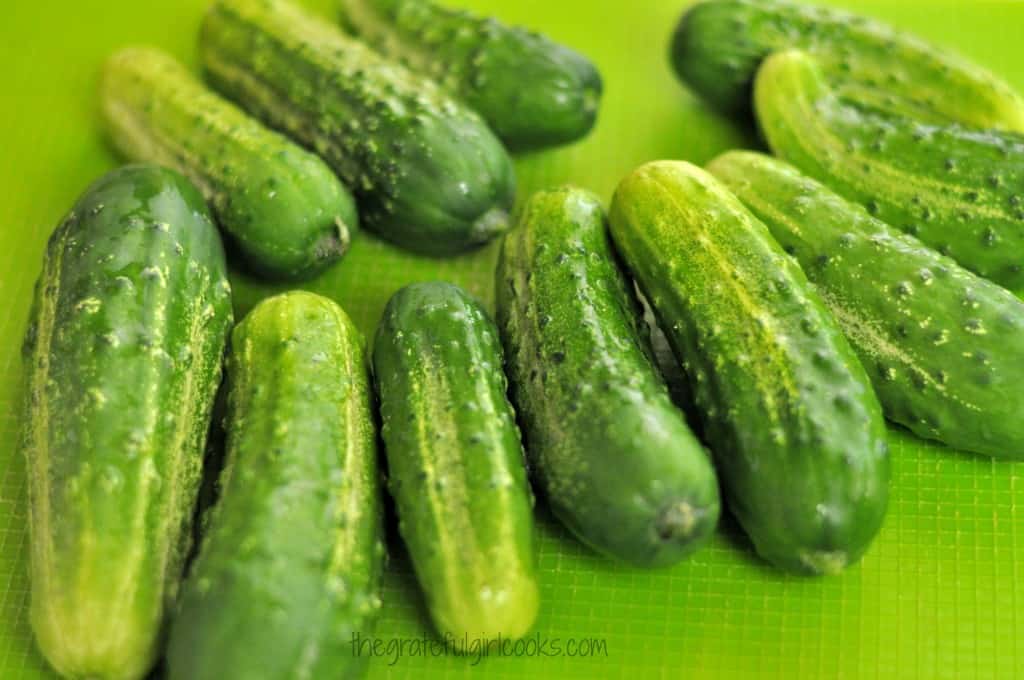 Then I put the sliced pickling cucumbers, onions, and canning salt into a large glass (or stainless steel) bowl.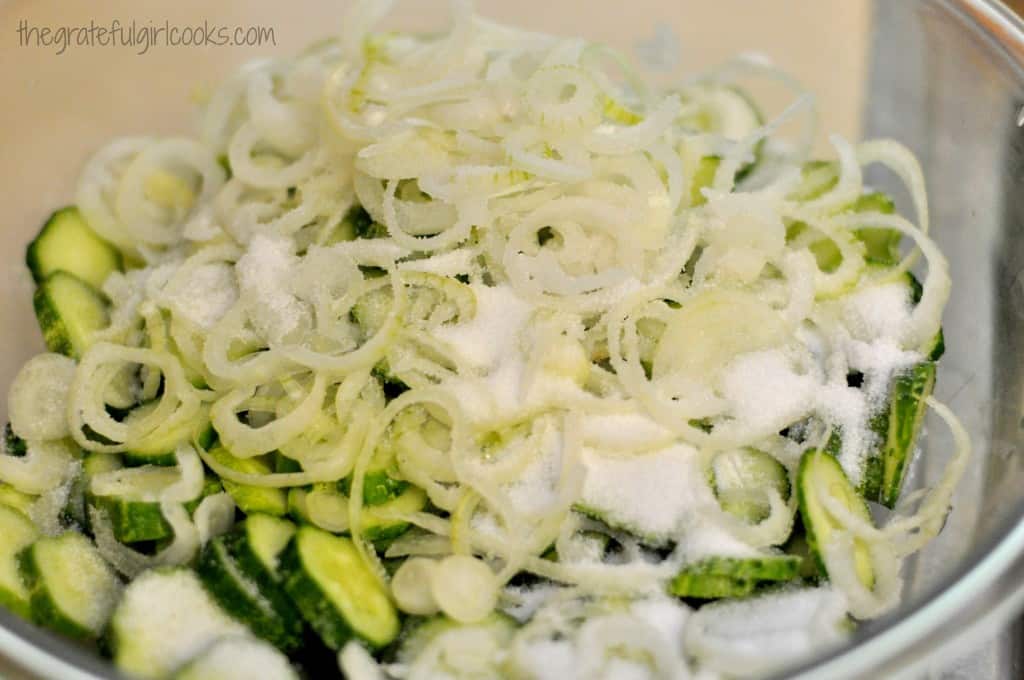 I mixed them up real good, then covered the mixture completely with water, and let it stand at room temperature for 2 hours. I put a small salad plate on top to keep the cucumbers submerged.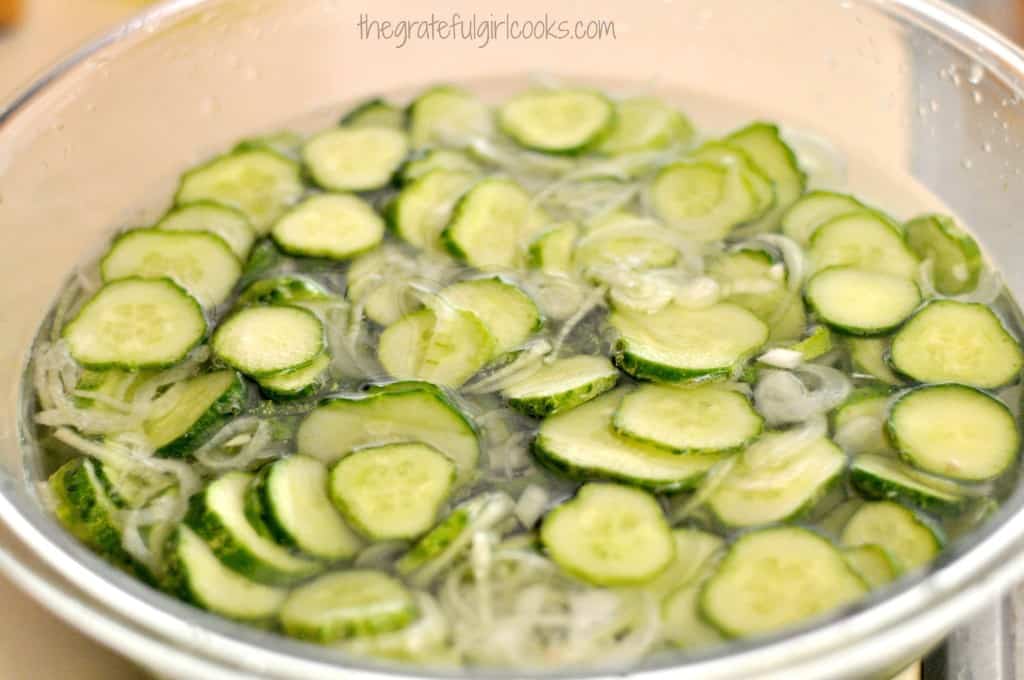 While the cucumbers were taking a bath, I mixed up the pickling brine AND got my canning jars and lids prepared for canning (cleaned/heated per USDA canning guidelines). To make the brine, I mixed together white vinegar, granulated sugar, mustard seeds, celery seeds, and turmeric (a spice). I brought this mixture to a boil over medium high heat, stirring to dissolve the sugar. Once combined, I turned off heat. (only cause I made it up early).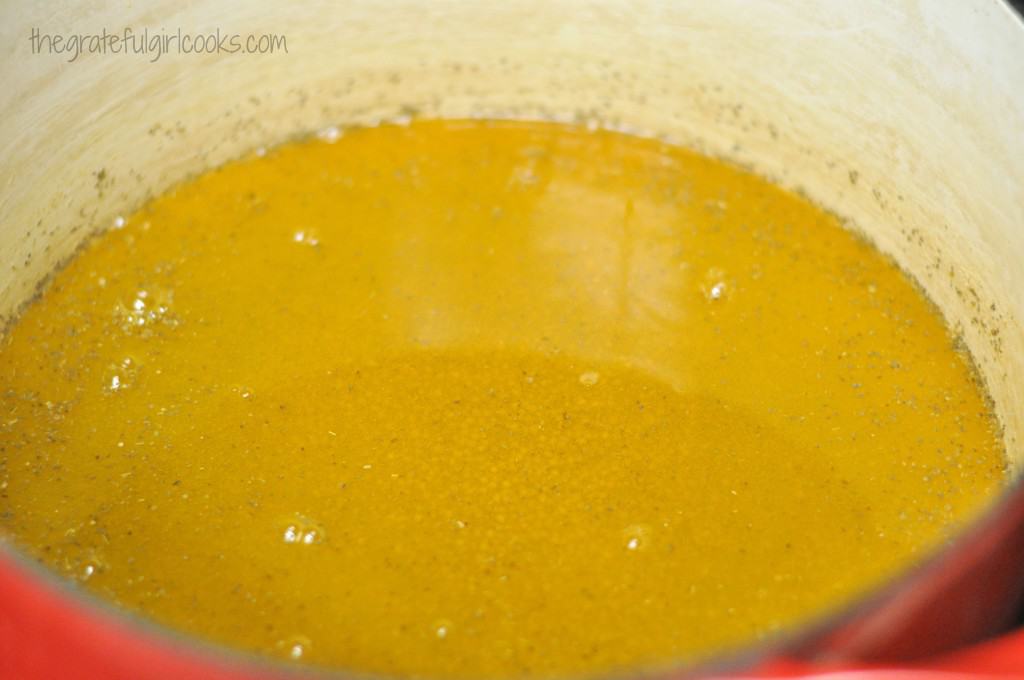 Once the cucumber mix had soaked for 2 hours, I poured them into a colander and drained the water off. I rinsed them very well, then drained them thoroughly.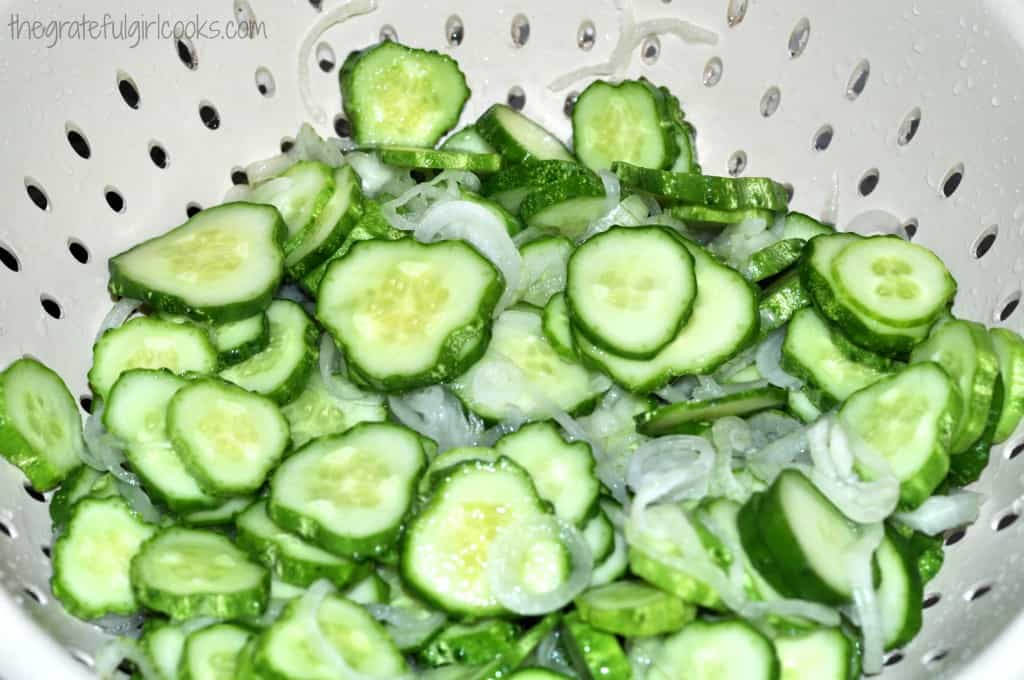 I brought the brine mixture back up to a full boil, added the cucumber mixture, stirred to combine, then brought the whole thing to a rolling boil.
I removed the pan from the heat, and packed the vegetables into my clean, hot prepared jars, leaving a 1/2 inch headspace at the top of the jar. I ladled the hot brine in, to cover the cucumbers, removed air bubbles, and added or removed more brine, if necessary, to keep the headspace at 1/2 inch.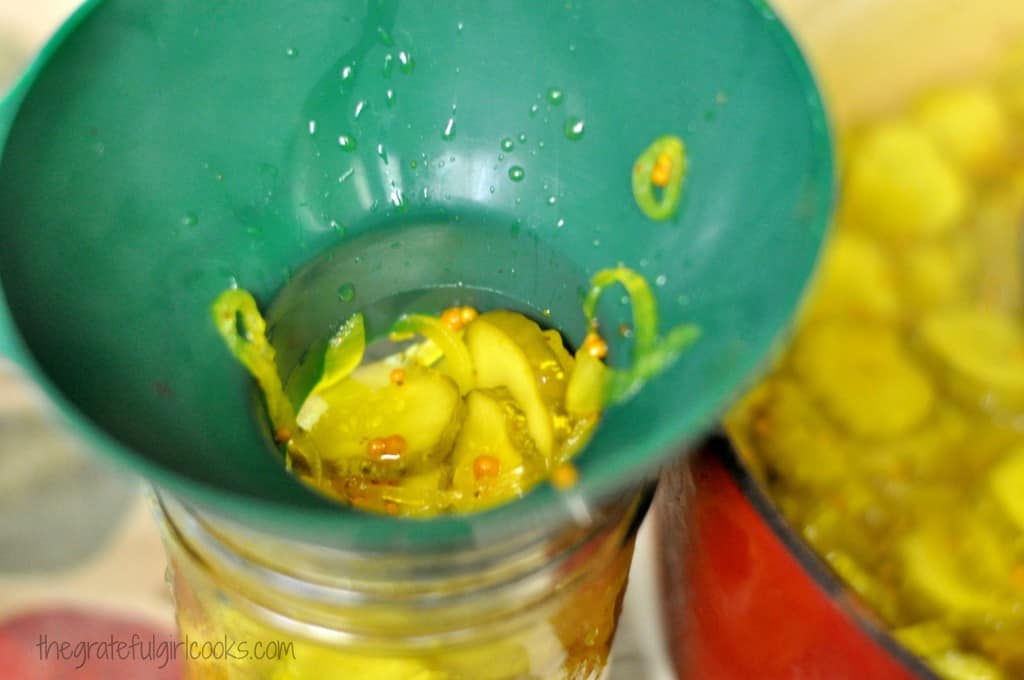 I wiped the rims of the jars clean, to ensure a good seal, then placed heated flat lid on top, then screwed on the jar band to finger-tip tightness. Onto the canning rack in the canner full of simmering water went the jars. I made sure they were completely submerged in water (plus an inch of water over the tops of the jars). I brought the water to a full boil, then processed the pickles for 10 minutes.
When they were done, I removed the canner lid, waited a few minutes, then removed jars with canning tongs to a dish towel on the counter to cool. Once the jars were completely cool, and I tested them to make sure they were sealed, I stored the jars (upright) in our pantry, to await the big moment when we open and enjoy them. Here are a couple of the jars, right out of the canner.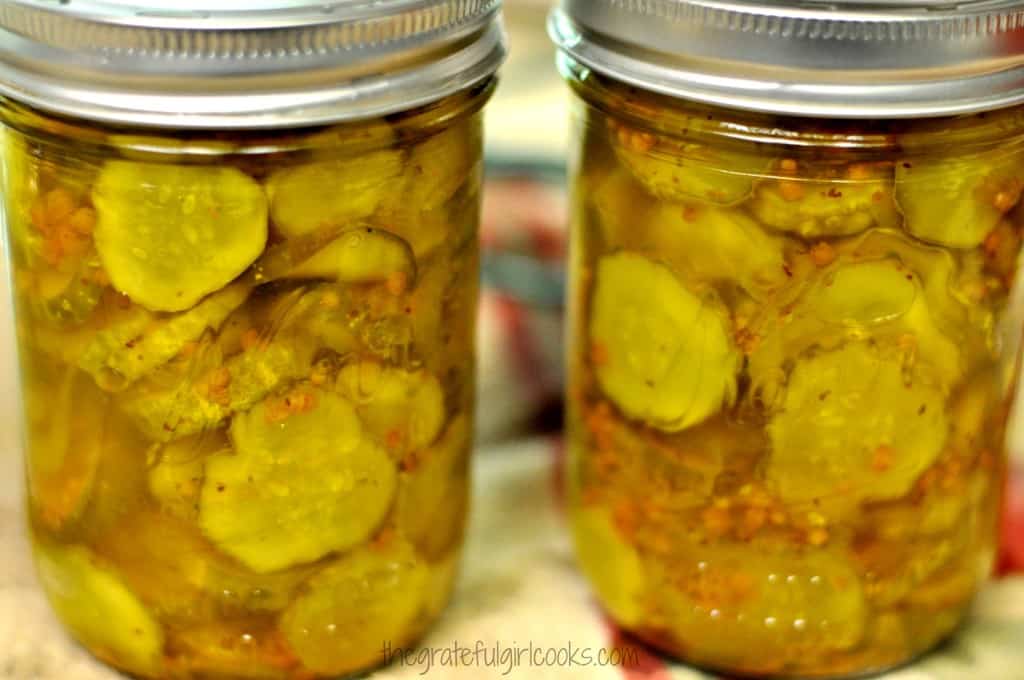 Hope you will give these delicious pickles a try! They really are quite good (yes, I snuck a few samples before sealing the jars)!
Update: I served these pickles on the side for Thanksgiving 2015… Delicious! Here's a picture: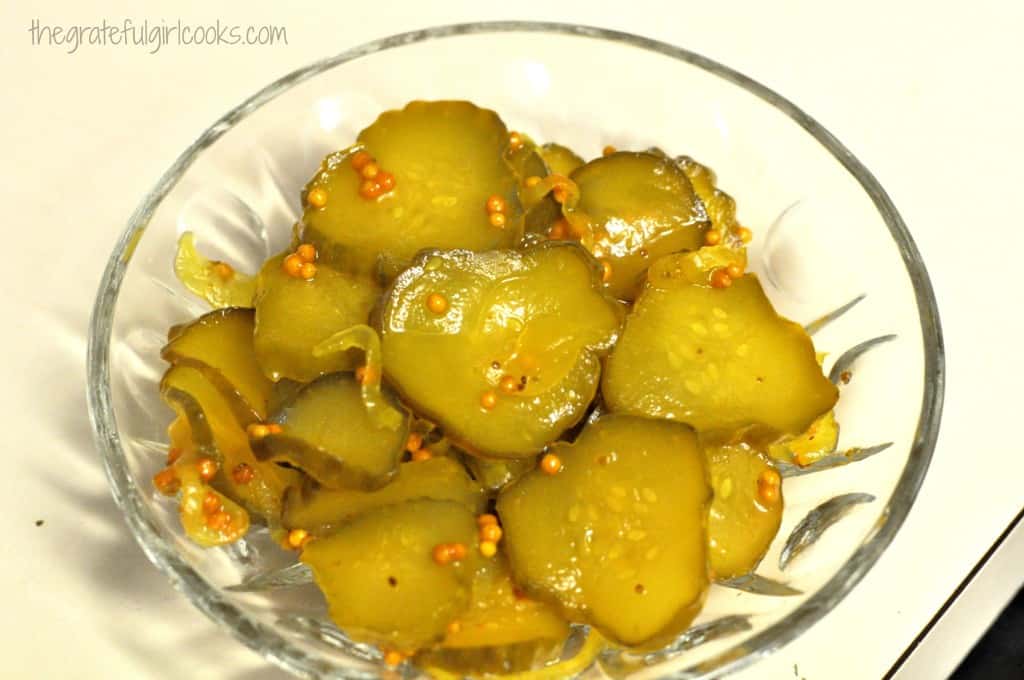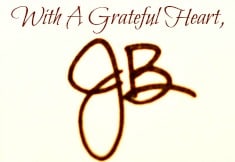 Recipe Source: Ball Complete Book of Home Preserving, Published 2006,by Robert Rose, Inc., page 303.

Bread and Butter Pickles
Enjoy making and canning these traditional Bread and Butter Pickles!
As Prepared By:
JB at The Grateful Girl Cooks!
Ingredients
10 cups sliced pickling cucumbers (1/4 inch slices, plus both ends trimmed off each cucumber)
4 medium brown onions, thinly sliced
½ cup canning salt (can also use pickling salt)
3 cups white vinegar
2 cups granulated sugar
2 Tablespoons mustard seeds (found in spice section at store)
1 teaspoon celery seeds (found in spice section at store)
1 teaspoon ground turmeric (found in spice section at store)
Directions
Place the sliced and trimmed cucumbers, sliced onions, and canning salt into a large glass or stainless steel bowl. Stir to combine. Cover the cucumbers completely with water (I used a small plate on top to help keep the cucumbers submerged). Let them sit and soak for 2 hours. When done, pour into a colander, rinse and drain very thoroughly.
While the cucumbers are in the soaking mode, you can prepare the brine, AND prepare your water bath canner, jars and lids (per canning guidelines), so they are ready to go.
In a large saucepan, mix together the vinegar, granulated sugar, mustard and celery seeds, and the turmeric. Bring this brine mixture to a boil, while stirring. Once the sugar has dissolved, pour in the rinsed and drained cucumber/onion mixture. Stir to combine. Return the mixture to a full boil.
Remove saucepan from heat. Pack the pickle/onions mixture into hot canning jars to within ½ inch from the top. (I used a slotted spoon to scoop out the veggies). Once the veggies are packed into the jars, Iadle the hot brine into the jars, covering the cucumbers fully. Remove air bubbles from jar, then adjust headspace, if necessary. Wipe the rims of each jar with a clean cloth or wet paper towel. Put hot, flat lid on top of jar, the screw on the band until it is fingertip tight.
Put the filled jars into the simmering water in a water bath canner, adding more boiling water, if necessary, to make sure jars are completely submerged (and have at least an inch of water over the top of the jars). Bring water to a full boil and process pickles for 10 minutes. When done, carefully remove lid (away from you to prevent steam burn), wait a few minutes, then remove jars from canner, using canning tongs. Set hot jars onto a dish towel on counter (not directly on counter), then let jars cool. Test to make sure jars have sealed. Sealed lids will be concave (curving downward), and will show no signs of "give" when you press down in the middle of lid.
Store cooled jars upright in cool dark place.
Notes

Recipe makes approx. 5 pint jars. Please refer to official USDA canning guidelines if you are unsure of proper process for preparing jars for canning/sealing.


Here's one more to pin on your Pinterest boards!

Save
Save
Save