Last year I found this recipe for Chocolate Raspberry Sundae Sauce in a book I received as a gift from my husband, called "Ball Complete Book of Home Preserving".  It's where I found this absolutely DELICIOUS recipe for this yummy dessert topping!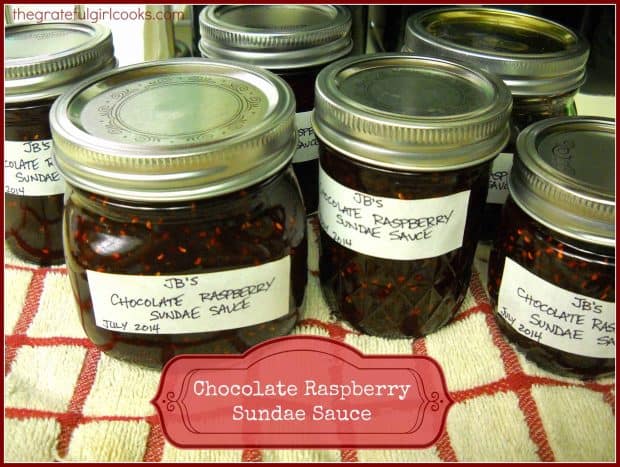 The book has 400 different recipes for home canning that I am so excited about, since I love to make jams and jellies, and have now also begun pressure canning veggies from our garden.
One of the recipes that caught my eye was this one. Chocolate. Raspberry. Sundae. Sauce. Are you kidding me? I could hardly wait to try it out.  I made a batch last summer, after going raspberry picking at a local U-Pick farm. The recipe did not disappoint! The flavors of the raspberries and the chocolate come together well in this thick, sweet sauce. The sauce would be fantastic served on top of ice cream, brownies, pound cake, cheesecake, etc. When serving it over ice cream, I warmed it up just a bit, and it was perfect!
I gave away several jars of this sauce for birthdays and Christmas last year… guess I will need to make some more very soon!  If you are NOT canning it for long term storage, then make sure you keep the jars of sauce stored in refrigerator. It will only last short-term if you don't can it, but could still be given as gifts, or enjoyed with dessert!
Picked some fresh raspberries… used some of these for the sauce…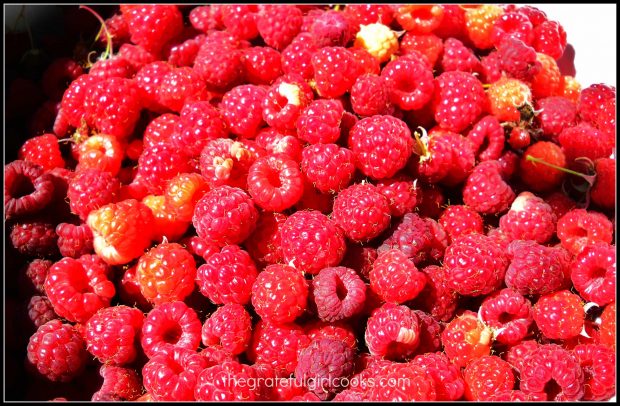 Loading the jars into my water bath canner as they are ready for processing…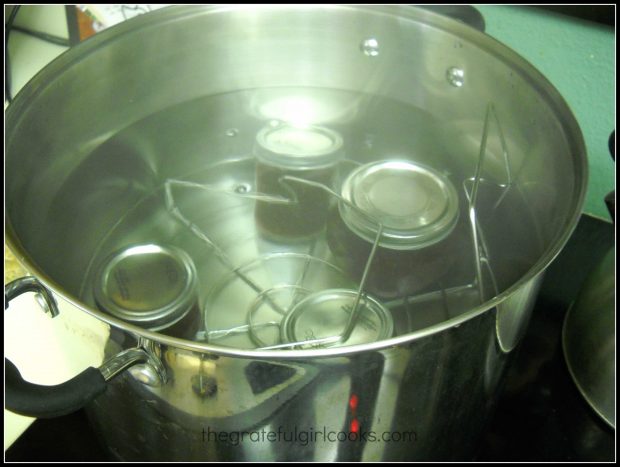 See how thick this turns out? It is delicious!!!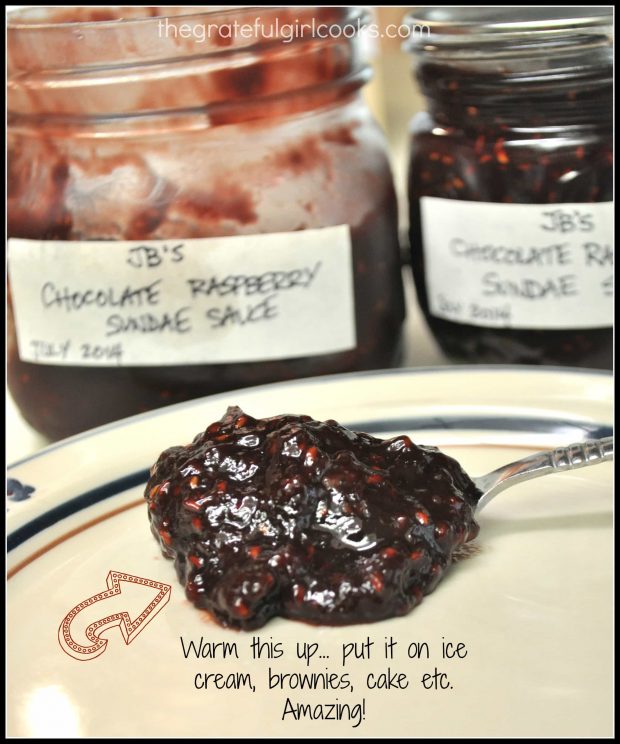 Hope you will give this recipe a try. You will love it!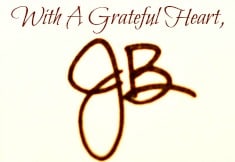 Recipe Source: "Ball Complete Book of Home Preserving", page 188, published by Robert Rose, Inc.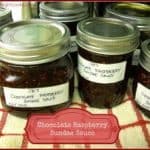 Chocolate Raspberry Sundae Sauce
This thick, chocolate-raspberry sauce is delicious, served over ice cream, cakes, brownies, etc.
Ingredients
1/2

cup

unsweetened cocoa powder

1

package powdered pectin

(1.75 ounces)

4 1/2

cups

crushed red raspberries

4

Tablespoons

fresh squeezed lemon juice

6 3/4

cups

granulated sugar
Instructions
First, get your water bath canner, lids, and canning jars ready to go (per normal canning procedures for cleaning/heating jars and lids).

Mix together the cocoa and pectin in a medium sized bowl until well combined. Set aside.

Put the crushed raspberries and the lemon juice in a large stainless steel saucepan. Whisk in the pectin/cocoa mixture, until it dissolves. Turn your stovetop heat to high; bring this mixture to a full boil. Stir frequently.

Once the fruit mixture is boiling, add the sugar all at one time. Stir to blend. Bring mixture to a full rolling boil; stir constantly so it doesn't burn. Boil it (a full, rolling boil) for 1 minute, then remove pan from heat, skim off any foam that has collected on top of the sauce, and discard.

Ladle the HOT sauce into your hot, prepared jars. Be sure to leave 1/4 inch headspace. Remove any air bubbles that may be trapped in jar. Adjust the headspace (if needed). Add additional sauce if necessary to maintain 1/4' headspace. Wipe the rim of the jar to remove any residual sauce (to ensure a good seal). Center the lid on the jar, then screw the jar band down to finger-tip tight resistance.

Carefully place the jars into your canner. Make sure the jars are completely covered with water (fill about an inch over the top of the jars). Bring the water in the canner to a boil, then cover, and process jars for 10 minutes. After 10 minutes, remove the canner lid. Wait an additional 5 minutes, then remove the jars to a dish towel to cool. Do not move the jars around while they cool. You should hear the jars make a "ping" sound several minutes later, as they seal.

Once jars have sealed and are completely cooled, place them in storage or pantry.
Save
Save
Save