A couple days ago I was scrolling through my Facebook news feed, and found a recipe for an easy, fresh Strawberry Pie from "Taste of Home", a website/magazine I have loved for years! I recently bought 2 large containers of strawberries at the grocery store (got a screamin' good deal on them), and had been looking for a recipe to make with them.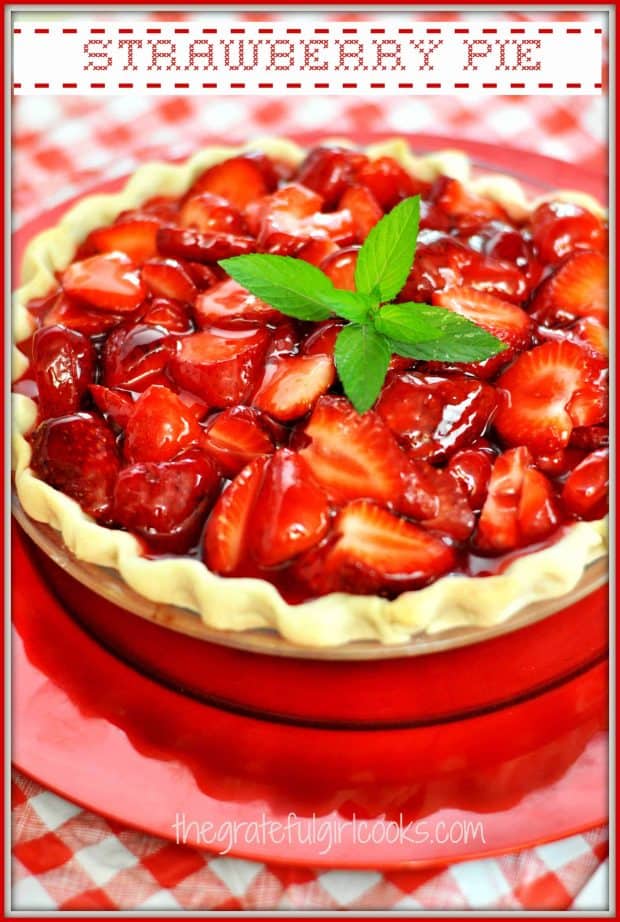 The next morning I got up and made this delicious (and EASY!) pie… and I'm sure glad I did. Totally delicious, classic strawberry pie!!!!  Reminds me of a quote I saw: "The best thing to put into a homemade pie is your teeth!" (author unknown). Honestly, this pie was super easy to make.
I made my own pie crust (here's my recipe that I've used for years:  (DIY-moms-pie-crust/) , but if you want quick and easy, just buy a pre-made pie crust, and save yourself some time. Once you've got your pie crust taken care of, making the pie is as simple as slicing strawberries, mixing the glaze up in a saucepan, and pouring the glaze on top. Seriously EASY.
You start with a pie crust. Make your own or buy one. Either way… it's all good. Do NOT prick the crust with tines of a fork, however.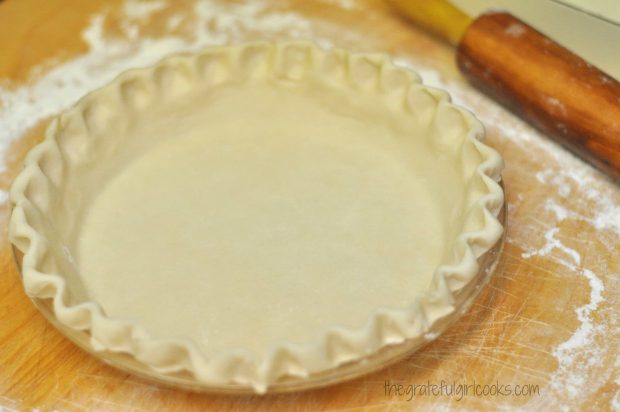 You need to cook the pie crust before filling it. I put a layer of heavy duty aluminum foil over the crust, then filled it with dry beans to weigh it down (this will help keep the pie crust from "puffing" up too much while cooking).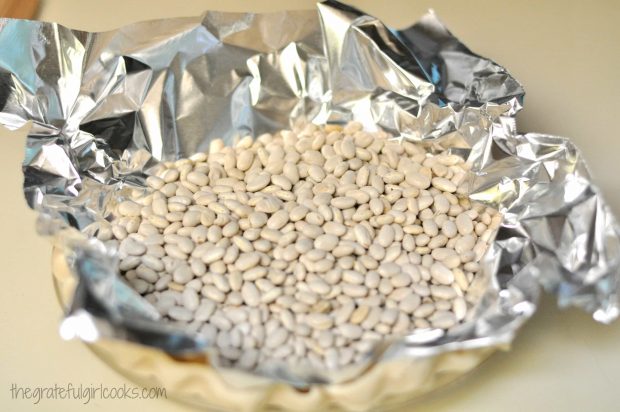 Bake the pie crust for 8 minutes, then lift out the foil and beans, and pop the crust back into the oven for 5-6 more minutes. When done, it will look like this…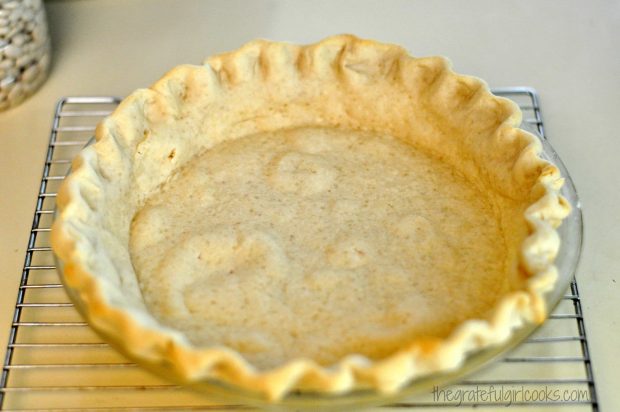 Let the pie crust cool completely. While it is cooling, mix up sugar, cornstarch and water in a saucepan over medium heat, until thickened.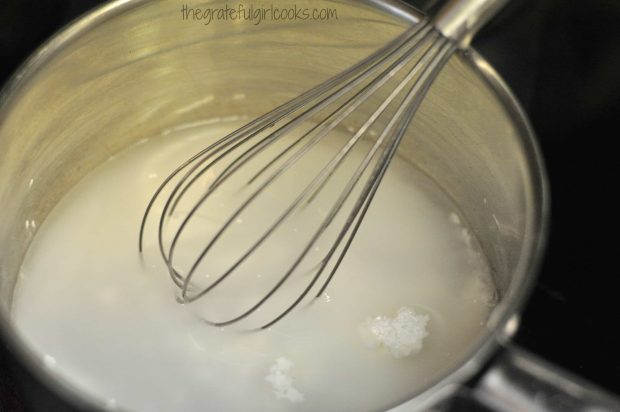 Once thickened, add the small box of strawberry gelatin, and stir well to combine.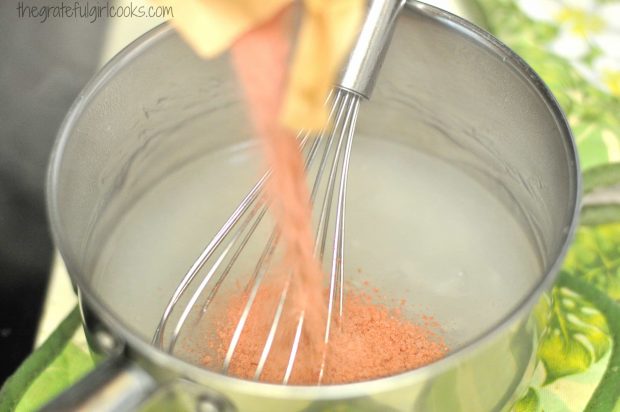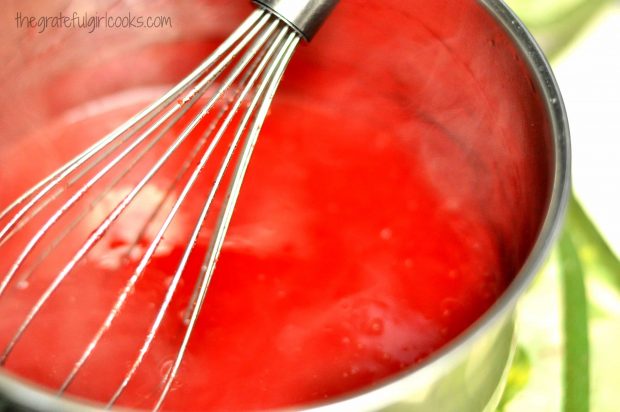 Let the glaze cool for 15-20 minutes in the refrigerator. While glaze is cooling, slice up 4 1/2 cups fresh strawberries.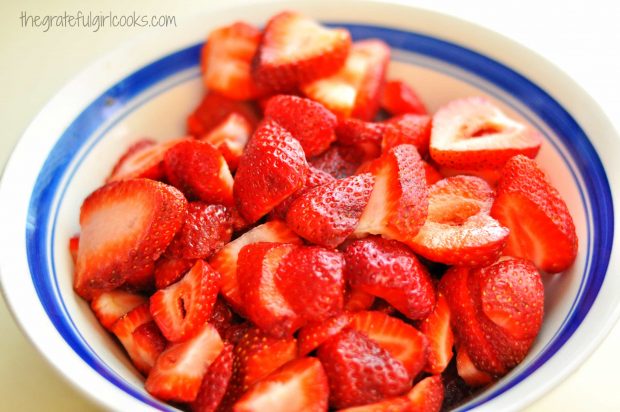 When the pie crust has cooled, arrange the strawberries in the crust.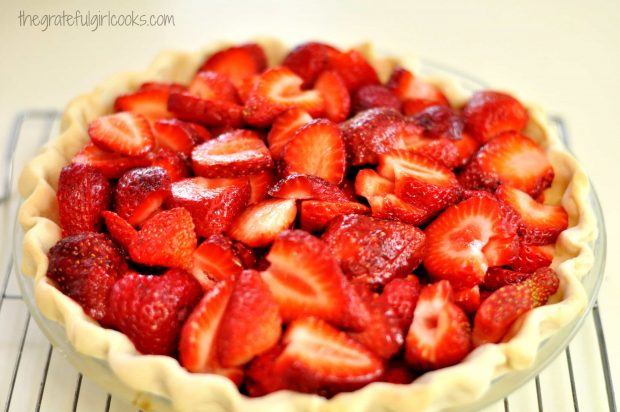 Once the glaze has cooled, give it a stir, then carefully pour it all over the top of the pie. I pour it all around, to completely cover the strawberries on top, AND to pour into any little spaces. Try not to drizzle it on the crimped crust.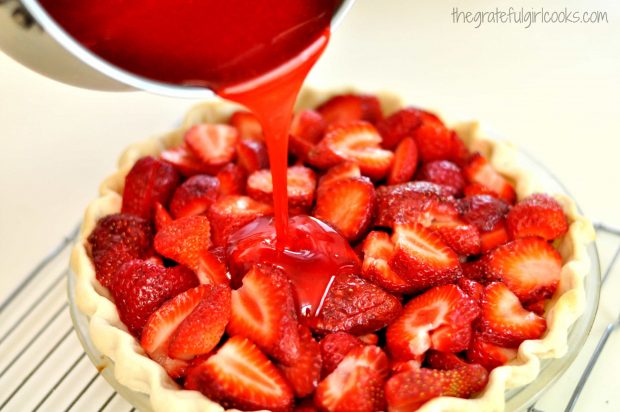 Once all the glaze is on the pie, place pie in refrigerator for several hours so the glaze will firm up. When ready to serve, garnish with a sprig of mint, AND/OR some whipped cream, slice and serve!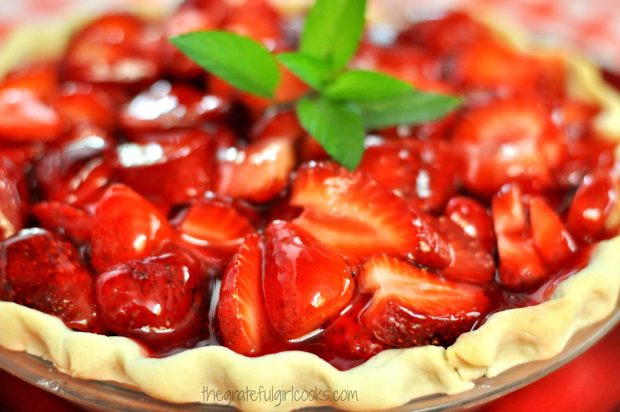 Because the glaze has firmed up, this is not a messy pie to cut and serve. Just sayin'. See how "clean" the cuts are?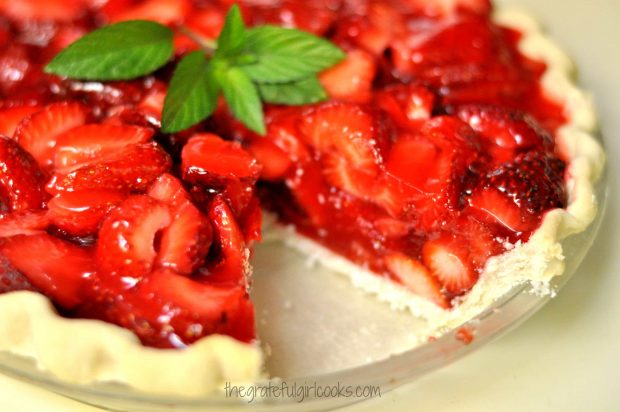 That's it! Slice yourself a good sized piece, grab a fork, a can of whipped cream, and a good cup of coffee, and enjoy this delicious, fresh-tasting Strawberry Pie!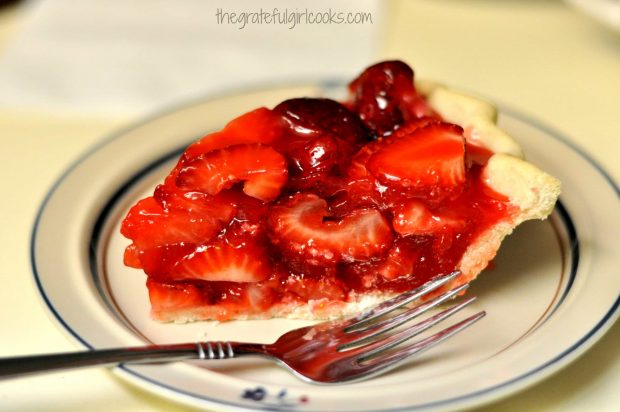 Thanks for stopping by… and try this pie! It's awesome. Hope you have a great day!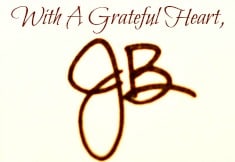 Recipe Source: http://www.tasteofhome.com/recipes/easy-fresh-strawberry-pie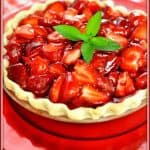 Strawberry Pie
Nothing beats this classic recipe for Strawberry Pie. And it's SO EASY to make!
Calories Per Serving
:
278
kcal
Ingredients
1

unbaked pastry

(pie) shell (9 inches)

* a couple cups of dry beans

(ONLY TO WEIGH DOWN THE CRUST DURING PRE-BAKE)

3/4

cup

granulated sugar

2

Tablespoons

cornstarch

1

cup

water

1

package

(3 ounces) strawberry gelatin

4 1/2

cups

sliced fresh strawberries

Fresh sprig of mint

(optional)

Whipping cream for garnish

(optional)
Instructions
To make pie shell:
Line an unpricked and uncooked pie shell with heavy duty aluminum foil. Fill with dried beans to weigh down the shell (this helps keep the crust from puffing up full of air). Bake crust at 425 degrees for 8 minutes. Carefully lift out the aluminum foil and beans (**beans can be put back in the container you got them from and can still be used**). After beans and foil are out of the shell, put it back into the oven for an additional 5-6 minutes longer, then remove to a wire rack to cool.
To make strawberry glaze:
In a medium saucepan, whisk together the granulated sugar, cornstarch and water until it is fully combined and smooth. Bring mixture to a boil; stir and cook it for 2 minutes, until thickened. Remove the pan from the heat. Stir in the strawberry gelatin powder, until dissolved. Refrigerate the glaze mixture for 15-20 minutes, or until it has cooled down some.
To assemble the pie:
Slice the strawberries. Carefully place/arrange them into the baked pie crust. Pour the cooled strawberry glaze over the entire surface of the pie, even filling in the little nooks and crannies. Use all of the glaze mixture. When done, place pie in refrigerator for 2-3 hours, or until it is completely "set up" (the glaze will congeal and firm up).

Garnish pie with mint and/or whipped cream, if desired.

Cut into 8 pieces, serve... and enjoy!
Recipe Notes
Note: Prep time of 3 hours INCLUDES inactive prep time of 2 1/2 hours for refrigeration of pie. If using a pre-made crust, this recipe can be made in about 30 minutes.
Nutrition Facts
Strawberry Pie
Amount Per Serving (1 slice)
Calories 278
Calories from Fat 72
% Daily Value*
Total Fat 8g 12%
Sodium 150mg 6%
Potassium 149mg 4%
Total Carbohydrates 49g 16%
Protein 2g 4%
* Percent Daily Values are based on a 2000 calorie diet.
Here's one more to pin on your Pinterest boards!

Save
Save
Save
Save