My husband and I love salmon, so I am always on the lookout for new ways to prepare it. I found this recipe for Brown Sugar Crusted Salmon online, thought it sounded delicious, and just knew I had to give it a try! And guess what? It WAS delicious!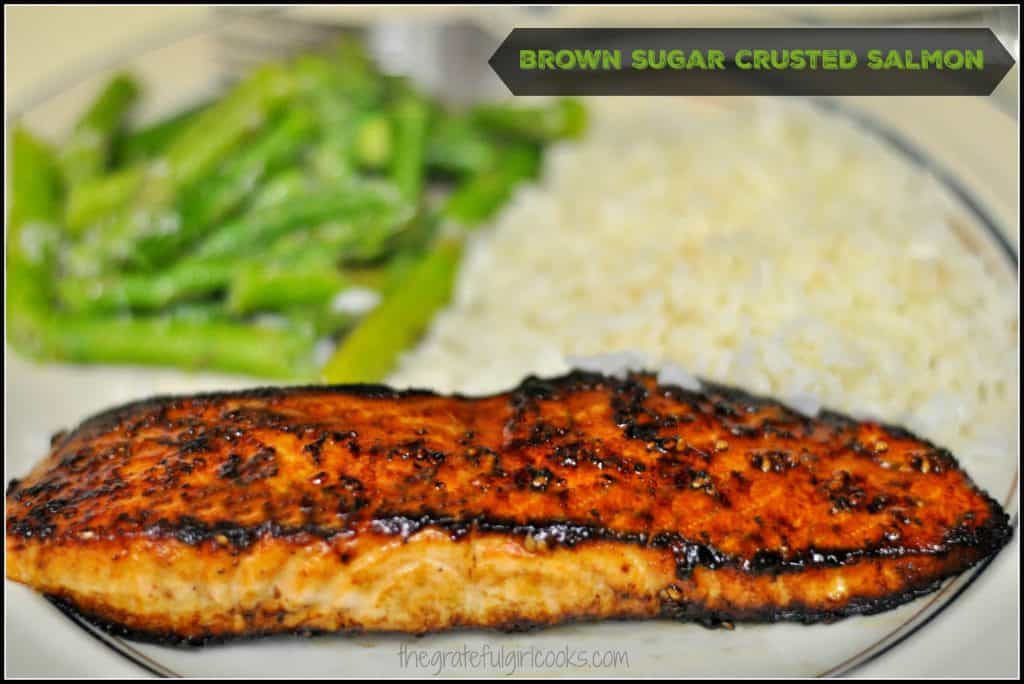 This recipe is incredibly EASY, and quick to prepare! I got the original recipe from Chris, at The Cafe Sucre Farine.  She has a wonderful blog that I enjoy very much and recommend, without hesitation.
So, here's all you need to do, to make this delicious entree:
In a small bowl, mix together brown sugar, zest from one lemon, chili powder, cumin, sesame seeds, sea salt and black pepper. How totally easy is that?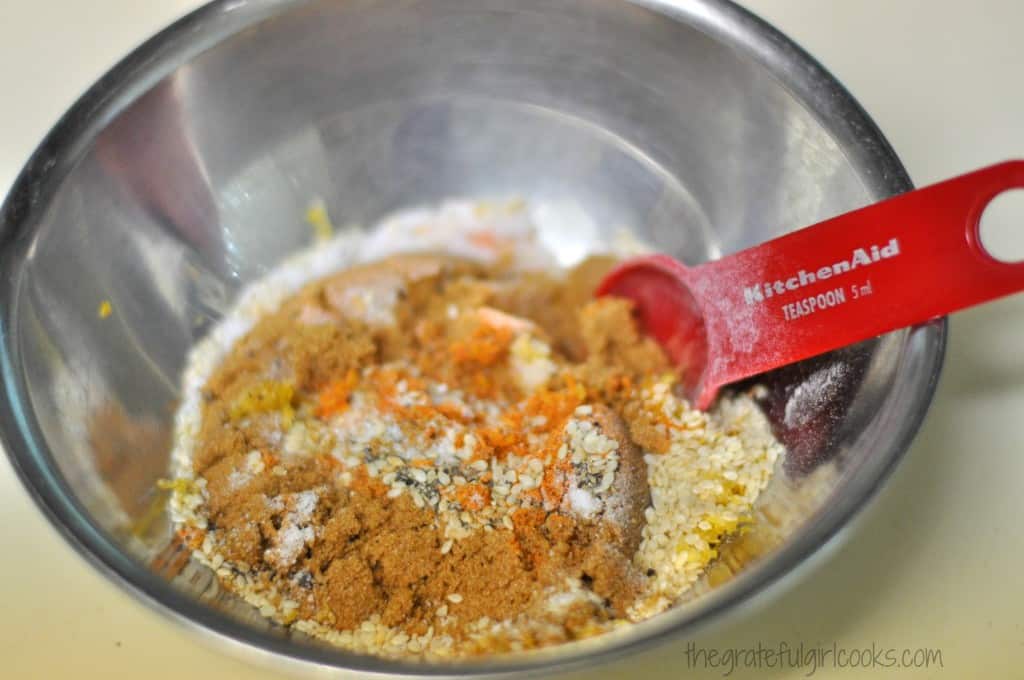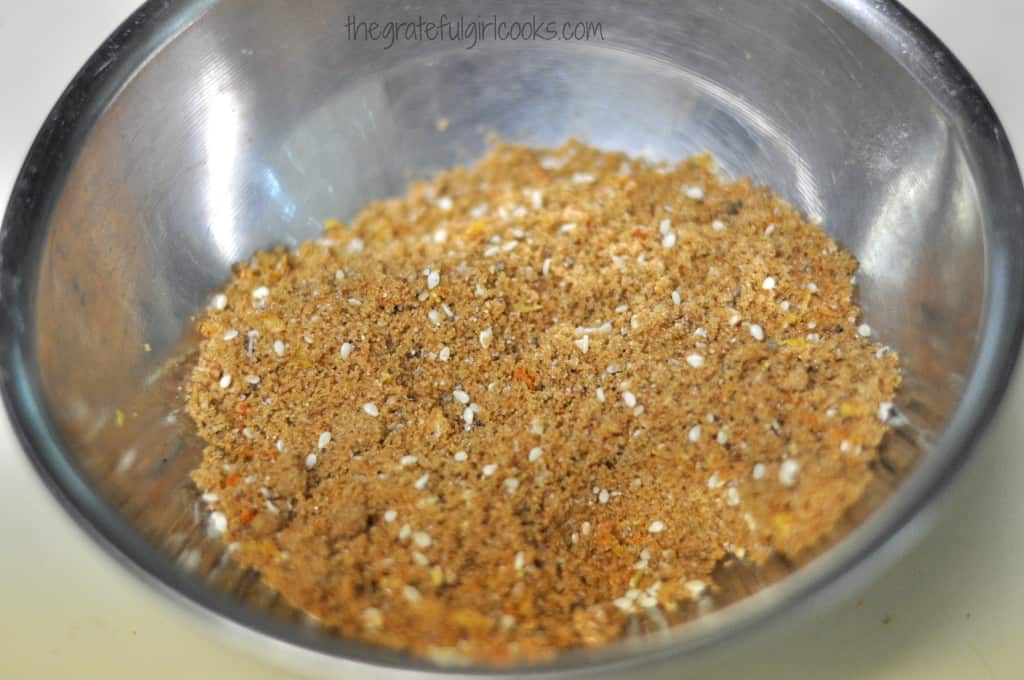 Divide up the seasoning, and carefully spoon it over BOTH sides of the salmon, patting it into the fish as you go.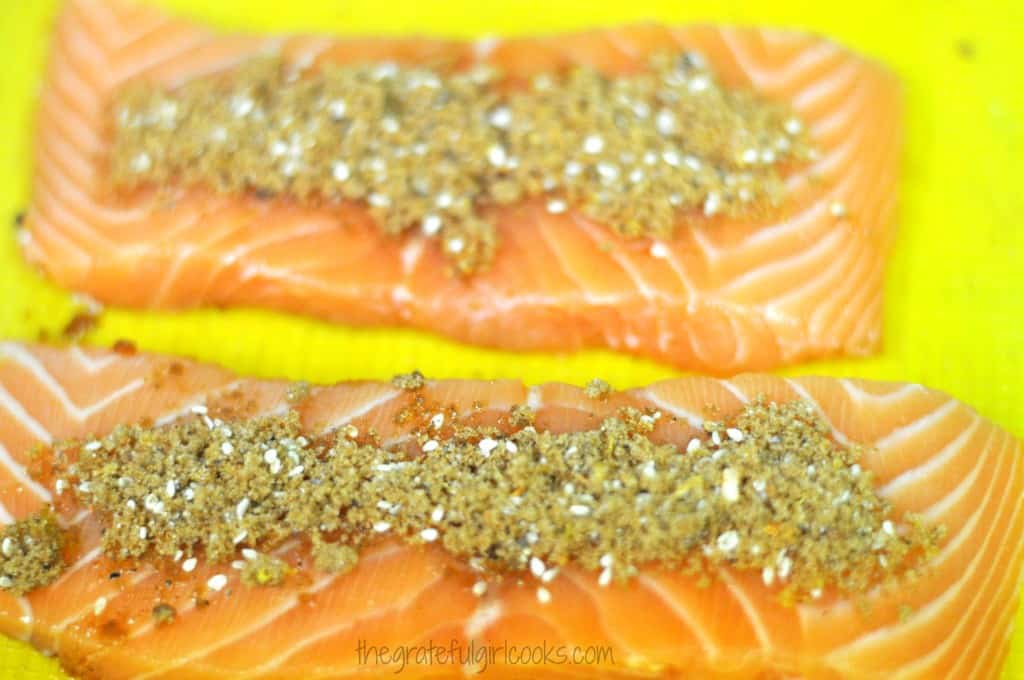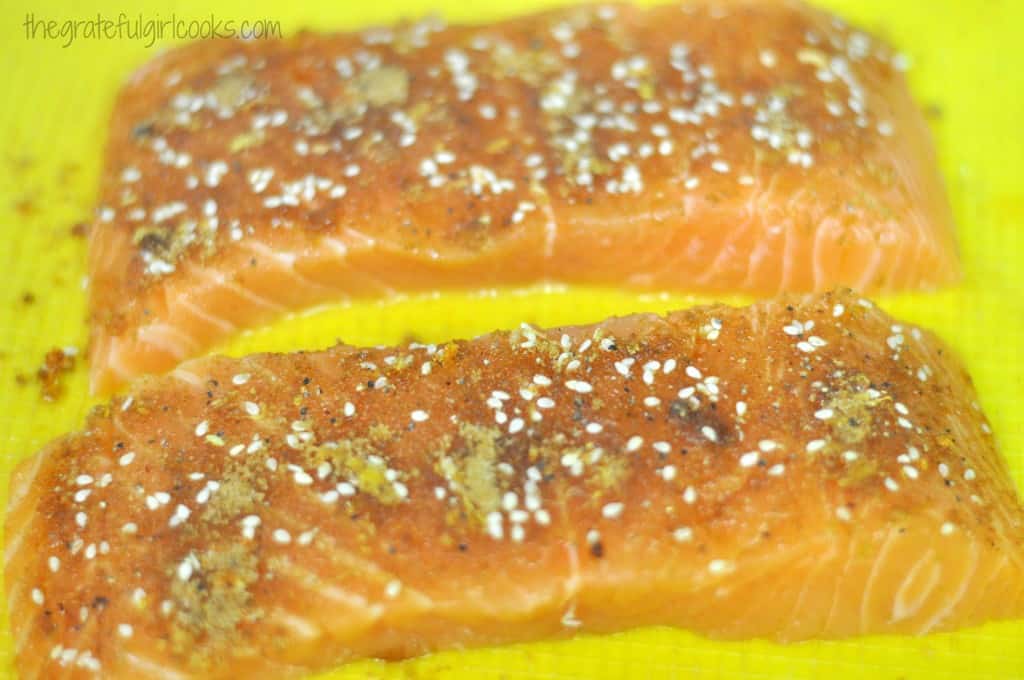 Heat a large skillet on medium-high for a minute or two. When it is hot, add the olive oil and sesame oil to the skillet.  Now carefully add the salmon pieces to the hot skillet, then turn the heat down to medium. (I was only cooking for two, that's why there are only 2 pieces of salmon in this picture).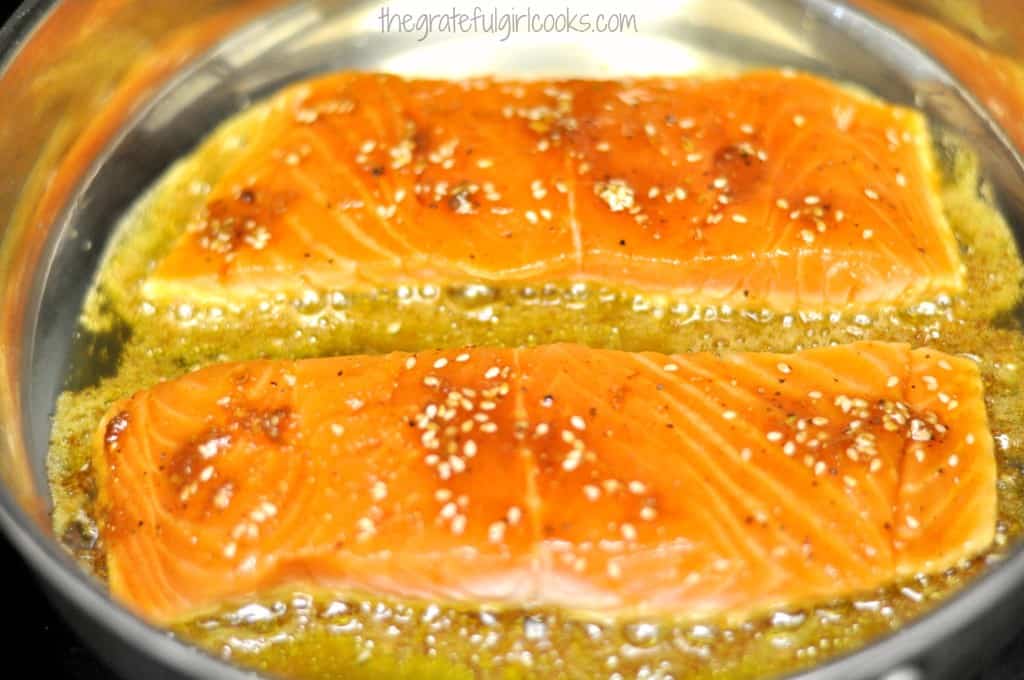 Cook on medium for about 4 minutes, until the bottom of the salmon is crusty and the brown sugar has caramelized on the outside. Carefully turn the salmon over and cook the other side of the salmon about 3-4 more minutes, until done.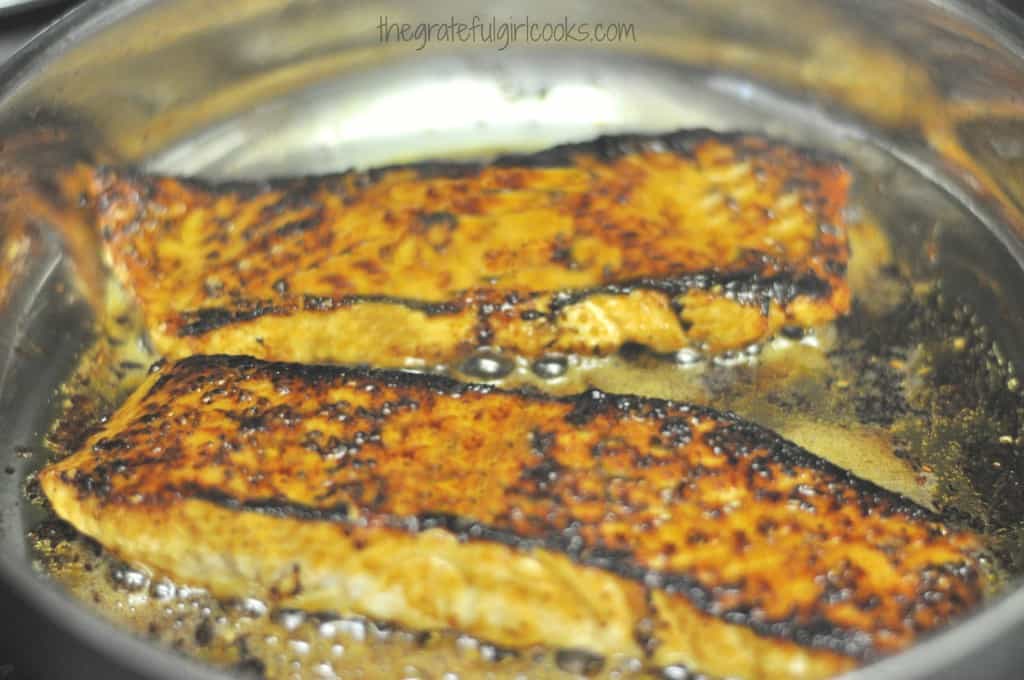 When salmon is done, carefully remove each piece from hot skillet and place on individual serving plates.  I served the salmon with asparagus and rice on the side. That's it!  The salmon has a wonderful slightly sweet tasting "crusty" edge, and is really good! This would be a PERFECT dish to fix on a crazy busy weeknight when you want something great to eat without spending lots of time in the kitchen!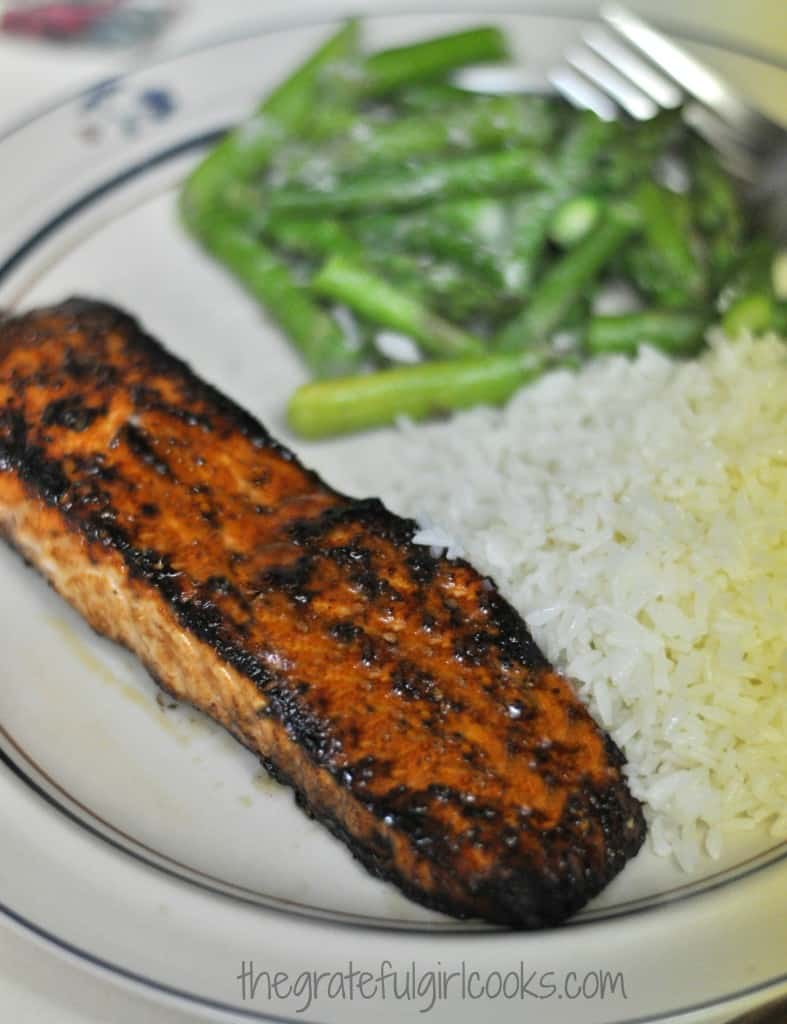 Sure hope you will give this quick and easy, delicious recipe a try! I think you will enjoy the slightly sweet and slightly spicy crust on the salmon! And I KNOW you will LOVE just how quickly this entree comes together with no stress at all!
Have a fantastic day… look around… there is ALWAYS something to be thankful for!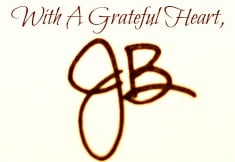 Recipe Source: Chis at http://thecafesucrefarine.com/2012/09/a-super-simple-dinner-on-run-brown/#_a5y_p=1463456