I recently made Chicken And Asparagus Risotto for our dinner. And let me tell you… it tasted GOOD. Lip-smackin' GOOD. Creamy Arborio rice, chicken breast, Parmesan cheese, asparagus and mushrooms all come together in this flavor-filled, delicious meal! We loved it!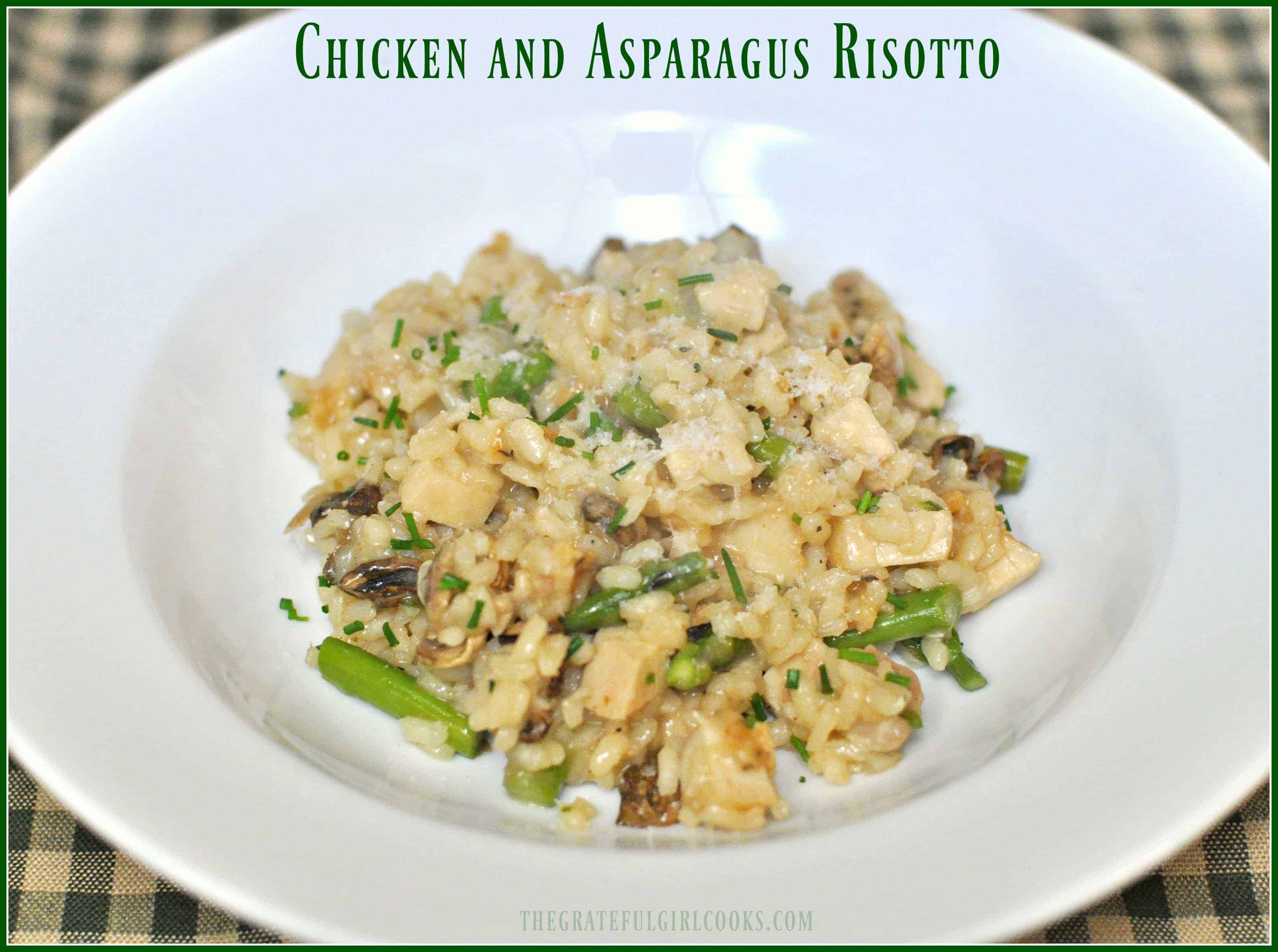 I couldn't get enough of this risotto! Even the leftovers for lunch the next day were wonderful! Did you know that risotto is made with Arborio rice, which is shorter and fatter than most grains of rice?  Arborio rice is almost exclusively used to make risotto, which is a Northern Italian classic dish of rice which has been cooked in broth or stock with other ingredients to a creamy consistency.  It is one of the most common ways of cooking rice, and let me tell you, risotto is DELICIOUS!
The recipe is pretty straightforward. If you do the prep work right at the beginning, then it is a breeze to put together.  I used some baked chicken leftovers, which also saved me some prep time!  Here's how to make this delicious meal:
Do prep work first.  1)  Remove the woody ends of the asparagus and discard. Cut stalks into 2 inch pieces.  Place asparagus pieces into 1 inch of simmering water in skillet, and cook on medium high heat until asparagus is fork-tender, adding more water, if needed (about 10 minutes). Drain.  2) While cooking asparagus, in separate pan lightly sauté sliced mushrooms in 2 teaspoons butter until tender.  3) Cut and cook chicken into small bite sized pieces (boil, broil, grill OR use rotisserie chicken or  leftovers – I used leftover chicken from my recipe for Homemade Shake And Bake Chicken). See NOTES section of printable recipe for a quick way to cook chicken for this recipe.  Set aside cooked asparagus, mushrooms and chicken pieces.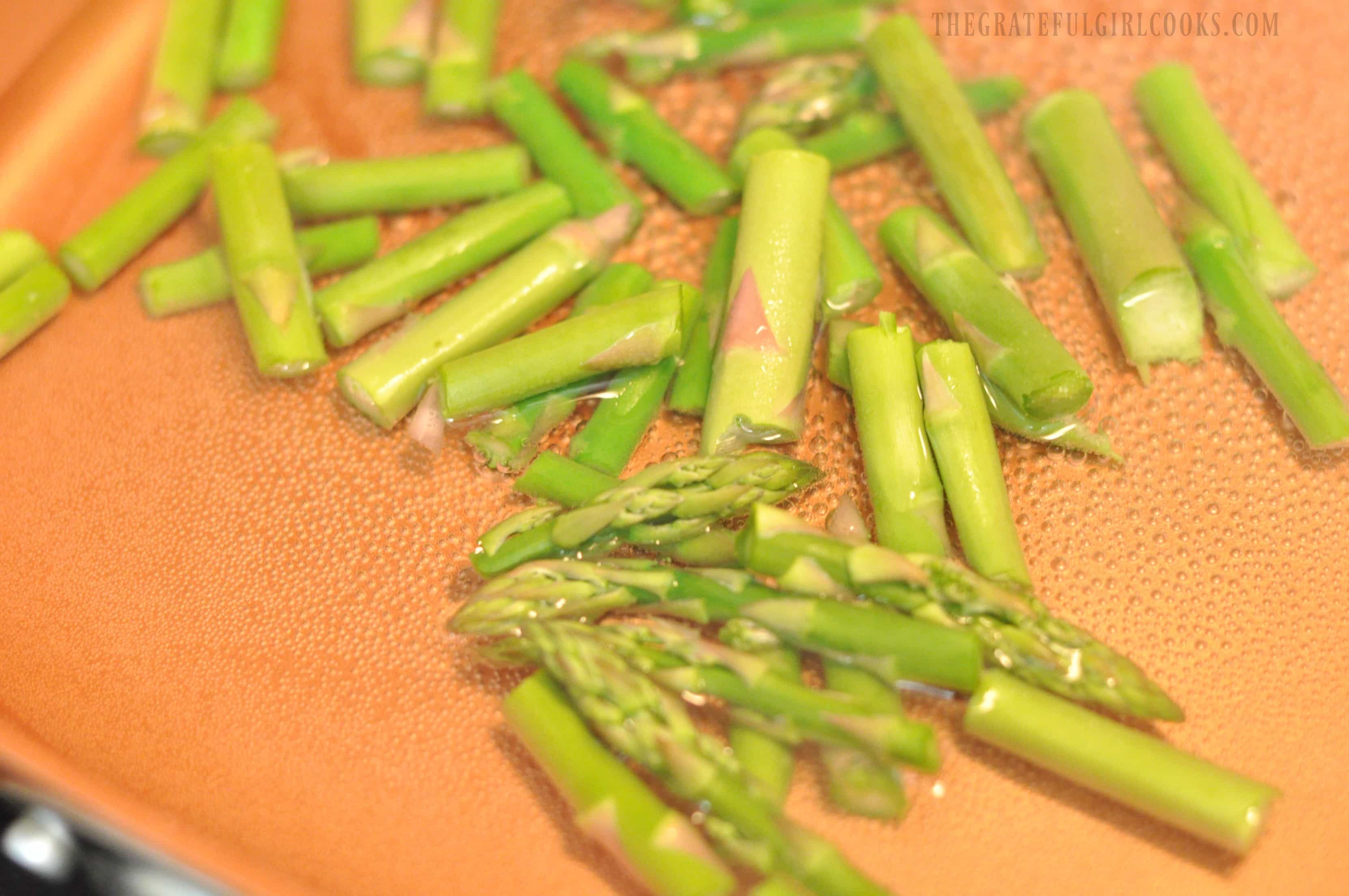 Melt butter and olive oil in large saucepan over medium heat. Add chopped onion. Cook for 5 minutes, stirring frequently.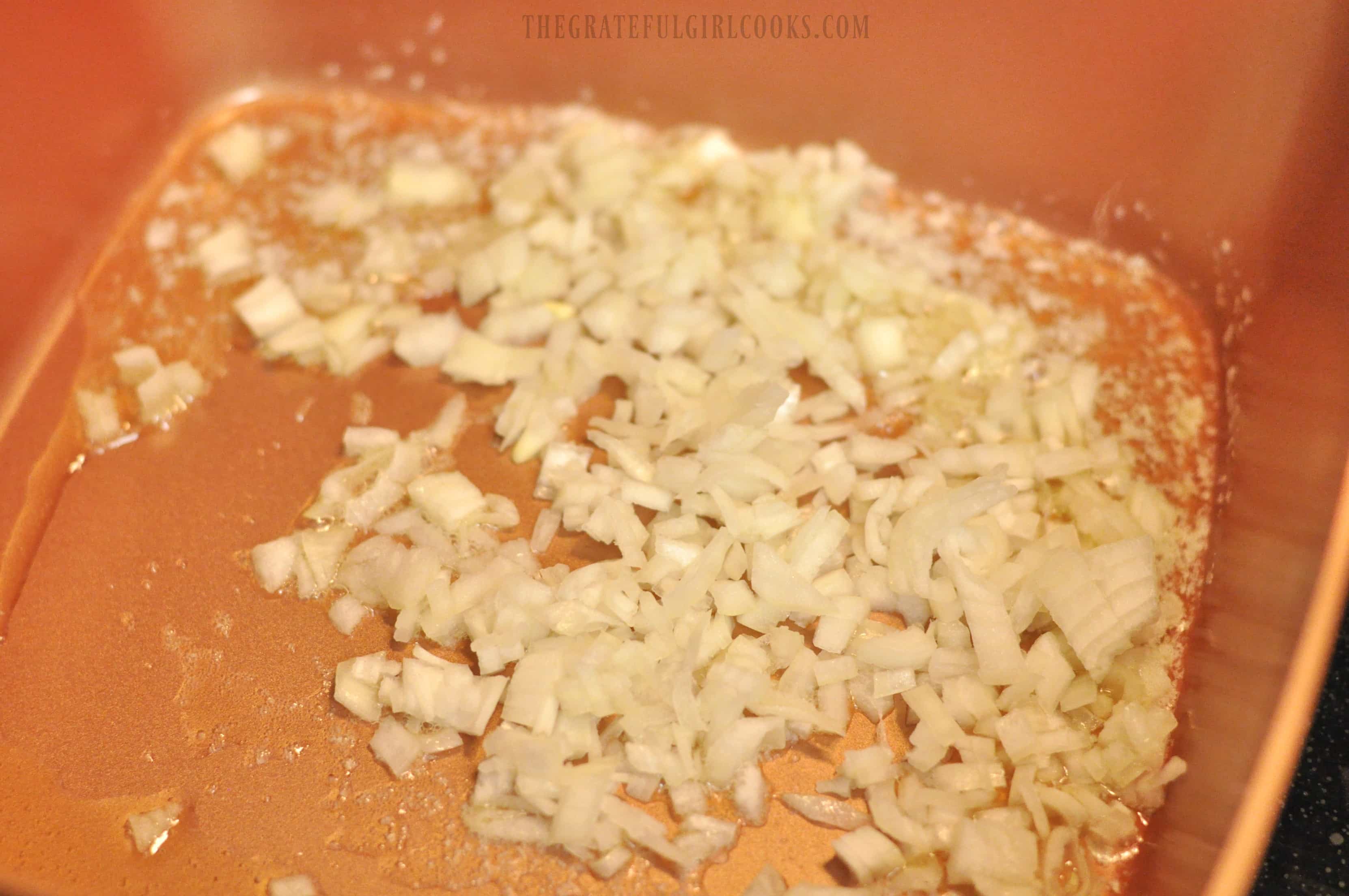 Add Arborio rice to onions; stir frequently and cook until rice begins to turn a light golden brown color.
Add white wine. Let liquid come to a boil, then cook until it has been absorbed into rice.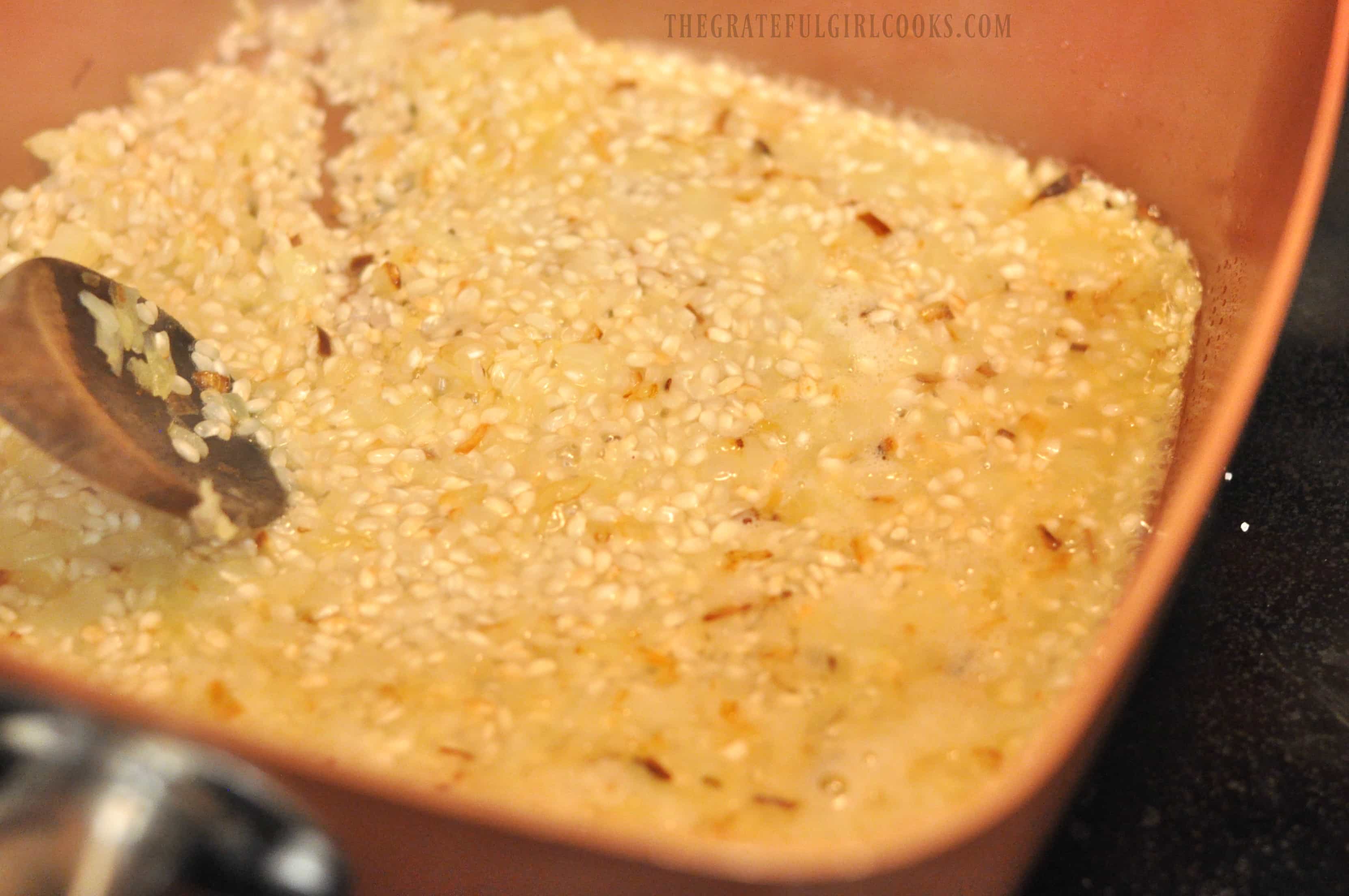 Pour 1 cup of chicken stock (or broth) into pan. Stir frequently, and keep heat at a medium simmer.  Continue cooking until almost all of the liquid has been absorbed, then add 1/4 cup more of the broth, stirring well.  Continue this process (rice absorbs liquid, add 1/4 cup more liquid) until all the broth is gone.  This will take between 20 and 25 minutes. (By adding the broth a little bit at a time then cooking until it has been absorbed, it allows the rice to get really creamy. Don't rush this step!)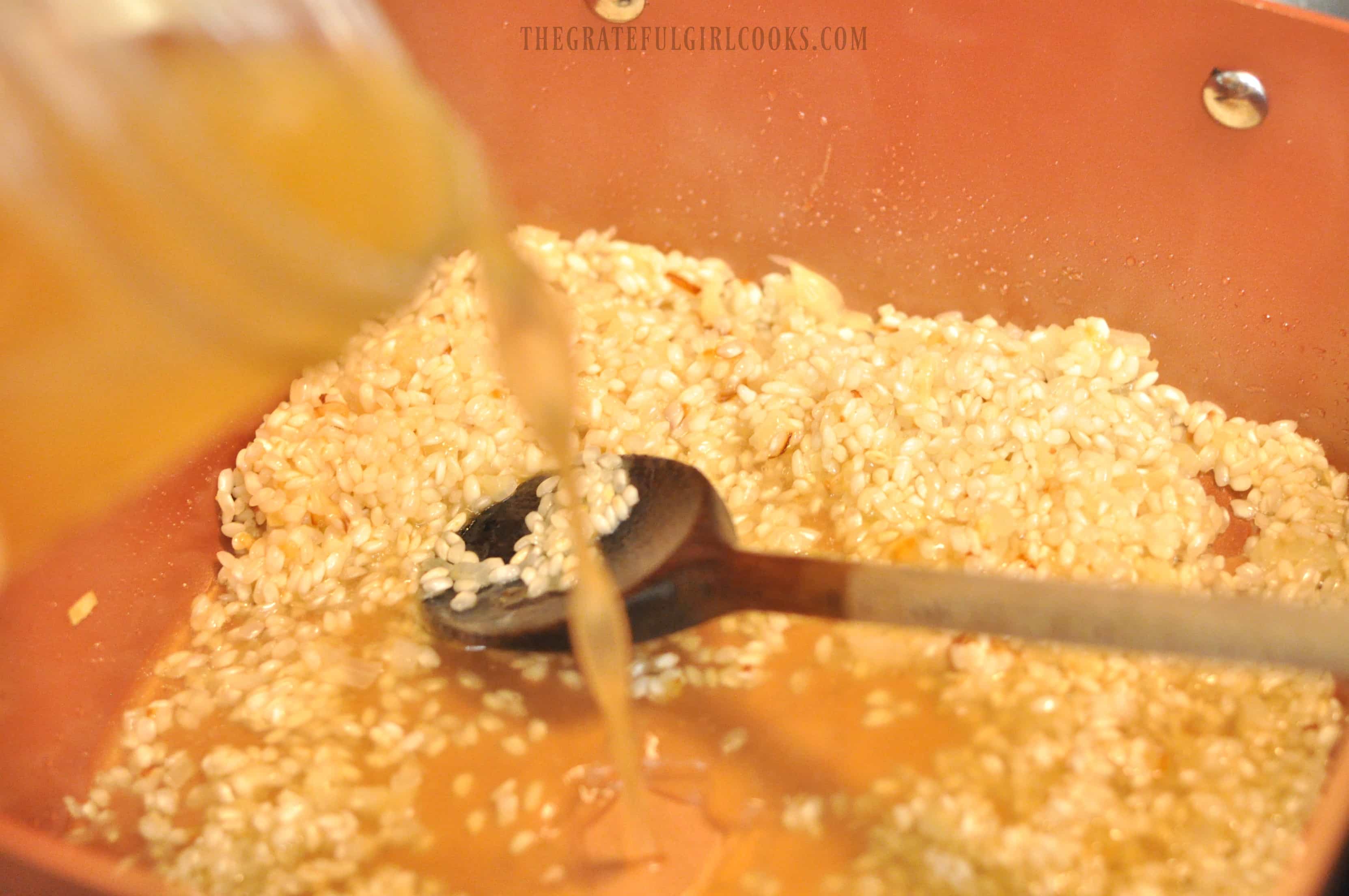 After you've added the last portion of broth, but just before it is fully absorbed, add the cooked asparagus and mushrooms to the pan.  Continue cooking, letting liquid finish being absorbed into rice. When finished, rice should be creamy and tender.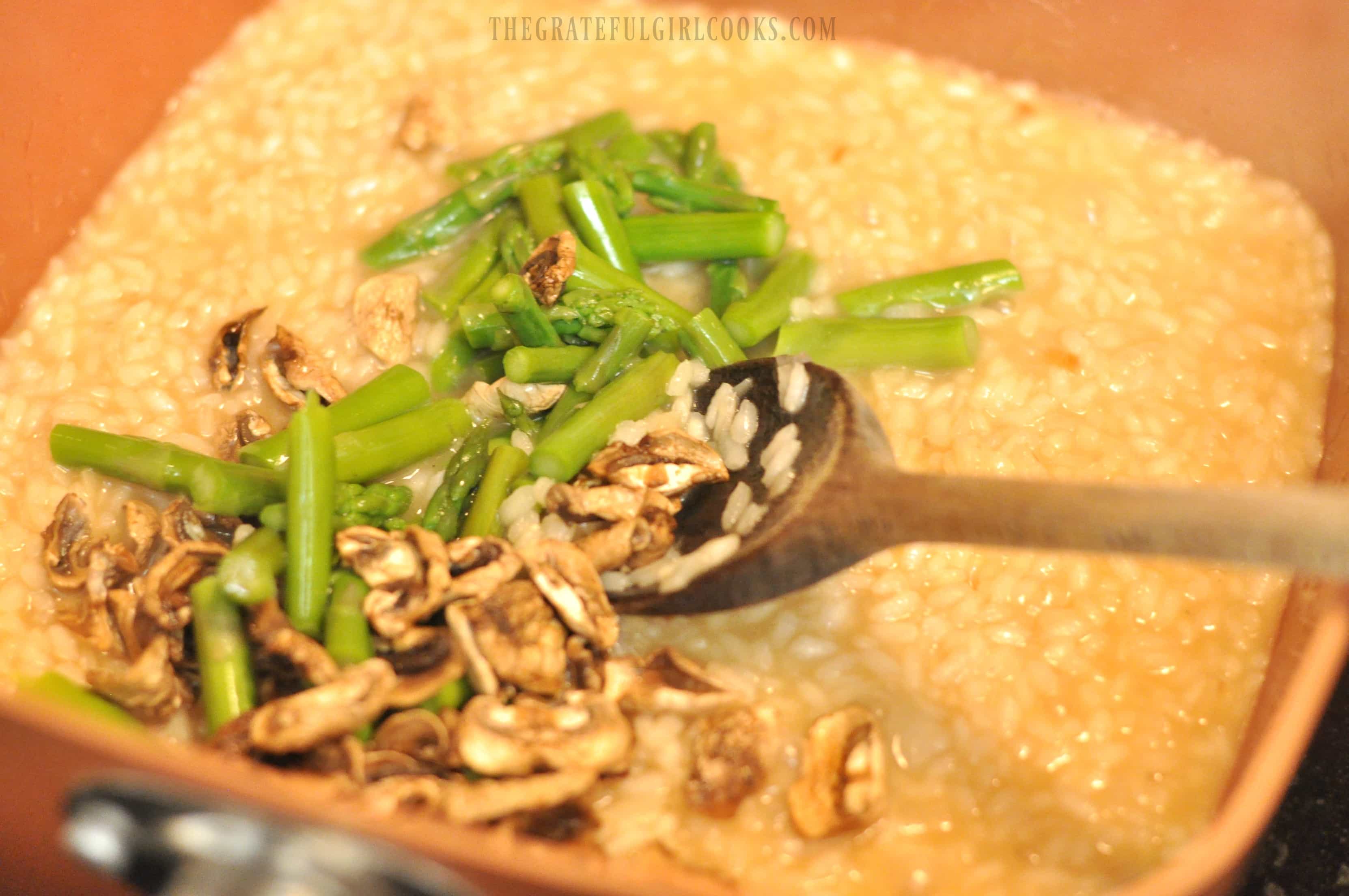 Remove pan from the heat.  Add cooked chicken to rice.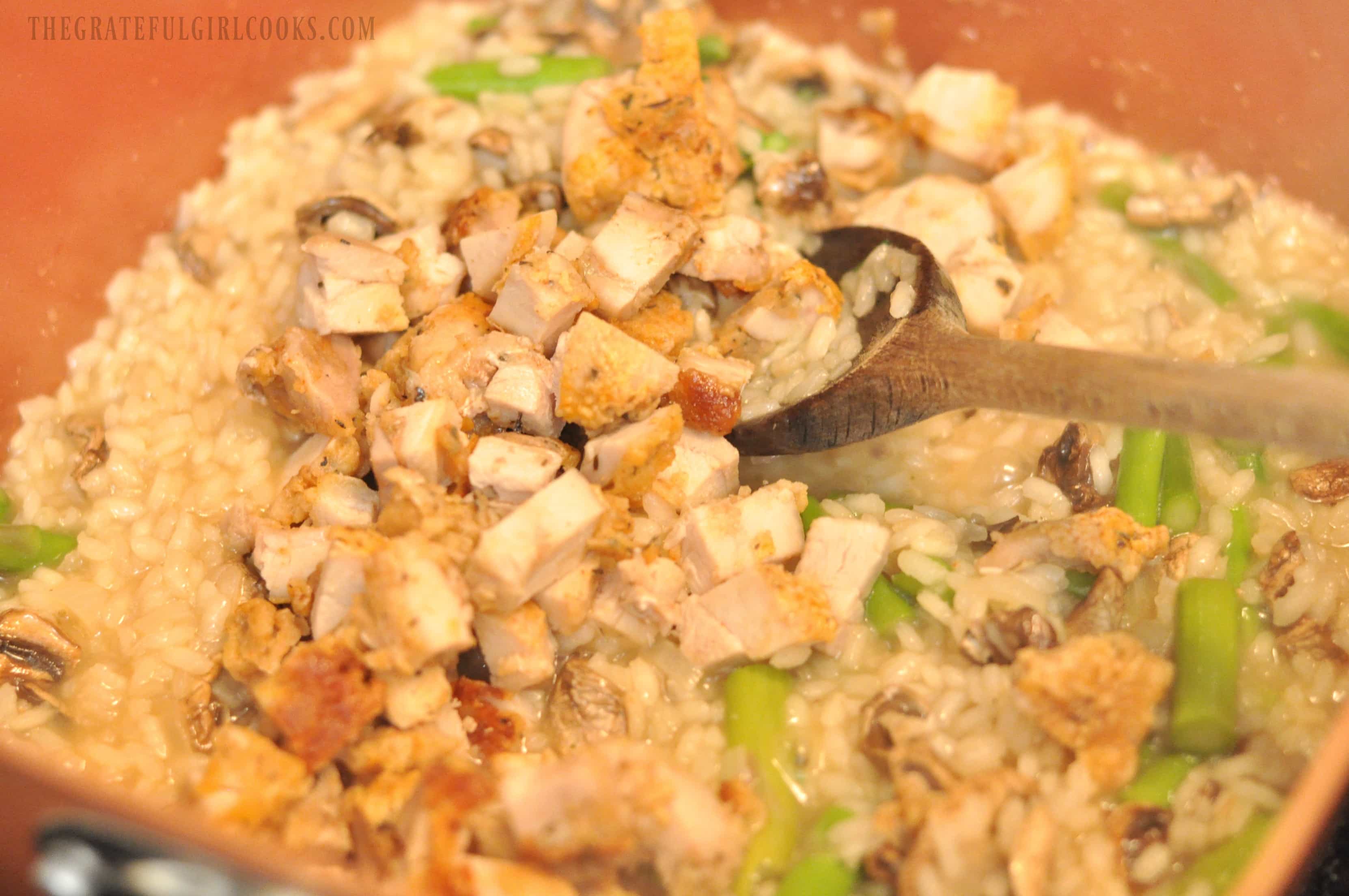 Add freshly grated Parmesan cheese to rice. Stir to combine all ingredients.  Taste, and lightly season with salt and pepper.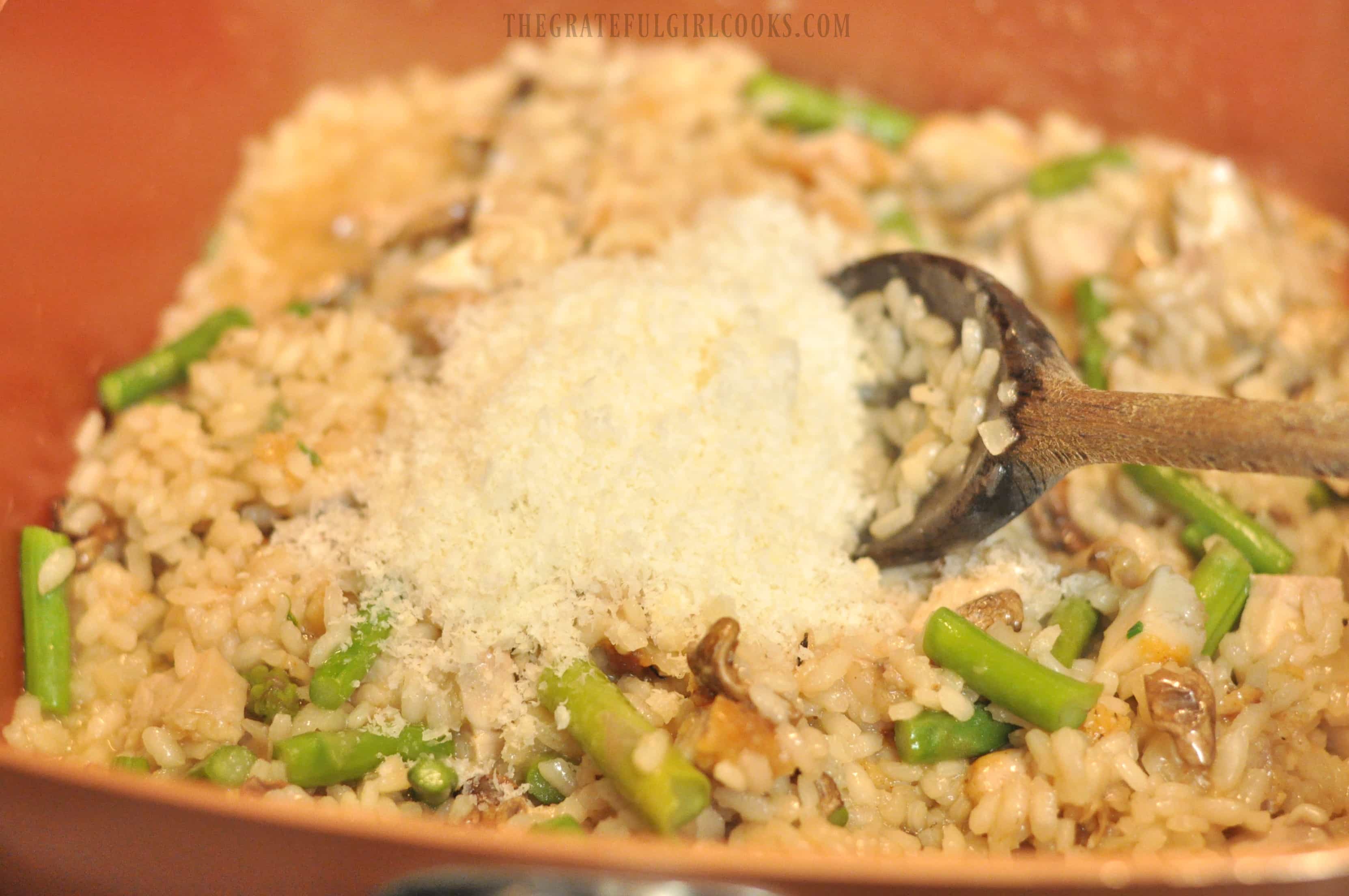 Make sure everything is warm, then dish up and serve onto individual plates or bowls.  Garnish with finely grated Parmesan cheese and chopped fresh chives (or parsley), if desired.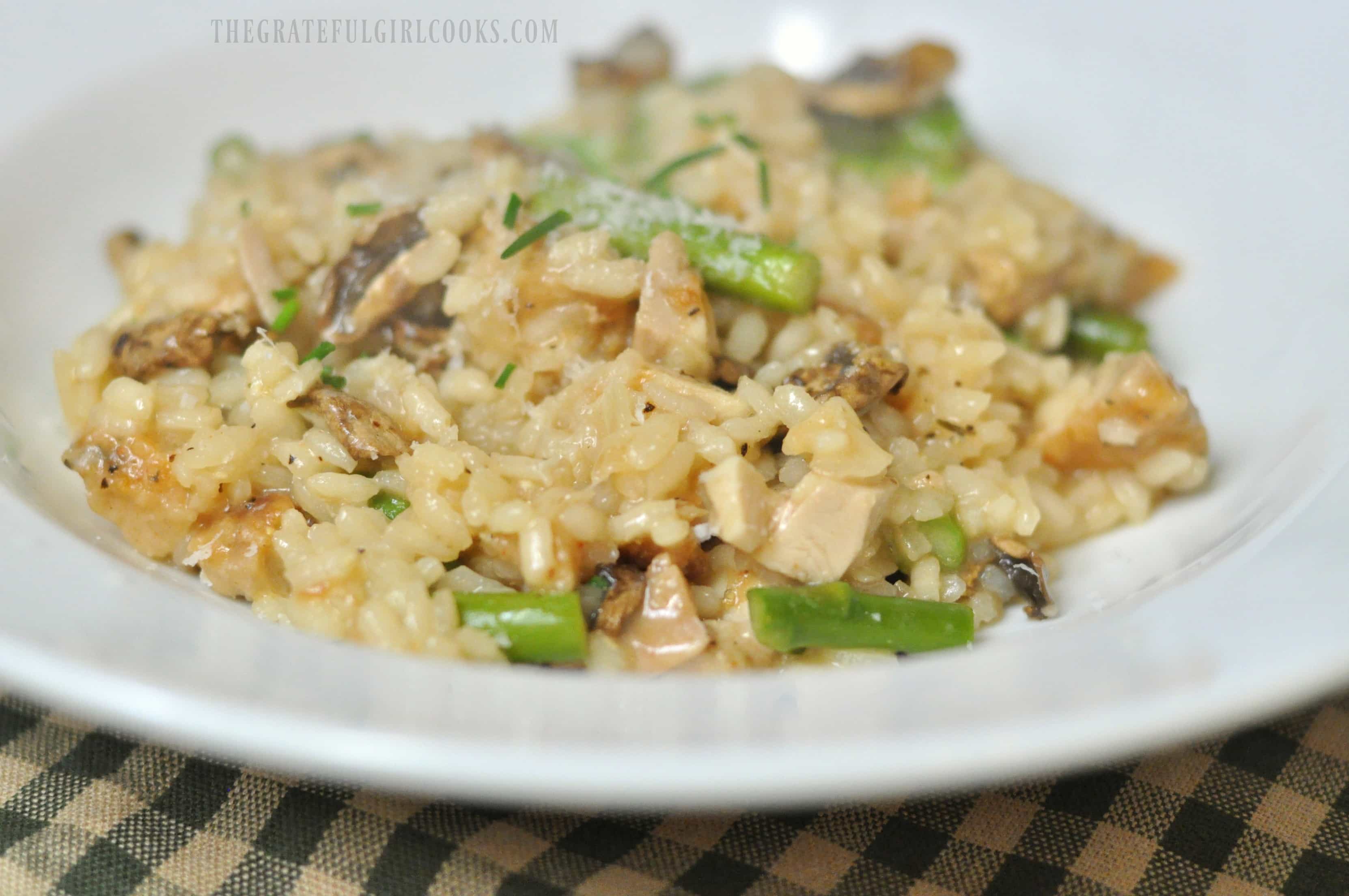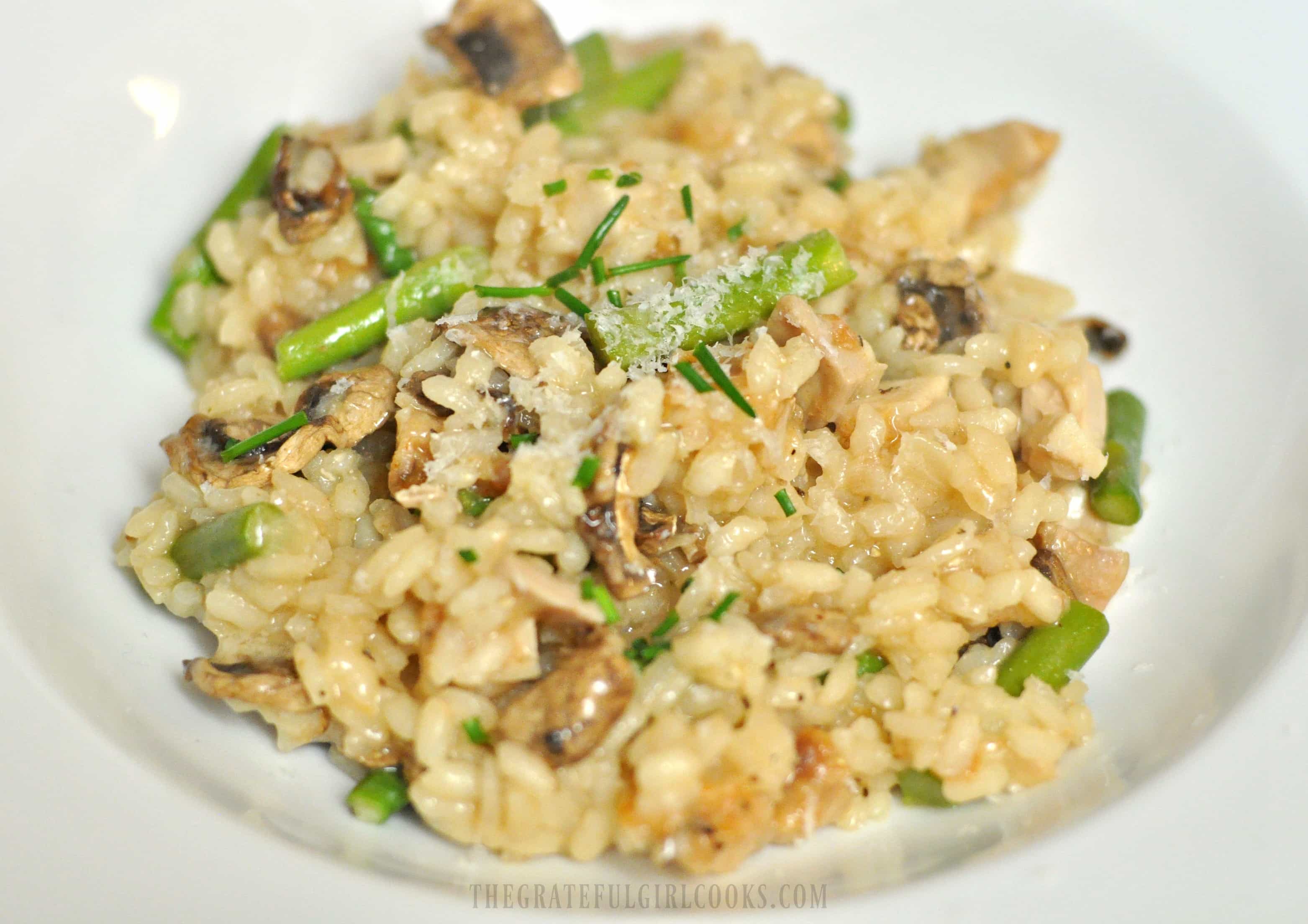 Enjoy the flavors of creamy rice, chunks of chicken, Parmesan cheese, and the wonderful fresh asparagus in this dish. It truly tastes wonderful!  Sure hope you will consider trying this recipe. Have a great day!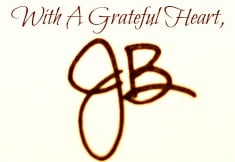 Recipe Adapted From: http://www.thegratefulgirlcooks.com/mushroom-risotto-with-pan-seared-shrimp/

Save
Save
Save
Save
Save
Save
Save
Save
Save
Save
Save
Save
Save
Save
Save
Save
Save