I'd like to share with you another recipe for homemade bagels. This time the recipe is for Cranberry Orange Bagels… and let me tell you, they taste amazing!  The first time I made bagels, I was pleasantly surprised to realize making them at home was a LOT easier (and inexpensive) than I thought it would be.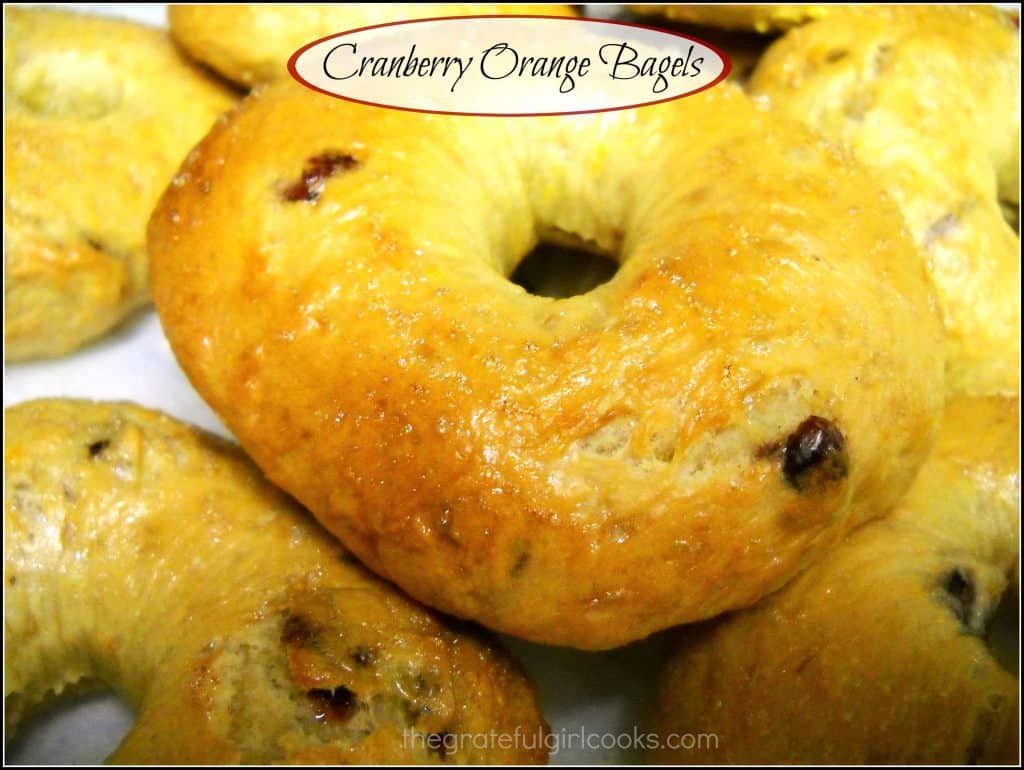 Cranberry Orange Bagels / The Grateful Girl Cooks!
These delicious bagels are loaded with the bright fresh flavors of grated orange peel and dried cranberries; they are chewy on the outside AND as an added bonus (at no cost to you, dear friends), they have approximately 100 less calories than you would typically find in a "bagel shop" bagel.
I found this recipe in an old "Healthy Cooking" magazine (a subsidiary of Taste of Home magazine), from back in 2010, and decided to give these a try. I was thrilled to have excellent results on the first try! Delicious, and only 197 calories each! I sure hope you will give them a try and see just how easy they really are to prepare.  Here's how to make them:
In a large mixing bowl, dissolve the yeast in the warm (but not hot) water. Add the dried cranberries, brown sugar, orange peel, and salt. Mix these ingredients together.
*If you are using a mixer: Add the flour; mix until the dough comes together to form a ball. I used a stand mixer with a bread dough hook.
*If you are NOT using a mixer: Stir in enough flour until incorporated into a "soft dough". Turn the soft dough out onto a floured work surface Knead the dough by hand (flour those hands) for about 6-8 minutes, until the dough ball becomes soft and elastic.
Spray a large bowl with non-stick spray. Place the dough ball into the bowl. Turn the dough over once, to coat it with the spray (this is so it won't dry out). Cover the bowl with plastic wrap, and let it rise in a warm spot until it has doubled in size (this usually takes an average time of about an hour).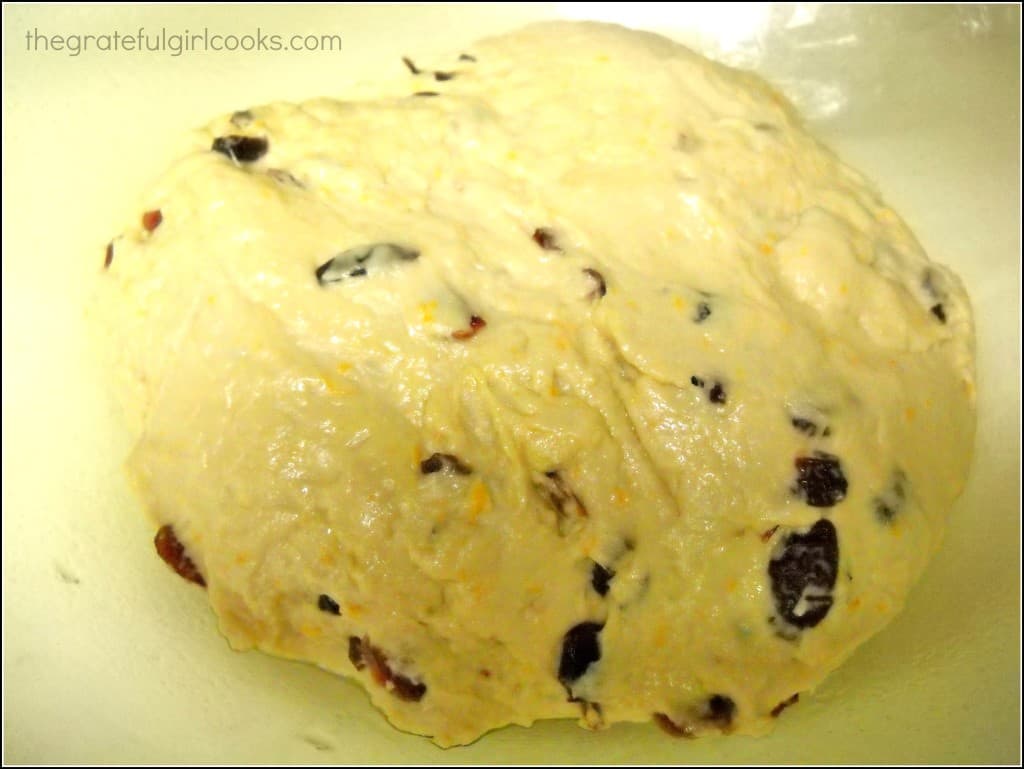 Once the dough has doubled in size, transfer it to a lightly floured work surface. Punch down the dough, then shape it into 9 equal sized balls. Using slightly floured hands, push your thumb through the center of each ball to form a 2 inch hole, stretching the dough as you go to form an even shaped ring. Once you have the 9 bagel "rings" formed, cover the "bagels" and let them rest for 10-15 minutes.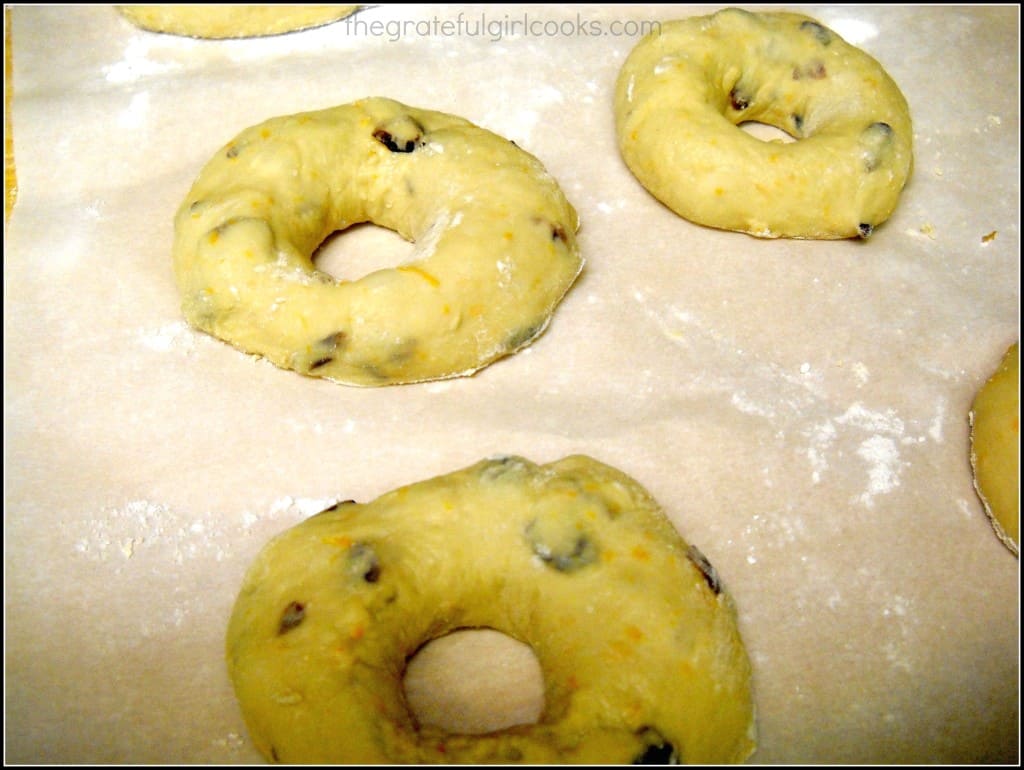 While bagels are "resting", preheat your oven to 400 degrees AND fill a Dutch oven or large stockpot 2/3 of the way full with water. Add the granulated sugar; bring to a rolling boil. Once water is boiling, carefully lift the bagels and drop them, two or three at a time into the boiling water. Cook them for 45 seconds, then flip them over and cook for an additional 45 seconds. (I use 2 chopsticks to flip them over…works for me!)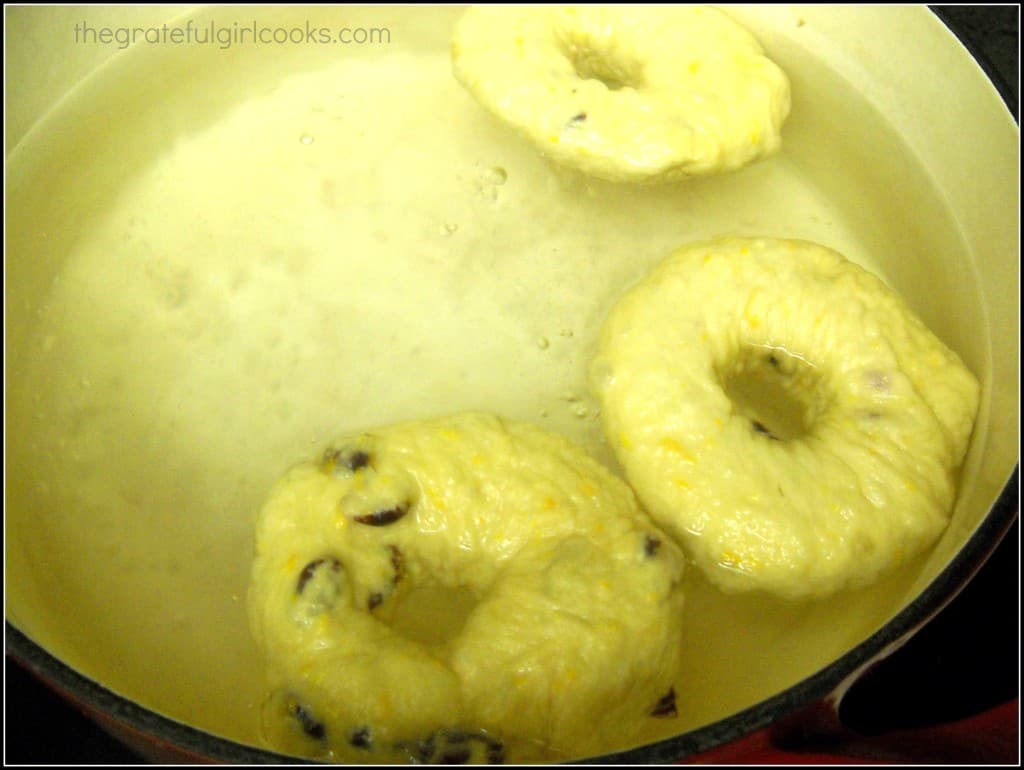 Remove bagels with a slotted spoon and drain them on a cloth or paper towel.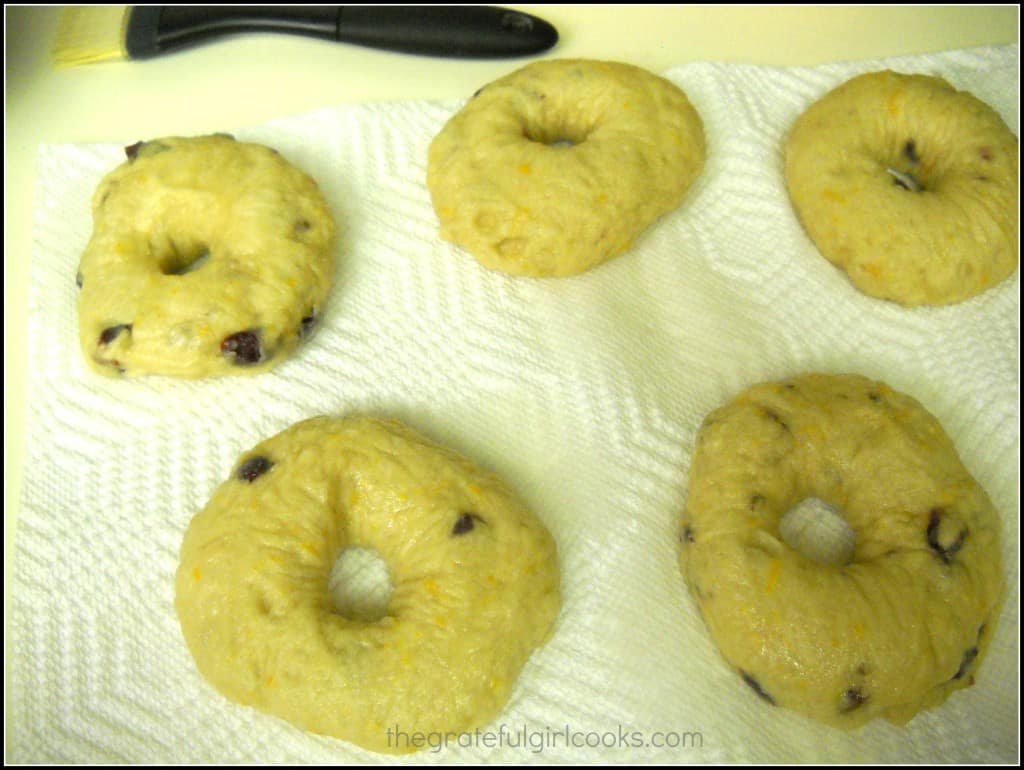 In a small bowl, whisk together the egg white and 1 TBSP water. Brush this mixture over the top of each bagel. Grab your baking sheet (9×13), give it a good spray with the non-stick spray you are using, then sprinkle the baking sheet with the cornmeal. Place the bagels about 2 inches apart on the baking sheet. Bake in a preheated 400 degree oven for 20 minutes (or until the bagels turn a golden brown color).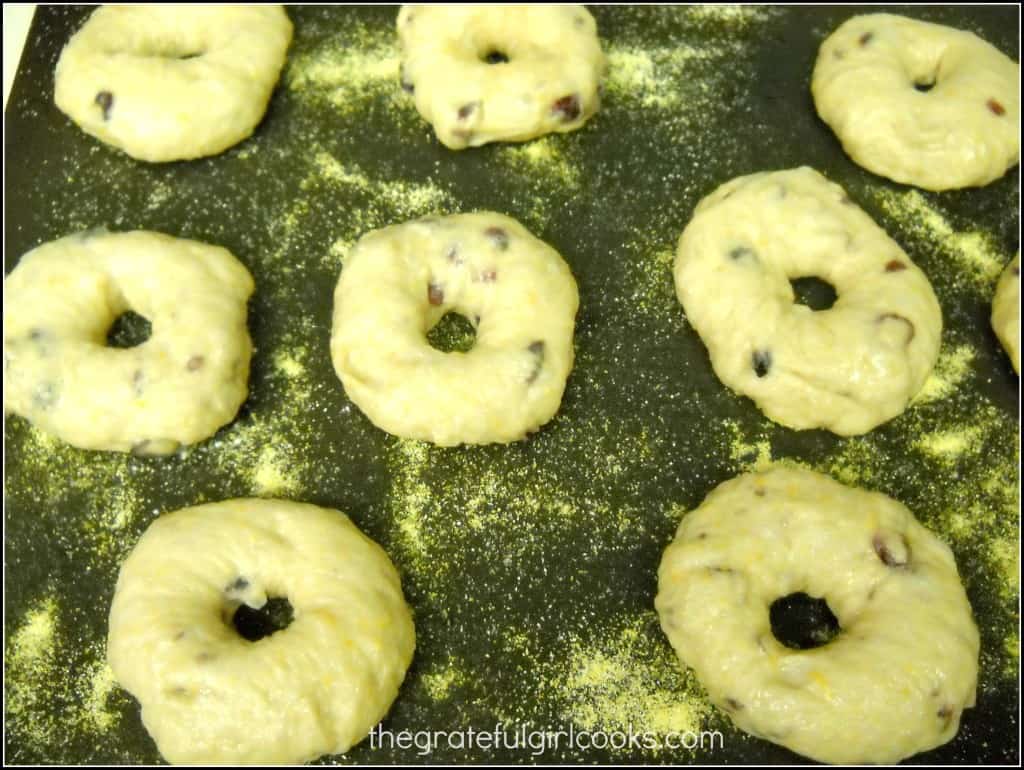 When done and they look beautifully golden brown, remove the bagels from oven. Place them on wire racks to cool. ENJOY!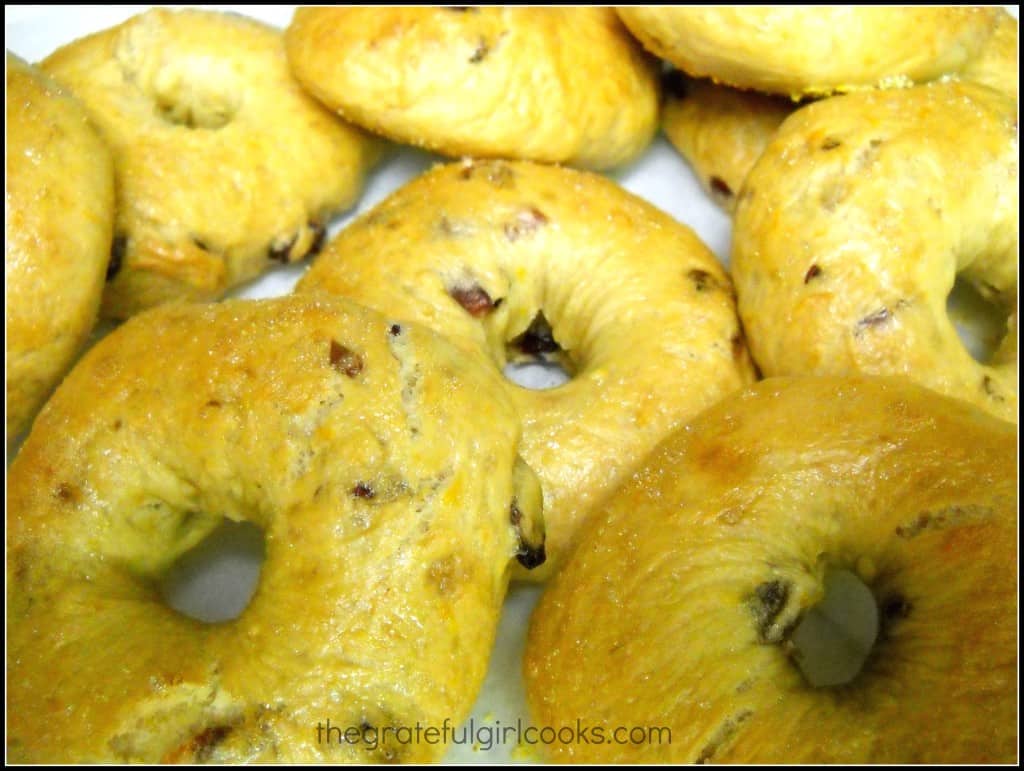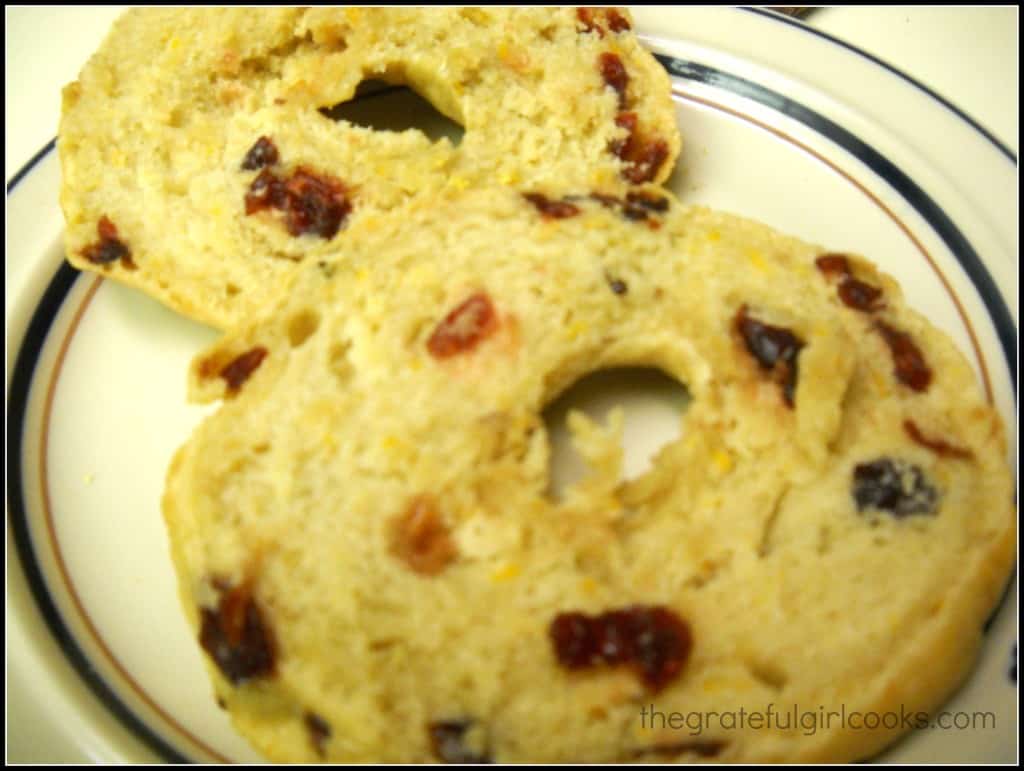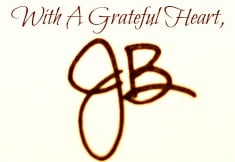 Recipe Adapted From: Kristy Reeves, "Healthy Cooking" magazine, Oct./Nov. 2010 issue

Save
Save
Save