Do you enjoy chicken salad?  Well today I want to share with you a recipe for Easy Chicken Salad For Sandwiches! I enjoy having chicken salad made up and ready in the fridge during hot summers, so I can easily make a great tasting sandwich for my family any time I want to!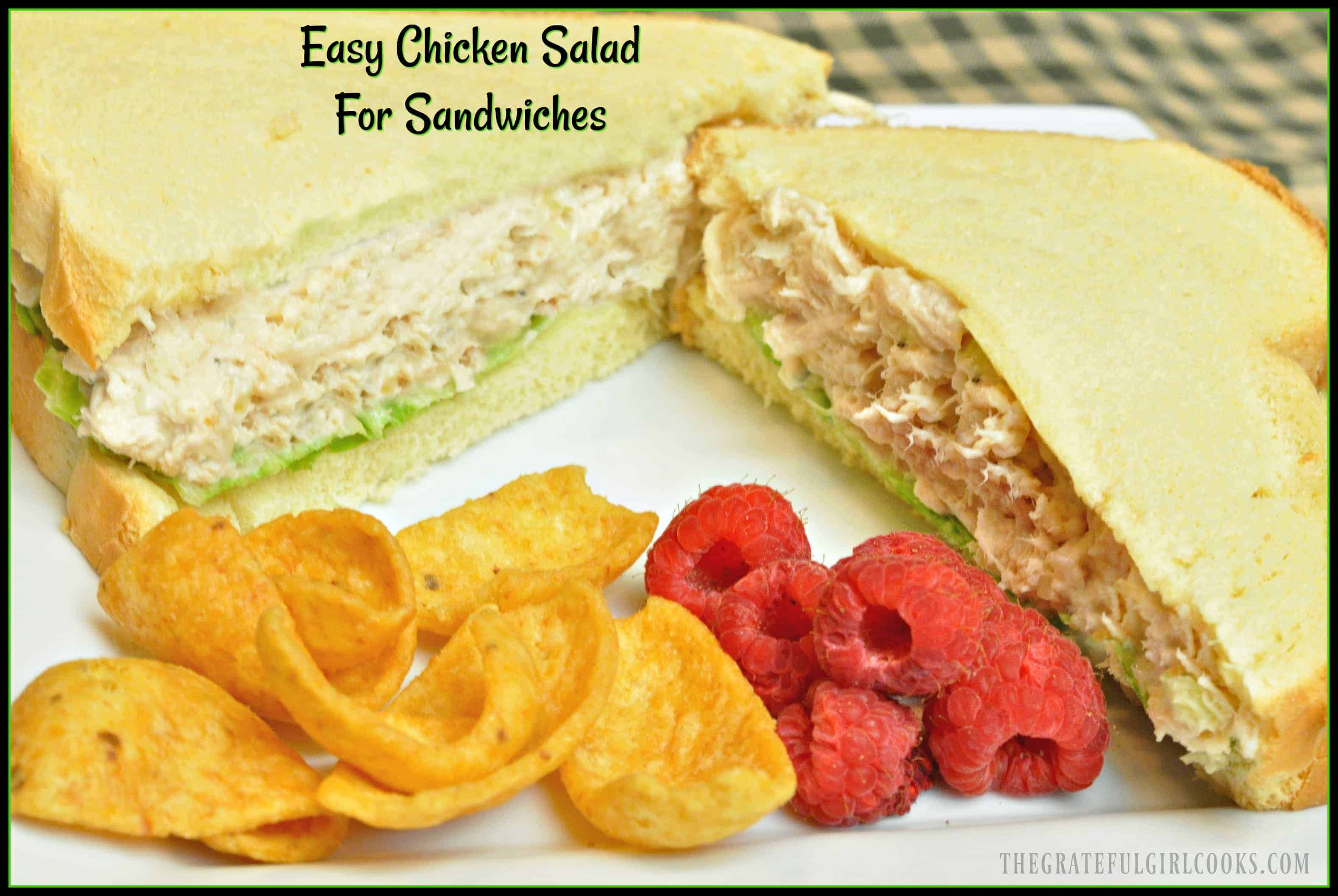 I found this recipe on a website that I enjoy called "A Family Feast".  Martha and her husband Jack (the bloggers/cooks) have a wonderful website, FB page and Pinterest page that feature lots of great recipes. I highly recommend their website (see recipe source below)!
The recipe is a copycat version of a brand of chicken salad marketed and sold on the East Coast.  While I have never tasted the original Willow Tree Chicken Salad, I found this recipe to be almost identical (minus the brown sugar and garlic powder) to the recipe my Mom has been making for years, so I decided to test this version out!  YUM!
The chicken salad is very flavorful, not too "mayonnaise-y" (new word!) once ingredients are mixed together, and is inexpensive and very easy to prepare.  The recipe makes 4-6 servings, depending on how much chicken salad you use for each sandwich, and it tastes GOOD. If you want to cut out some carbs and not use bread, simply place the chicken salad between lettuce leaves and roll up like a burrito to eat!   Here's how to make this tasty chicken salad:
The recipe calls for cooked boneless, skinless chicken breast.  I simply boiled the chicken breasts in water until done (took the easy peasy way), but however you cook the chicken is up to you.  Once the chicken is cooked, I placed the chicken breasts in my stand mixer (with the paddle attachment on). I shredded the chicken on medium speed until finely shredded. If you want to shred the chicken by hand instead of using a mixer, simply use two forks.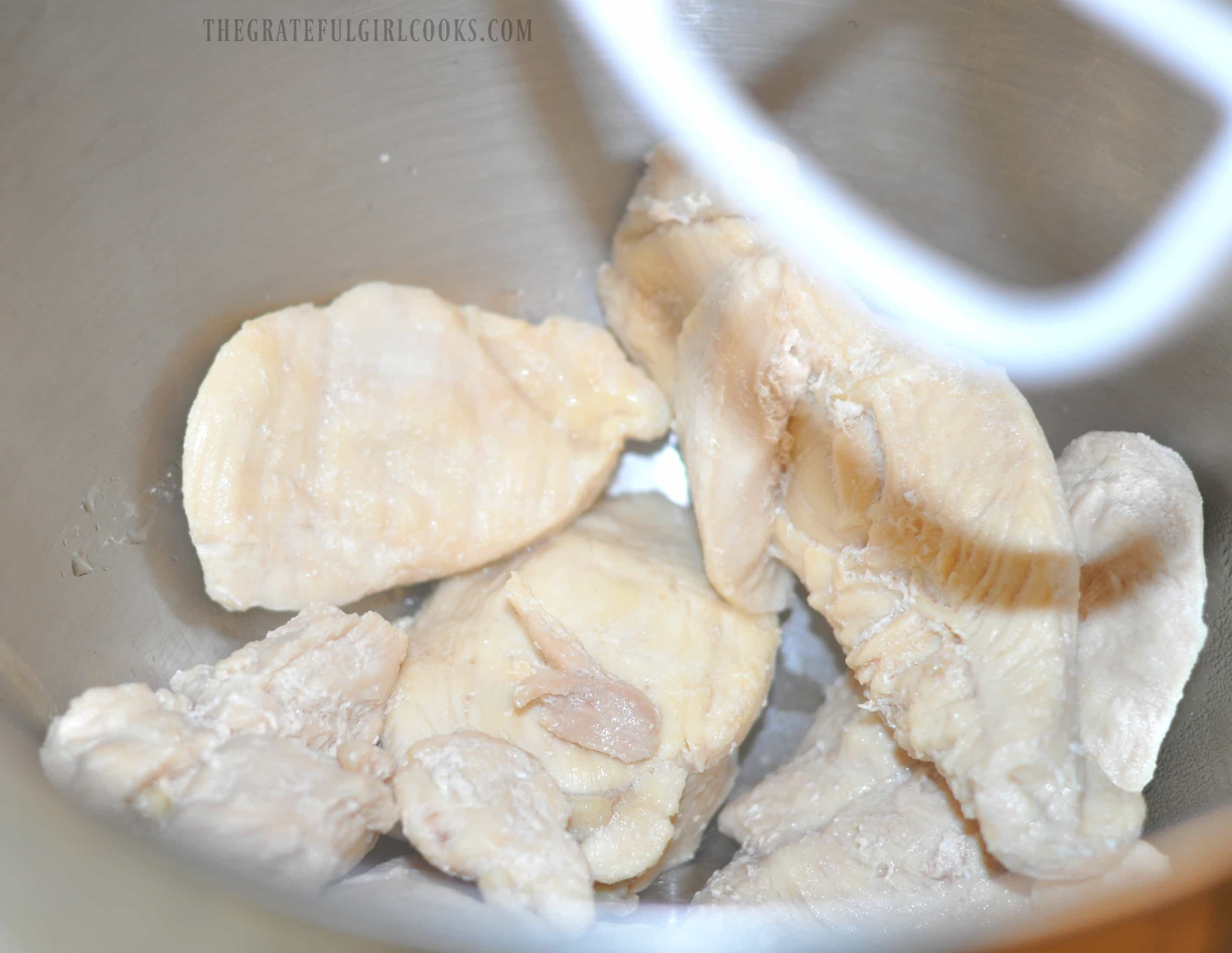 This is how it looked once done… a nice big bowl of finely shredded chicken, and it only takes a couple of minutes!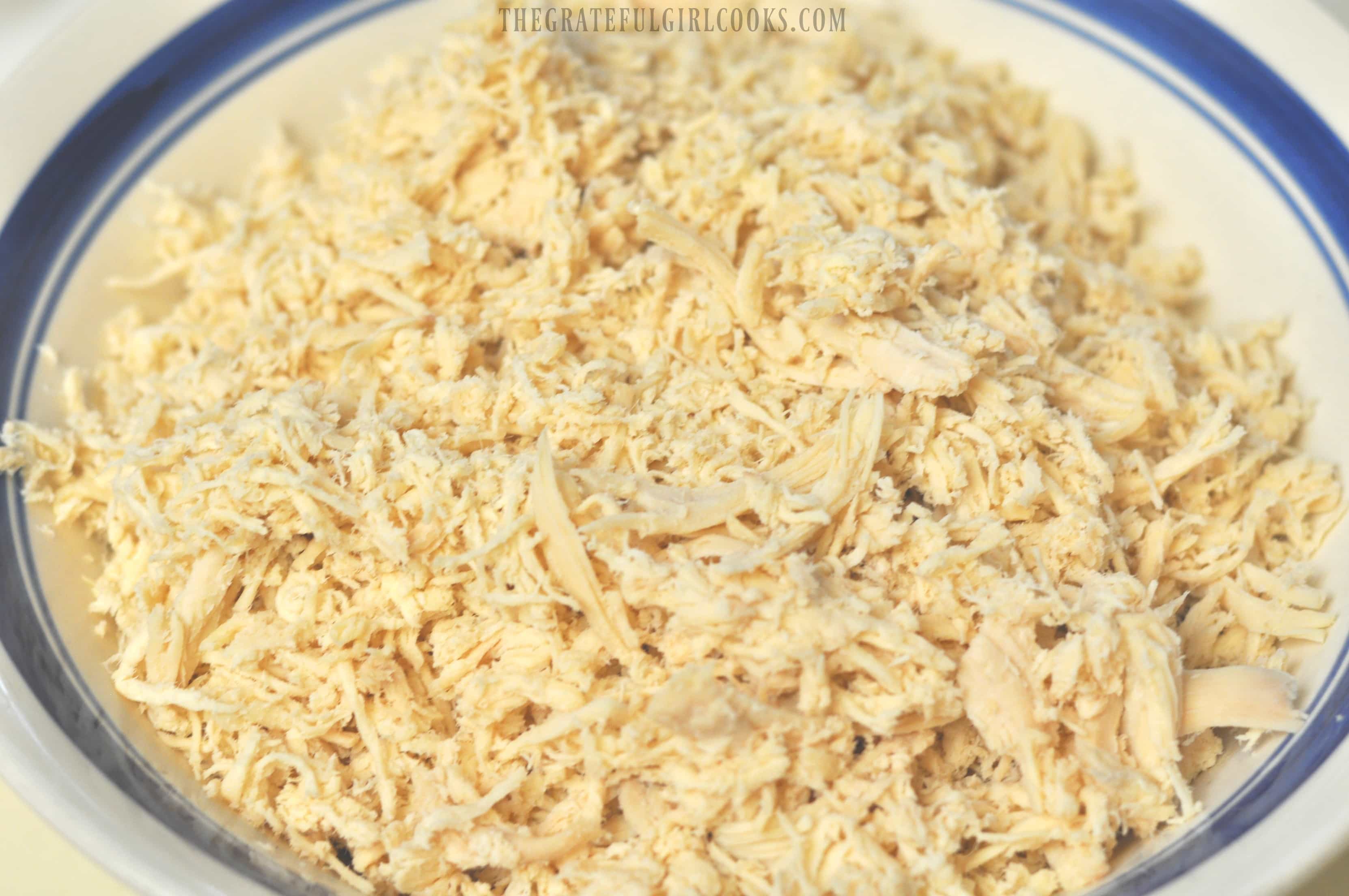 Add the rest of the ingredients to the shredded chicken (celery, onion, brown sugar, garlic powder, salt and pepper).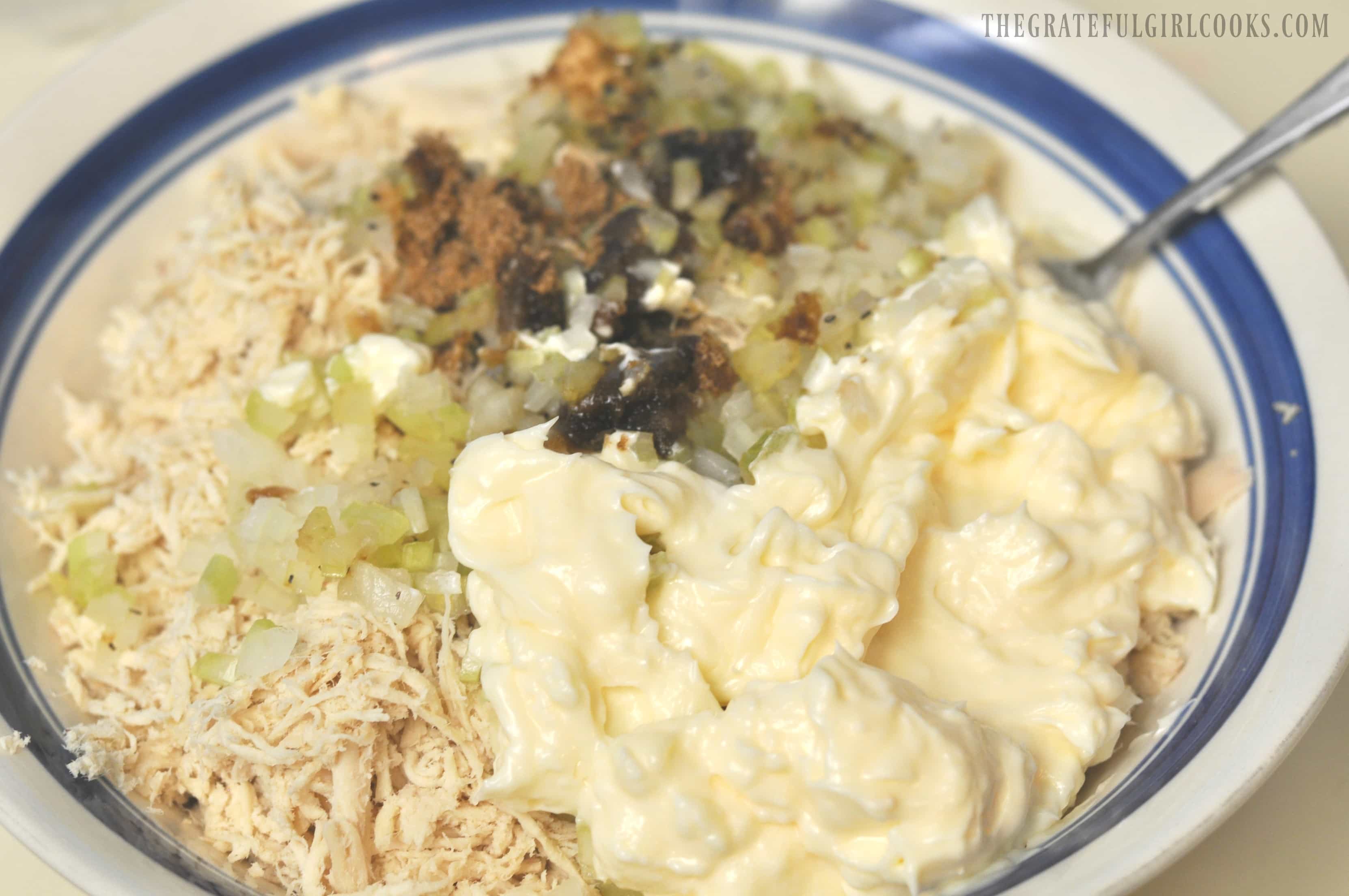 Stir all ingredients well, until thoroughly blended. Take a bite; add additional salt and/or pepper, to suit your taste. Cover salad with plastic wrap, and refrigerate until ready to serve.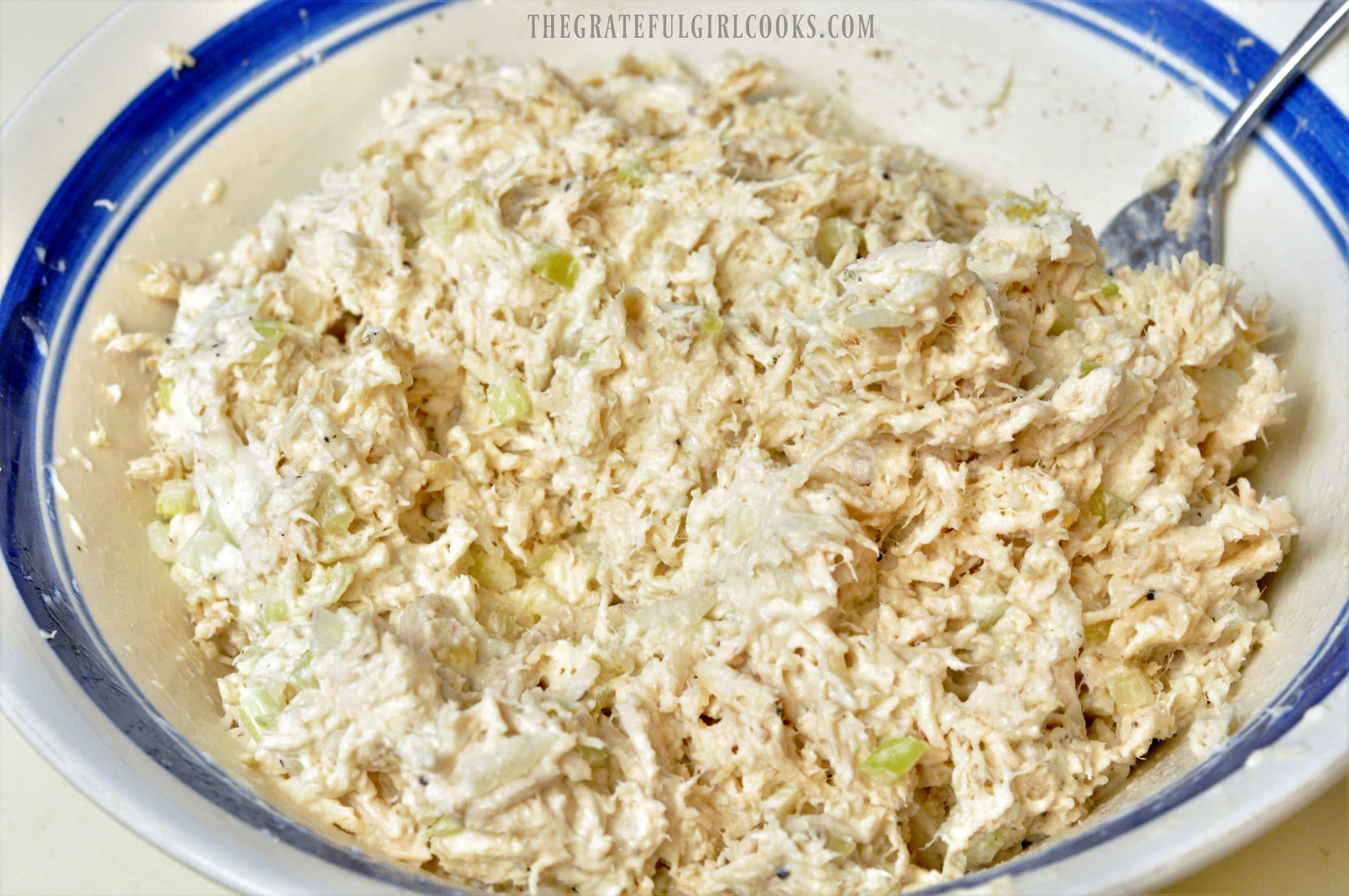 When ready to make sandwiches, place the chicken salad on top of lettuce leaves on sandwich bread, and serve! That's it!  Pretty easy, right? Keep leftovers covered in refrigerator for up to 3-4 days.
I sure do love summer in Oregon!  It is such a blessing to have warmth, sunshine, and blue skies, especially after the wettest, gloomiest Winter and Spring I can recall in several years!  Having this chicken salad pre-made and ready for a quick sandwich is a welcome thing in our home, so we can be outside more,  enjoying the spectacular beauty of the Pacific Northwest!
Have a great day!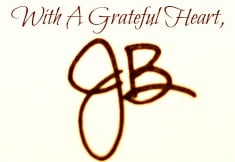 Recipe Source: http://www.afamilyfeast.com/copycat-willow-tree-chicken-salad/



Here's one more to pin on your Pinterest boards!
Save
Save
Save
Save
Save
Save
Save
Save
Save
Save
Save
Save
Save
Save