Need a quick, yet filling breakfast? What if I told you that you can make a hearty Microwave Egg Breakfast Sandwich in 2 minutes? Yep… it's delicious, and can be ready faster than stopping for take-out at a fast-food restaurant!
Our kitchen is currently undergoing a complete remodel from floor to ceiling. At the time of this writing, there is nothing but bare walls in it (see below on left).  My husband and I have set up an itsy bitsy tiny temporary kitchen on a table in our dining room with a few essential appliances, so we can survive the 2 month remodeling process (see below on right).
One of the most used appliances (well, besides the COFFEE MAKER), is our old microwave, which has been a real life-saver.  I recently began making eggs in the microwave (who knew?), and have made these 2 minute breakfast sandwiches with an egg, sharp cheddar cheese, and thinly sliced ham stacked on a toasted english muffin several times already.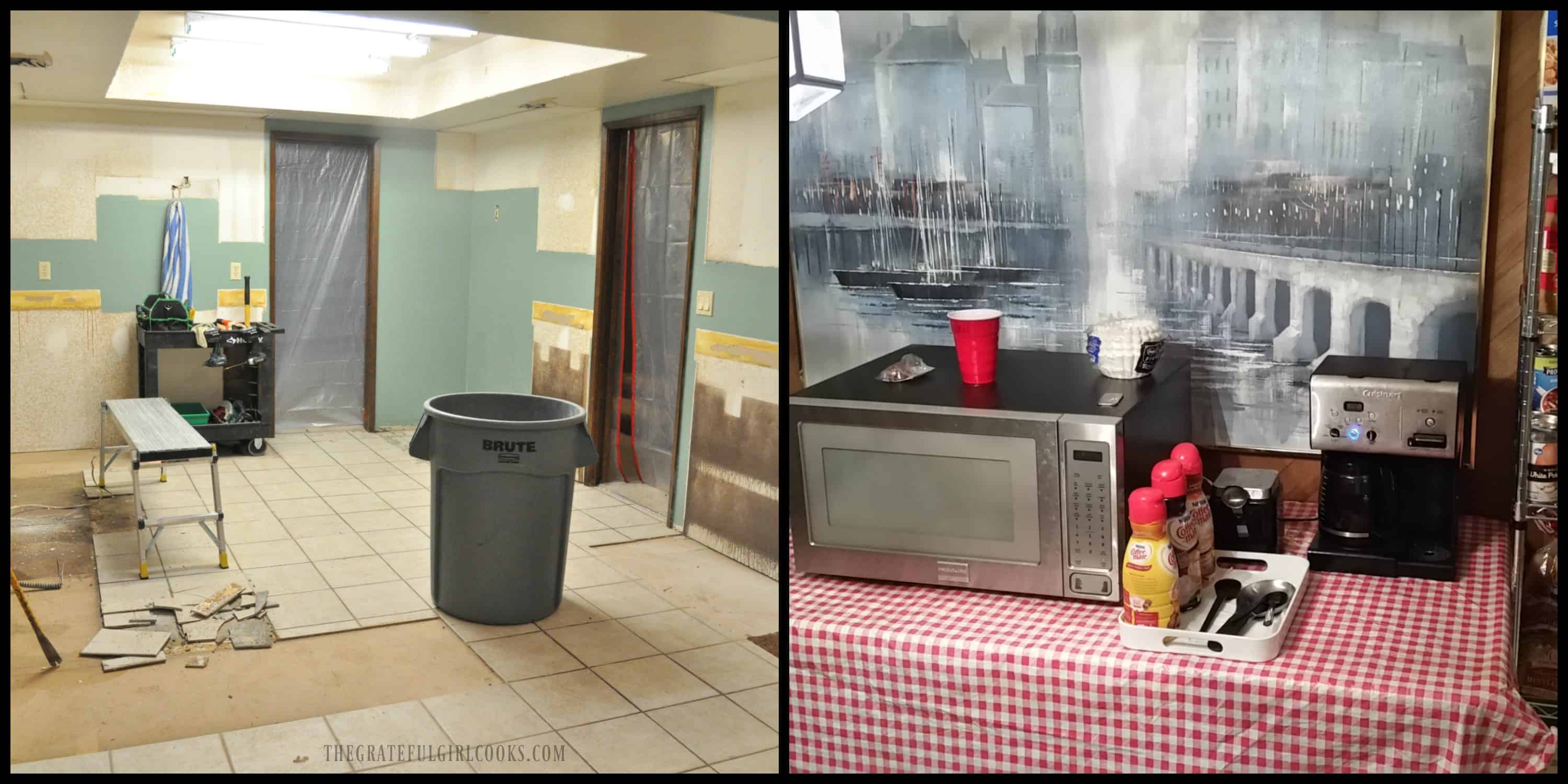 We LOVE these sandwiches for breakfast! We are making them (using the microwave) out of necessity, but love how convenient it's been to make a hearty "breakfast on the go" for us in just a couple minutes.   Here's how easy they are to make using a microwave, and a few simple ingredients.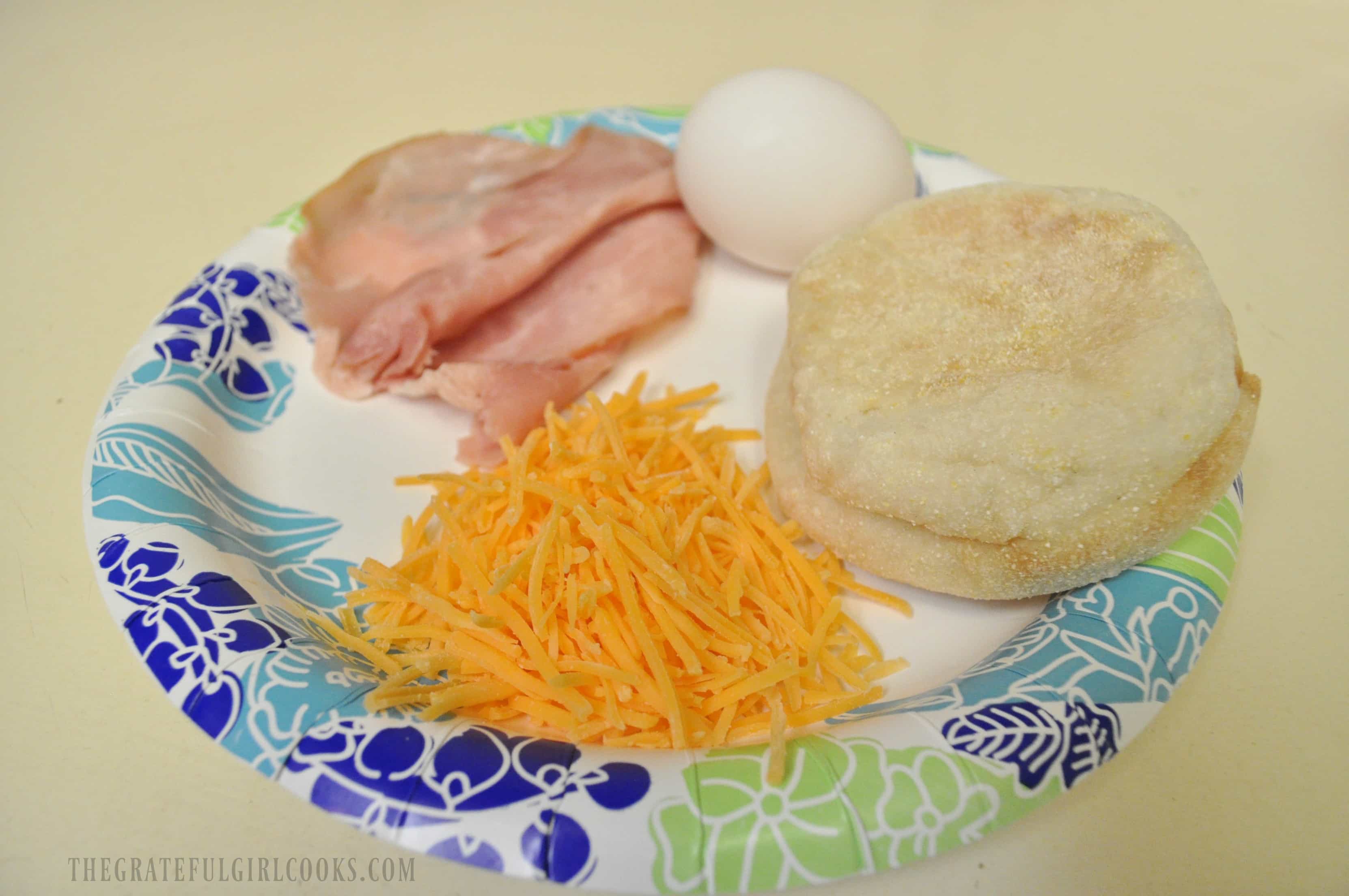 Spray a microwave-safe ramekin or mug with non-stick spray. Add one egg, a teaspoon of water, and salt and pepper.
Give it a good stir till ingredients are mixed thoroughly.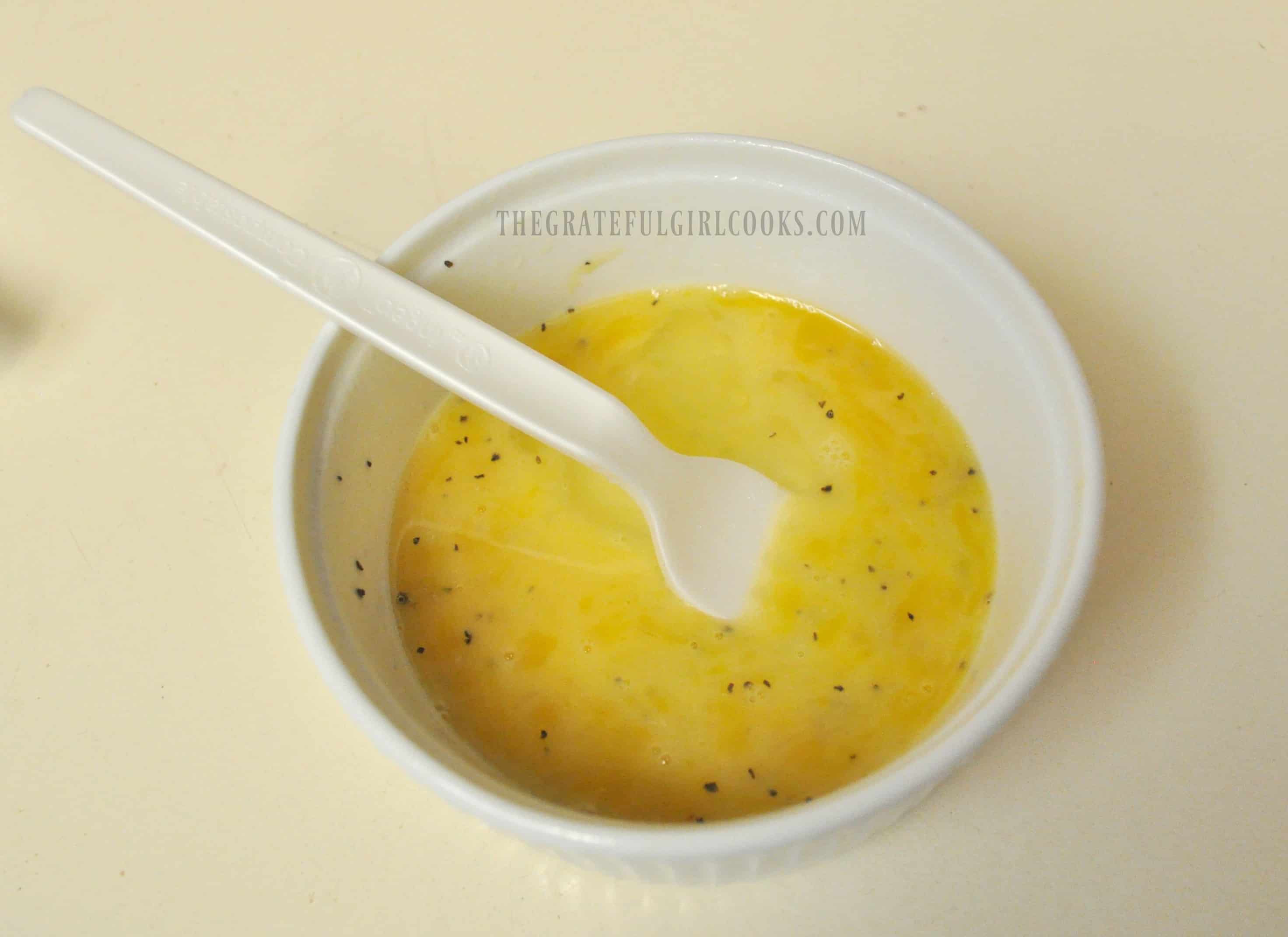 Next place the english muffin halves in toaster and lightly toast. Now multi-task!!!! While the muffin is in the toaster, cook the egg. Place ramekin with egg mixture into microwave. Cook (uncovered) for 40-60 seconds on high (mine cooked fully in 40!).  Here's what the egg looked like when I took it out after 40 seconds. Perfectly cooked! By the way, did you notice the plastic utensils we are using during the kitchen remodel? (ha ha). I used the lovely and quite glamorous plastic fork to remove the egg from the ramekin.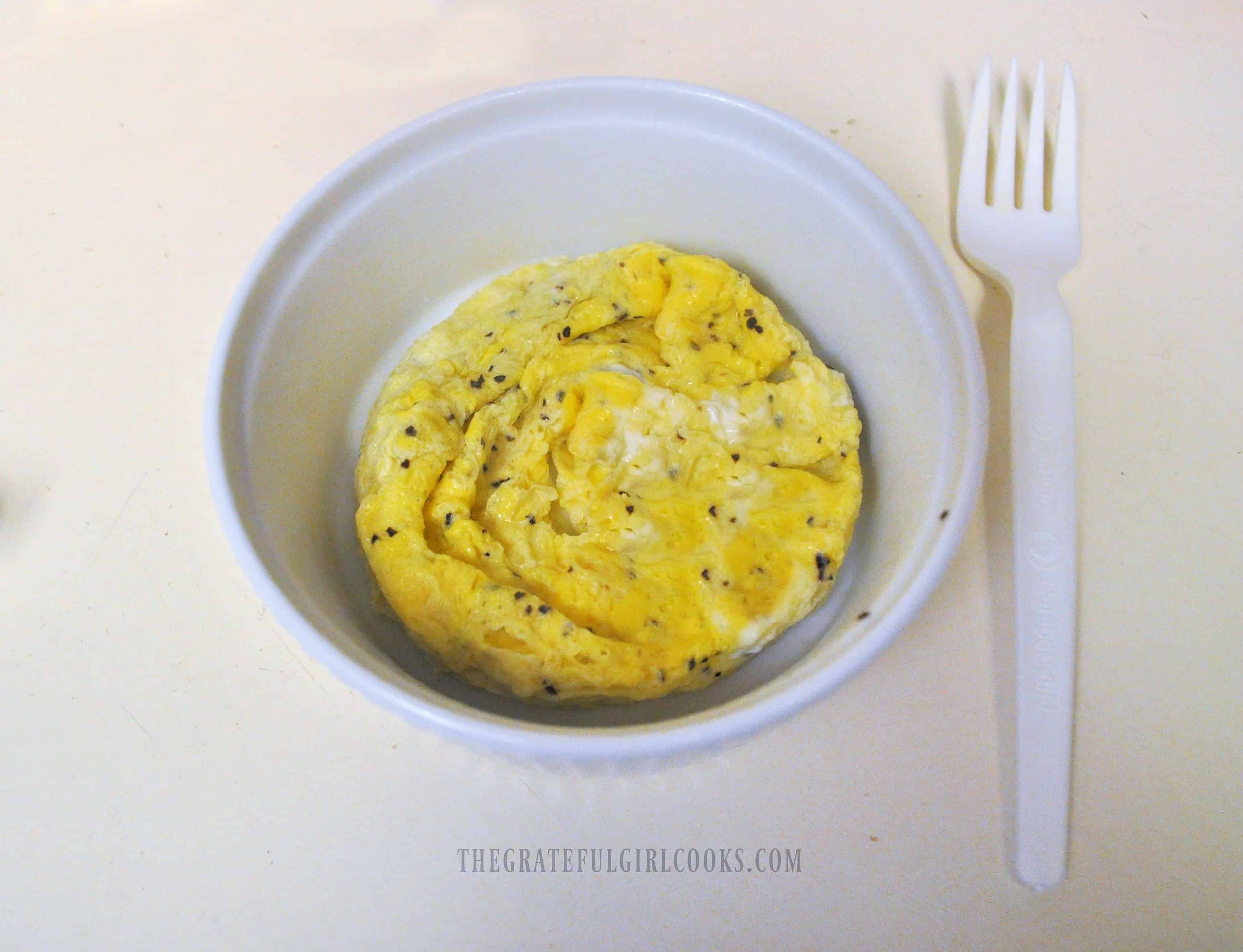 As soon as the english muffin was toasted, I lightly buttered it, added the ham immediately, placed the cooked egg on top of the ham, then added sharp cheddar cheese and put the lid on top. If you're more of a "I like my cheese UNDER the egg" kind of person, then by all means, make it work for YOU!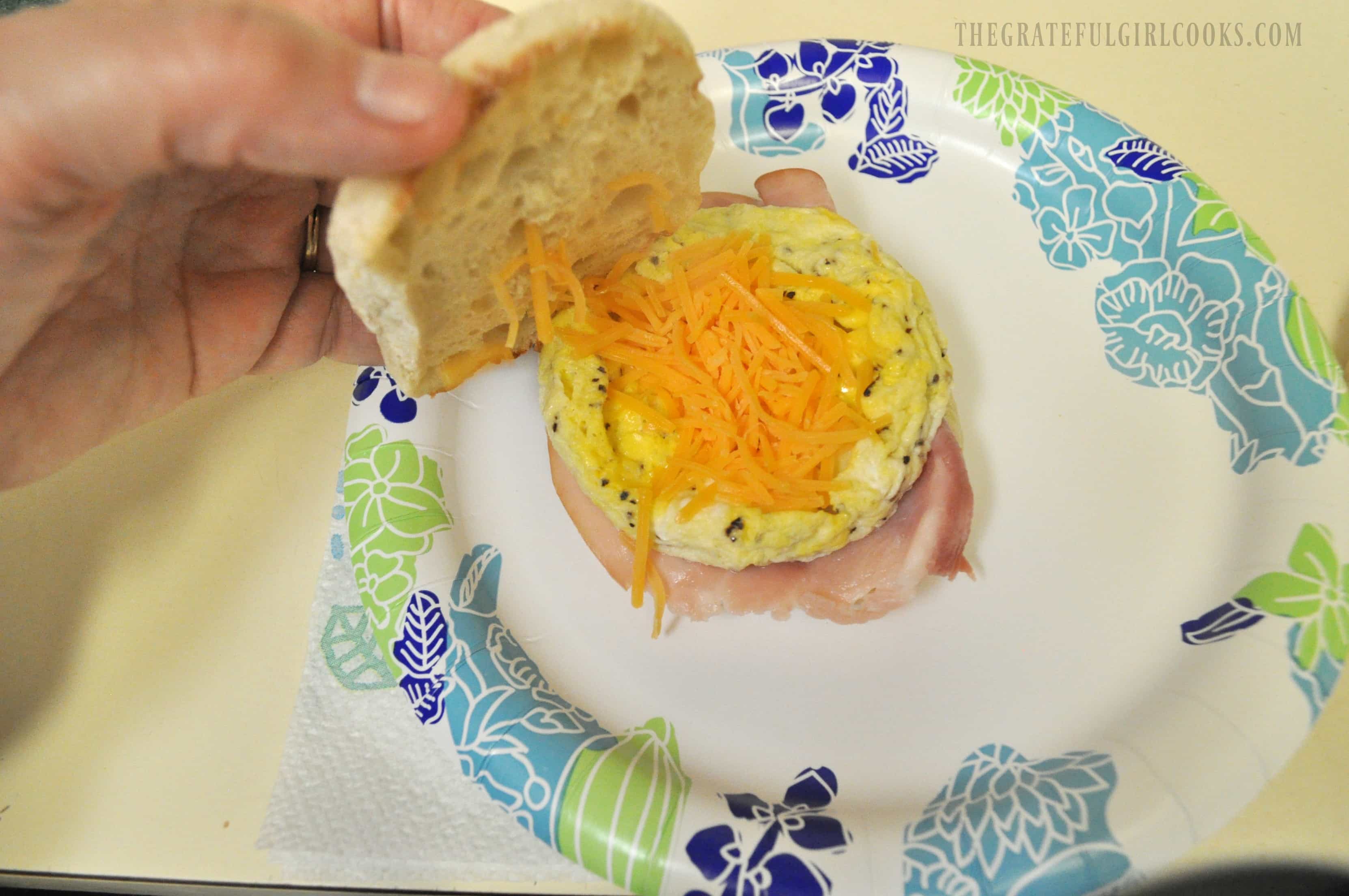 That's it! In under 2 minutes, you've got yourself an amazingly tasty breakfast!  The warmth from the top half of the english muffin lightly melted the cheese. I made these on another day when our grown son was here at breakfast time, and he thought they tasted wonderful, as well!
We served them on (you guessed it) PAPER PLATES, and voila! A great tasting breakfast was made "lickety split" for us kitchen "orphans".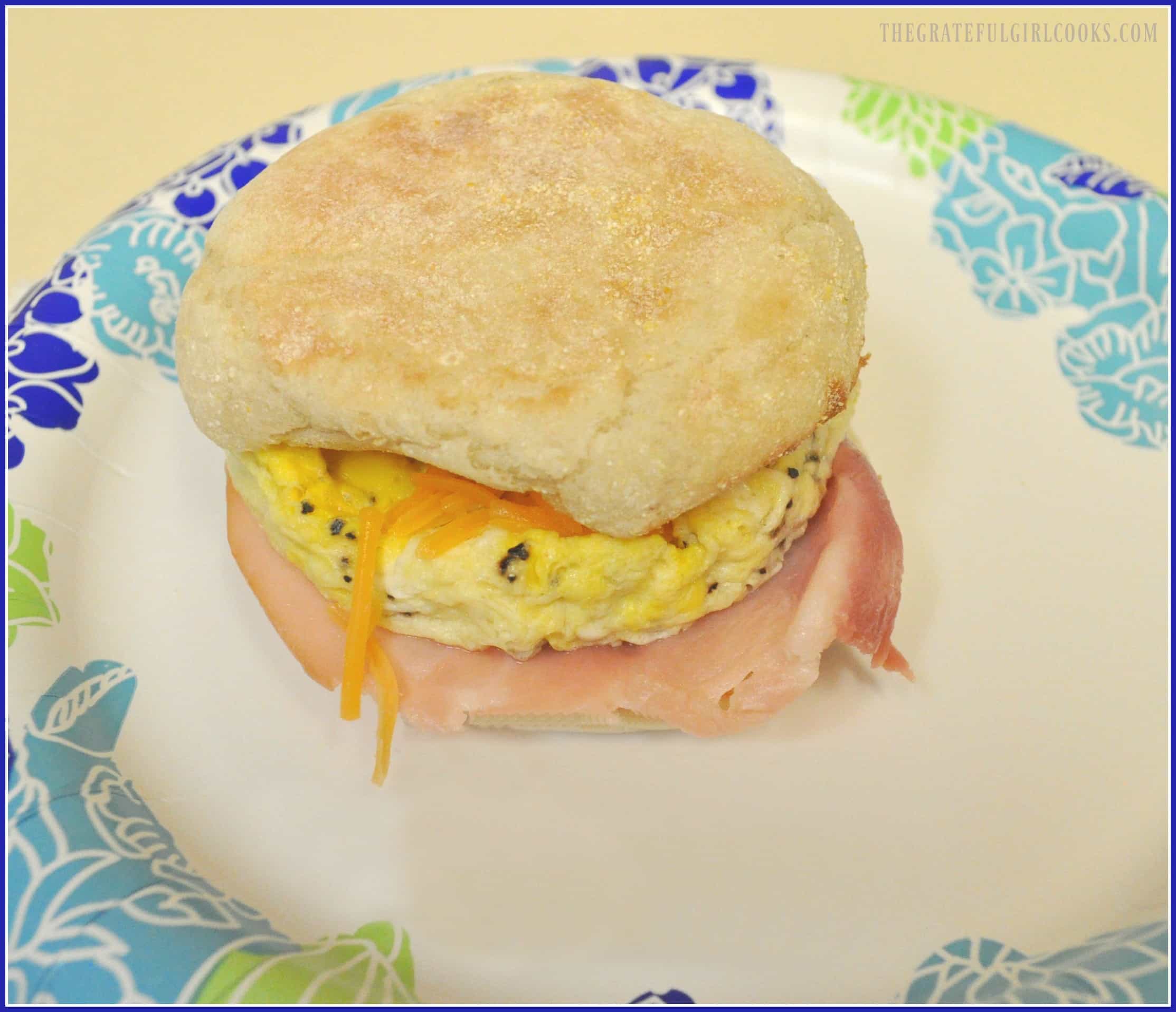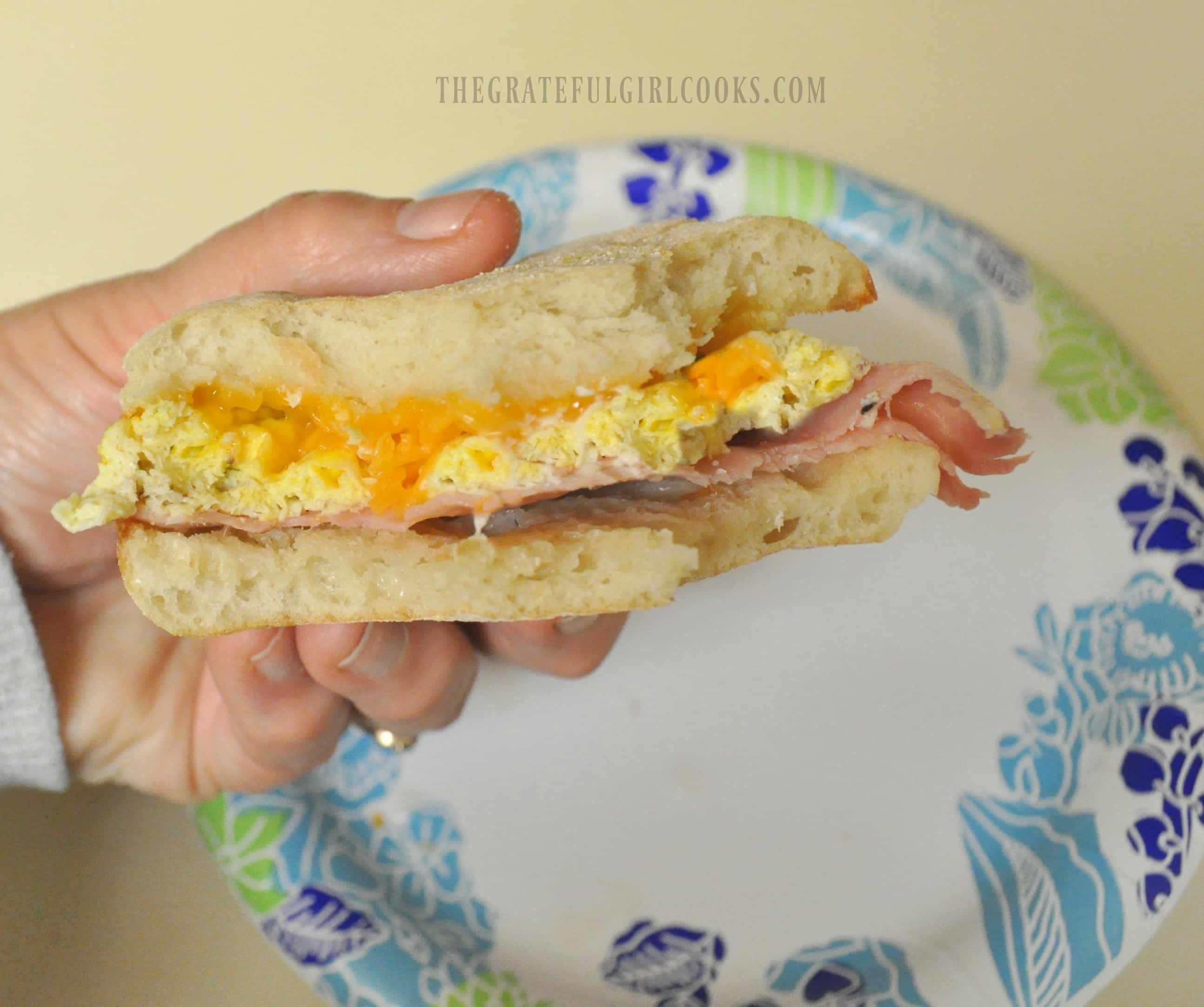 These would be fantastic item for a quick breakfast to eat on the go (I know many of you eat in your car on the way to work- wink, wink!). Why stop for take-out, when it would take less time to make this breakfast before ever leaving the house? It would also be a quick way to feed the kids before school… and this sandwich really tastes good! Hope you'll give it a try!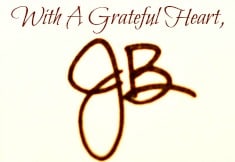 Microwave Egg Breakfast Sandwich
Need a QUICK breakfast on the go? Try this 2 minute breakfast sandwich that's made in a microwave, with egg, ham and cheese on a toasted english muffin
As Prepared By:
JB at The Grateful Girl Cooks!
Ingredients
Non-stick cooking spray
1 large egg
1 teaspoon water
salt/pepper (to season egg)
1 english muffin, split and toasted
butter (optional, for muffin)
2-3 thin slices deli ham
Small handful grated sharp cheddar cheese (or thin slice)
Directions
Lightly coat a small ramekin with non-stick cooking spray. Place egg, water, salt and pepper in ramekin. Stir to blend ingredients. Set aside.
Lightly toast english muffin. When done, butter one half (optional).
While muffin is toasting, place ramekin with egg in microwave. Cook on high power for 40-60 seconds (mine only took 40 seconds to fully cook). Remove dish from microwave.
Place warm ham slices on one half of toasted english muffin. Top with cooked egg, then grated cheddar. Immediately place the top half of the english muffin on the cheese. Serve and enjoy while it's hot!