The other night I went "old school" for dinner… Fried Shrimp, with a seafood cocktail sauce on the side. I had a half of a pound of shrimp begging to be used, and decided to just "fry 'em up". I usually grill or pan sear shrimp, but these bad boys were destined for hot oil.
Guess what? They were GOOD. And ridiculously EASY to make. Pass the seafood cocktail sauce, please! Crunchy and delicious… just the way they're SUPPOSED to be! And… since I bought a pound of shrimp on sale, and only used 1/2 pound… the cost for my husband and I was only $3 total for some mighty delicious crunchy fried shrimp (cheaper than fast food!)!  Best part – the shrimp were on our plates in under 20 minutes total.  Such a deal!
Here's what you do to make these "old school" crunchy fried shrimp:  First clean, remove shells and de-vein (if necessary) the shrimp.  Let the shrimp soak for a couple minutes in a bowl filled with an egg and some milk that have been beaten together. Make sure to coat all sides with egg mixture (so the flour coating will adhere).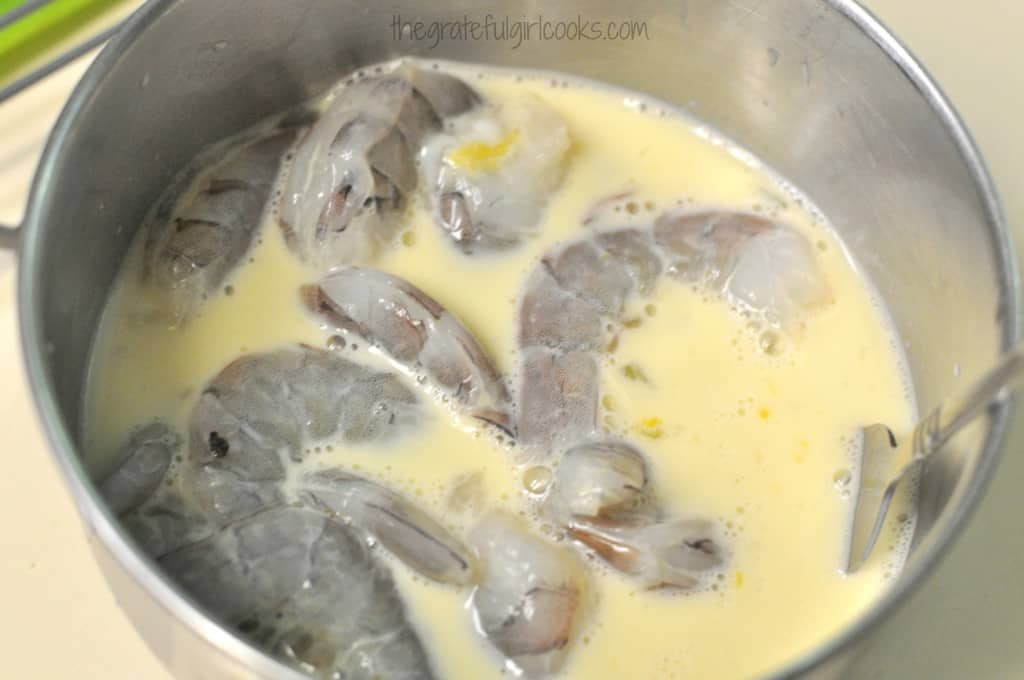 Combine self-rising flour (see recipe for an easy substitution tip) and spices. Place flour mixture on a dinner plate. Dredge shrimp in the flour mixture, one at a time, to completely coat all sides.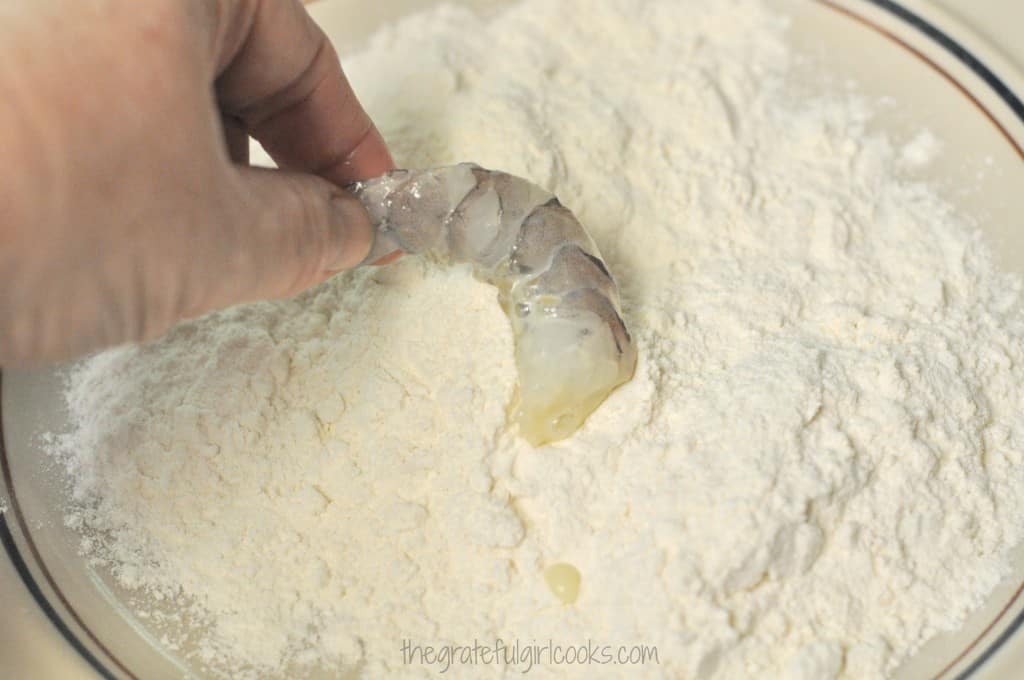 Place each shrimp onto baking sheet (or aluminum foil) and set aside.  This is what they looked like after the FIRST flour coating.  Once they have all been dredged in flour mixture… dredge them AGAIN (in flour mixture) for the second time. Shake off excess flour.  Let shrimp rest while oil is heating to temperature in pan.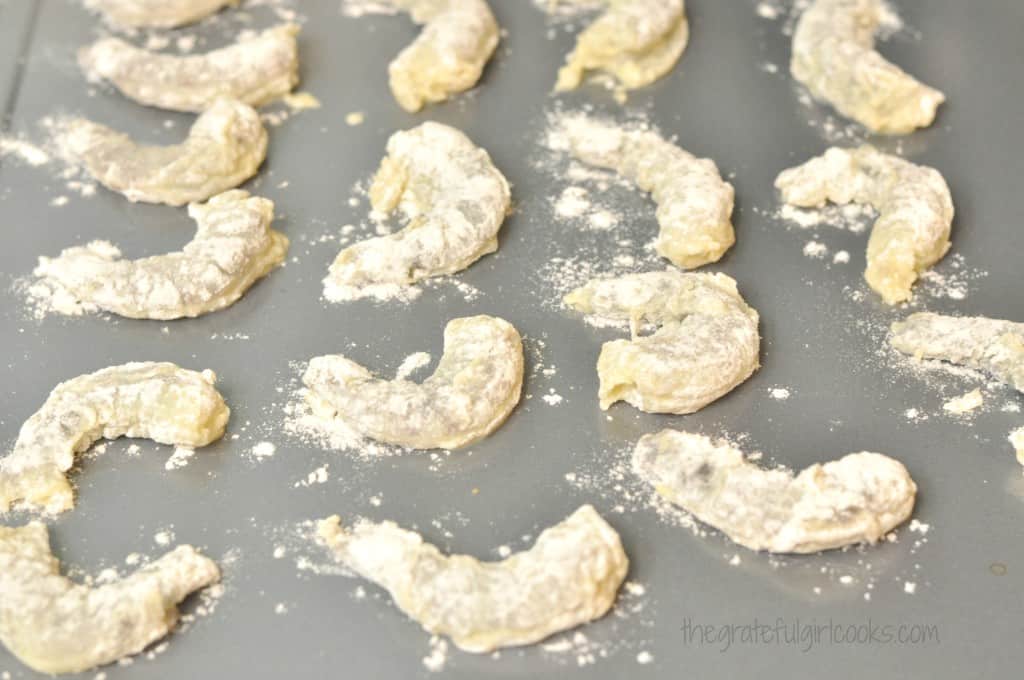 Add enough oil to pan to fill about 2 inches deep. I used my electric skillet, but you can also use a pan or regular skillet (but you WILL need a thermometer to get the oil heated to the necessary temperature for frying these successfully!).  Heat the oil to 350 degrees. It must be this hot to fry these correctly and get a great outside crunch! Once temperature is 350 degrees, carefully add the shrimp one at a time (remember- oil is very HOT). They will need to fry for about 4 minutes, flipping them over halfway through the cooking time.  If doubling recipe or cooking a large amount of shrimp, cook them in batches, BUT remember to bring oil back to 350 degrees after each batch!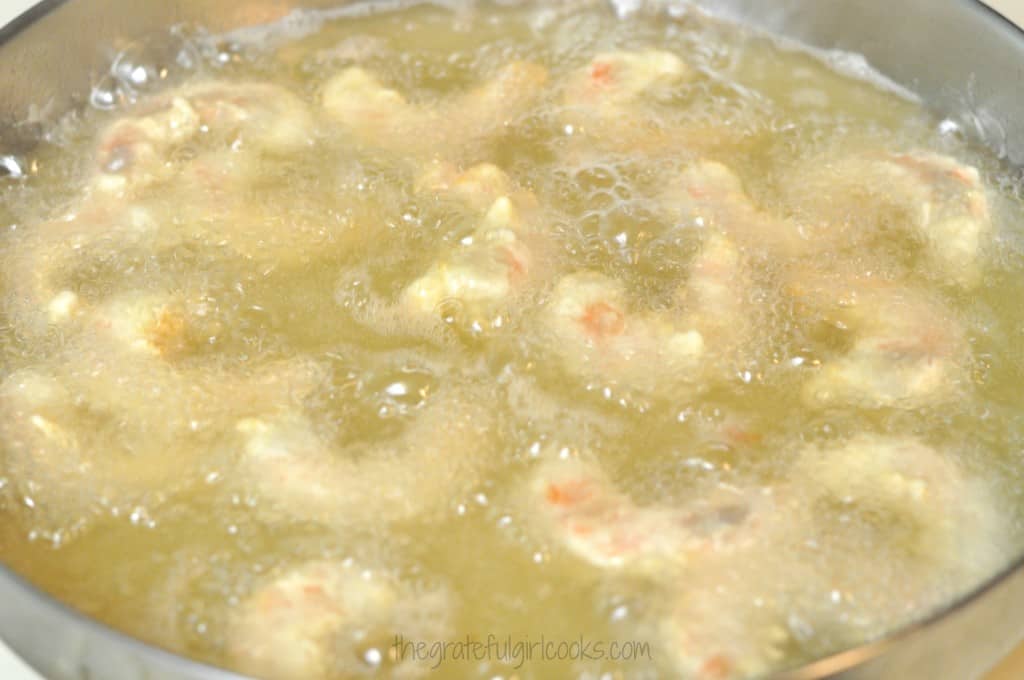 Once done, the fried shrimp should be golden brown and crunchy on all sides. I placed the fried shrimp on a wire rack (with a paper towel underneath the rack to catch any drips). By placing the paper towel UNDER the rack, the shrimp won't stick to the paper towel. Great tip!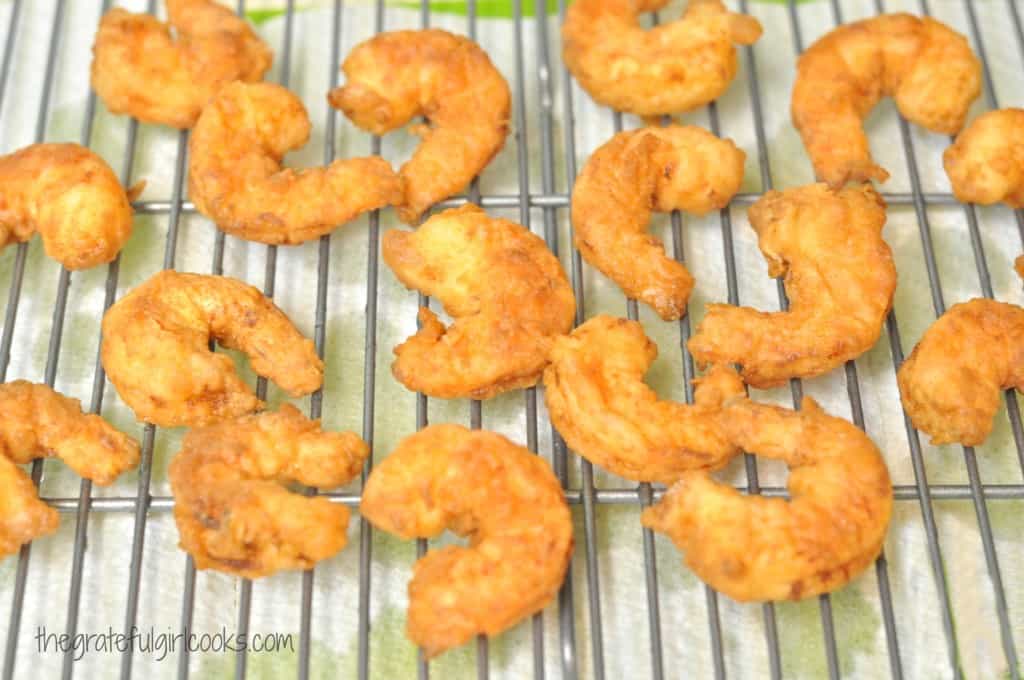 That's it!  Easy, right?  I served them with seafood cocktail sauce on the side for dipping, a green salad and fresh fruit… and we LOVED them! Crunch, Crunch, Crunch!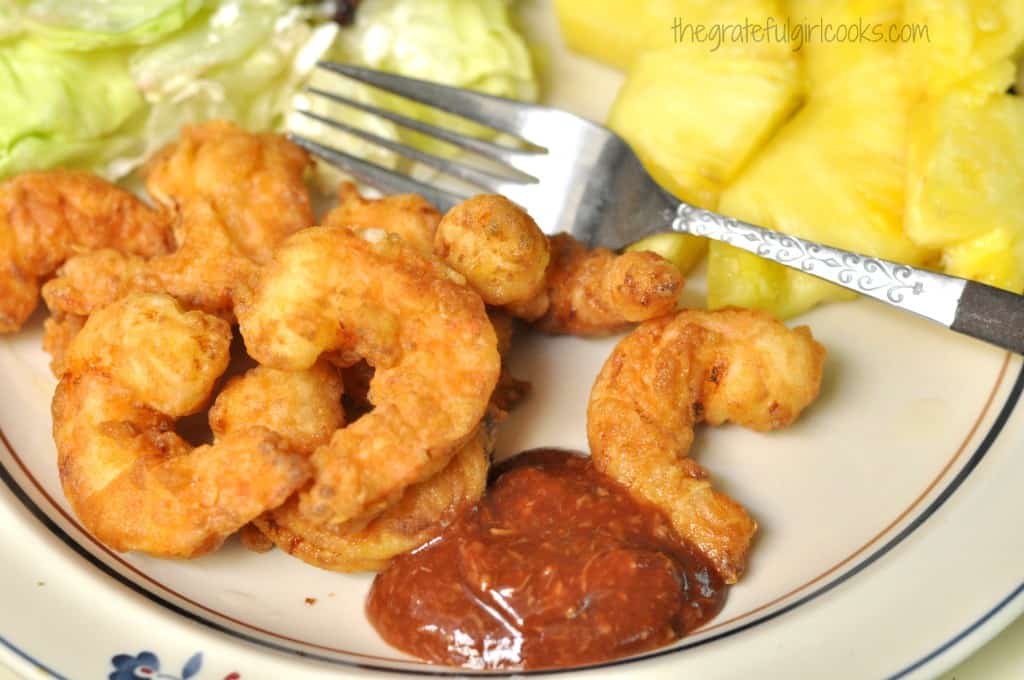 This was an easy way to make some great tasting fried shrimp… just like you would pay big bucks for at a nice restaurant. Only catch was… I was the one who had to do the dishes, but it was still worth it for this easy, quick, great tasting dinner at home!
Have a great day!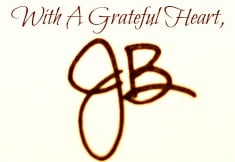 Save