Well, if Mom's Tuna Noodle Casserole isn't "Old School", I don't know what is!  I've been sick for a few days, so "comfort food" and EASY were on the menu for one of our dinners.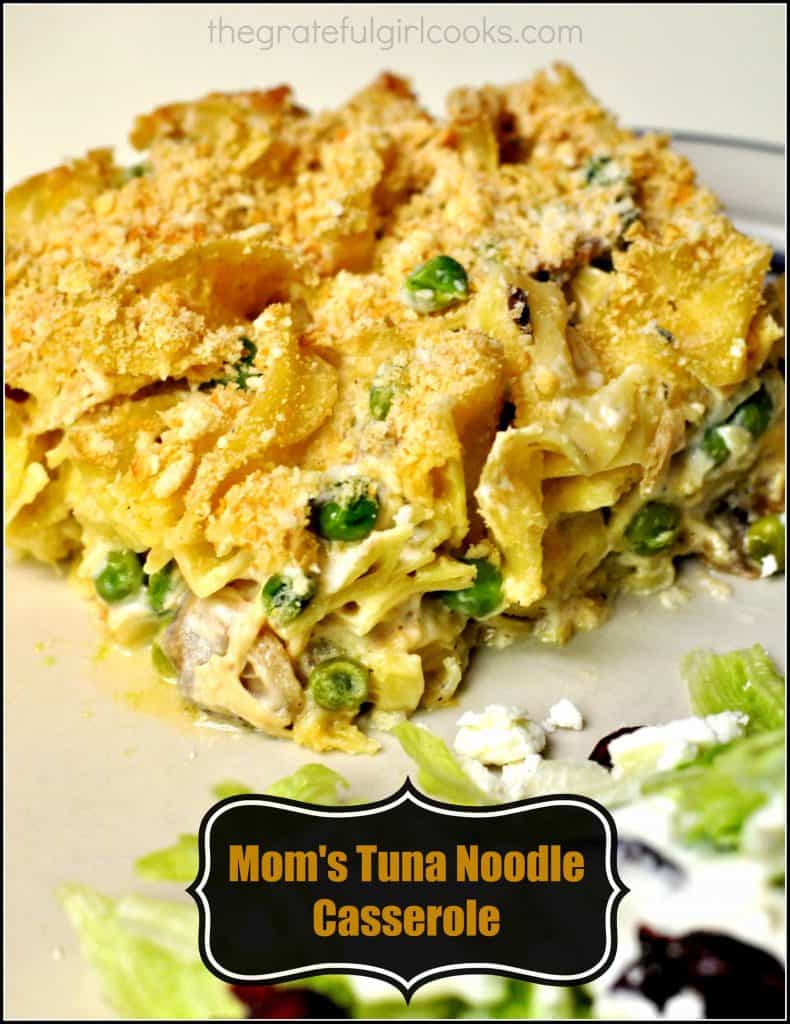 My Mom made this for our family as I was growing up… back in the 60's when we were footloose and fancy free kids, without a care in the world (you know… back in the day where we played outside for hours on end with our neighborhood buddies, because we didn't have computers or cell phones to stare at all day inside the house!). I think my Mom probably made this for us because it was a very economical and tasty way to feed our family of 5, but I've always enjoyed the "comfort food idea" of a good tuna noodle casserole. Nothing fancy… just GOOD (and the leftovers are great, also!)
When I made this the other night, my husband's first words were "Wow… this brings back childhood memories. My Mom used to make tuna noodle casseroles, also!" Must have been what Moms across America cooked back then. This casserole is easy to prepare, feeds quite a few, is easy on the ol' budget per serving, and it tastes great! Go figure! Hope you enjoy this simple blast from the past!
Recipe Source: My Mom
Here's how to prepare this dish: In a large bowl, combine the cream of mushroom soup, sour cream, milk, salt, pepper, garlic powder, and grated Parmesan cheese.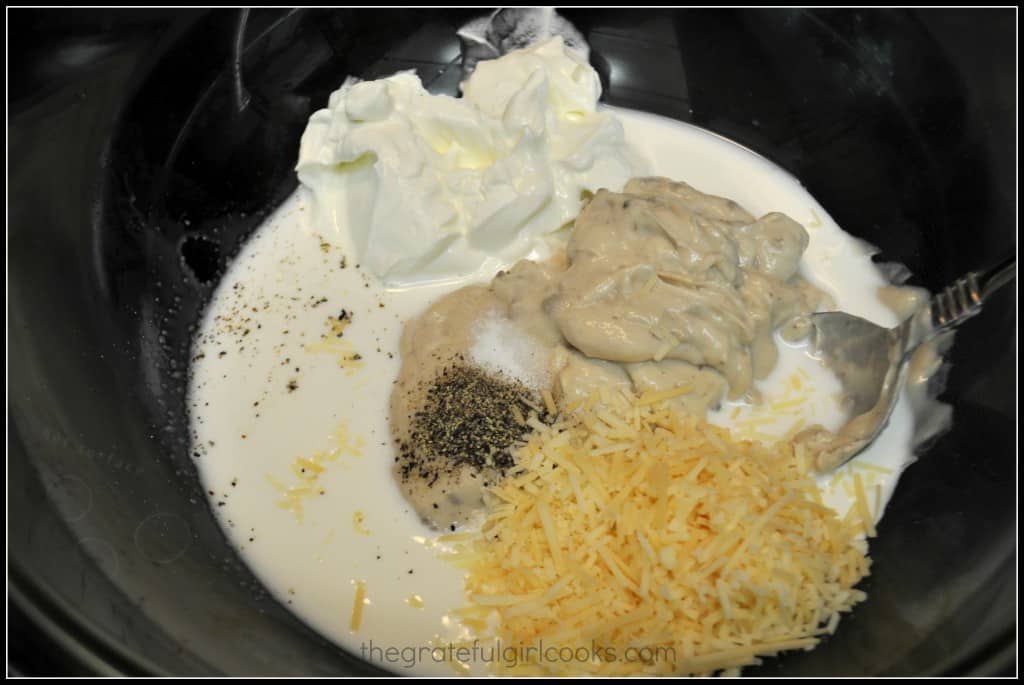 Add frozen peas, sliced mushrooms, tuna, and grated cheddar cheese. Fold these in gently.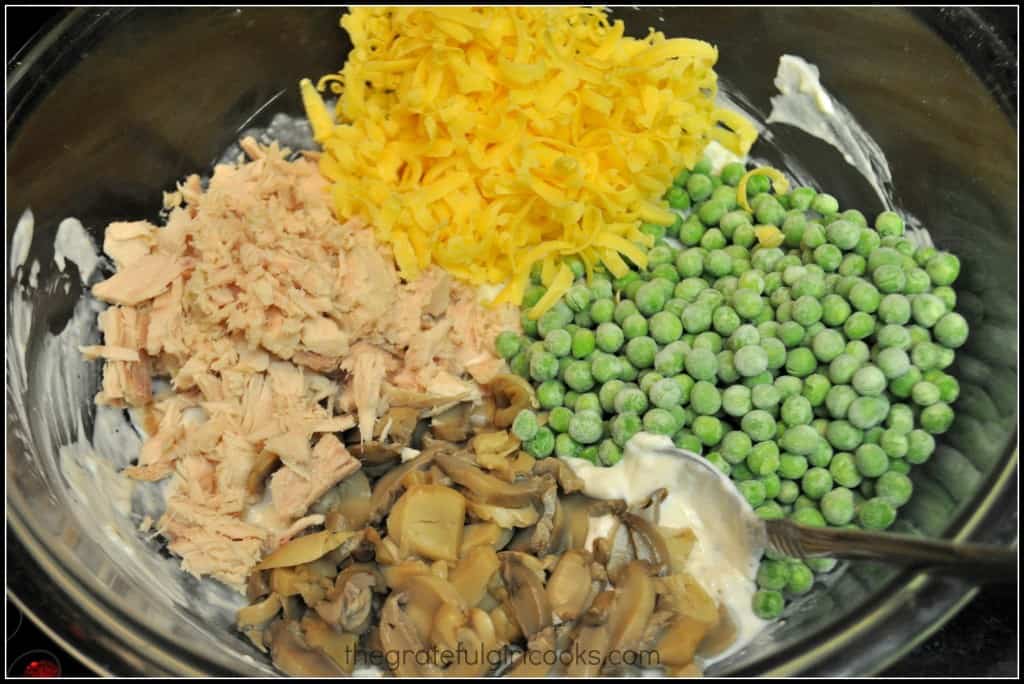 This is what it looks like once all ingredients are folded in. It's not pretty, but that's okay!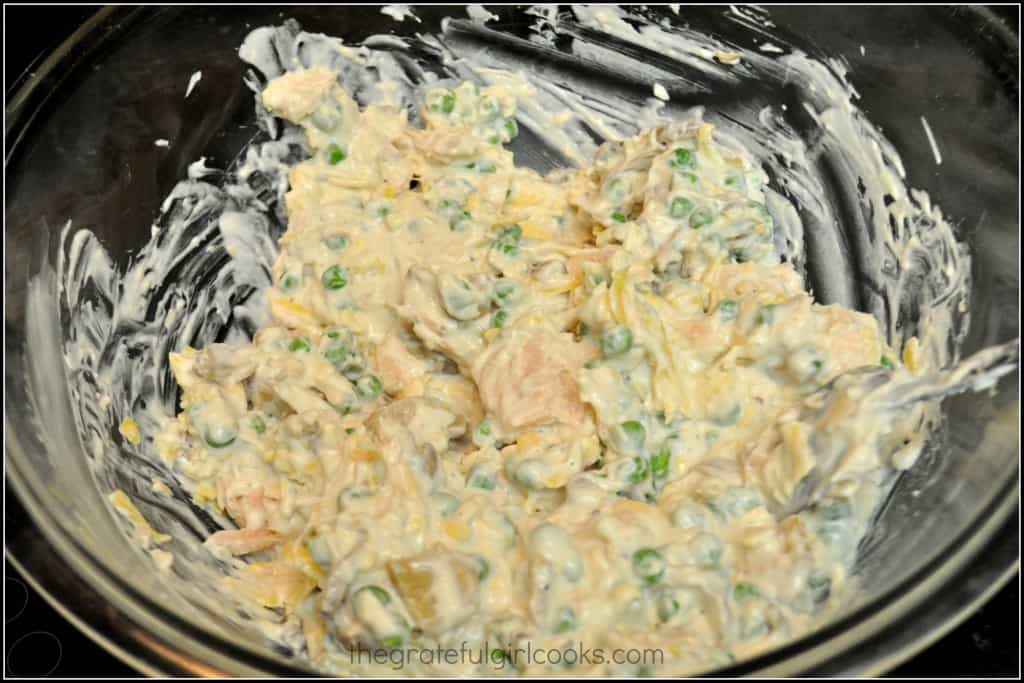 Cook the egg noodles for 7 minutes…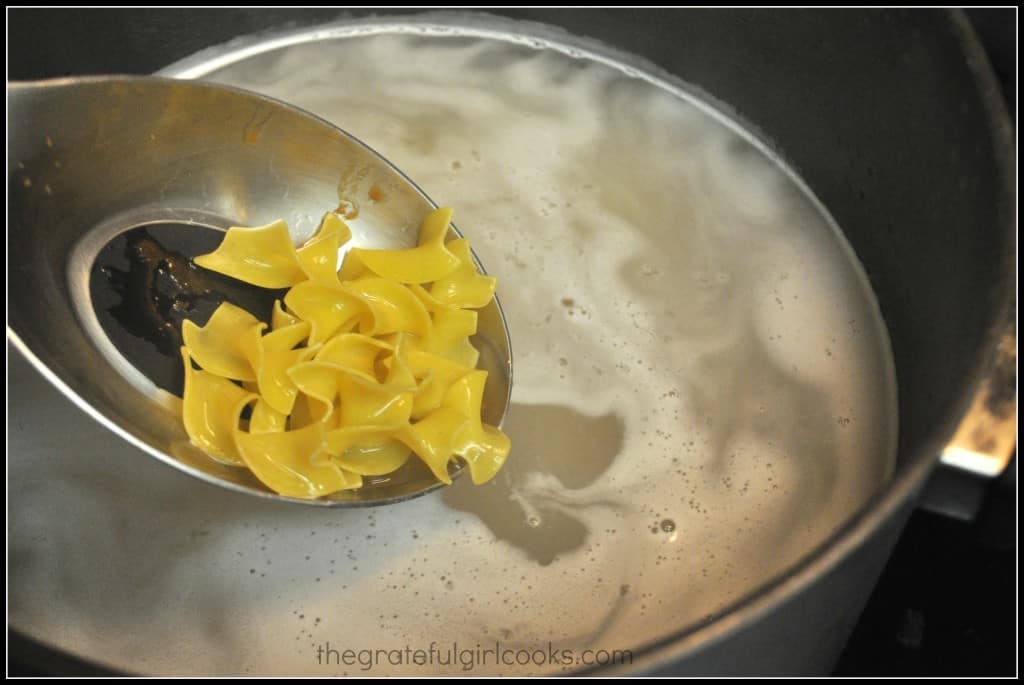 Drain the egg noodles, then add to the rest of the ingredients. Stir to combine.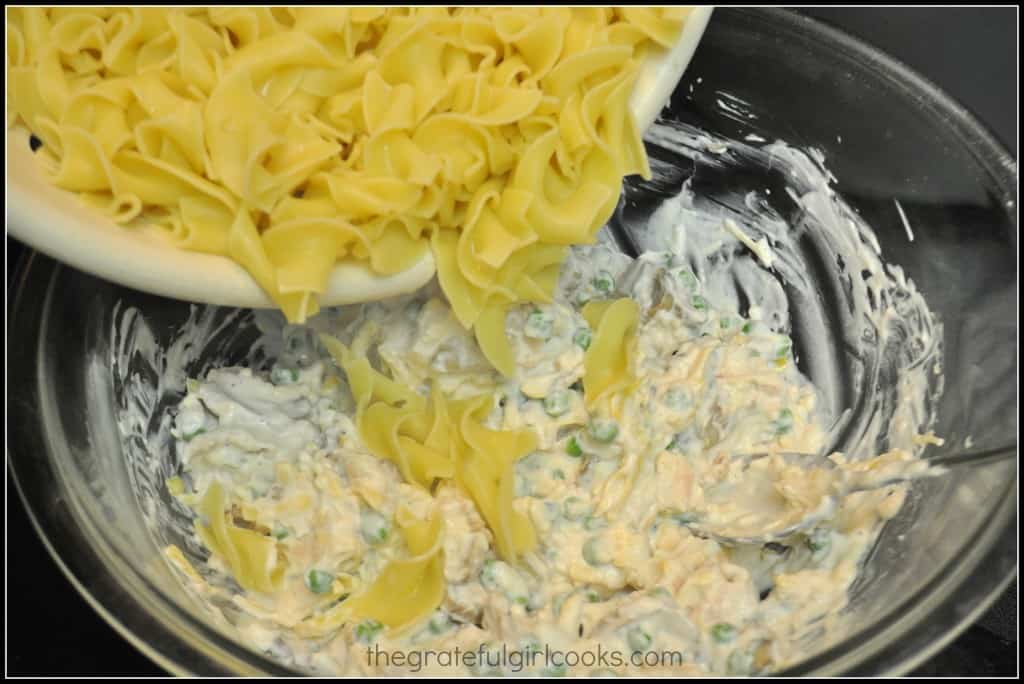 Pour ingredients into a 2 qt. baking dish that is coated with non-stick spray. Spread evenly in pan.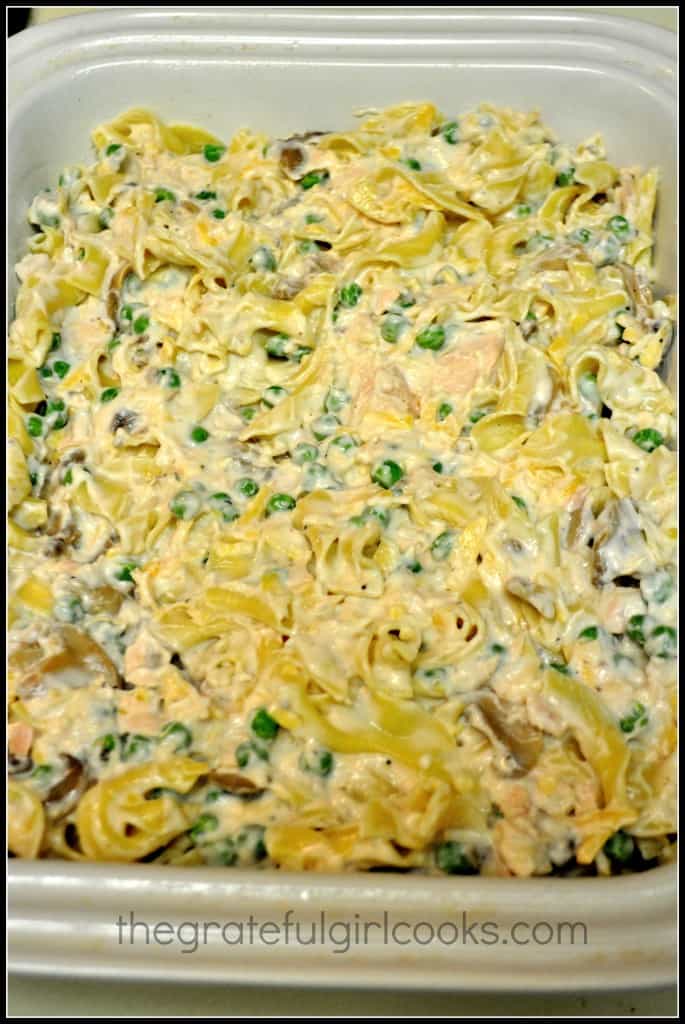 Crush some Ritz crackers in a baggie.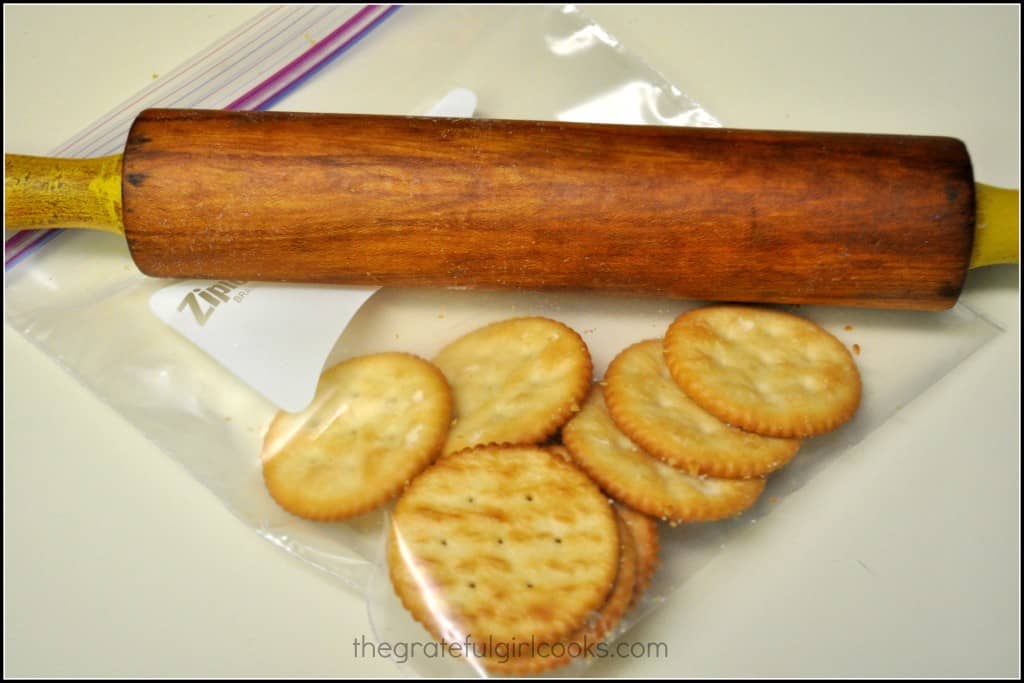 Spread the crumbs evenly over the top of the casserole, then bake uncovered for 40 minutes.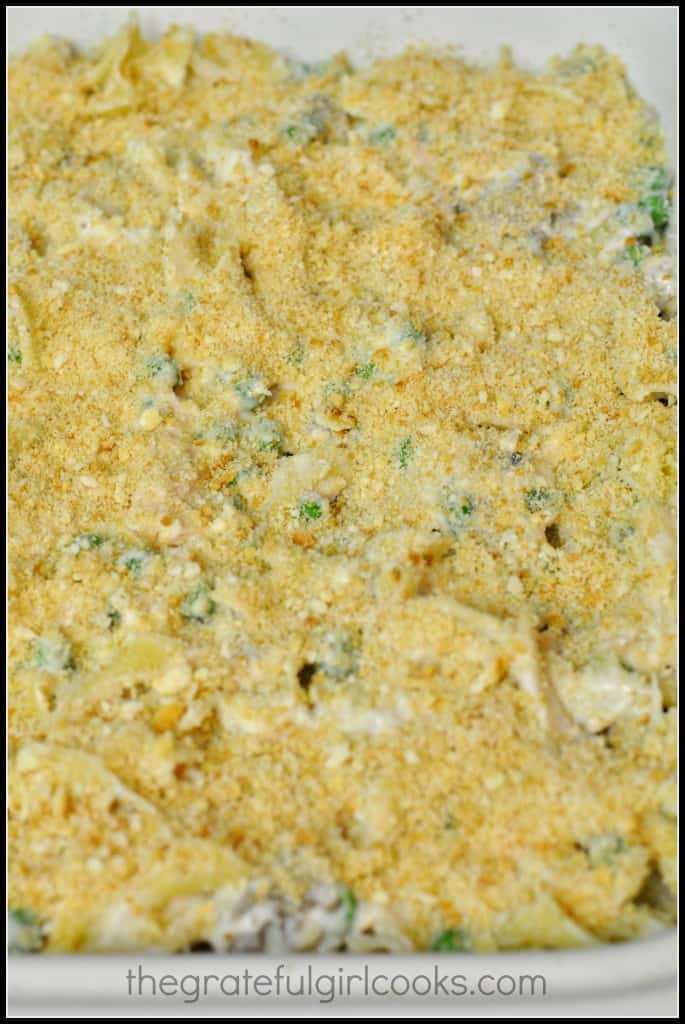 This is how it looks when it comes out of the oven. Let the casserole sit on a wire rack and cool for a few minutes before cutting into serving pieces.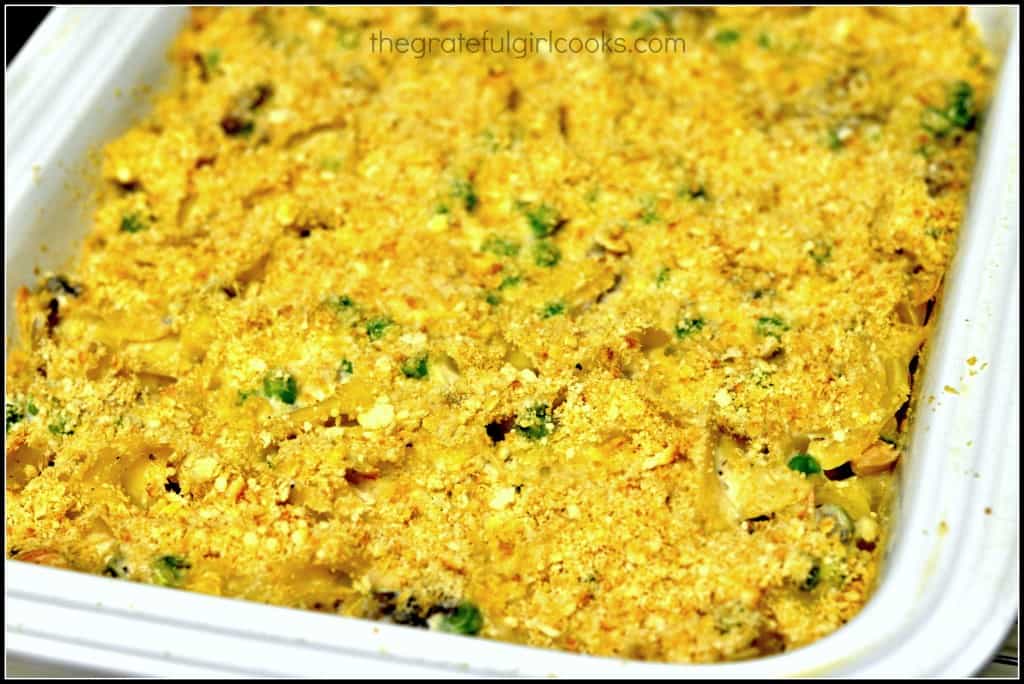 After casserole has "firmed" back up for a few minutes as it sits… slice with sharp knife into pieces, and use a spatula to place piece onto individual plates. Grab a fork, and enjoy this delicious, comfort food meal, just how good ol' MOM used to make it!
Save