When I was in High School (MANY years ago), I took a Gourmet Foods class. This recipe for "Old School" Tuna Cashew Casserole was one of the recipes we learned to prepare.  If you're like me, you see the ridiculous humor in a simple tuna casserole being called "gourmet food", but hey… back then, maybe it was?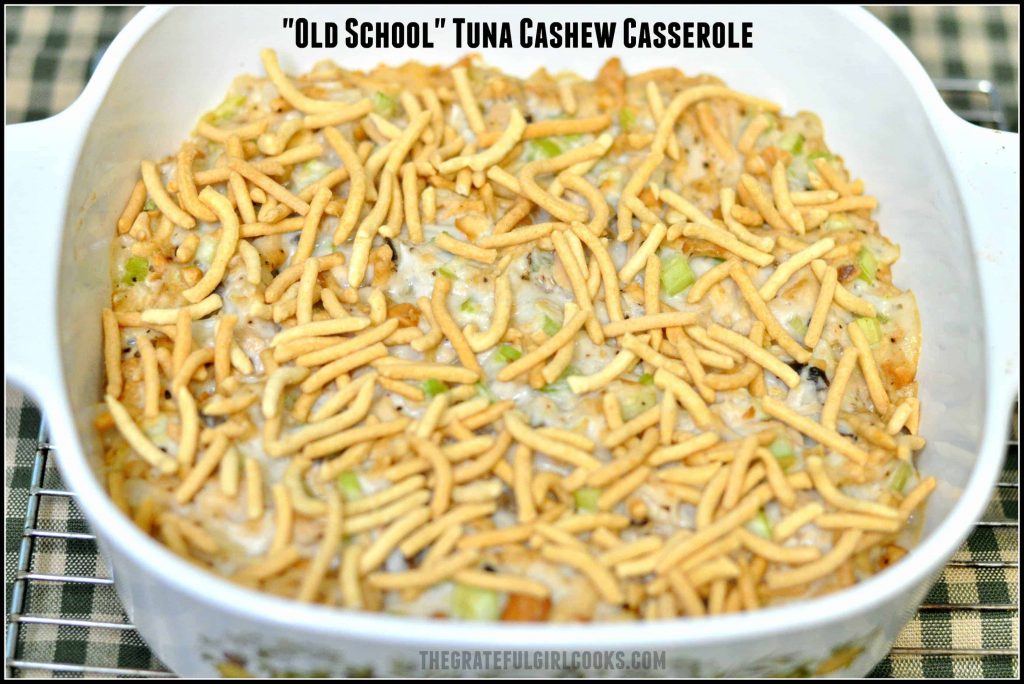 I've made this recipe many times over the years, but I still giggle to think it is anything even remotely compared to gourmet food.  Nowadays I like to think of it as a "fairly economical way to feed a family of 4" casserole (especially when it only takes one can of premium tuna as the main ingredient!). Completely simple, and so easy to prepare! The casserole can be served just as it is, straight from the oven, or it can be served on top of rice or noodles.  This time I made it… "as is", so you can see from the photos what it is supposed to look like when done. Here's how to make it:
Set aside 1/2 of the chow mein noodles before beginning (you will need them for crunchy topping later!).  Place the remaining ingredients (tuna *I used albacore*, celery, chow mein noodles, cashews, onion, seasonings, water, and cream of mushroom soup) in large bowl.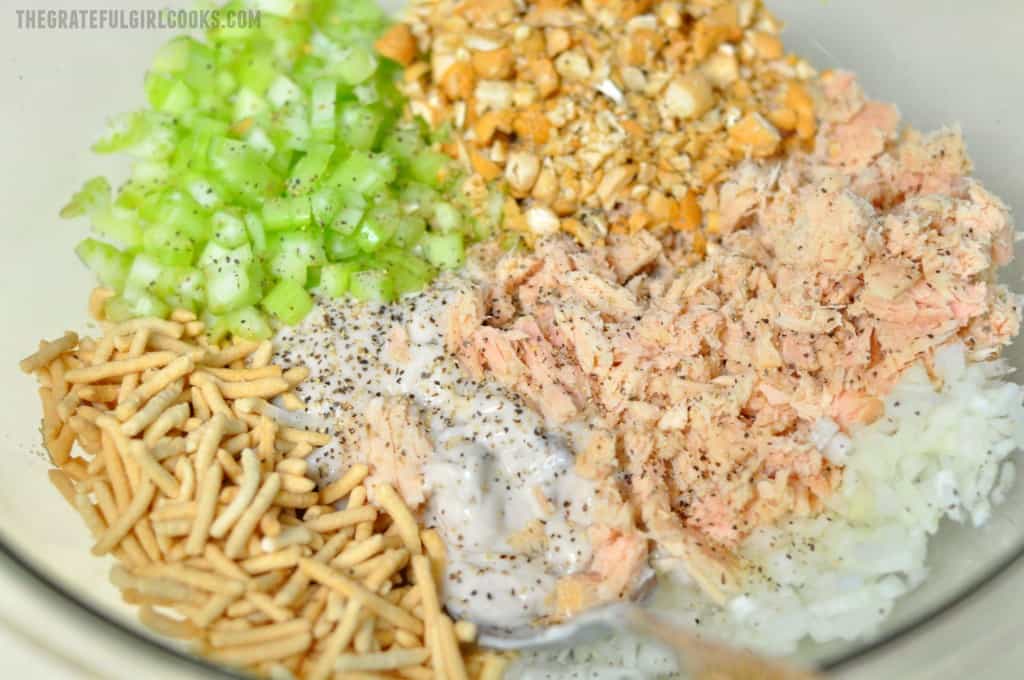 Stir well until all ingredients have been combined (see how easy it is?).  Pour into a 2 quart baking dish that has been sprayed with non-stick spray.  Sprinkle the top of casserole with the reserved chow mein noodles.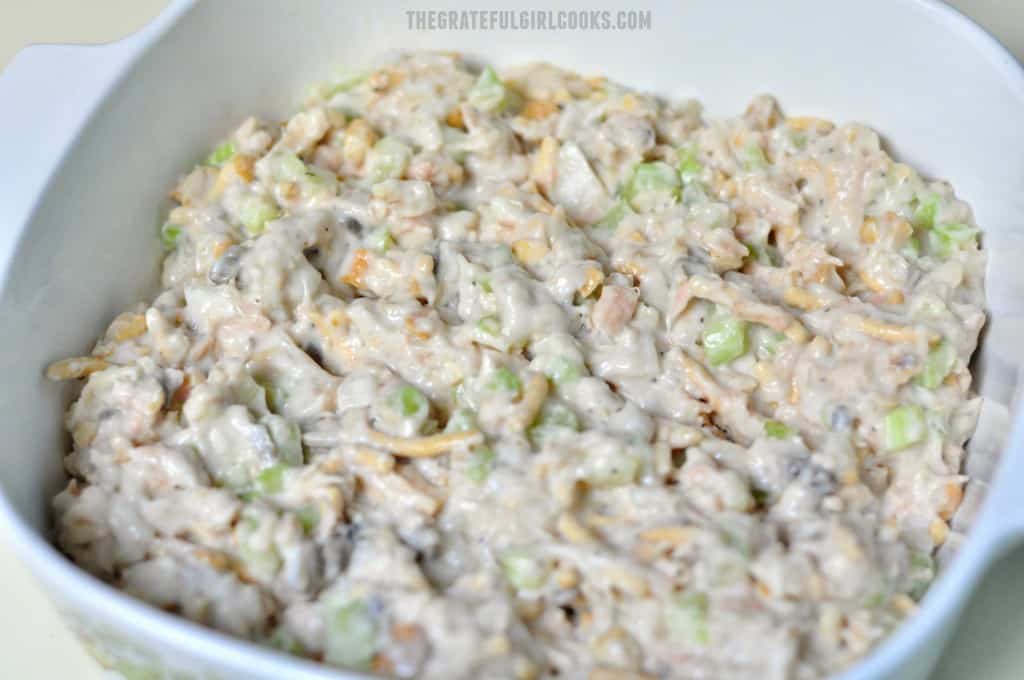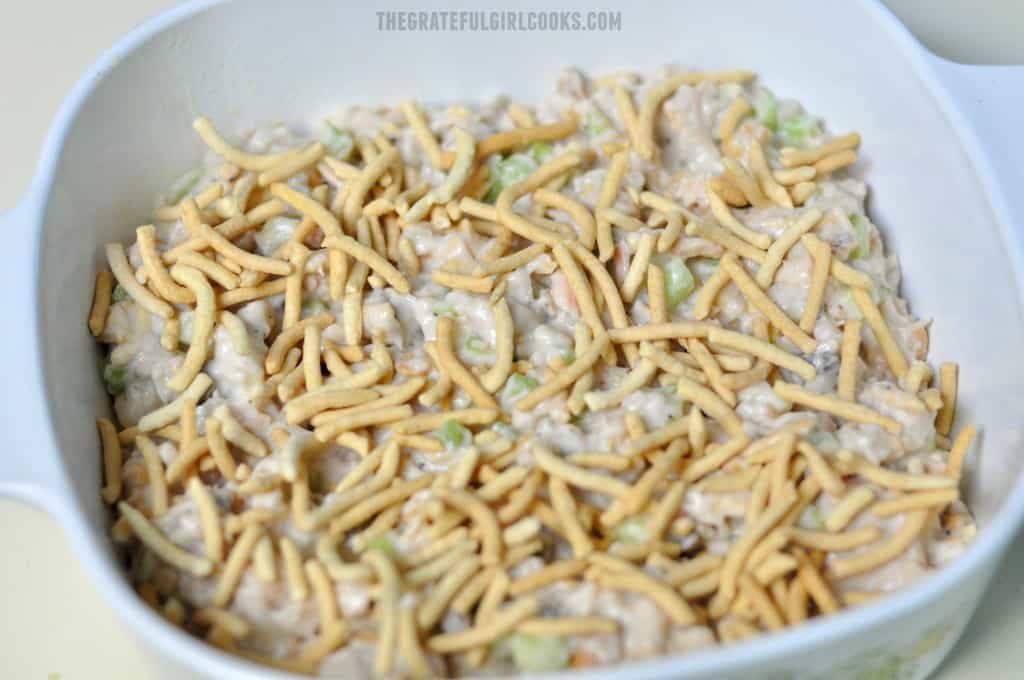 Bake, uncovered, at 325 degrees for 40 minutes. Casserole should be lightly browned and slightly bubbly around the edges when done.  Remove from oven. Let casserole cool for just a minute or two, then serve as is, or serve on top of rice or noodles.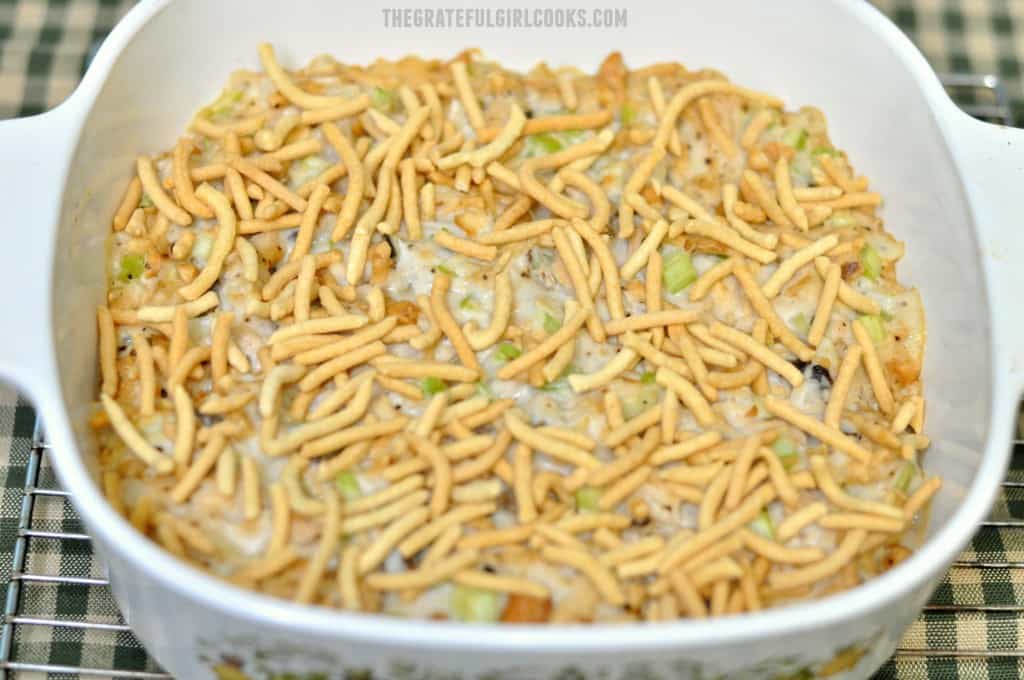 Here's what it looks like right after placing it on a serving plate.  The recipe, as written, makes 4 servings, and is easily doubled.  The casserole has good flavor and crunch from the celery, cashews, and chow mein noodles.  I would classify this simple casserole as "comfort food", rather than "gourmet food", but am still glad to have kept this recipe since making it in High School.  When I cooked it this time, I made it to have around for a quick lunch, rather than as a main course meal, but either way, it's a quick and easy way to get tasty food on the table!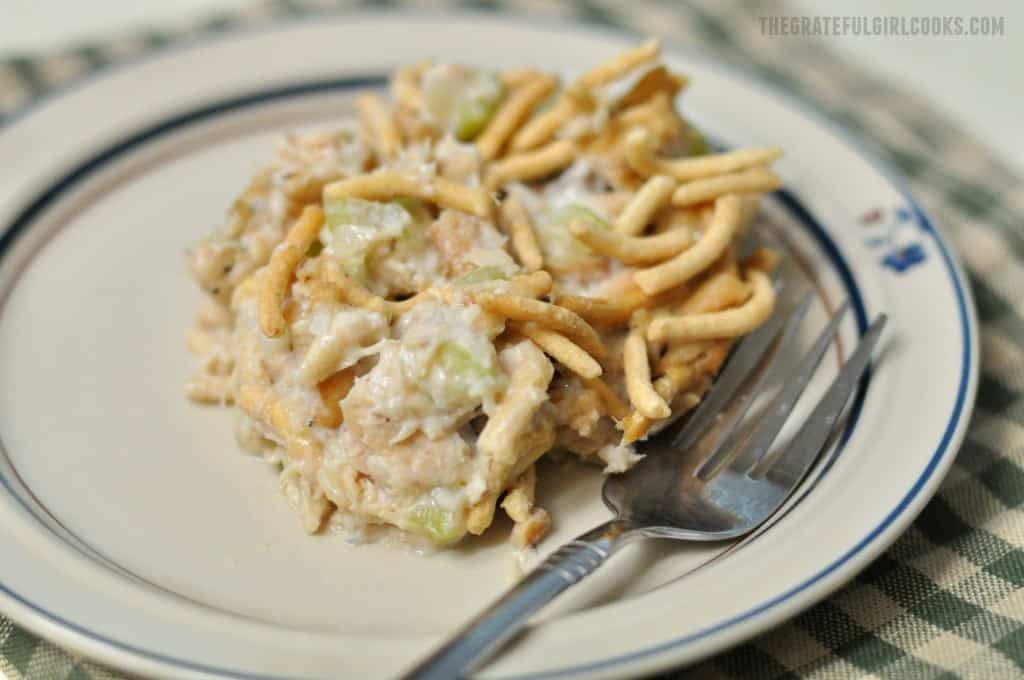 Have a good day!  Thank you for checking out this simple casserole recipe… a very OLD school recipe! Hope you enjoy it.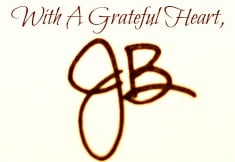 Original recipe source: unknown (had recipe written on 3×5 card since High School)

Save
Save
Save
Save
Save
Save
Save
Save
Save
Save
Save