Teriyaki Chicken with Homemade Sauce is a simple, yet delicious recipe! Marinate chicken in an Asian-inspired sauce, then grill to perfection!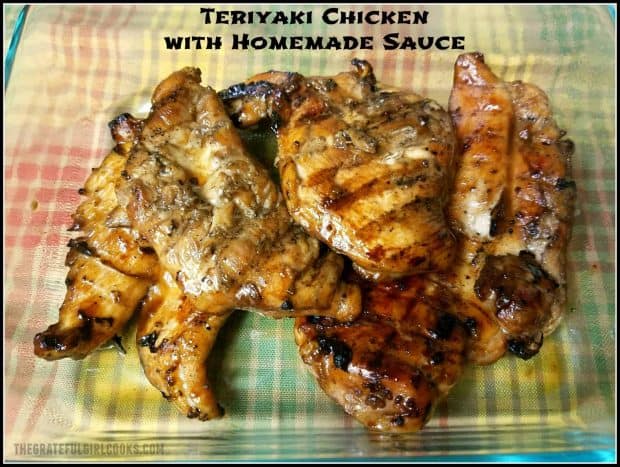 We're in the middle of a freezing winter in Oregon. However, one cold evening last week, we grilled teriyaki chicken with homemade sauce outside on our BBQ! It was fun, and made us anticipate the hot days of summer which are coming SOON!
I got this simple recipe for an "enhanced" Teriyaki marinade from my sister Julie many years ago. Typically I cut the chicken into cubes, marinate them, then place the cubes on skewers and grill. This time, I left the chicken breasts whole, marinated then grilled them. It was less prep work (no cubing), but with the same delicious results! Hooray!
The teriyaki sauce sauce is really easy to make, and the finished chicken pieces is full of flavor. If you're interested in using the sauce to marinate steak, see the Tips section of my printable recipe. Here's how to make teriyaki chicken with homemade sauce.
Scroll Down for A Printable Recipe Card At The Bottom Of The Page
Make The Teriyaki Sauce To Marinate The Chicken
Mix teriyaki sauce, sugar, cooking sherry, ground ginger, and minced garlic together in a medium bowl. Stir well, until these ingredients are fully combined.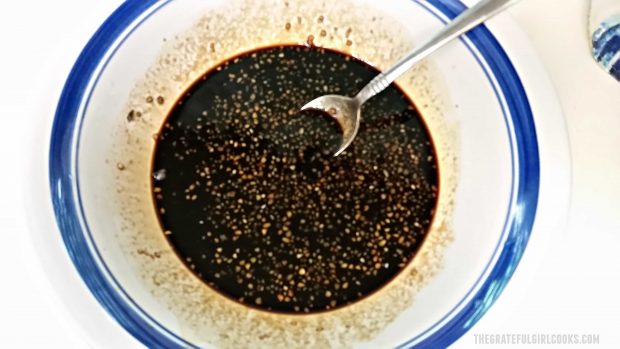 Marinate The Chicken
Lightly season the chicken pieces you are using with salt. Place the chicken into a covered container (or heavy duty gallon-sized resealable bag). Pour the marinade over the chicken.
Turn the chicken in the bag or container to ensure all pieces are coated with the teriyaki sauce. Cover the container (or seal the bag) and place it in a refrigerator to marinate at least 6 hours for best flavor. Turn chicken over occasionally, so that it remains covered with the sauce.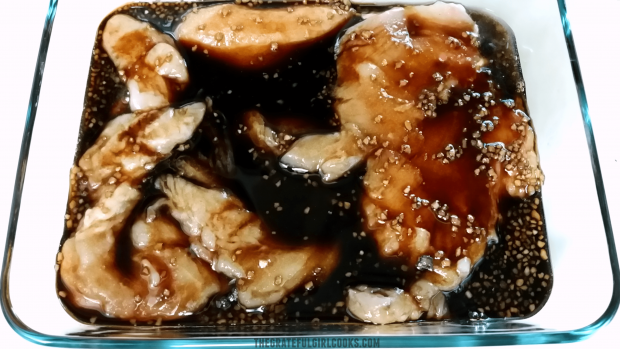 Time To Grill The Teriyaki Chicken
Once the chicken has finished marinating, remove it from the container. Place the marinated teriyaki chicken onto a hot BBQ grill and cook until done. Chicken is considered fully cooked when it reaches an internal temperature of 165°F.
If desired, baste the chicken with the sauce while it cooks. Do NOT use the leftover sauce to serve, because it was exposed to raw chicken. Discard it.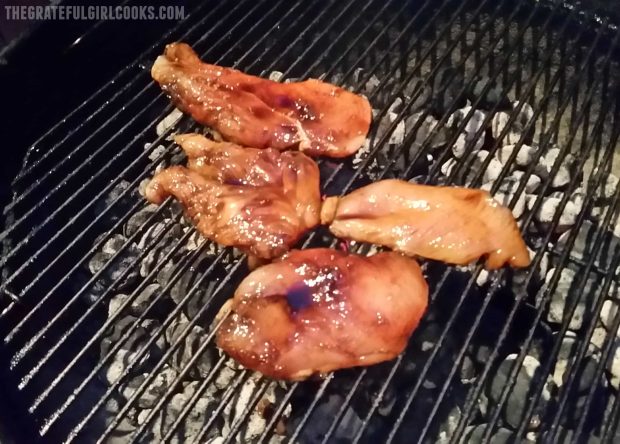 Who Wants Some Teriyaki Chicken with Homemade Sauce?
That's it! See how very easy it is to prepare this chicken? The teriyaki chicken with homemade sauce has wonderful flavor, and can be served hot as a main dish.
You can also use the meat to make teriyaki chicken sandwiches (with grilled pineapple rings). Grilled teriyaki chicken is delicious when used in salads or teriyaki rice bowls. The possibilities are endless, and the chicken flavor is wonderful!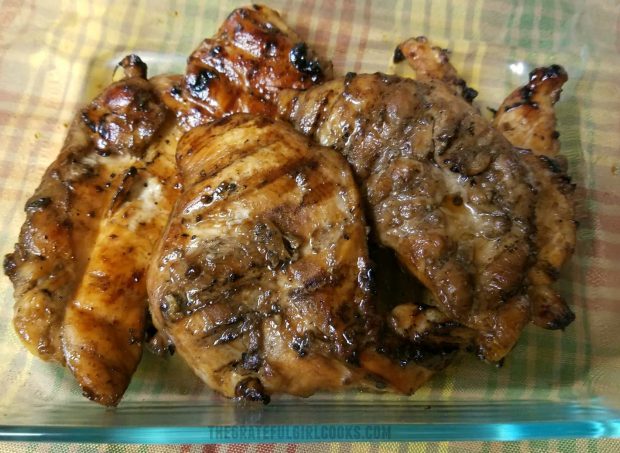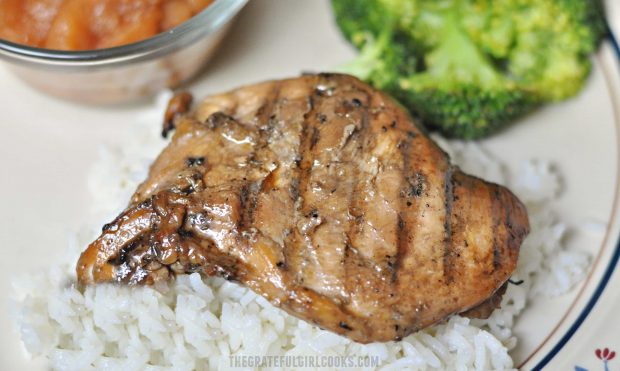 I love recipes like this that can be made up ahead of time (marinating), then cooked at the last minute without a lot of fuss. It sure makes an easy main dish for the family! I hope you enjoy this recipe for teriyaki chicken with homemade sauce as much as we do!
May you have eyes to see beauty all around as you go through your day. Whether it's a stunning sunset, a friend or family member, or a kindness shared or observed, be the person that finds beauty in it all.
Thanks for stopping by today. I invite you to come back again soon for more family-friendly recipes. Take care, and have a GREAT day!
Looking For More CHICKEN Recipes?
You can find ALL of my recipes in the Recipe Index, which is located at the top of the page. I have LOTS of delicious chicken recipes to check out, including:
Want More Recipes? Get My FREE Newsletter!
I publish a newsletter 2 times per month (1st and 15th) with lots of recipes, tips, etc..
Would you like to join our growing list of subscribers?
There is a Newsletter subscription box on the top right (or bottom) of each blog post, depending on the device you use.
You can submit your e-mail address there, to be added to my mailing list.
Find Me On Social Media:
Facebook page: The Grateful Girl Cooks!
Pinterest: The Grateful Girl Cooks!
Instagram: jbatthegratefulgirlcooks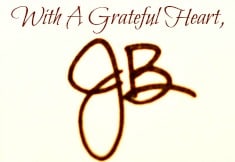 Recipe Source: My sister Julie M.
↓↓ PRINTABLE RECIPE BELOW ↓↓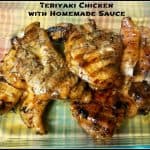 Teriyaki Chicken with Homemade Sauce
Marinating (inactive time)
Teriyaki Chicken with Homemade Sauce is a simple, yet delicious recipe! Marinate chicken in an Asian-inspired sauce, then grill to perfection!
Keyword:
teiyaki chicken with homemade sauce
Calories Per Serving
:
226
kcal
Ingredients
1

cup

teriyaki sauce

1

cup

sugar

1/4

cup

cooking sherry

1/4

teaspoon

ground ginger

4

minced garlic cloves

1

pinch

salt

(to season meat with)

6

boneless skinless chicken breasts or thighs
Instructions
In medium bowl, combine teriyaki sauce, sugar, sherry, ginger, and minced garlic. Stir until sugar has dissolved and sauce is fully combined.

Season chicken lightly with salt. Place chicken pieces into a large covered container (or gallon sized resealable plastic bag). Add marinade. Turn to fully cover all pieces of chicken with sauce. Cover container and place in refrigerator for at least 6 hours (overnight is the best!) to marinade.

Once meat is done marinating, grill (on outdoor or indoor grill) until cooked to an internal temperature of 165°F.. Serve, and enjoy!
Recipe Notes
NOTE: Caloric content calculated using 6 boneless, skinless breasts.
TIPS:Chicken can also be cut into 1-2 inch chunks, marinated then placed on skewers for grilling (kebabs).
Top sirloin steak can also be used if sliced very thin, then marinated. Place strips onto skewers, then grill. If you use round steak, meat must be marinated for a longer amount of time.
Nutrition Facts
Teriyaki Chicken with Homemade Sauce
Amount Per Serving (1 breast)
Calories 226
Calories from Fat 18
% Daily Value*
Fat 2g3%
Cholesterol 72mg24%
Sodium 1058mg46%
Potassium 487mg14%
Carbohydrates 21g7%
Protein 25g50%
Vitamin A 35IU1%
Vitamin C 2mg2%
Calcium 15mg2%
Iron 0.9mg5%
* Percent Daily Values are based on a 2000 calorie diet.
Here's one more to pin on your Pinterest boards!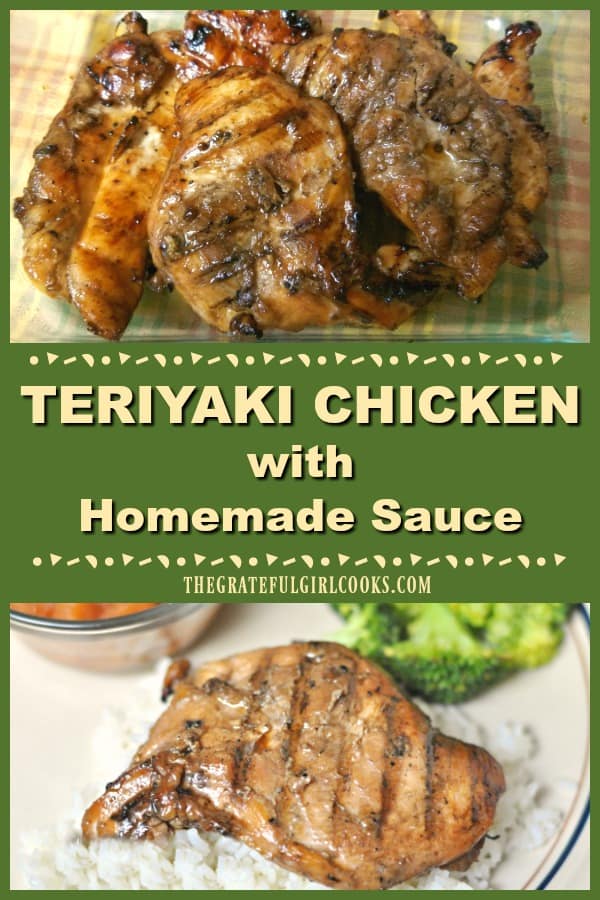 Save
Save
Save
Save
Save
Save
Save
Save
Save
Save
Save
Save
Save