I recently created this Pasta, Ham and Gruyere Cheese Casserole "on the fly" for a quick and easy dinner. Boy, was it good!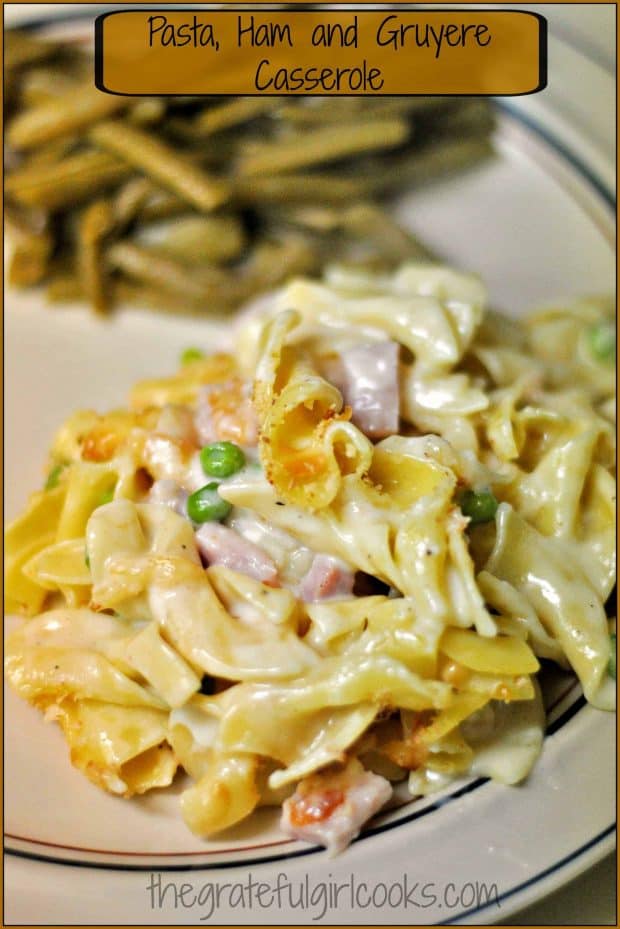 Do you ever have those days when you get so busy with projects or other activities that when it gets to be dinner time, you realize you didn't remember to plan anything or lay anything out from the freezer? Where you wish the dinner "fairies" would magically appear and fix dinner (and clean up) for you? Yep. I did that about a week ago. I racked my brain for a few minutes, then ended up making this delicious dish!
I went on the prowl to see what leftovers we had hanging around our house, and came up with this idea for a quick pasta based casserole, and guess what? It actually tasted great! Hooray for last minute throw-together dinners!!!! Egg noodles and smokey flavored Gruyere cheese sauce is a great combo. Add to that some ham, a few peas, and a few more ingredients, and BAM! You've got yourself a quick casserole (like Mac n' Cheese on steroids) that tastes so good! So I thought I would share this easy recipe on the ol' blog today. Here's what I did:
First things first. I cooked the egg noodles in boiling water per pkg. instructions until done, then drained them. Easy, right?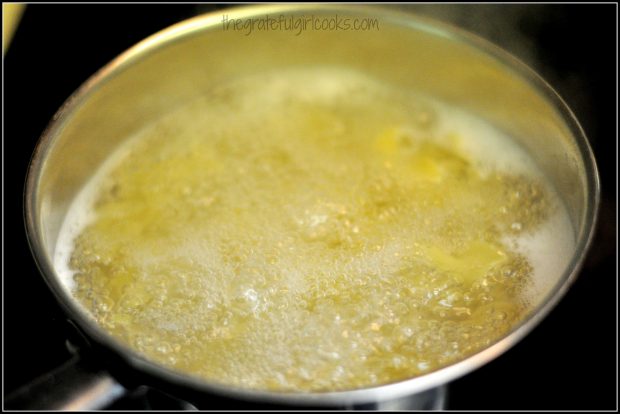 While the noodles were cooking I made the cheese sauce. In a large saucepan, I melted butter, then added flour, garlic powder and onion powder. Whisked them together, then cooked for about a minute, then added cheese and milk. I cooked these on low until cheese had melted, and mixture had thickened. I then added some whipping cream, then seasoned with salt and pepper, to taste.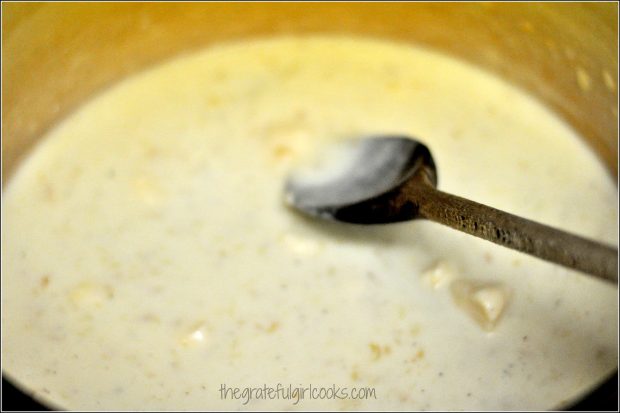 Then I added pieces of ham. "Leftover" Ham.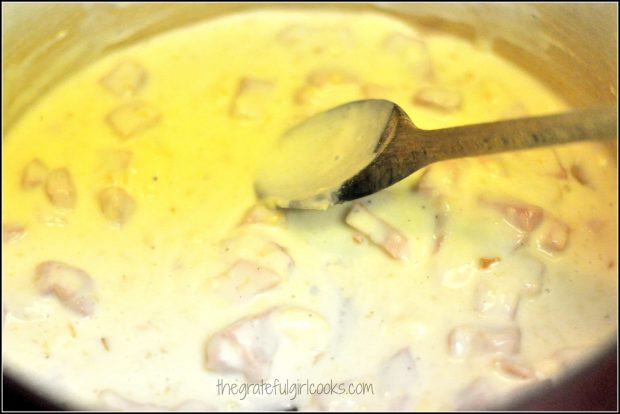 I followed it up with frozen peas. Yep. Threw them in frozen.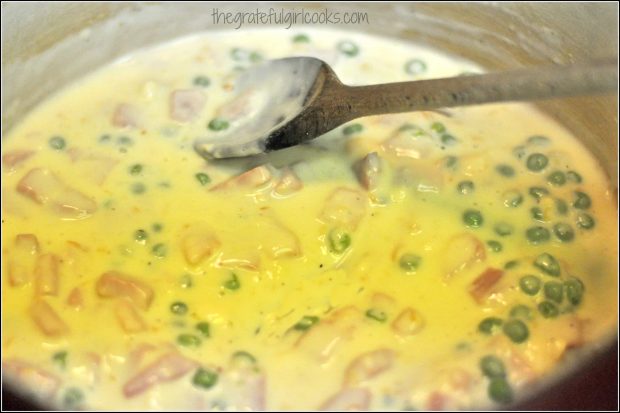 I added the cooked and drained egg noodles to the ham/cheese sauce and mixed gently to combine and fully coat the noodles with sauce.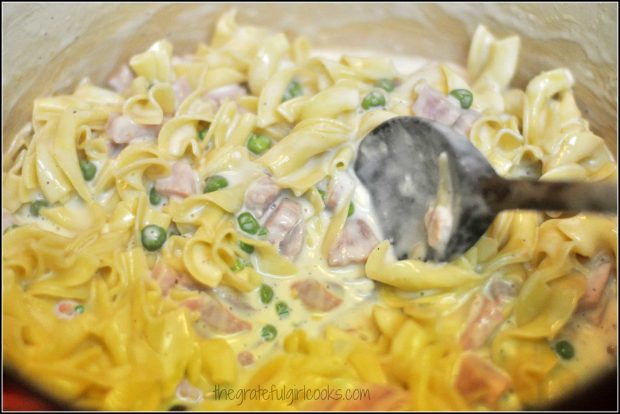 I sprayed an 8×8 baking dish with non-stick spray and poured the pasta and sauce in. I added some more grated Gruyere cheese to the top of casserole, then sprinkled the top with bread crumbs, covered the dish with aluminum foil, and into the 350 degree oven it went.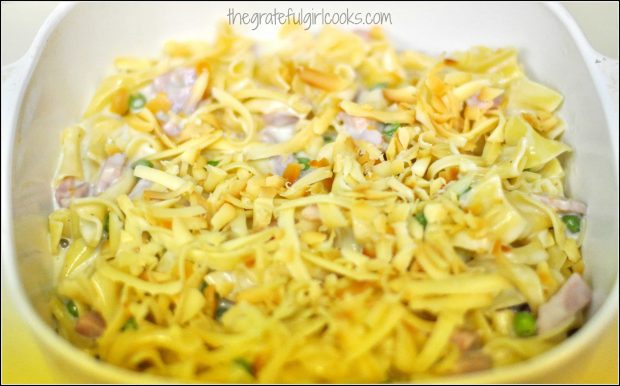 When it came out of the oven 30 minutes later, it looked like this: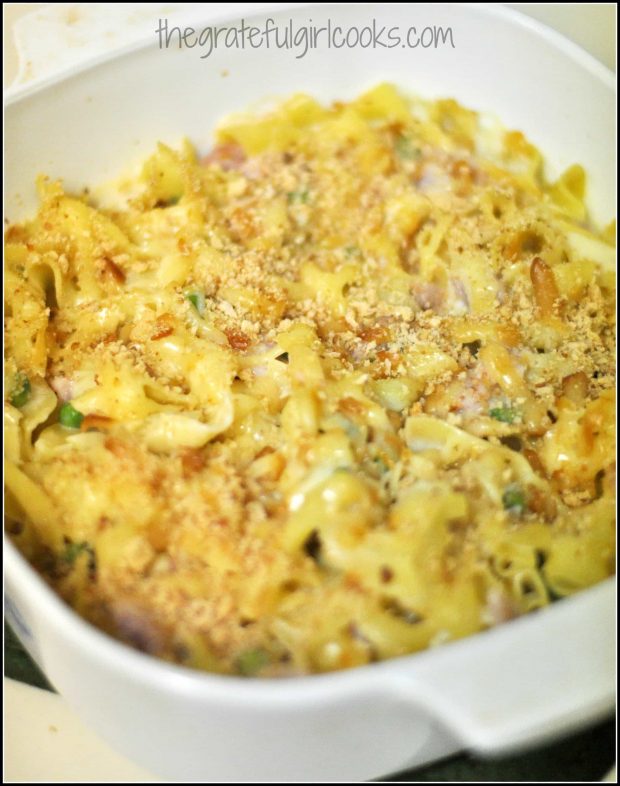 I let it cool just a minute or two, to make it easier to dish up, then onto our plates it went! The pasta tasted fantastic (I credit the smokey taste of that Gruyere Cheese!). I served it with some of the green beans I canned last summer from our garden. (See, even the side dish was thrown together at the last minute… thank goodness for my canned goods pantry!) The leftover casserole for lunch the next day was wonderful, as well. This recipe makes 4 servings, but could easily be doubled.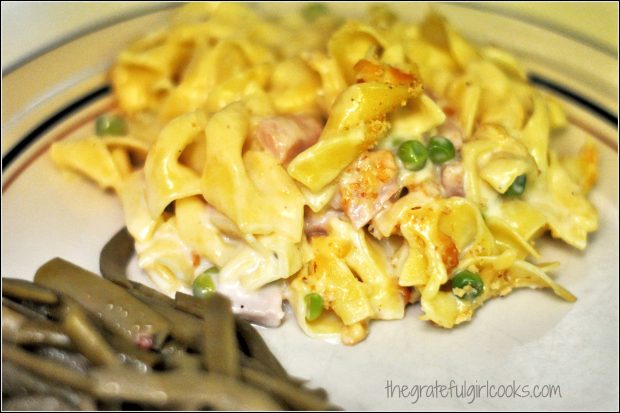 Hope you will give this one a try. It's so EASY and DELICIOUS!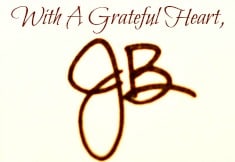 Recipe Source: My brain, while hungry!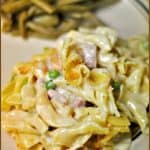 Pasta, Ham and Gruyere Casserole
Easy to prepare pasta casserole, enhanced by the smokey flavors of a Gruyere cheese sauce, ham, and peas.
Ingredients
2

cups

egg noodles

(or any pasta you prefer)

2

Tablespoons

butter

2

Tablespoons

all purpose flour

1/8

teaspoon

garlic powder

1/8

teaspoon

onion powder

1/2

cup

milk

1

cup

cup grated Gruyere cheese

1/3

cup

whipping cream

salt and pepper

(to taste)

1

cup

chopped ham

1/3

cup

peas

(frozen are fine)

Additional 1/4 cup grated Gruyere cheese

(for garnish)

2

Tablespoons

bread crumbs

(for garnish)

Non-stick spray

(for baking dish)
Instructions
Preheat oven to 350 degrees.

Spray an 8x8 baking dish with non-stick spray. Set aside.

Cook pasta according to pkg. instructions. Drain. Set aside.

While pasta is cooking, prepare the cheese sauce. Melt butter in large pan (or skillet). Whisk in the flour, garlic powder and onion powder. Cook for about a minute.

Add the milk. Stir until fully combined and sauce has thickened.

Add a cup of grated cheese. Stir to combine. Cook on low until cheese has fully melted.

Add whipping cream. Stir to fully combine. Continue cooking on LOW, but do not let mixture come to a boil.

Season to taste with salt and pepper.

Add ham pieces. Add peas. Stir gently to combine.

Add cooked and drained pasta. Stir gently until pasta is coated with sauce. Pour pasta and sauce into prepared 8x8 baking dish.

Cover the top of casserole with additional grated cheese, then sprinkle with bread crumbs.

Cover baking dish with aluminum foil. Cut a tiny hole in top of foil to vent, then bake casserole in 350 degree oven for 30 minutes. When done, and cheese is bubbly, remove to a wire rack for a minute or two to slightly cool, then serve. Enjoy!
Save
Save