I recently stumbled upon a recipe on the internet for Maple Twists that really intrigued me. I love the flavor of maple, so how could I go wrong with a maple glazed pull-apart breakfast pastry ring, especially one as cute as this?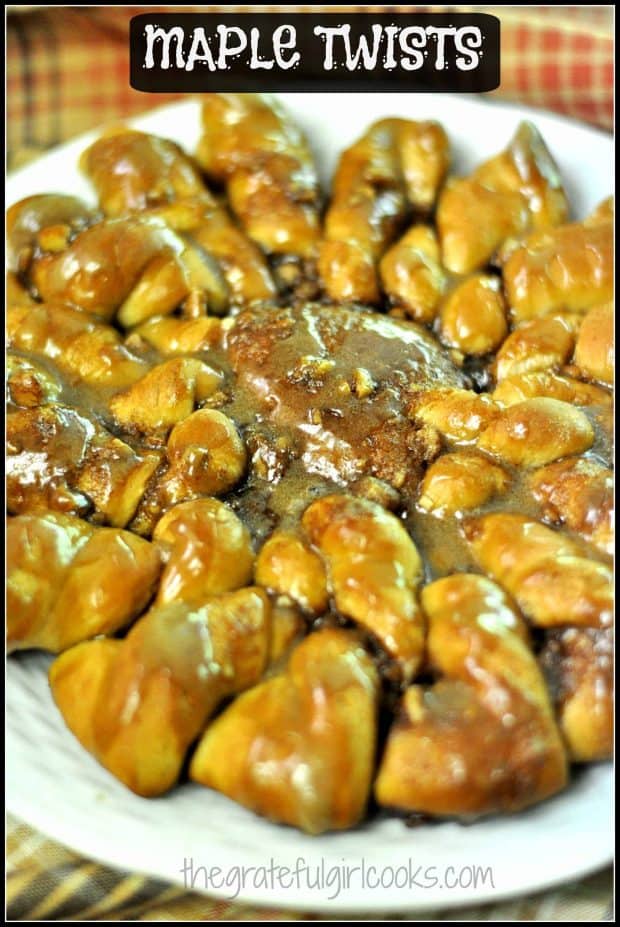 As an added bonus, this recipe makes 3 pastry rings! (I froze two of them for another time, and one was eaten… quite quickly, I might add). Because the recipe makes 3, it is a perfect item to make for a large family, a brunch or to take to a potluck!). This is a great "pull-apart" pastry ring, so you can grab one or two twists and enjoy them with a cup of good coffee or tea!
Seriously good, AND they were actually kind of FUN to make.  Here's how I made these:
First, I made the streusel (easy!) and set it aside while I made the dough.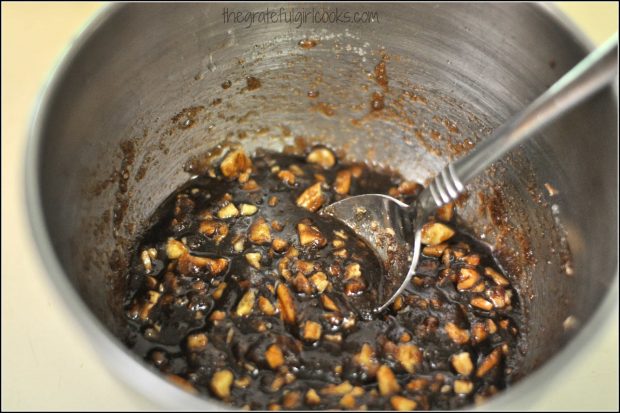 Next I made the dough, and let it rise for 45 minutes. Here it is before rising.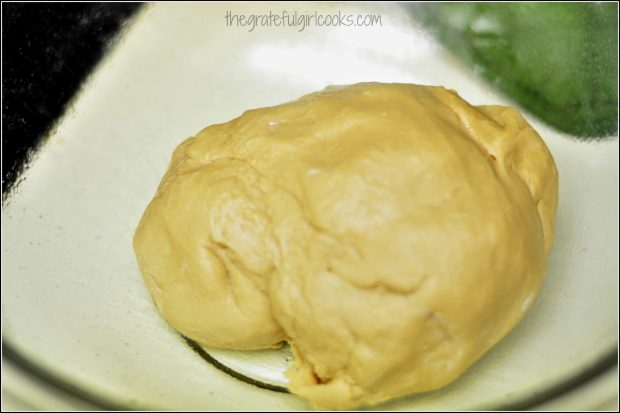 After dough had risen, I divided it into 3 equal pieces, and formed each piece into a ball. Then I rolled each dough ball out into a 12 inch circle. I then placed it on a sprayed baking sheet (or on lightly sprayed parchment paper on a baking sheet).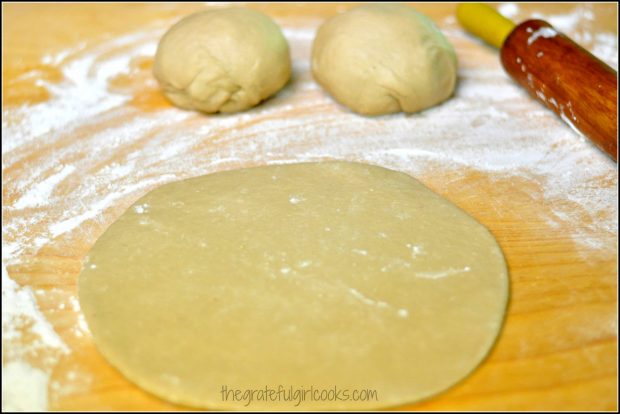 When I took these next couple of pictures, I took them while dough was still on my cutting board… oops! PLEASE put the dough circles on baking sheet BEFORE doing the next steps (trust me-much easier!) Spread each of the dough circles with the streusel mixture. Spread it out as thinly as you can.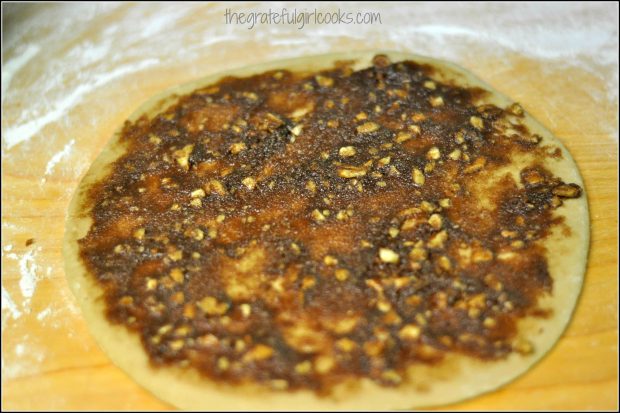 Take something that is 2 inches across (I cut off the bottom of a small dixie cup), center it on top of the dough circle and press down slightly to leave an indentation in the dough (without going all the way through).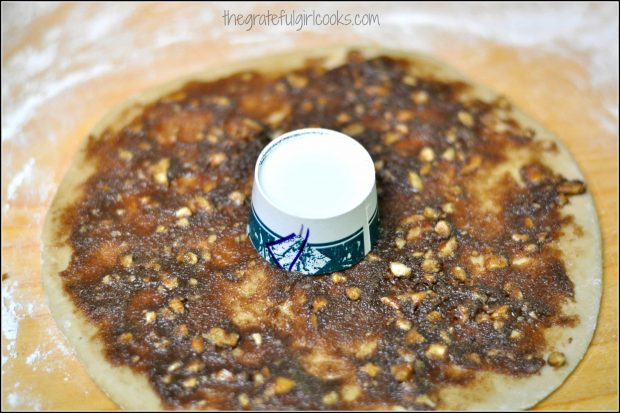 Using scissors or a pizza cutter, cut the dough circles into 16 equal sized wedges, cutting from the outside edge of the circle in, stopping at the indentation you made in the dough previously.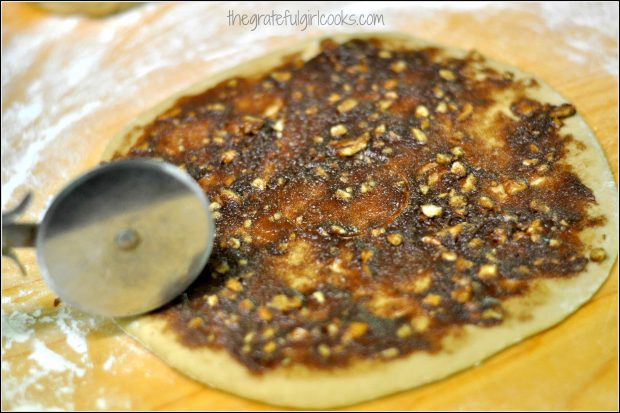 If you look closely you can see where the slices stopped at the middle circle indentation.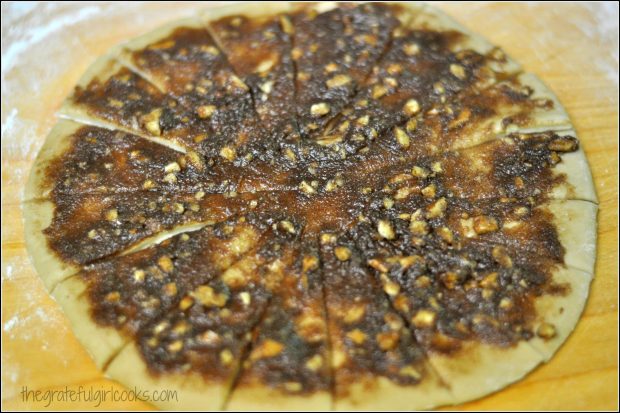 Now comes the FUN part! Carefully lift up each wedge, and twirl it 5 TIMES and then flatten the end down a bit so each wedge stays twisted. I literally counted every single twist. 1..2..3..4..5! It's a tiny bit messy, but kinda fun! Do this for each of the pastry rings! I used both hands, but for this picture, I had to snap the pic, so you get one freakishly pink set of fingers only!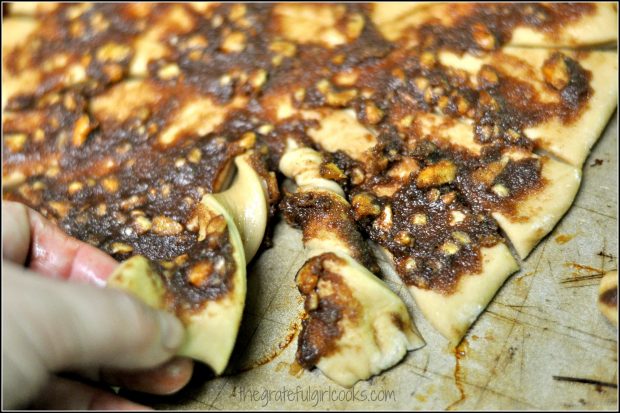 Once all are twisted, cover rings with plastic wrap and let them rise again for about an hour, then bake in a 375 degree oven for 18-22 minutes (mine took about 20). This is what they look like prior to baking…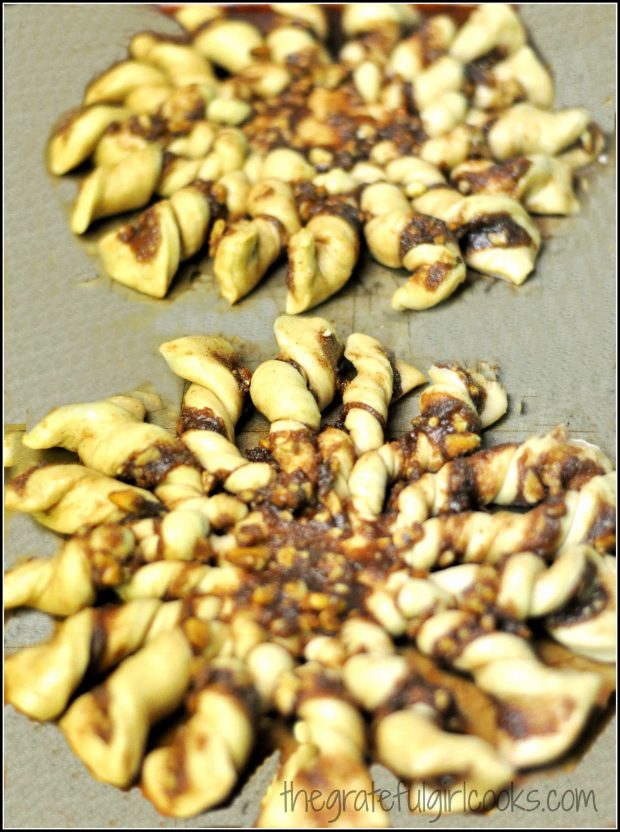 While they are baking, mix up the maple glaze (Easy!)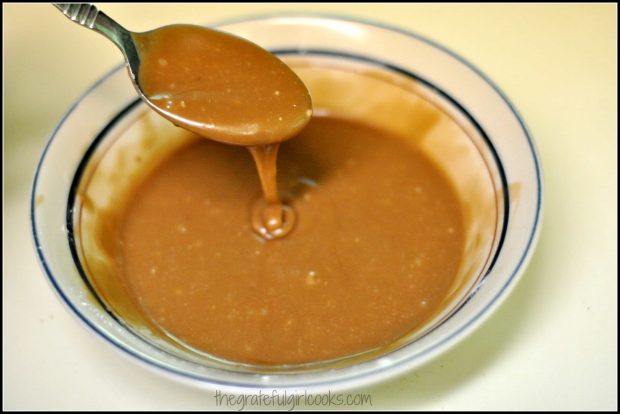 This is what they will look like once removed from oven. Let them cool down for about 5 minutes BEFORE you put the glaze on them.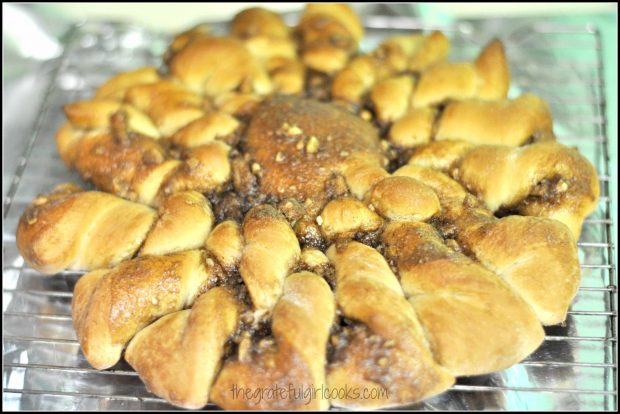 I put aluminum foil UNDER the baking rack (to catch drips. After they have cooled for 5 minutes, I drizzled the maple glaze over the top of each of the twists. I used a pastry brush to help spread it out, on each warm twist. I even re-used the glaze that had dripped onto the foil, so I could get it all on top of these pastries.  Don't they look good enough to eat? YUM.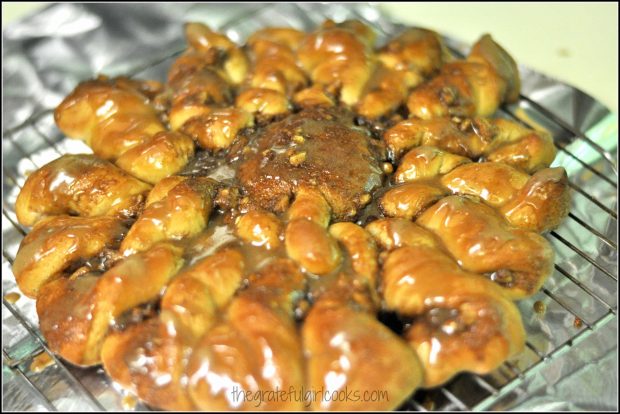 That's it. Delicious, and full of maple flavor! Remember to wrap these really good after they have cooled completely, if you wish to freeze them. It was fun for me learning how to make these wonderful Maple Twists. Sure hope you will give them a try!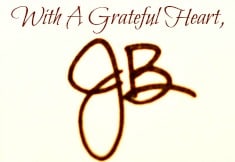 Recipe Source: http://fakeginger.com/2009/10/05/maple-twists/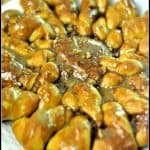 Maple Twists
These delicious, glazed Maple Twists will be a perfect addition to your breakfast, brunch, or potluck!
Ingredients
For Dough:
2 3/4 - 3

cups

all purpose flour

3/4

cup

milk

1/4

cup

butter

3

Tablespoons

granulated sugar

1/2

teaspoon

salt

1

Tablespoon

active dry yeast

1

teaspoon

Maple extract

(or Mapleine imitation extract)

1

egg
For Streusel:
1/4

cup

melted butter

1/2

cup

granulated sugar

1/3

cup

chopped pecans

1

teaspoon

cinnamon

1

teaspoon

Maple extract

(or Mapleine imitation extract)
For Glaze:
1

cup

powdered sugar

2

Tablespoons

melted butter

1-2

Tablespoons

milk

(I used 2)

1/2

teaspoon

Maple extract

(or Mapleine imitation extract)

1/2

teaspoon

vanilla extract
Instructions
Make the streusel: Combine streusel ingredients in small bowl; set aside.

Make the dough: In a small saucepan, heat the milk and butter on low until very warm (but not too hot or boiling!).

In the bowl of a stand mixer using a dough hook, place the warm milk/butter mixture. Add 1 cup of flour, granulated sugar, salt, yeast, egg, and the maple extract. Beat on low for a couple of minutes, then add the rest of the flour, in 1/2 cup increments, until dough is completely mixed together. Knead this in mixer for 5 minutes. Remove mixer bowl; cover with plastic wrap, and let dough rise in a warm place for 45 minutes (until it doubles in size).

Once dough rises, remove it to a lightly floured surface. Divide dough into 3 equal-sized pieces. Roll into a ball. Roll each dough ball into a 12 inch wide circle. Put each dough circle onto prepared baking pan (sprayed with non-stick spray or covered with parchment paper that has been lightly sprayed). Evenly distribute streusel topping over each circle, spreading it as thin as you can to the edges.

Use a 2" sized cup (or other instrument); press gently down; make a circle indentation in center of each circle. Do not cut all the way through.

Use a pizza cutter or sharp knife; cut each circle into 16 equal sized wedges. Cut from outside of circle to the indentation mark.

Carefully lift each "wedge" or section. Twist it 5 times, then press end down, so dough stays twisted. Twirl each section the same direction, using same process. Once done, cover each pastry circle with plastic wrap; let dough rise again for an hour.

Preheat oven to 375 degrees. Uncover pastry rings, and bake in a 375 degree oven for 18-22 minutes. (oven times vary, so check it at 18 minutes. Mine took 20 minutes). The pastry should be golden brown. Remove to wire racks. Let cool for 5 minutes before glazing.

While pastry is cooling down, whisk together glaze ingredients. Place aluminum foil under wire rack (to catch drips); after twists have cooled for 5 minutes, drizzle the glaze over the top of each pastry. I also used a pastry brush to brush the glaze across the top. Serve, and enjoy!
Recipe Notes
Most of the prep time is "inactive" time, waiting for dough to rise.
Save
Save