Last week I decided to can some Split Pea and Ham Soup to store away in our pantry for the cold Fall and Winter months ahead. I figured it's good to be able to pull out a homemade "bone-warming" hearty soup off the pantry shelf when it's cold and stormy outside!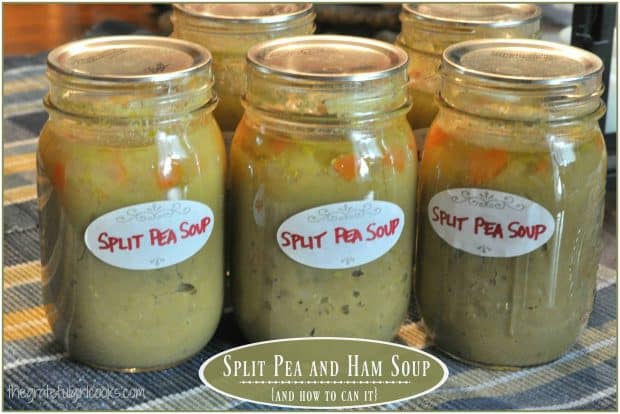 I decided to take some pics to show you how easy it is to can this soup. Guess what?  Even if you don't can, this is a delicious, easy, and economical soup to prepare for your family (makes a big pot of soup). Here's what you do:
Combine 2 cups of split peas (a one pound bag) with water (I used water PLUS added 2 large chicken bouillon cubes for flavor) in a large saucepan. Cook the peas on medium-low for about an hour, just until the peas become tender.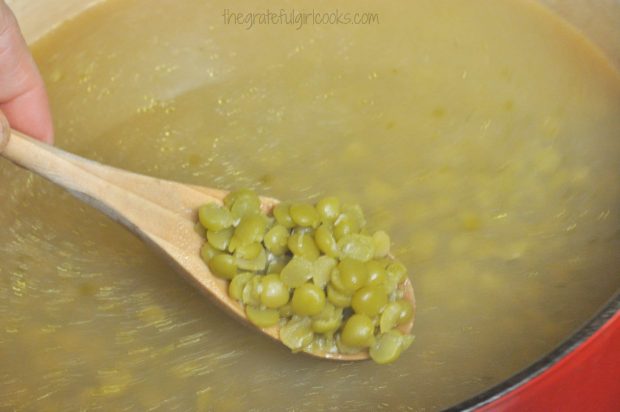 Use an immersion blender to completely blend the peas until smooth. **You can also process the peas and liquid in a food processor (or blender) a little at a time, until puréed, (if no immersion blender is available). I puréed until smooth, but it's okay to leave it a bit chunky, if desired.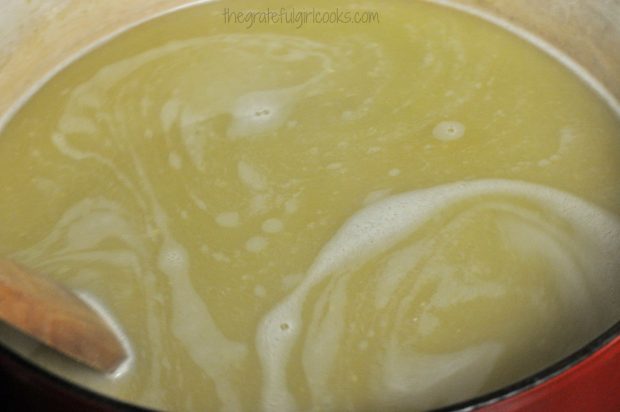 Add sliced carrots, chopped ham, diced onion, one bay leaf and some allspice to the puréed pea mixture.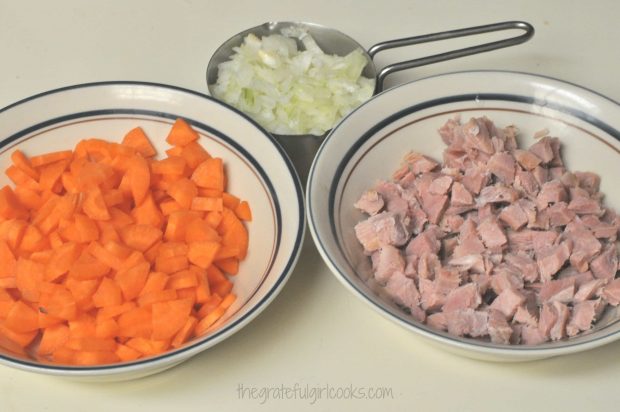 Bring the mixture to a boil (on medium-high heat), then cook on reduced heat for about 30 minutes. If the soup gets too thick, you can add a little bit more boiling water.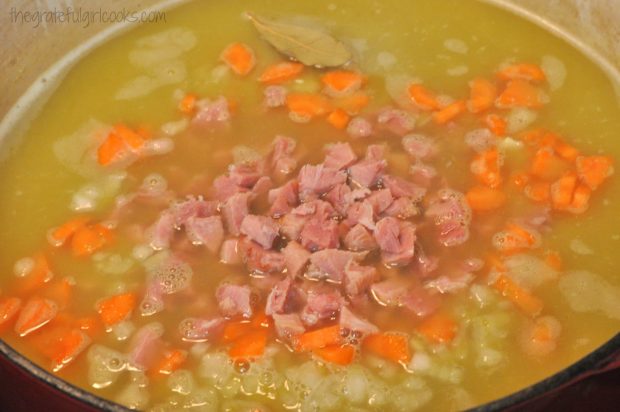 While soup is cooking, prepare pressure canner, canning jars and flat lids per manufacturer instructions (for cleaning, heating, etc.). I usually put my clean canning jars on a dish towel lined baking sheet and let them heat in a 225 degree oven for about 20 minutes before filling.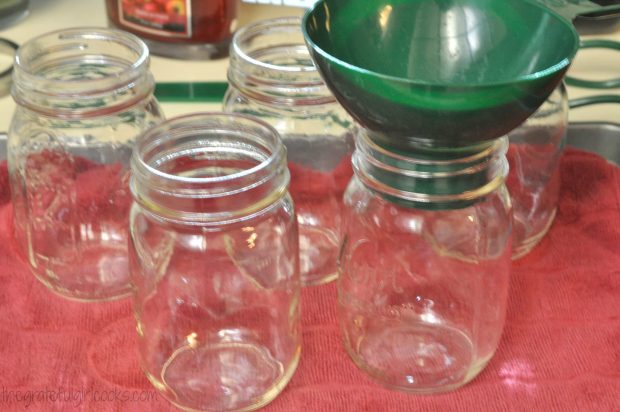 Ladle hot soup into prepared hot jars (the soup will thicken a little as it cooks, by the way). Leave 1 inch headspace in each jar. Remove air bubbles from each jar, and make sure you have the correct headspace. Adjust, if necessary, by removing or adding liquid. Wipe rims of each jar clean with a wet paper towel to ensure a good seal. Place the prepared flat lid on jar, then tighten the screwband on, to fingertip tight.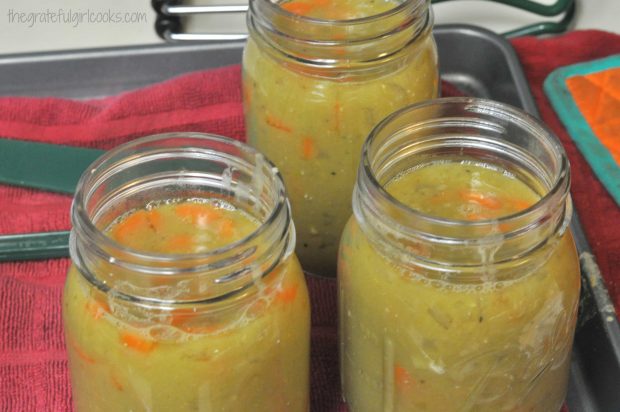 Carefully place the prepared jars of soup into the prepared pressure canner. Lock the lid, and process, according to manufacturer and USDA instructions for YOUR pressure canner. (Example: Bring to boil, vent steam for 10 minutes, close vent, etc.).  Process jars of soup at 10 pounds pressure. Pint jars are processed for 75 minutes and Quart jars are processed for 90 minutes.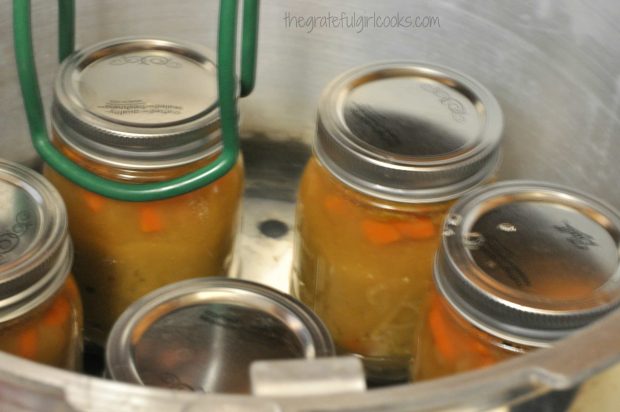 When processing time is done, turn the heat off. Let the pressure in your canner drop to zero on it's own. Wait a couple additional minutes, then open vent. Let canner sit for an additional 10 minutes once vent is open, then remove lid, followed by jars.
Place the hot jars onto a dish towel (do NOT set jars directly onto kitchen counter- they could crack). Let them cool undisturbed, for 24 hours, then label and store in pantry.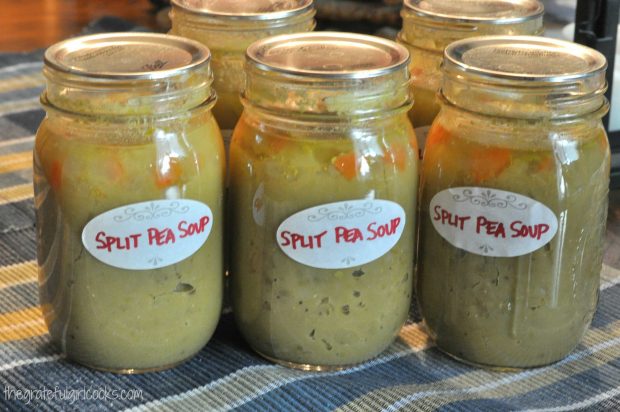 This recipe (from one of my beloved Ball canning books), makes 5 pint jars or 2 Quart sized jars. I made 5 pint jars this time… and now they are happily shelved in our pantry for a "rainy" day!  The soup tends to thicken, so all you need to do is add a little bit of hot water to the opened jar of soup, and boom… instant soup!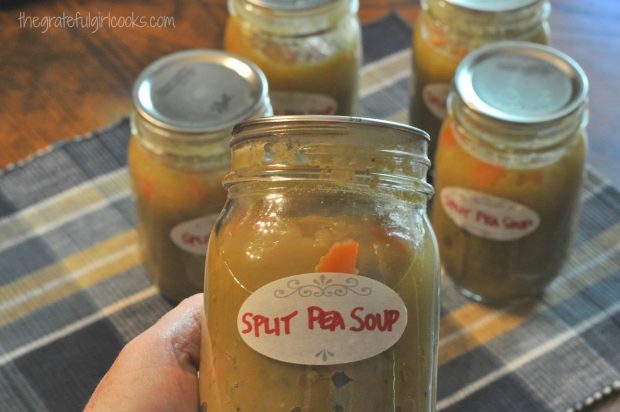 I find it quite fulfilling to prepare canned foods to stock up our pantry… hope you enjoy the canning process, as well as this wonderful tasting soup!  Have a great day!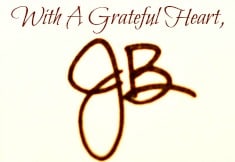 Recipe Source: My book called "Ball Complete Book of Home Preserving", Published 2012, Robert Rose, Inc., page 403.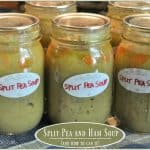 Split Pea and Ham Soup (and how to can it)
Hearty split pea and ham soup... whether you make a big pot of soup to eat now OR want to can it, to store in pantry, this recipe will satisfy.
Ingredients
2

cups

dried split peas

8

cups

water

2

large chicken bouillon cubes

(optional, but adds additional flavor to broth)

1

cup

diced ham

1 ½

cups

sliced carrots

1

cup

chopped onion

¼

teaspoon

ground allspice

1

bay leaf

Salt and Pepper

, to taste
Instructions
Place split peas, water and chicken bouillon cubes into a large saucepan or soup pot (stainless steel is best). Bring the ingredients to a boil with medium-high heat, stirring occasionally. Once they come to a boil, turn down the heat to a low simmer; let the peas continue to cook for about an hour (or until the split peas become tender).

When peas are done, purée peas and liquid, using a stick immersion blender OR processing in batches using a food processor. If using food processor, return purée to pan.

Prepare pressure canner, jars, lids, etc. per manufacturer guidelines.

Add ham, carrots, onion, allspice and bay leaf to soup. Bring soup to a boil. Reduce heat to low and cook for 30 minutes. Season soup with salt and pepper, to taste. If soup is a bit too thick, you can thin it out a little by adding a bit of boiling water to pan. Stir to combine. Remove bay leaf.

Place hot, prepared jars on a dish towel. Ladle the soup mixture into jars, being sure to leave 1 inch headspace on each jar. Remove or add liquid, as necessary, to ensure correct headspace. Remove air bubbles from jars, then wipe the rim of jars clean using a wet paper towel, to ensure a good seal. Place hot flat lids on jar, then screw the bands into place until they are fingertip tight.

Carefully put the jars into water in prepared pressure canner. Lock lid; turn heat to medium-high. Once vent begins steaming, let it vent for 10 minutes, then close vent. Heat until canner reaches 10 pounds pressure. After it reaches 10 pounds pressure, process PINTS for 75 minutes and QUARTS for 90 minutes.

When done, turn off heat. Let the pressure in the canner drop to zero naturally. Once it gets to zero, wait a couple more minutes, then open the vent cover. Wait another 10 minutes, then carefully remove the canner lid. Place the hot jars on a dish towel on counter, and let them sit undisturbed for 24 hours. Check for proper seal, then label and store jars in pantry.
Recipe Notes
If using quart sized jars, this recipe will make 2 quarts (plus a bit more). The recipe is easily doubled.
When you open a can, you will notice that the soup will have thickened slightly during the canning process. Just add a bit of water to soup, reheat and enjoy!
Save
Save