Do you enjoy classic Bruschetta appetizers? I sure do. The amazing Italian flavor of garden fresh tomatoes, paired with fresh basil, Parmesan cheese, garlic, olive oil, and balsamic vinegar served on a garlic infused, toasted baguette slice pushes all my buttons… it's delicious!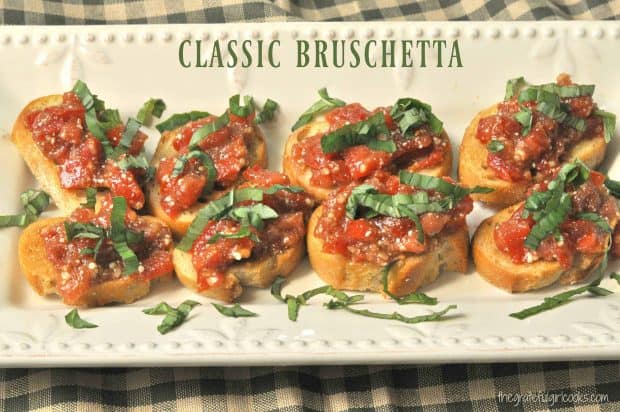 Bruschetta basically means toasted Italian bread with toppings. Okay… that works for me. Here's what you do to make this classic appetizer!
First, slice a baguette into thin slices (or buy them pre-cut if your grocer sells it that way). I figure 2-3 slices per person is about right, but make as much or as little as you want.  Lightly brush each slice with olive oil.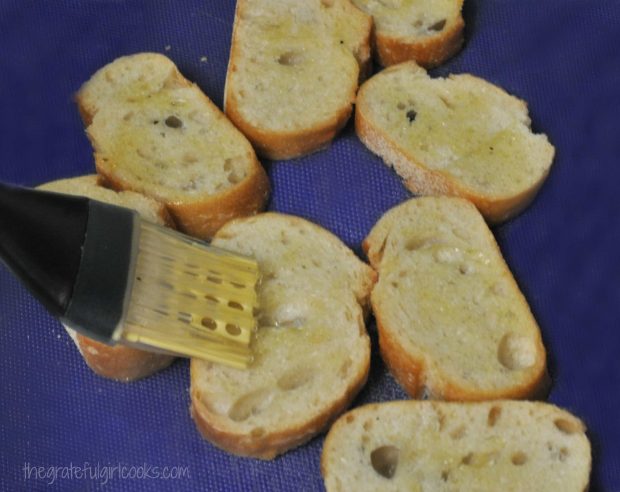 Rub a garlic clove over each slice of baguette. This adds extra flavor to the "toast".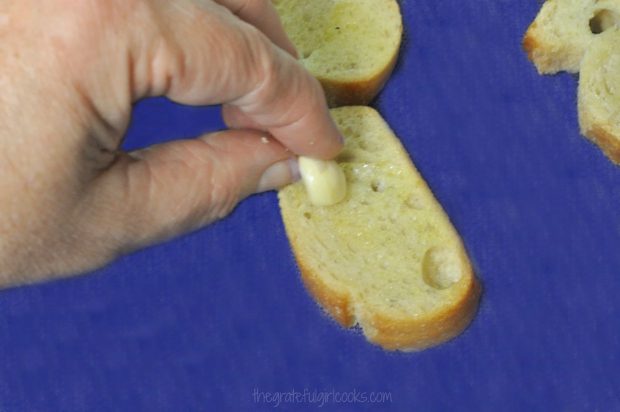 Place slices on wire rack and position about 5 inches away from heating element in oven. Broil baguette slices until golden brown and lightly toasted. Remove from oven.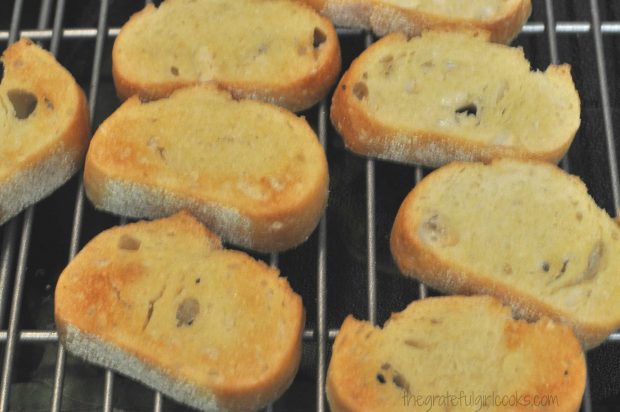 Combine. finely chopped Roma tomatoes, minced garlic, olive oil, balsamic vinegar, Parmesan cheese, salt and pepper in a medium bowl. I AM SO SORRY THIS PICTURE IS BLURRY. DON'T KNOW HOW THAT HAPPENED. I ONLY INCLUDED IT SO YOU COULD GET A HINT AT WHAT THE TOMATO MIXTURE WILL LOOK LIKE... except I am confident yours will look a lot better! (Some days are like that!)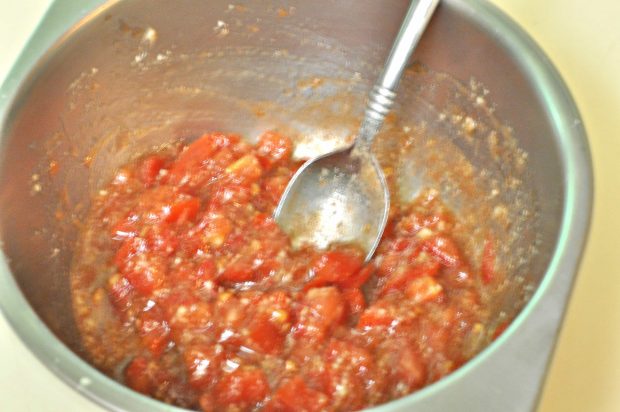 When ready to serve, I used a slotted spoon (it helped drain a little bit of the juices) and spooned the tomato mixture onto each toasted slice of baguette. I arranged the slices on a serving platter, then garnished each slice with thinly sliced fresh basil.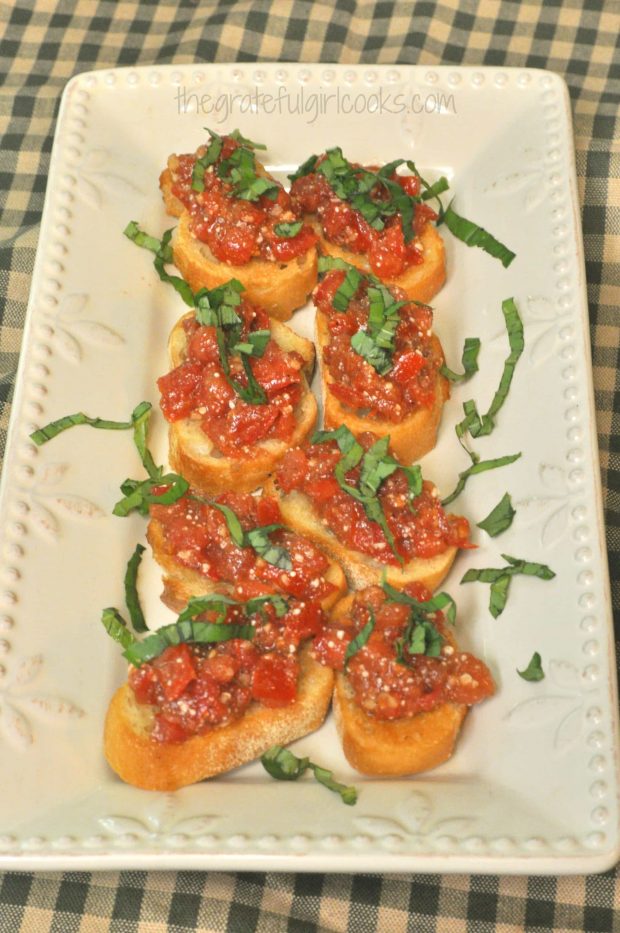 That's it!  It's an easy and tasty classic appetizer to serve because the tomato mixture is made ahead, and you can also toast the baguette slices ahead of time. Then all you have to do is put the bruschetta together at the last minute before serving!
The fresh taste will wow your guests… and your mouth, as you devour these bites of Italian yumminess!  My photos only reflect HALF of the recipe as written… the recipe itself makes enough for 5-6 servings (averaging 3 pieces per person!).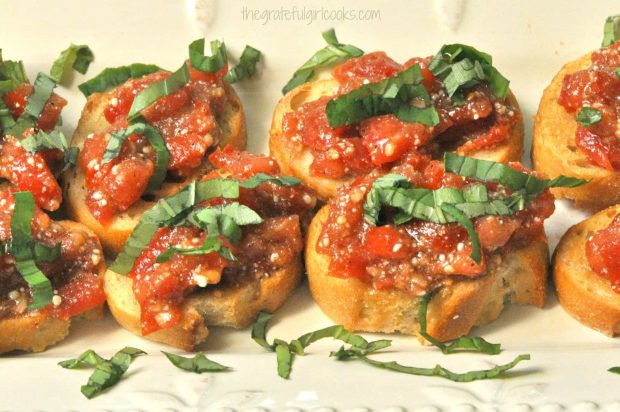 Have a fantastic day! Hope you will give this recipe a try… I think you will LOVE it!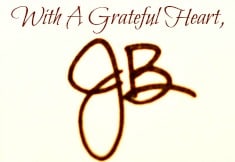 Recipe Adapted From: http://www.food.com/443987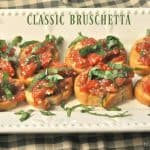 Classic Bruschetta
Fresh Roma tomatoes, garlic, basil, Parmesan cheese, etc. combine to make this Classic Bruschetta appetizer!
Ingredients
1

baguette

, cut into thin slices.

Olive oil

(for brushing on bread slices)

1-2

cloves

garlic

(to rub on bread slices)
For bruchetta:
2 ½

cups

minced Roma tomatoes

(FINELY chopped)

1/4

cup

grated Parmesan cheese

3

Tablespoons

olive oil

2

teaspoons

minced garlic

2

Tablespoons

balsamic vinegar

1/2

teaspoon

salt

1

teaspoon

ground black pepper

Thinly sliced fresh basil leaves

(for garnish)
Instructions
Place the minced tomatoes, Parmesan cheese, olive oil, minced garlic, balsamic vinegar, salt and pepper in a small bowl. Stir to combine, then let this mixture sit at room temperature for 15-20 minutes to let the flavors "come together".

Brush each baguette slice with a small amount of olive oil. Rub a clove of garlic over each piece for added flavor. Place baguette slices on a rack under the broiler (abut 5 inches from heating element), and lightly toast until golden brown. Remove from oven.

When ready to serve, place tomato mixture onto each slice of toasted baguette. Sprinkle each slice with thinly sliced fresh basil. (To easily slice basil, roll leaves up together into tight cylinder, then slice).

Serve, and enjoy!
Recipe Notes
If you want additional flavor, you can add thinly sliced fresh basil to the tomato mixture, if desired (about 1/3 cup). I left it out, but added fresh thinly sliced basil to each slice.
Save
Save
Save