Our family recently gobbled up some of the most wonderful gingerbread with cream cheese icing I've ever made! It's a knockoff recipe called Starbucks Gingerbread (Copycat Recipe), because it tastes as good (or better) than the kind available at our local "famous" coffee spot.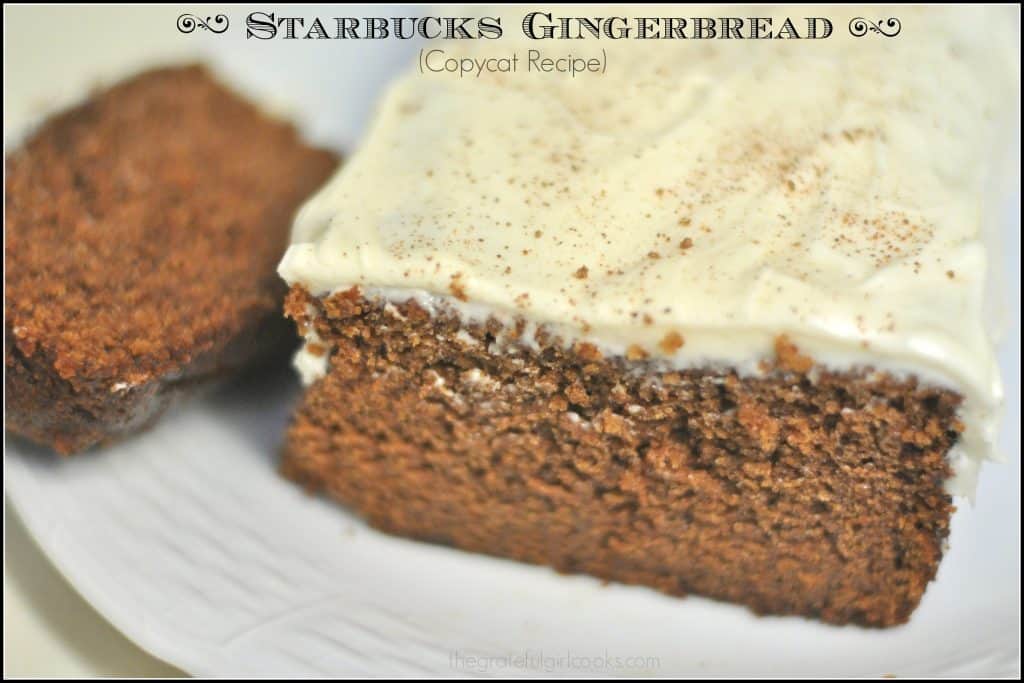 The gingerbread loaf is flavor-filled with lots of aromatic spices associated with Fall… cinnamon, nutmeg, cloves, and ginger, and is a very moist cake… definitely NOT dry! Perfect for a late afternoon snack, or a quick breakfast with a great cup of coffee or tea! My family thought it was absolutely fantastic (and it did not last long around our home, at all).
Here's how you make it:  First preheat your oven to 350 degrees.  Prepare a 9×5 inch bread loaf pan by spraying it with non-stick spray. If you want you can line the loaf pan with parchment paper (I did this), leaving some of the paper well extended over the rim of the pan, so that you can easily lift the entire loaf out of the pan once cooled. Set pan aside.
Cream the room temperature butter and granulated sugar until it is fully combined. Add the vanilla and a room temperature egg. Beat the ingredients well until fully incorporated.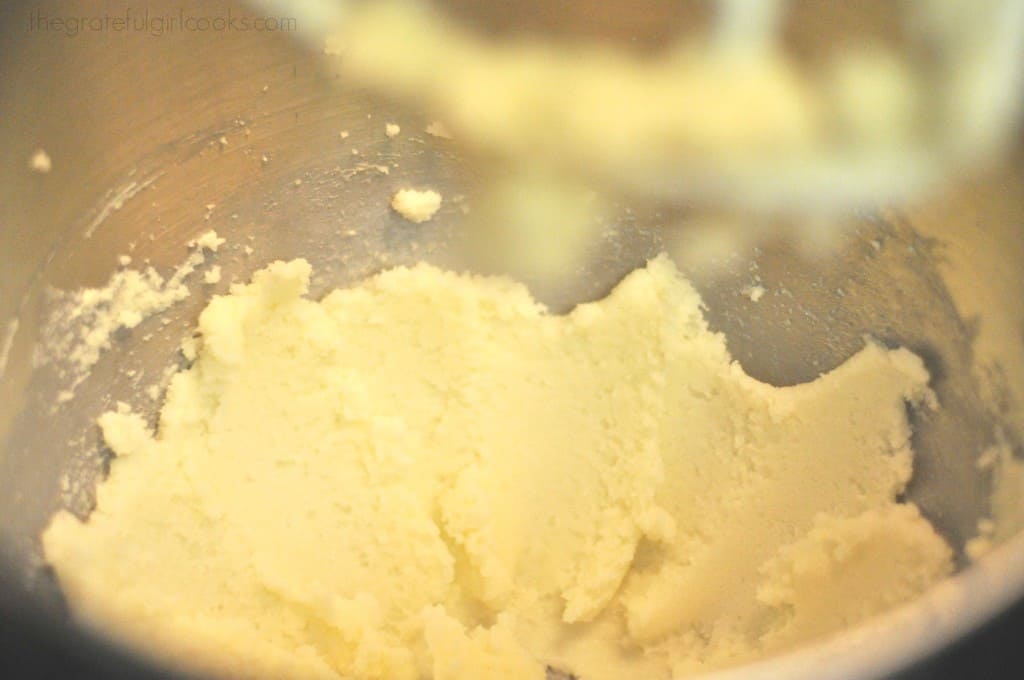 Add apple butter to the batter and mix well, to combine. I was fortunate to have some home canned Apple Butter available in our pantry, but you can substitute applesauce for the apple butter, if desired. (The blogger I got the recipe from used a 15 ounce can pears, drained them and pureed them… another substitute).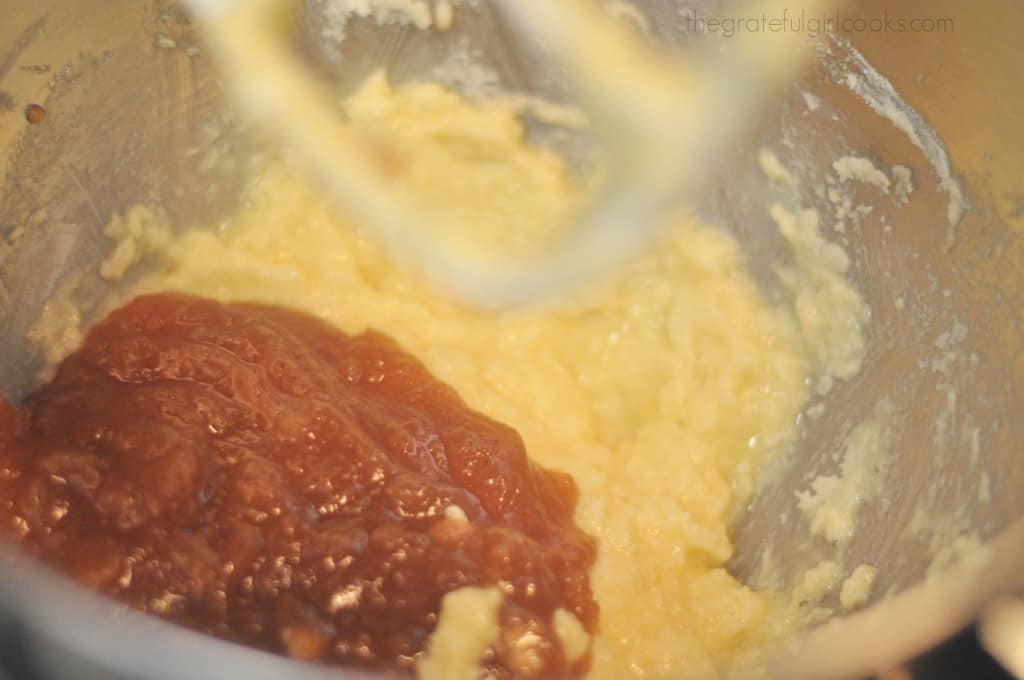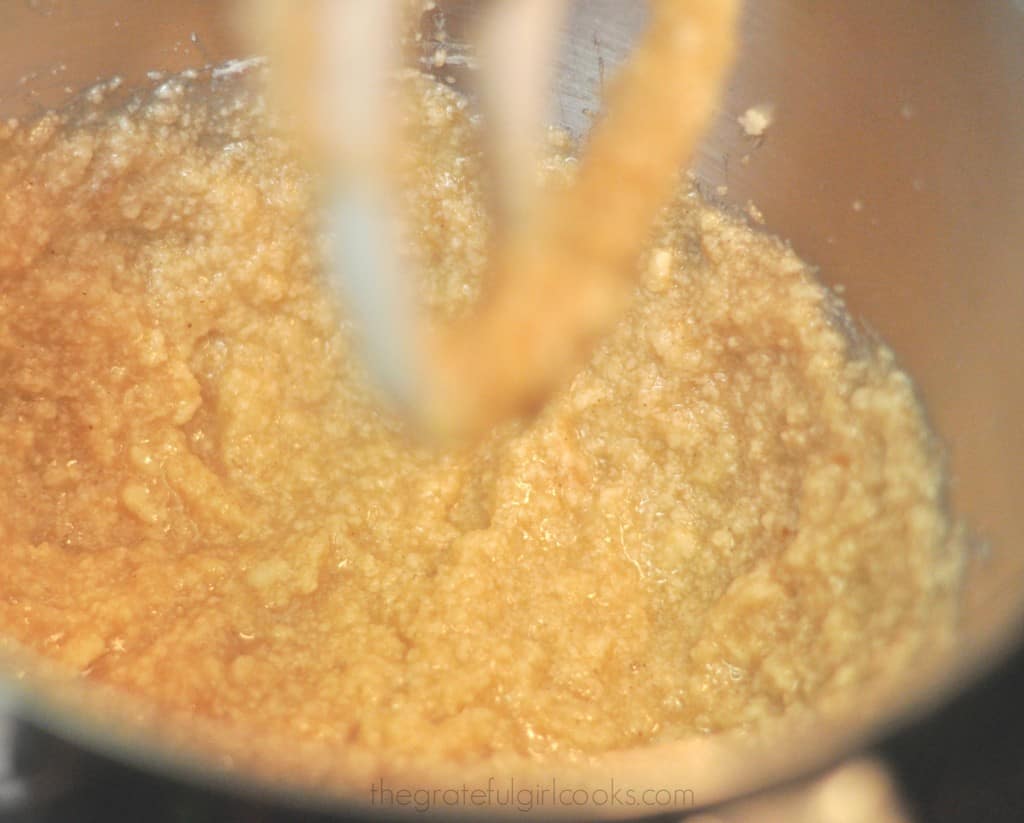 Sift all purpose flour, baking soda, salt, ginger, cinnamon, cloves and nutmeg together. Slowly add the dry ingredients to the batter, mixing well to combine.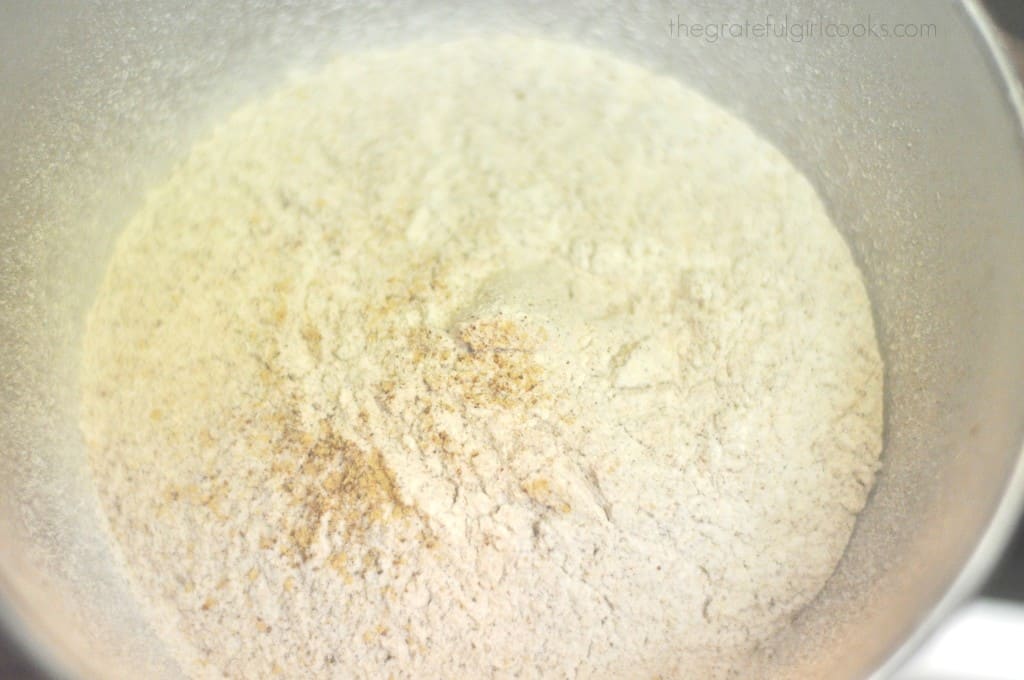 Once batter is fully mixed together, evenly spread the batter out in your prepared loaf pan. Place in preheated oven and bake at 350 degrees for approximately 55 minutes (or until you insert a toothpick into the top/middle part of the loaf and it comes out clean. I checked mine at about 50 minutes to make sure I didn't overbake it… that is my recommendation for you, as well.  When gingerbread is done, remove pan to a wire rack to cool. Once cool, lift loaf out of the pan using the extended edges of the parchment paper.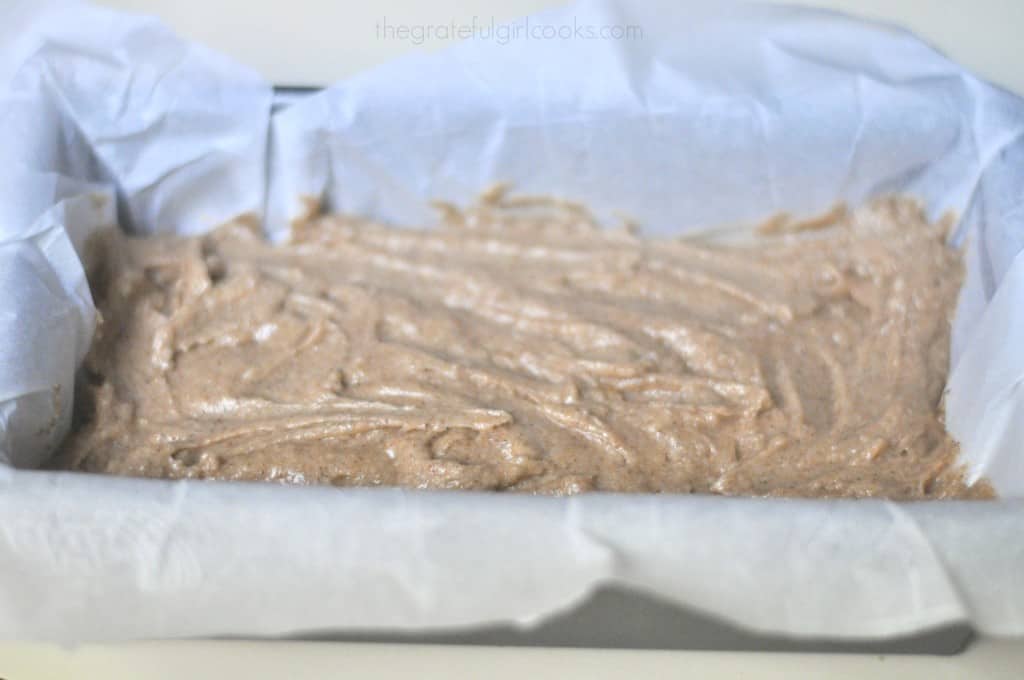 While gingerbread is baking, beat together 8 ounces of room temperature cream cheese (trust me, it will blend much smoother if it's at room temp), powdered sugar and vanilla, until icing is smooth and creamy, with no lumps. A bit too thick? Add a drop or two of water. Too thin? A bit more powdered sugar.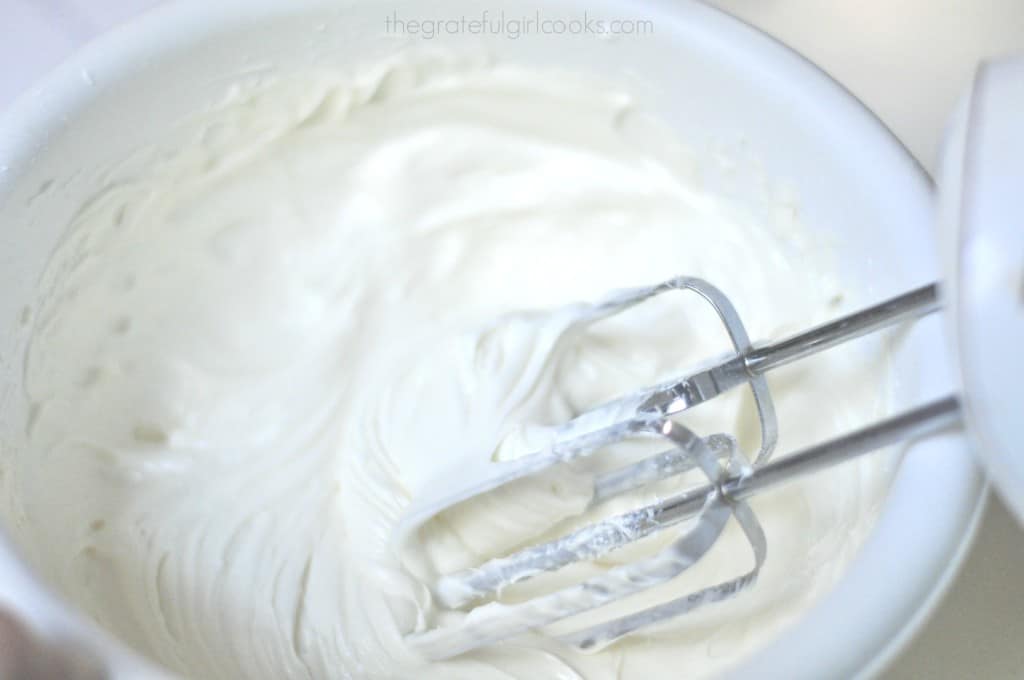 Once the gingerbread has completely cooled, frost the top (and let it slightly run over the edges) of the gingerbread. You will end up with a LOT of frosting, which makes for a thick, creamy and amazing topping for the gingerbread, but for goodness sake… if you don't want that much (but it's soooo good!), just cut the icing quantities in half. Lightly dust the icing with ground nutmeg.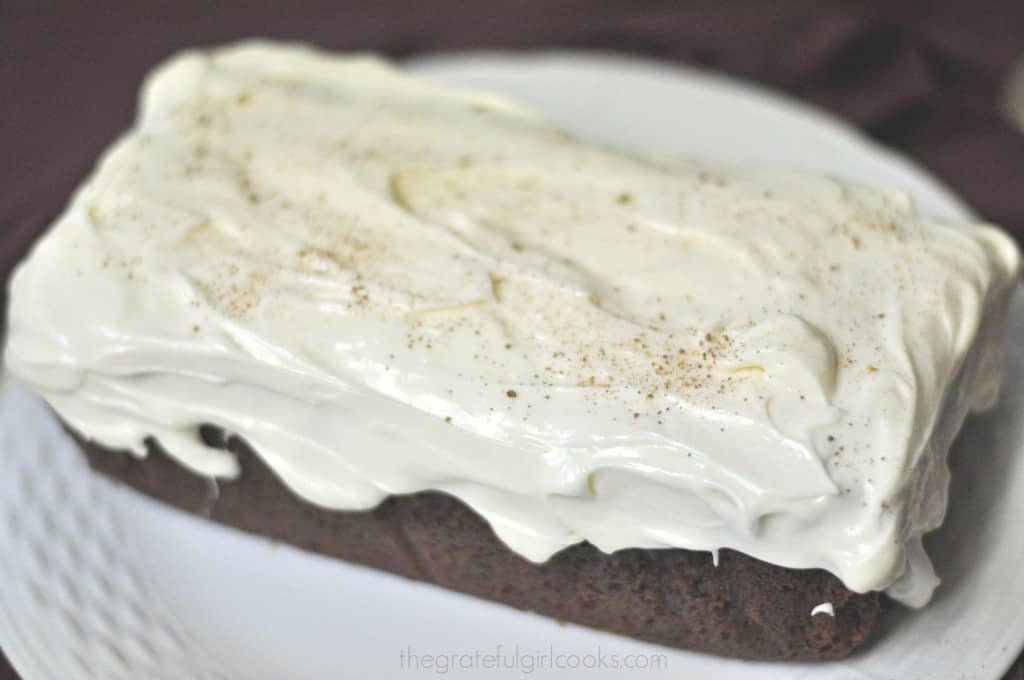 Once the icing has had a chance to slightly firm up, slice yourself a piece, take a big old bite… and ENJOY! It tastes TERRIFIC (and a whole loaf with 8 slices can be made for a fraction of the cost of buying 8 pieces of this loaf at that "you-know-where" coffee spot!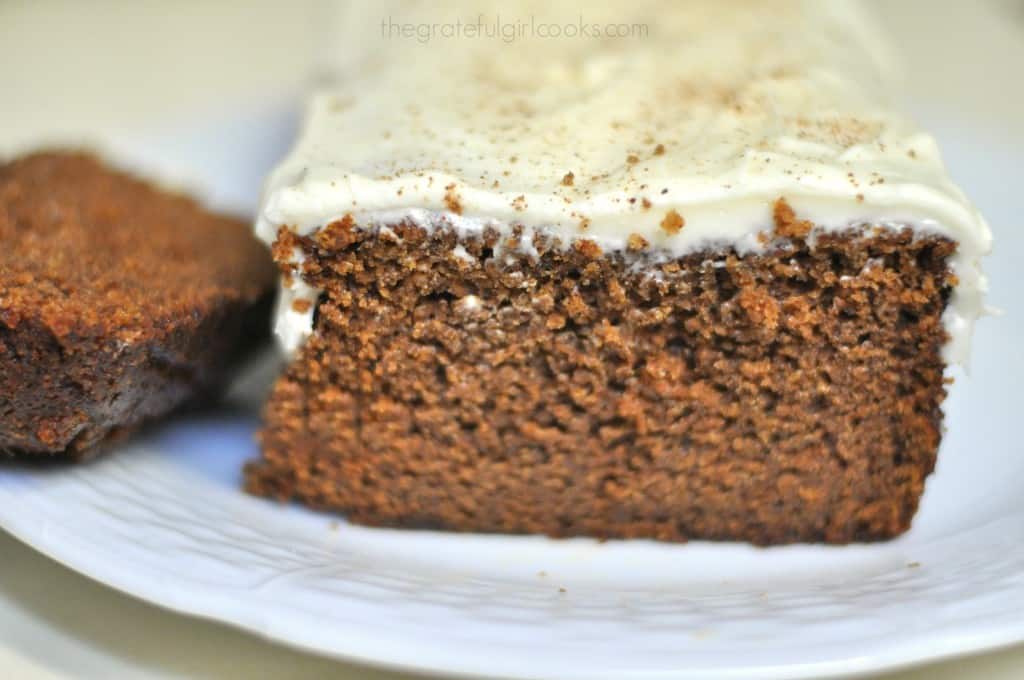 Sure hope you will try this recipe. I'm going to make it again around Christmas time… can't wait!  Have a wonderful day!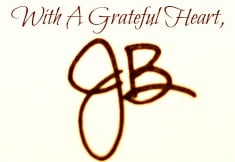 Recipe Source: http://theviewfromgreatisland.com/copycat-starbucks-gingerbread/

Save
Save
Save
Save
Save
Save
Save
Save
Save
Save
Save
Save
Save
Save
Save
Save
Save
Save