Well… today I am posting a recipe for "Sundowner Soup". Let me start by saying I HAVE NO IDEA WHY IT IS CALLED SUNDOWNER SOUP. I suppose it might be because you can make up a big pot of this soup in about the same time it takes the sun to set? Well, I don't really know how or why it got its name, but that's my story… and I'm sticking with it!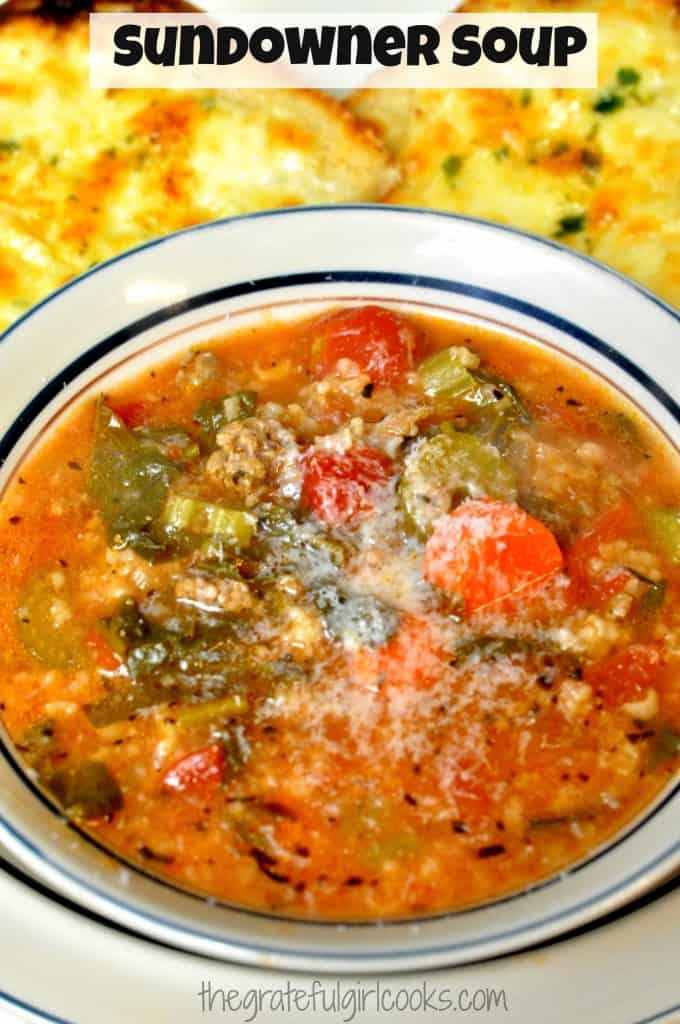 I found this recipe in a 20 year old cookbook that I was perusing a few days ago. The name of the soup intrigued me, since it apparently had NOTHING to do with the ingredients. I had already laid out one pound of hamburger meat to use for dinner, so decided to give this recipe a try. What I can tell you after making it is this… the soup is delicious, only uses one pound of hamburger meat, has lots of veggies, made a large pot of soup, and was ready in a very short amount of time (under 30 minutes). If you can chop/slice  veggies and brown hamburger meat, you can make this soup!
Here's how you make this tasty (and economical) Italian-flavored soup:
Brown onion and hamburger meat in a large soup pot. Easy, right?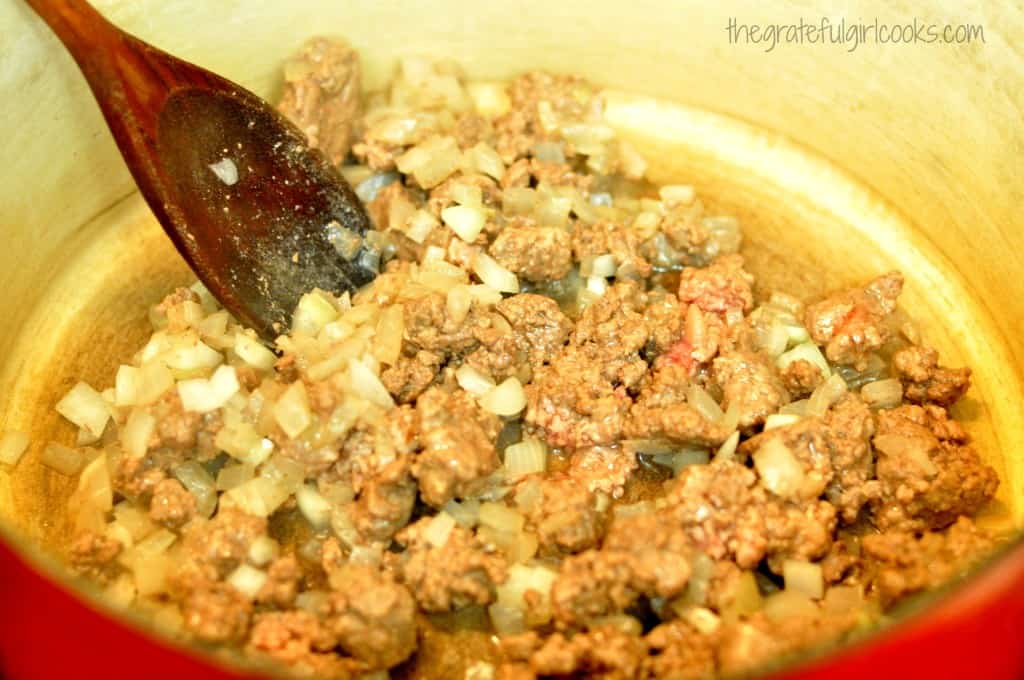 When browned, drain off grease, then stir in sliced carrots and celery; cook for 3-4 minutes.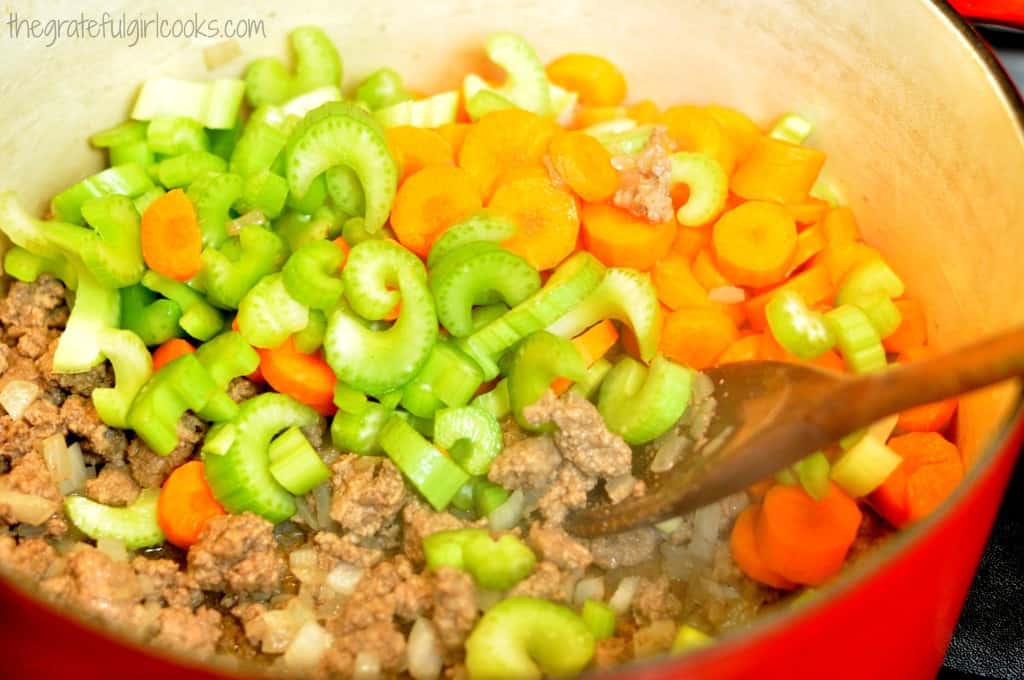 Add canned tomatoes, beef broth, cooking sherry, water, Swiss chard, rice, and herbs to pot; bring to boil, then simmer  (covered) for 15 minutes.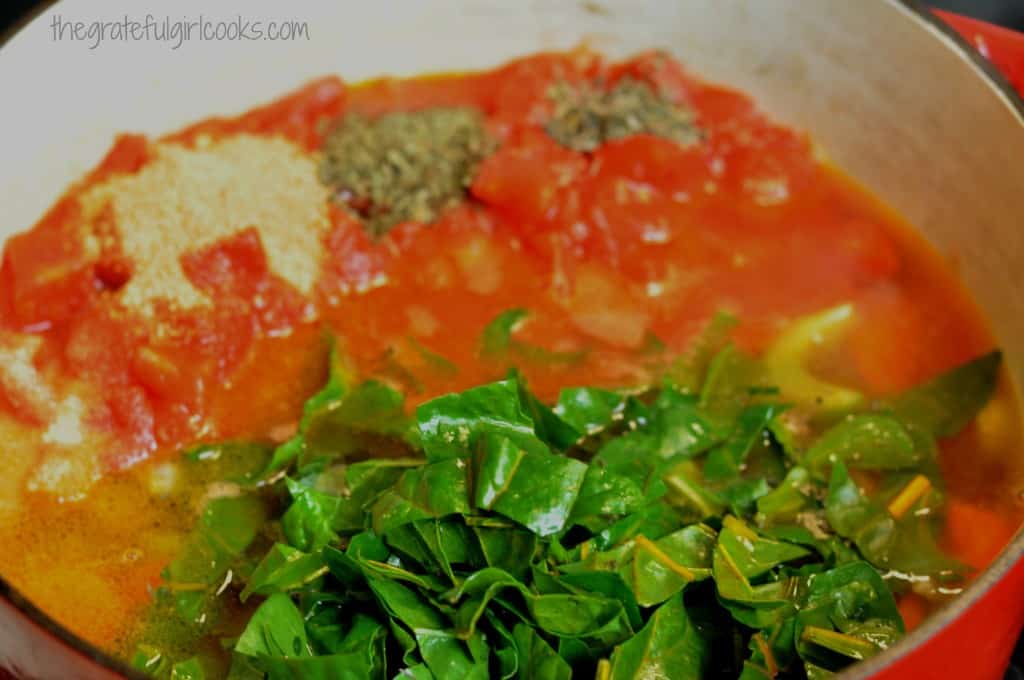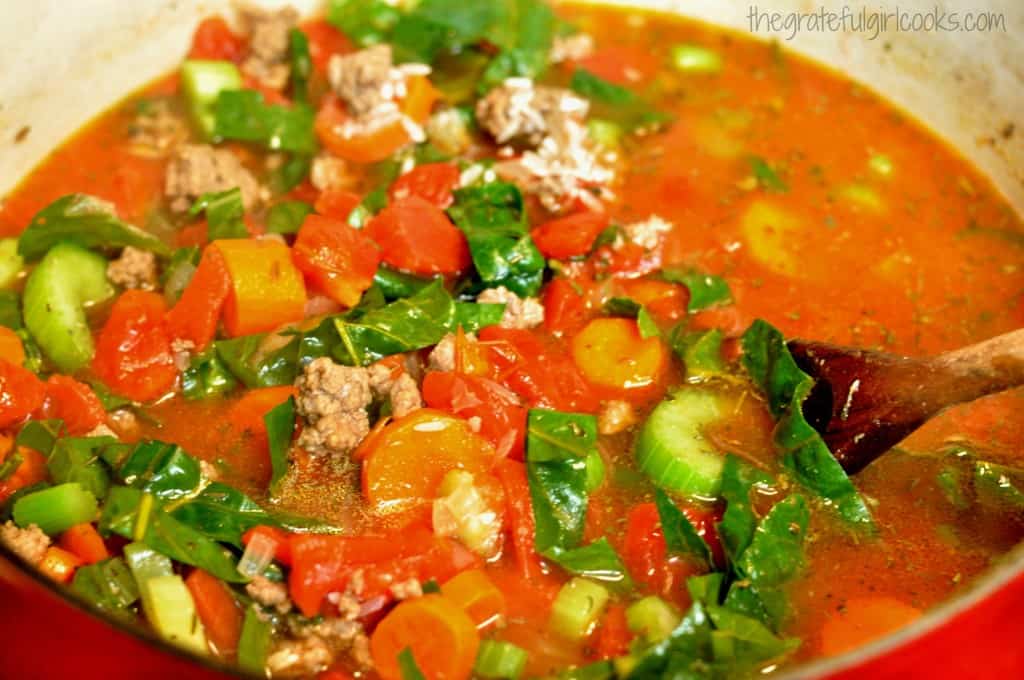 After soup has cooked for 15 minutes, add the remaining half of the Swiss chard, taste, and add salt and pepper, to taste. Cover and cook 5 additional minutes.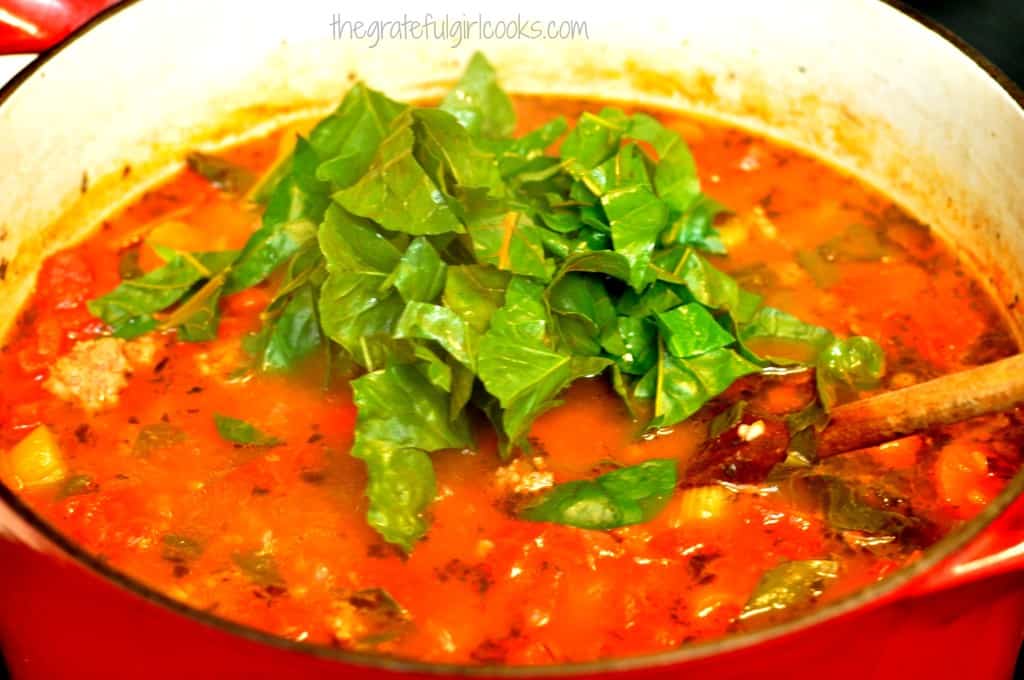 Uncover soup pot. Rice should have fully cooked and the soup will have thickened up. If you want it thinner, add a bit more water.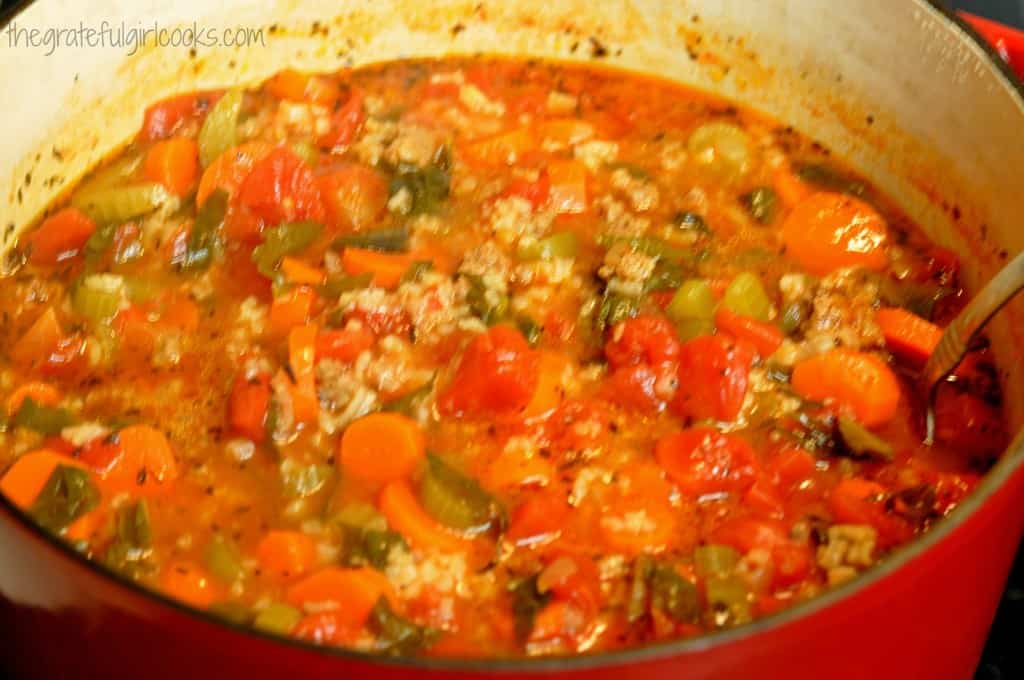 Ladle the hot soup into bowls; I garnished the top of each soup bowl with finely grated Parmesan cheese (optional, but oh, so good!). Serve with some crusty bread on the side, and enjoy. This is practically a one-dish meal. Meat, veggies and rice, all in one!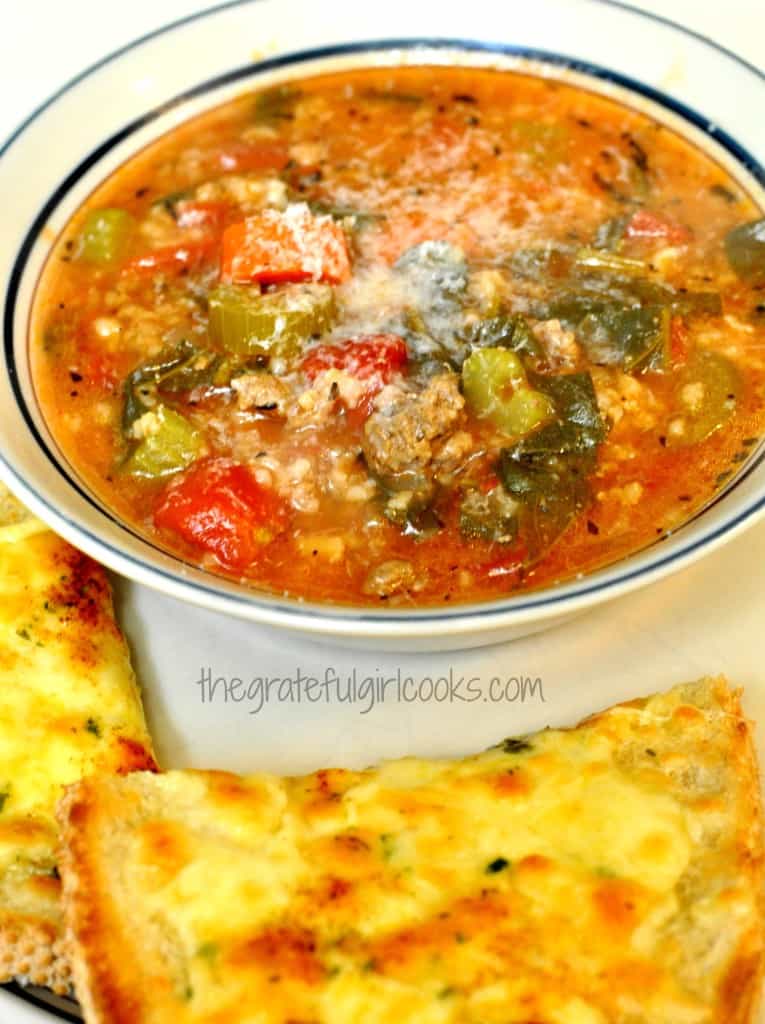 Hope you will give this soup a try. My husband and I LOVED it!  Have a great day. Look around and focus on the multitude of things you (and I) can be grateful for! They are all around…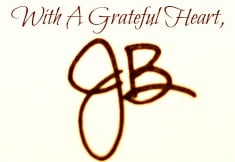 Recipe Source: The cookbook called "A Dinner A Day", by Sally Sondheim & Suzannah Sloan, pg. 46, Published by Warner Books, 1996.

Save