A few days ago I was on the prowl for a new cookie recipe to try. It was pouring down rain outside and I was itching for something to do besides laundry or dusting. Do you ever have those moments? Well I was having that moment…big time! I found this recipe for White Chocolate Raspberry Cookies (Disneyland Copycat) and knew I wanted to try them!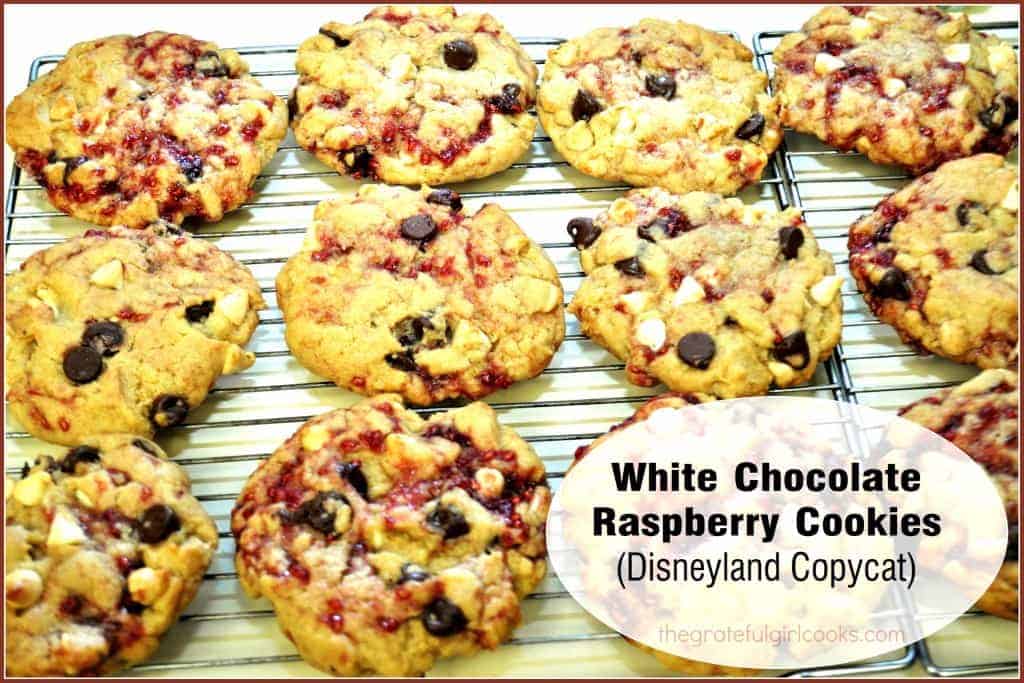 I started searching for a recipe that I might already have all the ingredients for in my pantry. Voila! This recipe popped up on my Pinterest feed and I checked it out because the picture of the cookie drew me in. I was excited to read through the recipe and realize (how convenient…and dangerous) that I had all the necessary ingredients!
Apparently this cookie is available at Disneyland (at Pooh Corner and at a few Main Street shops). I have never bought this cookie at Disneyland (despite untold number of times there), but a good copycat recipe had been created by author and it sure sounded good to me. Who can resist a big old chewy cookie with not one, but TWO kinds of chocolate AND raspberry jam swirled throughout it? I mean, really! I knew I HAD to make this chocolate-raspberry goodness right then… I blame this urgency completely on the Oregon rain. That's right, you heard me.
These cookies came together quickly…a bit messy to make, but the results were delicious! I hope you will give these cookies a try (even if it's not raining!). They are worth your valuable time and effort.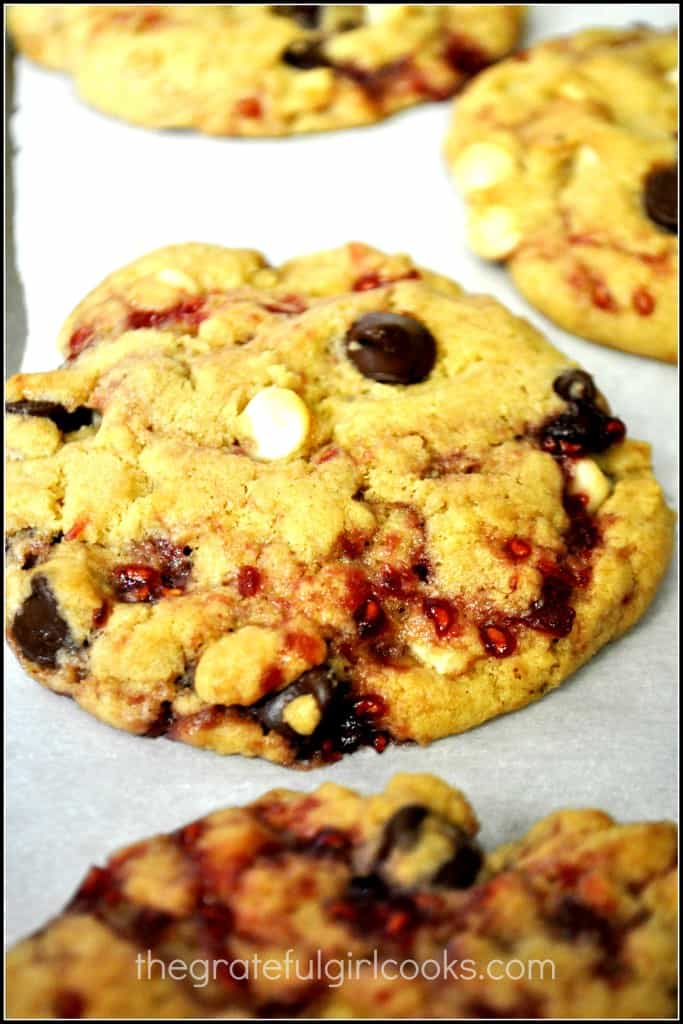 Here's how you make them:
Butter and sugars are creamed with an electric mixer, eggs, etc. are added to dough, then white and chocolate chips are added to dough and stirred in.Add the dry ingredients to the wet ingredients; mix just until combined. Stir in the white and semi-sweet chocolate chips.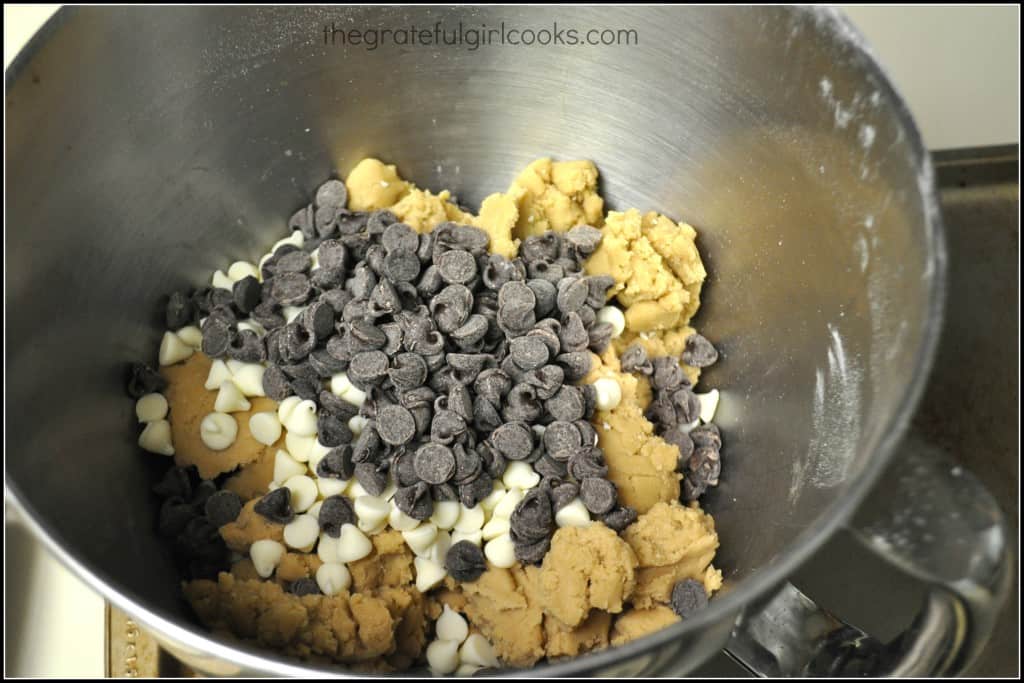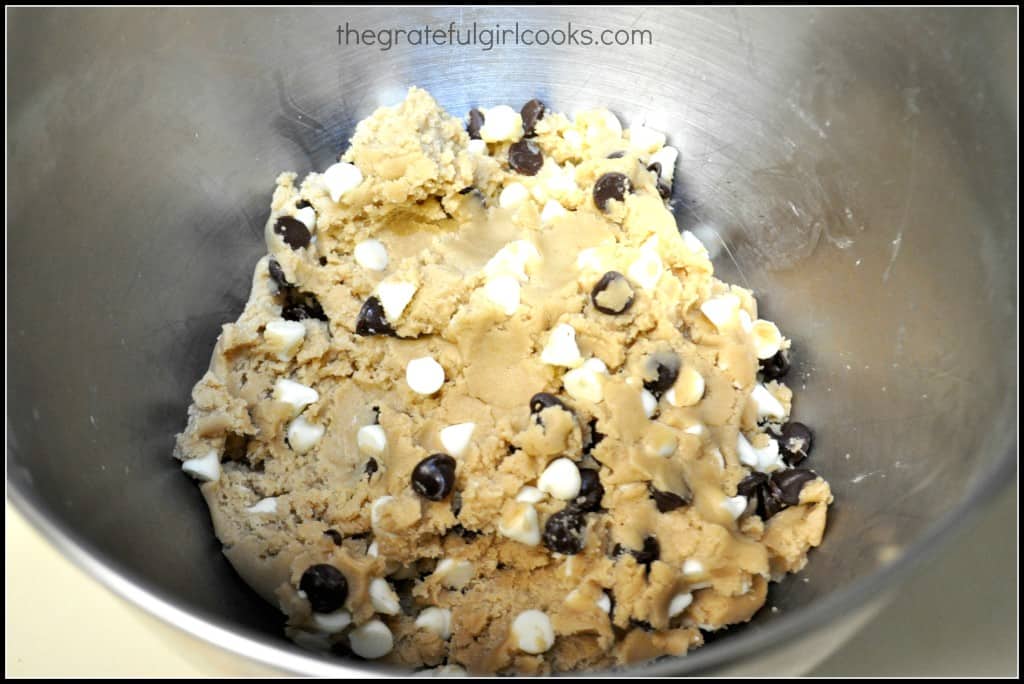 Now here's the fun (and a bit messy) part: Scoop out about 1/4 of the cookie dough into a small bowl (it's easiest to work with a small bit at a time!) Add 1 TBSP of the raspberry jam and "cut it in" to the dough, using a butter knife. Be sure NOT to mix it in, because then the dough will turn completely pink, and frankly who wants a pink cookie? Just gently cut the jam into the dough. Think of it as stabbing the jam into the dough and dragging the knife through in a swirl, okay? Eventually you will work the jam into the dough…trust me!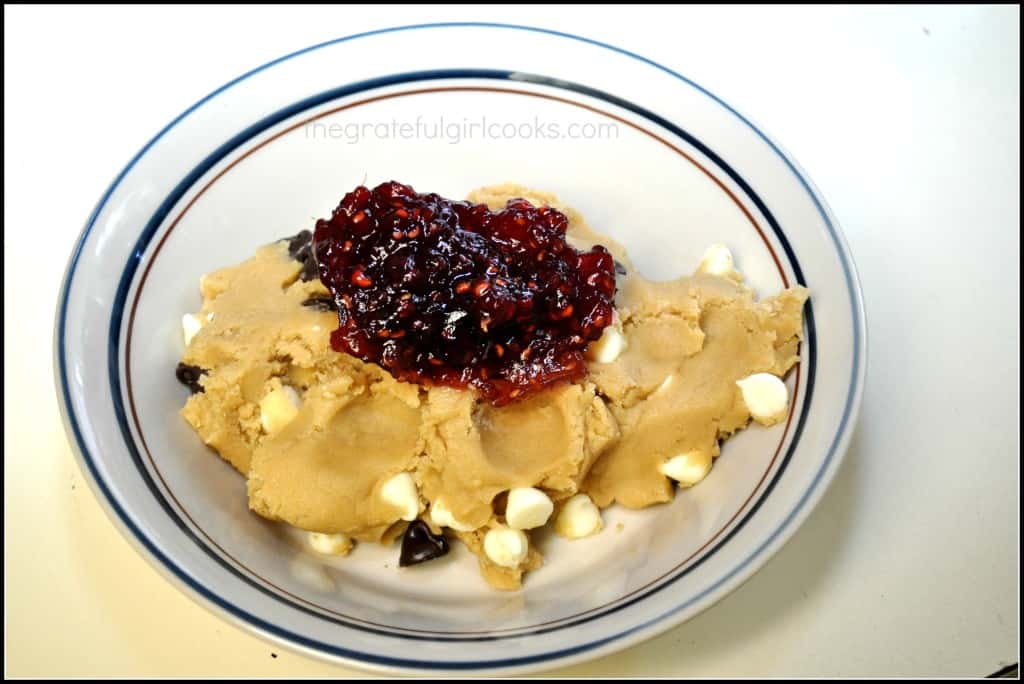 Take the jam swirled dough and place it by large spoonfuls onto a baking sheet, lined with parchment paper. **NOTE: I started out doing big spoonfuls, but found it easier (but messier) to just scoop out the dough and shape it into a ball using my (clean) hands. Yes, it was a bit messy (think jam), but worked the best for me. Flatten the dough balls slightly with your clean hands or the back of a spoon. *Repeat this process with the rest of the dough and jam until the dough is gone.*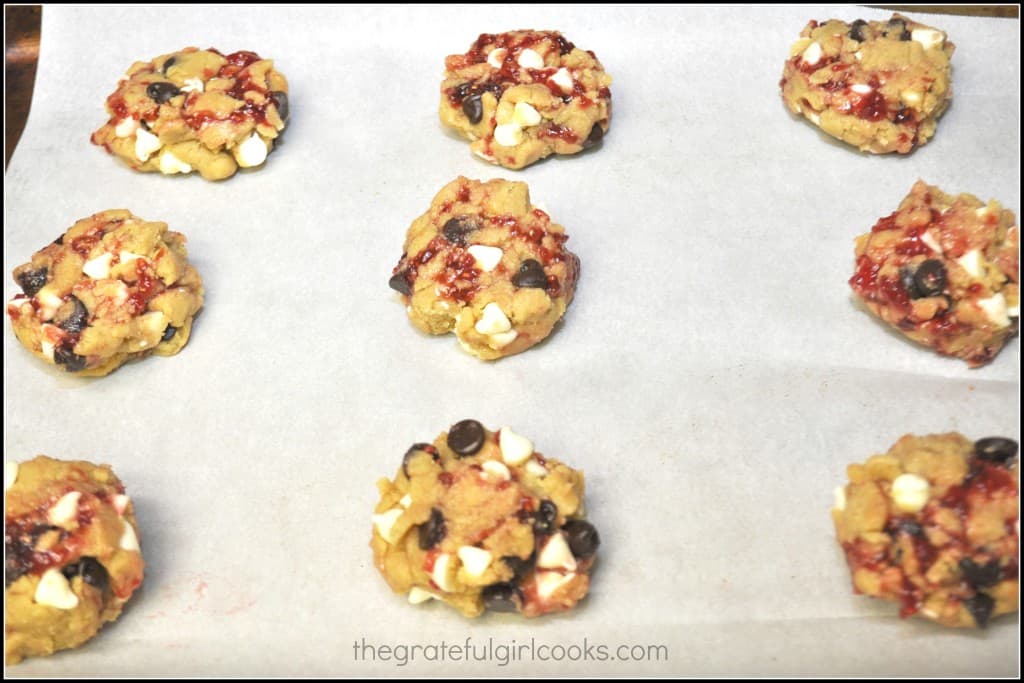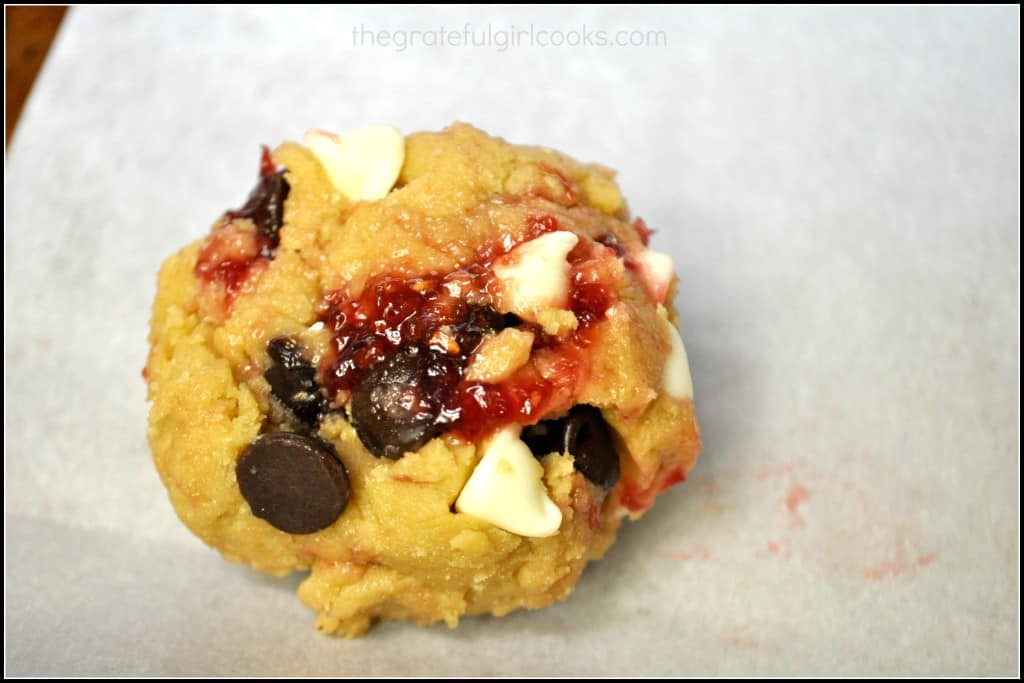 Bake the cookies at 350 degrees for 12-17 minutes (the time will depend on the size of the cookies). Keep an eye on the cookies after the 10 minute mark. I wanted larger cookies so I cooked mine a bit longer. You want to remove them from oven when the edges of the cookie are set, but the center is slightly soft. Cool the cookies on the baking sheet for 5 minutes before removing them from pan. After 5 minutes, transfer the cookies to a wire rack to cool completely. ENJOY!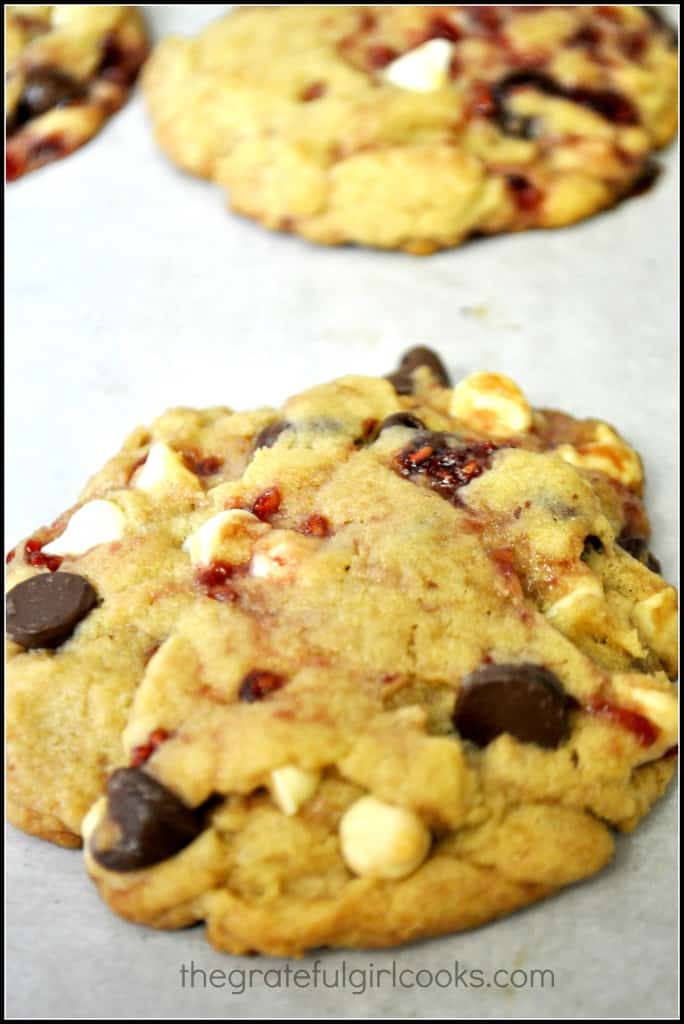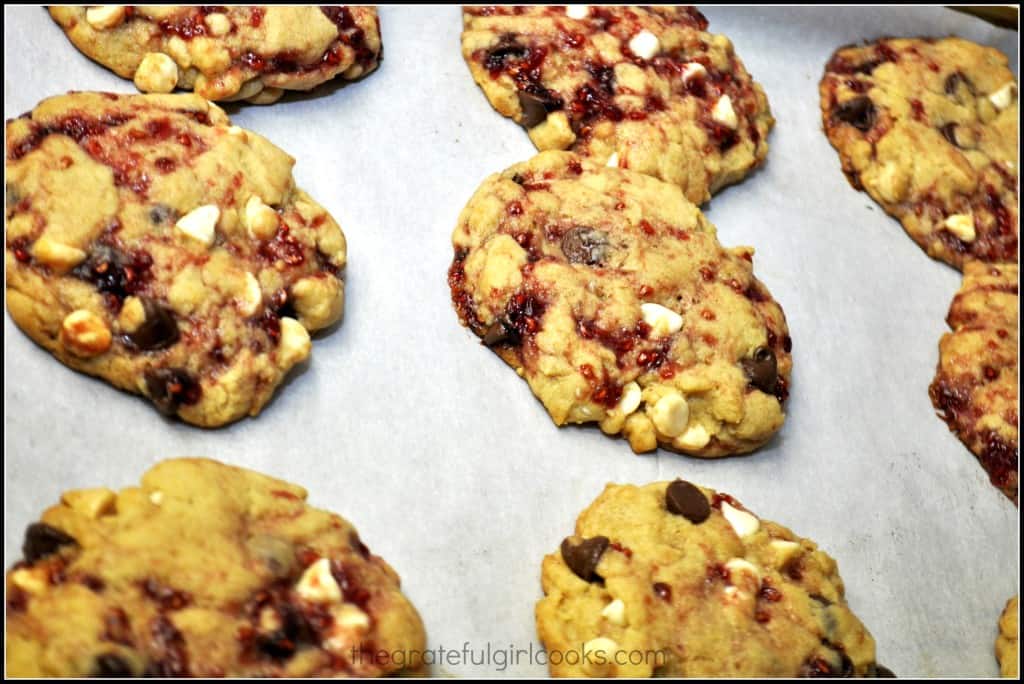 These cookies really are delicious! I hope you will give them a try!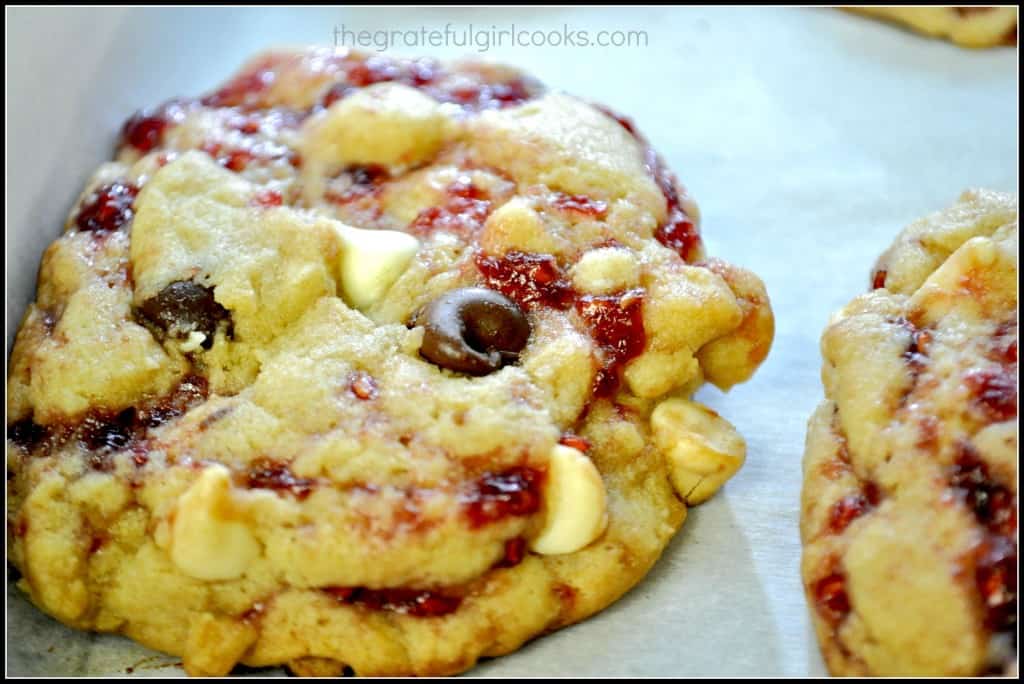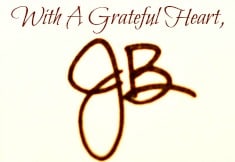 Recipe Source: http://cocinandoconalena.blogspot.com/2011/03/disneylands-white-chocolate-raspberry.html

Save
Save
Save