Bing Cherry Jam, enhanced with the addition of amaretto, is a delicious fruit spread for toast or biscuits! The recipe includes canning instructions, for long term storage.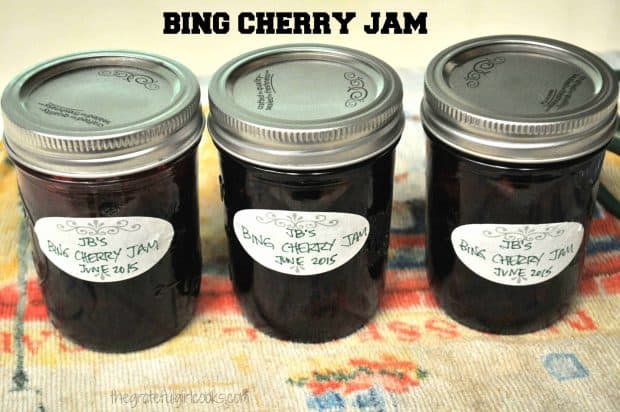 Each year I enjoy making many varieties of jam to store in our pantry, and to give away to family and friends. I've been canning jam for many years now. Last summer I made Bing Cherry Jam for the first time, and was surprised at how delicious and flavorful it was!
Scroll Down For A Printable Recipe Card At The Bottom Of The Page
The History Of The "Bing Cherry"
The "Bing" Cherry is a firm, dark cherry, very common in the Pacific Northwest. It is believed to have first been cultivated in Oregon in 1875 by a horticulturist named Seth Lewelling. He was helped by his orchard foreman, a Chinese immigrant by the name of Ah Bing. Cherries are also acknowledged to have high antioxidant levels, as well.
I searched for a good "canning" recipe for this fruit after being given quite a large amount of these cherries by a good friend, who just so happens has a huge cherry tree at her home.
The recipe I used for this bing cherry jam is from one of my Ball Blue Books (Guide To Preserving). The jam is canned for long term storage by using a water bath canner. The idea of making Bing cherry jam intrigued me, and it was fun being able to use my Homemade Amaretto in it, as one of the ingredients.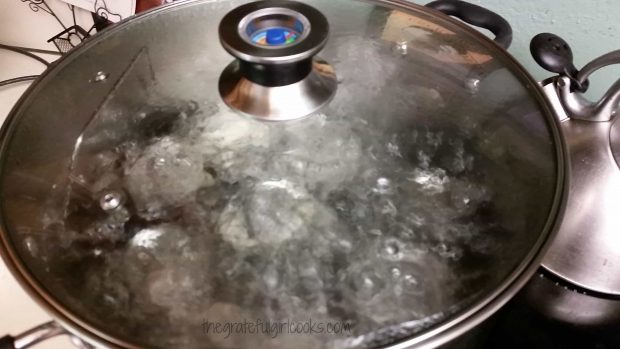 The flavor of ripe cherries, paired with cinnamon, cloves, and almond liqueur make this quite a tasty jam!
How Much Bing Cherry Jam Will This Recipe Yield?
This recipe for bing cherry jam makes about 6 half-pint jars. This means there's enough jam to save, and extra jars to bless others with!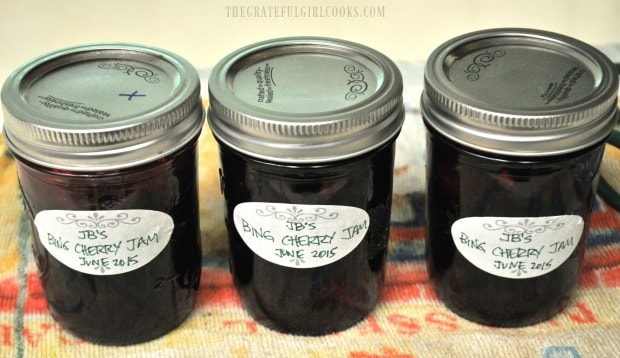 Here is a picture of this delicious bing cherry jam, spread on a toasted English muffin…it's so good!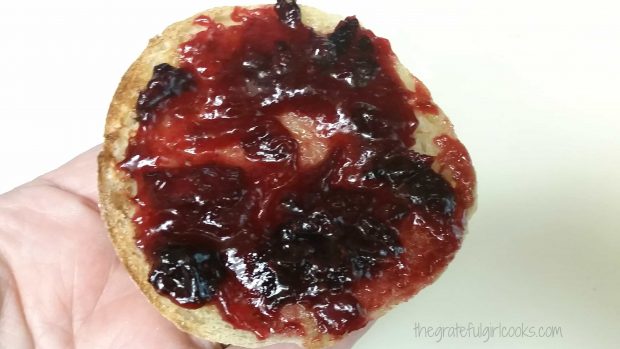 If you enjoy making homemade jam, I heartily recommend this recipe, as well as other jam recipes from my blog! They include such flavors as Blueberry, Strawberry, Raspberry, Rhubarb Orange, and Orange Marmalade.
If you enjoy making jam, be sure and check out ALL my jam recipes! They can be found in the Recipe Index at the top of the page. But whatever you do, definitely try this bing cherry jam recipe – it really has great flavor! Have a GREAT day!
Interested In More Recipes?
Thank you for visiting this website. I appreciate you using some of your valuable time to do so. If you're interested, I publish a newsletter 2 times per month (1st and 15th) with all the latest recipes, and other fun info. I would be honored to have you join our growing list of subscribers, so you never miss a great recipe!
There is a Newsletter subscription box on the top right side (or bottom) of each blog post, depending on the device you use, where you can easily submit your e-mail address (only) to be included in my mailing list.
You Can Also Find Me On Social Media:
Facebook page: The Grateful Girl Cooks!
Pinterest: The Grateful Girl Cooks!
Instagram: jbatthegratefulgirlcooks
Have a wonderful day!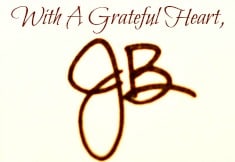 Recipe Source: "Ball Blue Book Guide To Preserving", published 2014 by Hearthmark LLC dba Jarden Home Brands, page 49.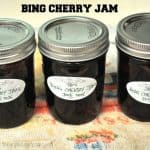 Bing Cherry Jam
Bing Cherry Jam, enhanced with the addition of amaretto, is a delicious fruit spread for toast or biscuits!
Servings
:
6
half-pint jars or 3 pint jars
Calories Per Serving
:
47
kcal
Ingredients
1

quart

(about 2 pounds) Bing cherries, pitted and stemmed

6

Tablespoons

Ball Classic Pectin

(powder)

1/2

teaspoon

cinnamon

1/2

teaspoon

cloves

1/4

cup

lemon juice

1/4

cup

almond liqueur

(I used Amaretto)

4 ½

cups

granulated sugar
Instructions
While preparing the jam, also make sure you prepare water canner and hot canning jars/lids, per manufacturer instructions and USDA canning guidelines.
To Make Jam:
Wash, drain, pit and de-stem cherries. Chop cherries into small pieces (make sure chopped cherries measure out to one quart, which is the equivalent of 4 cups).

In a large saucepan, mix together the chopped cherries, pectin, cinnamon cloves, lemon juice and almond liqueur until well combined. Cook slowly on medium-high heat until mixture comes to a boil.

Add the sugar all at once, stirring until all the sugar has dissolved. Bring this mixture to a FULL ROLLING BOIL (this means the boiling doesn't stop, even if you keep stirring it!). Let the jam boil fully for ONE MINUTE, continuing to stir the entire time. Remove the pan from the heat. If any foam has accumulated on top, skim it off with a spoon and discard.
To Fill Hot Canning Jars:
Ladle hot jam into hot jars. Leave ¼ inch headspace in each jar. Remove any air bubbles from filled jar, by inserting plastic utensil into jar between jam and jar to release air that is trapped. Wipe the jar rim very good to ensure no sticky residue is present. Place lid and screw band onto jar. Tighten to fingertip tight only. Using canning tongs, carefully place each jar onto an elevated rack in simmering water (180 degrees) in water bath canner. Repeat the process until all your jars are filled and in canner.
To Process The Jam:
Lower the filled rack into the simmering water. Make sure that the jars are completely covered with water (water must be an inch over the top of jar). Turn the heat to medium-high. Put a lid on the canner, and bring the water inside to a full, rolling boil. Once the water reaches a rolling boil, process the half-pint jars for 10 minutes. When 10 minutes is up, turn the heat off and take the lid off the pan. Let the jars sit in the hot water for 5 minutes, then carefully remove jars to a dish towel on the counter (Do not place hot jars directly on counter-they might crack, due to temperature variations). Let jars cool, upright, for 12 hours, without moving. Once cool, check to ensure a proper seal has been achieved, then label jars and store in pantry.
Nutrition Facts
Bing Cherry Jam
Amount Per Serving (1 Tablespoon)
Calories 47
% Daily Value*
Sodium 2mg0%
Potassium 22mg1%
Carbohydrates 12g4%
Vitamin A 5IU0%
Vitamin C 0.9mg1%
Calcium 1mg0%
Iron 0.1mg1%
* Percent Daily Values are based on a 2000 calorie diet.
Here's one more to pin on your Pinterest boards!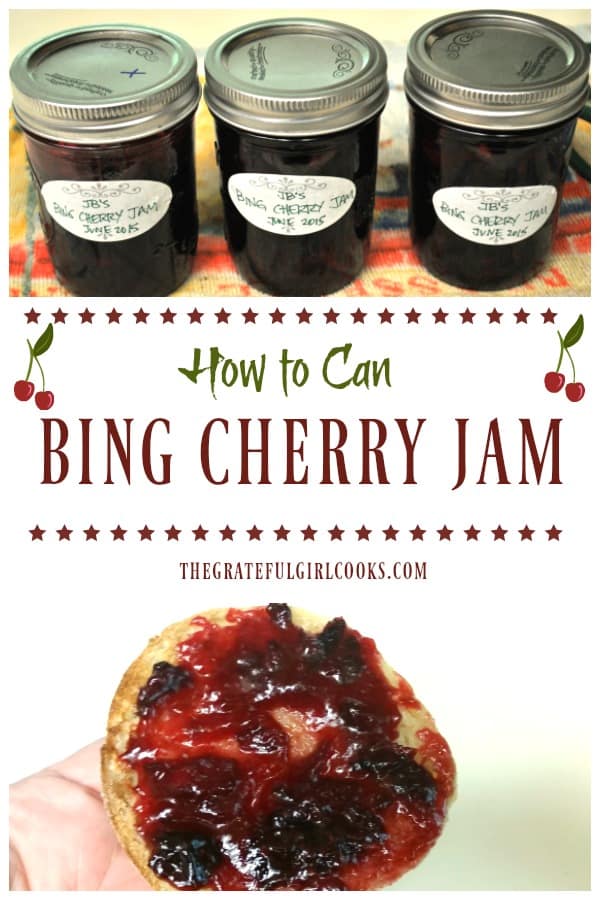 Save
Save
Save
Save