Have you ever had homemade blueberry jam on a piece of toast, English muffin, or biscuit before? Well, I have… and it tastes exquisite on all of them!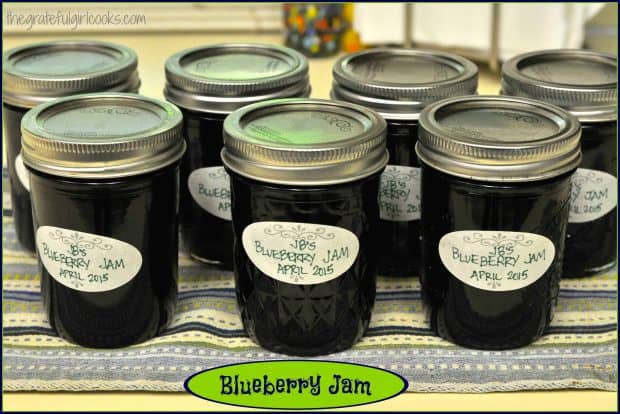 I love to make jam…I make all of our jam: strawberry, orange marmalade, boysenberry, blueberry, apricot pineapple, blackberry, rhubarb-orange, peach, strawberry-rhubarb, apple butter, etc. Now that I think about it, I don't think I've bought jam at the grocery store for several years!
I think blueberry jam tastes even better knowing I handpicked the berries right off the bushes! Even though I have three blueberry bushes in our backyard, I still go each summer to a local U-Pick farm and pick as many blueberries as I can carry (for only $1.25 per POUND!) I freeze and use them year-round! So much less expensive to pick my own (about 20 pounds in about an hour of my time), than to pay so much at the store (around $4 for a tiny basket of berries)!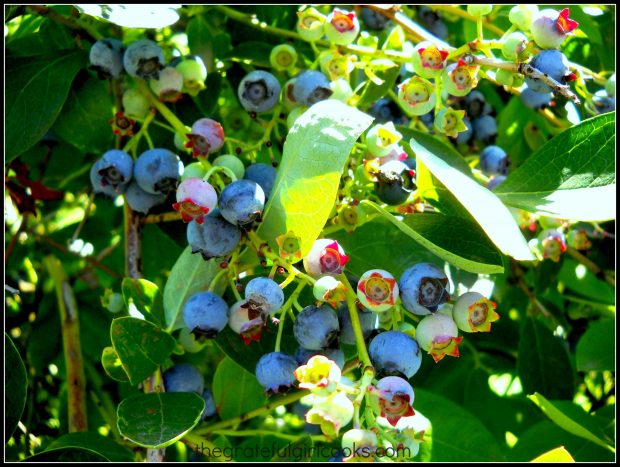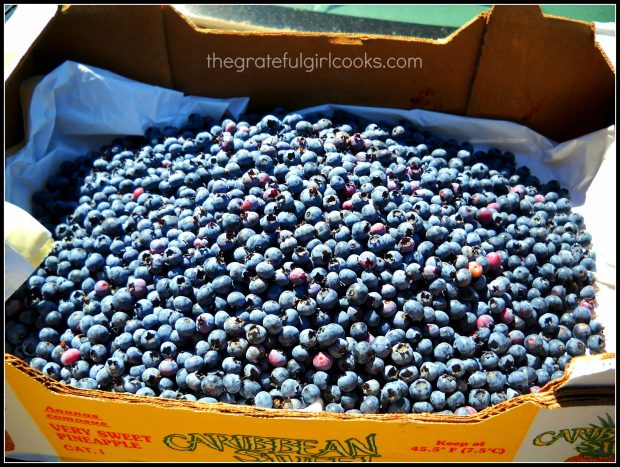 I've been making many varieties of jam for years, but this was my very first year for making BLUEBERRY jam. Boy, is it good! Nothing like it on a hot, buttered piece of toast in the morning! Here's what I did (after getting my canning jars and lids ready according to canning guidelines):
I crushed the blueberries (I used some of my frozen, but thawed berries) and placed them in a large saucepan (6-8 quarts), then added lemon juice and water. I added a box of Pectin and 1/2 teaspoon butter into the mixture, then brought the mixture to a full, rolling boil.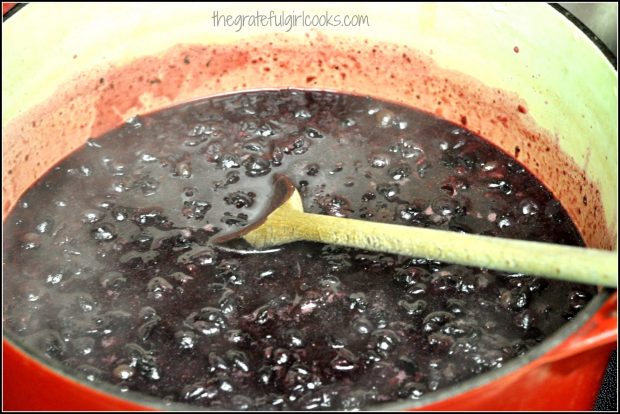 While the berries, etc. were cooking, I let my jars simmer on a rack in my canner, in hot (but not boiling) water, to keep them hot before filling!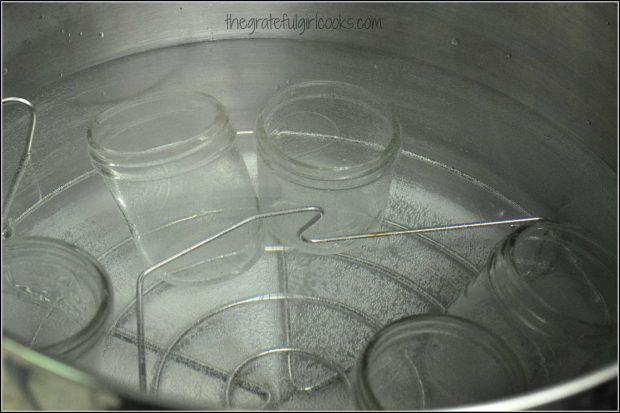 Once the blueberry mixture reached a full rolling boil, I added the sugar, and stirred well to combine.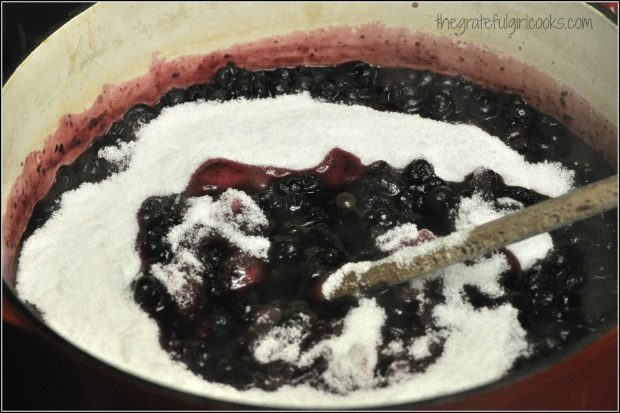 I brought the mixture to a full rolling boil again, then boiled it for exactly 4 minutes, stirring constantly. I removed it from the heat, skimmed off any foam that had collected, then carefully ladled it into my hot, canning jars, using a canning funnel to avoid a mess.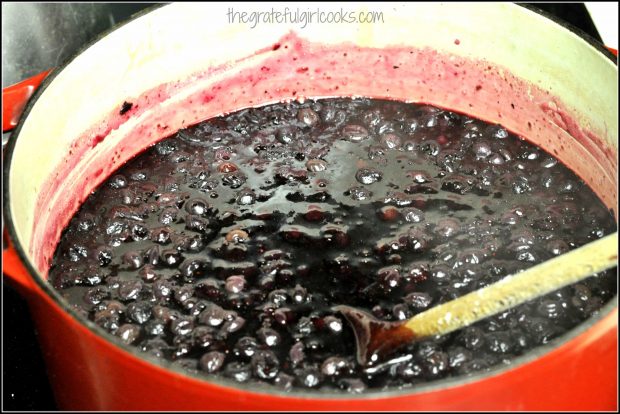 I filled the jars up to 1/8 inch from top of jar, cleaned the rims, and placed the hot, flat lids and screwbands onto jars, and screwed tops on tight.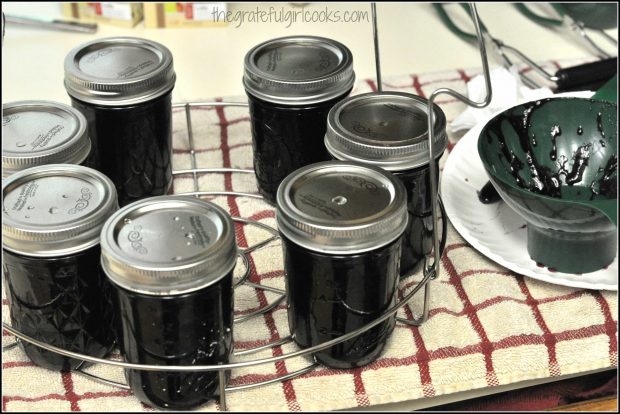 I placed the filled jars onto my canning rack and lowered them into the canner. I made sure jars were covered completely with water (added boiling water to make sure the jars were covered by at least 1-2 inches of water). I covered the pan, brought the water to a gentle boil, then processed the jars for 10 minutes.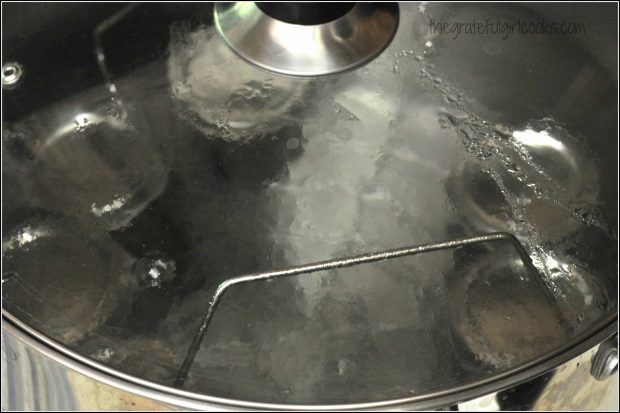 When processing time was done, I carefully removed the HOT jars to a dish towel on my counter to cool completely. It's fun to watch the hot water on the lids evaporate, and to listen for the jars to "ping" as they seal. I let the jars sit on the counter (upright and undisturbed) for 24 hours at room temp., checked to make sure the jars had all sealed, then placed them in my pantry to use throughout the year OR give as gifts to friends.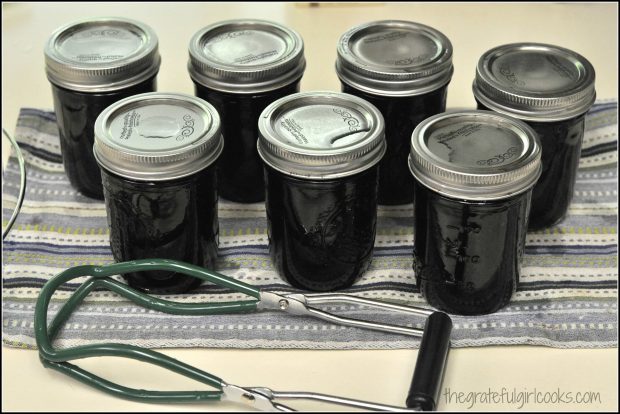 That's it! It really didn't take very much time at all, and I ended up with 7 half-pint (8 oz) jars of delicious, homemade blueberry jam! Hope you'll give this recipe a try… it's delicious!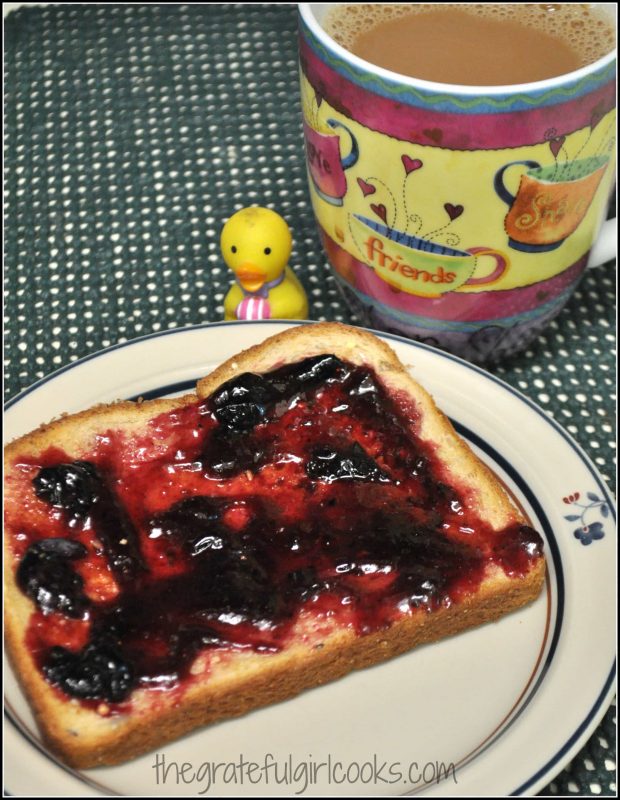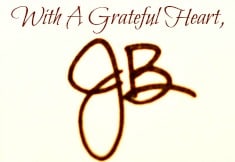 Recipe Source: MCP Fruit Pectin (instruction page inside box)
Blueberry Jam
Nothing beats the fresh taste of homemade blueberry jam... any time of year!
Servings
:
7
half-pint jars
Calories Per Serving
:
56
kcal
Ingredients
6

pints

of ripe blueberries

(will need 3 3/4 cups of crushed berries)

6

cups

granulated sugar

1/4

cup

fresh lemon juice

(approx. 2 lemons)

1

cup

water

7

half-pint canning jars

, flat lids, and rings.
Instructions
To prepare jars/lids:
Fill water bath canner (filled half way with water) to a simmer. Prepare jars, flat lids and screw bands according to manufacturer guidelines. (i.e. Wash jars and screw bands with hot, soapy water. Rinse well. Place jars on rack into simmering water to get hot (but do not boil water). Let them stay in hot water until ready to fill. Drain well. Place flat lids in a small bowl. Cover with boiling water and let them sit (off heat) for about 5 minutes (time this so that flat lids are ready when jam is being ladled into jars).
To prepare jam:
Crush berries (1 cup at a time-it's easier that way-I use a potato masher). If you are going to use a food processor, do not puree. just lightly pulse ... you want little pieces of fruit!

Measure the EXACT amount of crushed blueberries into a LARGE saucepan (6-8 quarts). Add the lemon juice and water, and stir well to combine.

In a separate large bowl, measure out the EXACT amount of granulated sugar; set aside. (You want this pre-measured so you don't have to mess with it when you need to add the sugar at just the right moment).

Stir a box of pectin into the blueberry mixture in the saucepan. Add 1/2 teaspoon butter (this will help cut down on the foaming).

Bring blueberry mixture to a FULL, ROLLING BOIL on high heat. (A full rolling boil is when the boiling doesn't stop, even when it is being stirred). Stir the blueberry mixture constantly.

Once blueberries reach a full, rolling boil, add the granulated sugar ALL AT ONCE. Stir well to combine; bring the mixture to a FULL ROLLING BOIL once again, and boil for EXACTLY 4 MINUTES, stirring constantly. Remove pan from heat. If any foam formed, just skim it off the top with a spoon and discard.

Quickly ladle hot jam mixture into prepared, hot, drained canning jars. I use a canning funnel to avoid a lot of drippy messes. Fill each jar, leaving 1/8-inch headspace at the top. Wipe the jar rims and the threads carefully to make sure any drips are removed before adding lids. Cover with the hot, flat lids and tighten on the screw bands. Put the jars on an elevated rack (do not let jars rest on bottom of saucepan); lower rack and jars into the simmering water in the canner. Make sure all jars are fully covered by at least 1-2 inches water above top of jar. Add more boiling water, if necessary to fully cover.

Cover pan; bring the water to a "gentle" boil. Process the jars for 10 minutes (after water reaches the boiling point). Once done, carefully remove lid from canner. Lift jars out with canning tongs and place each jar, upright, onto a dish towel. Let them cool completely, undisturbed at room temperature, for 24 hours. You should hear the jars distinct "ping" sound sometime over the next hour, as the jars seal. After 24 hours, check the seal on each jar by pressing on the middle of the lid with one of your fingers. If the lid "springs back", then the jar did not seal, and must be refrigerated. If jars sealed properly, they can be stored in a cool, dry place (pantry) for up to a year (or more).
Nutrition Facts
Blueberry Jam
Amount Per Serving (1 Tablespoon)
Calories 56
% Daily Value*
Potassium 20mg 1%
Total Carbohydrates 14g 5%
* Percent Daily Values are based on a 2000 calorie diet.
Save
Save