Well, the New Year has started, and the first NEW recipe I've tried in 2015 is this one for Coq au Vin (Chicken and Wine).  And let me tell you, this was a fantastic dish! My husband is still raving about it (he studied French, so I had to ask HOW to pronounce the name of this dish)!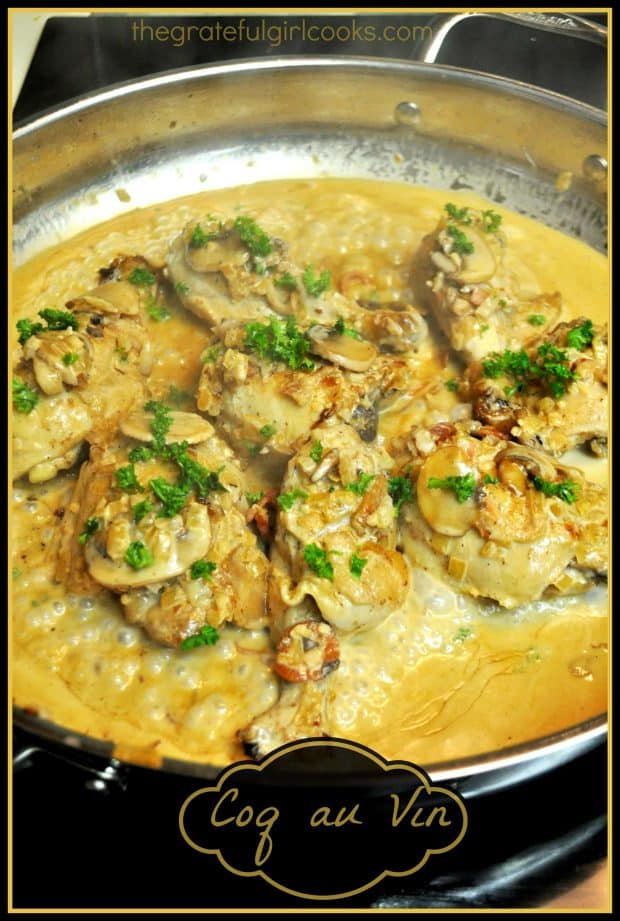 Coq au Vin is usually cooked in burgundy wine, but in one region of France (Alsace), it is typically cooked with Riesling (a white wine). This is THAT kind of recipe, and I love the color of this sauce, when paired with the browned chicken. The recipe is fairly easy… just a matter of following the steps in order, until you have this wonderful entree!
When I cooked this for dinner a couple of days ago, our house smelled absolutely incredible! I mean… how can you not love the smells of braising chicken, cooking away in a creamy wine sauce, complete with bacon, garlic, onions and mushrooms? Seriously ridiculous! A few hours AFTER dinner, my husband went outside to get something out of our car, and when he came back into the house, he said, "Oh my gosh… the house smells soooo good! Yeah… trust me, it smells THAT good!
I found this recipe on Pinterest a while back, and finally got around to trying it as my first "newbie" recipe of the New Year… boy am I glad I did! I am positive I will be making this again… not only does it taste wonderful, but it smells AMAZING, and I think it looks rather elegant, also!
Here's a few pics I took while making it:  First you melt the butter and olive oil, and get the pan really hot…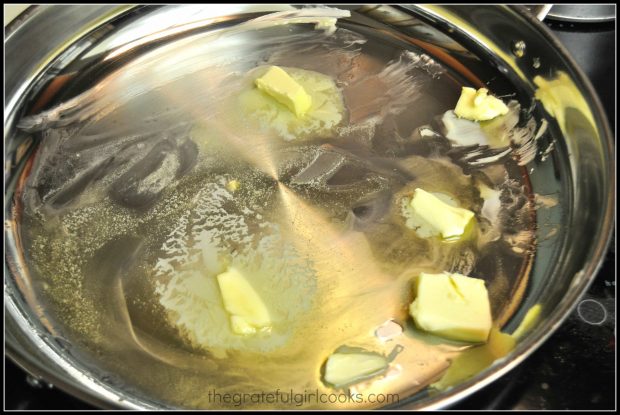 Into the hot skillet goes the chicken. Let it sear (without moving it) for 3-4 minutes on each side, then remove from skillet.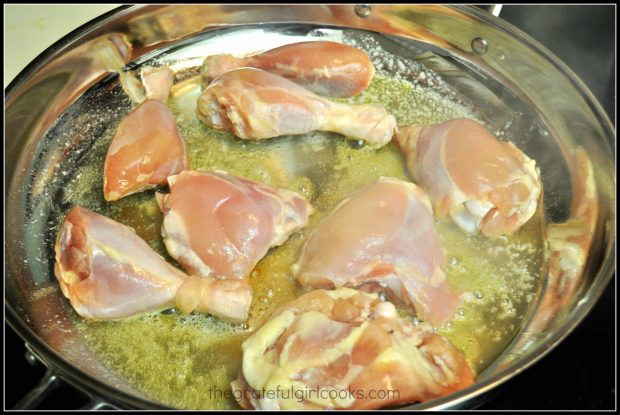 Now you saute the onions and bacon until the fat from the bacon has been rendered.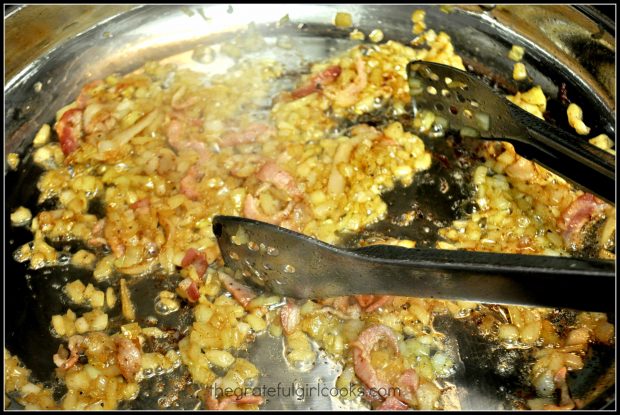 Cook the mushrooms in the leftover bacon fat.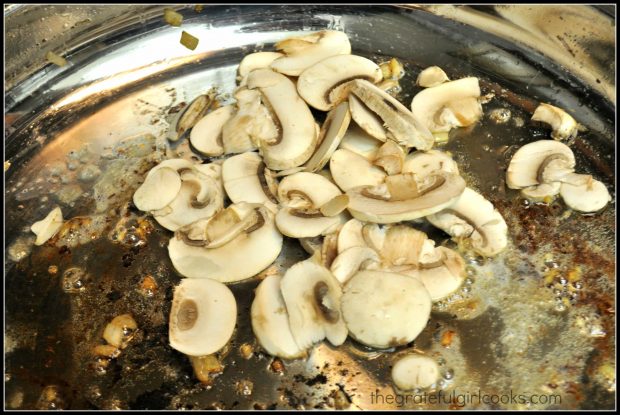 Now add the chicken and the cooked onions, bacon, and garlic back into the skillet… (smelling really good right about now…)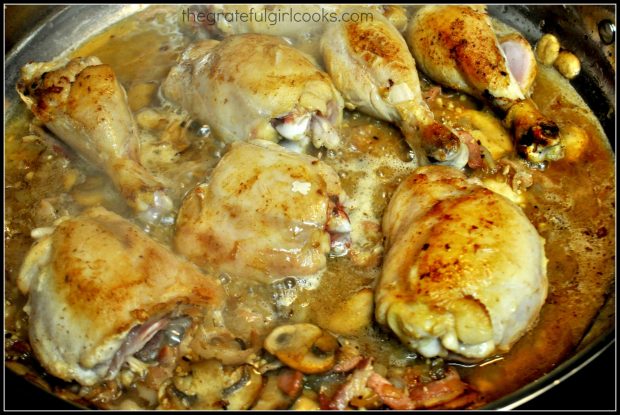 Wine is added, then skillet is covered while chicken continues cooking…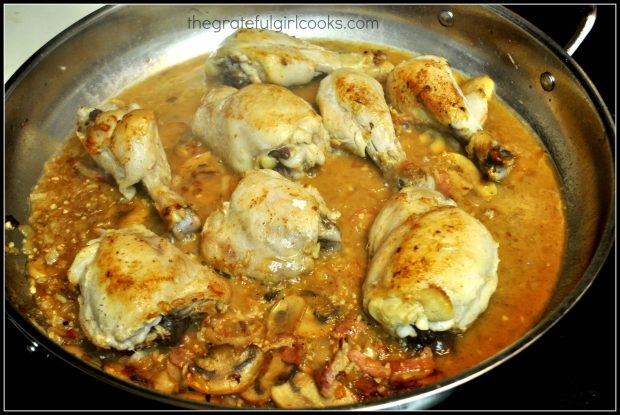 After 15 minutes of covered cooking, the whipping cream is added and chicken continues to cook, uncovered for remainder of time…now it REALLY smells good~!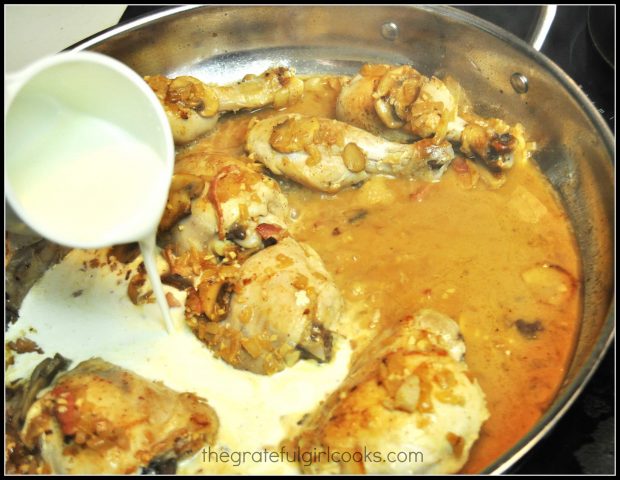 Chicken is finished by sprinkling tops of chicken pieces with a handful of chopped parsley. Ready to serve!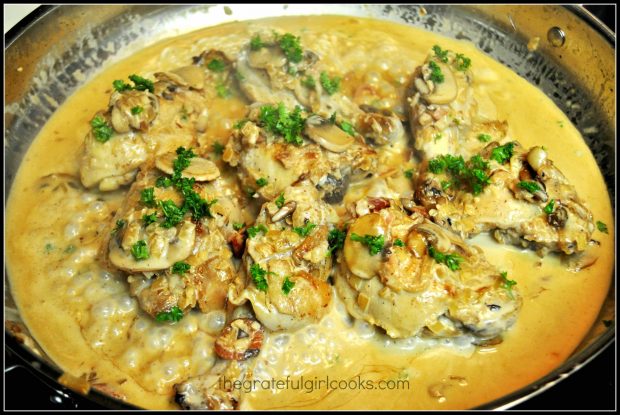 YUM! Serve this chicken and sauce up with a side of rice or pasta… STAT!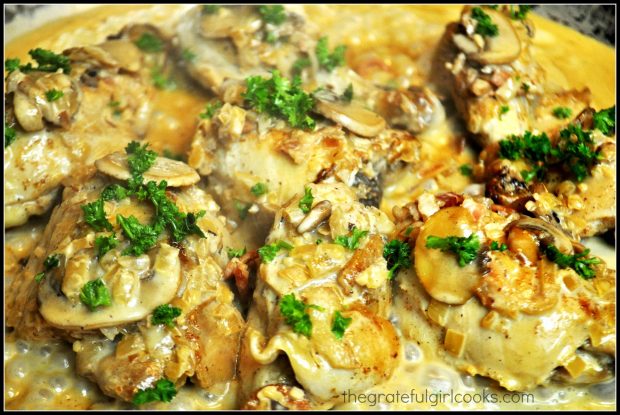 Sure hope you will give it a try… I think you are gonna love it!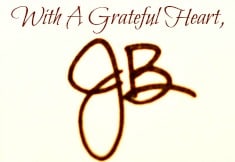 Recipe slightly adapted from: http://simply-delicious-food.com/2013/06/26/nigel-slaters-coq-au-riesling/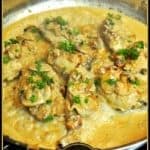 Coq au Vin
You will love this braised chicken, served with a creamy wine sauce bursting with the flavor of bacon, onions, mushrooms and garlic!
Ingredients
1/4

cup

butter

2

Tablespoons

olive oil

2

medium brown onions

, finely chopped

3

slices

bacon

, sliced into thin strips about 2" long

4

garlic cloves

, minced

8

chicken pieces

(with bone in) (I use 4 thighs and 4 drumsticks)

1 1/2

cups

thinly sliced mushrooms

(white button or mini portabella)

2

cups

dry white wine

(I used a Riesling)

1

cup

heavy whipping cream

salt & pepper

(to season raw chicken with, and to taste, when chicken is complete)

handful of chopped parsley
Instructions
In a large skillet, melt the butter and the oil. Heat skillet to medium-high.

Lightly season pieces of chicken with salt and pepper. Place chicken pieces into a very hot skillet. Do not move the pieces once you first put them in skillet. Let them sear on each side until golden brown (about 3-4 minutes per side). Once chicken is browned on all sides, remove to a plate and set aside.

Add the finely chopped onions and the bacon pieces to the hot skillet. Let them both cook about 5 minutes or so, until onions become translucent and the bacon has rendered out it's fat. Add the garlic and cook for another 30 seconds, then remove & drain the mixture from the skillet, leaving the bacon grease in the pan.

Add the sliced mushrooms to the skillet and cook for 5 minutes.

Add the onion/bacon mixture and the browned chicken back into the skillet.

Add the wine. Allow the liquid to come to a boil. Turn the heat down to a low simmer and cover the skillet. Let the chicken cook for 15 minutes.

After 15 minutes, remove the lid. Turn up the heat. Pour in the whipping cream. Stir, to combine.

Let the chicken cook for another 10-12 minutes, uncovered, spooning up the sauce over the chicken pieces as they cook.

When chicken is cooked through and is ready to serve, add the chopped parsley to the tops of the chicken pieces, and serve (1-2 pieces per person).

Enjoy!
Recipe Notes
Serve this tasty chicken with rice, pasta, along with a nice loaf of crusty bread.
This recipe makes 4 adult servings; you will have more servings if children are only having one piece of chicken. Enjoy!
Save
Save