The Thanksgiving and Christmas holidays are now in the history books, but wanted to publish this recipe for Homemade Cranberry-Orange Sauce on the old blog, so I will have it handy for the future.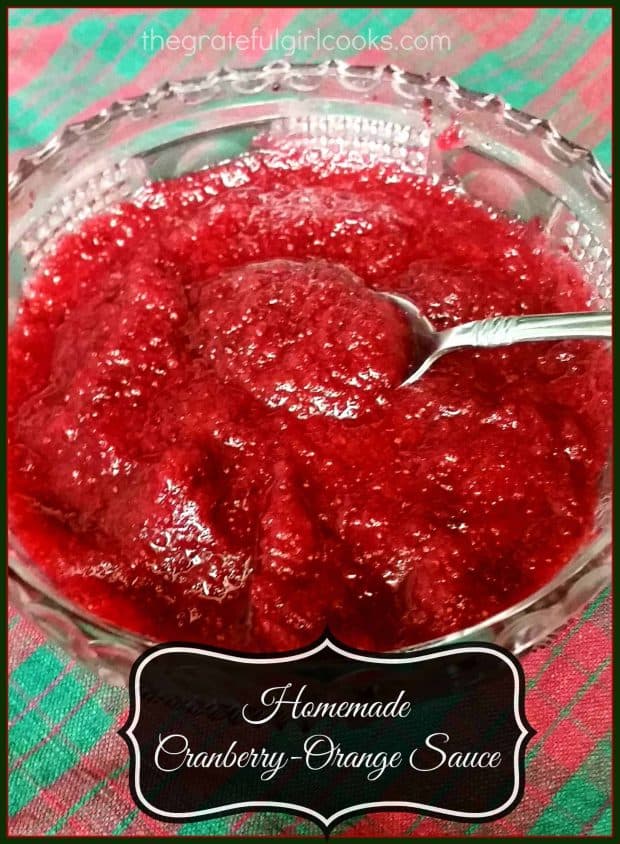 My mom used to make this (in a chunky version) as I was growing up, but I'd never made the recipe for this delicious sauce until this Christmas, when I found the index card the recipe was written on years ago!
For years my "go to" for cranberry sauce has been the blob found in a can (cranberry jelly), or the whole cranberry sauce (also found in the can). Guess I was just in the habit of grabbing a can while doing my grocery shopping for holiday meals and never gave it another thought. Truthfully, I was always a bit grossed out as that gelatinous blob of cranberry jelly came sliding out of the can… but that's another story…I still bought it, and would always add just a tiny bit to my plate, but that was just because that's what you're supposed to do at Thanksgiving, right?
Well, my tastes have certainly changed. Enter this amazing, fresh, citrus-infused cranberry sauce. Did I mention FRESH?  It's ridiculously easy to prepare, and the taste is light-years ahead of the canned stuff. I LOVE IT, and can eat it right out of the bowl (shhh… my little secret!)  You don't have to wait for the holidays to make this sauce. It would be a delicious accompaniment to many pork or chicken dishes. It's vibrant flavors will add to the meal, trust me! Truthfully, I don't know what took me so long to get on board with this, but now that I have, I don't think I will ever buy canned cranberry sauce for a holiday meal ever again.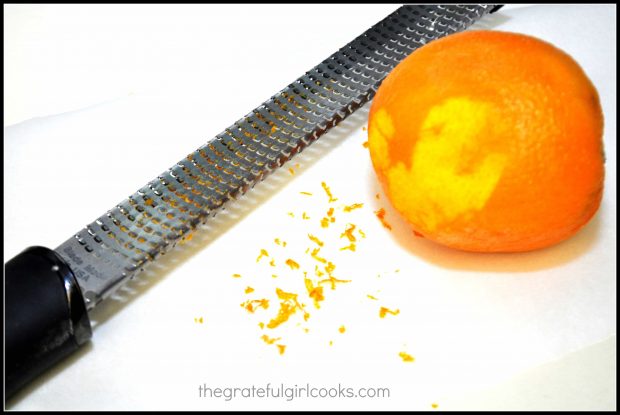 This sauce can be made chunky or semi-smooth (photo is semi-smooth sauce). Fresh cranberries, an apple, an orange and a bit of sugar are the only ingredients necessary to make this fresh, delicious cranberry sauce. Sure hope you'll give it a try…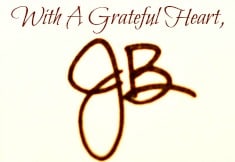 Recipe Source: My Mom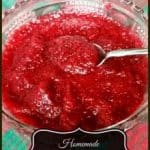 Homemade Cranberry-Orange Sauce
Fresh cranberry sauce, infused with fresh orange zest. Why buy it, when you can make your own better tasting sauce?
Ingredients
1

bag fresh cranberries

(12 ounces)

Zest of 1 orange

Juice of 1 orange

1

apple

(any variety), peeled, cored, seeded, and cut into chunks

1/4

cup

granulated sugar

(plus more to taste, if desired)
Instructions
Place all ingredients into a food processor (or heavy duty blender).

Process until all ingredients are mixed and consistency is to your liking... chunky or semi-smooth.

Taste. Add additional sugar, if desired.

Place sauce into serving bowl; Cover and keep refrigerated until ready to serve.

Enjoy!
Save
Save
Save
Save
Save
Save