I found a recipe for Cranberry-Orange Baklava Pinwheels years ago. I decided to try them, but tweaked the recipe a bit and added a citrus sauce for additional flavor. I ended up with these delicious Cranberry-Orange Pinwheels With Citrus Sauce!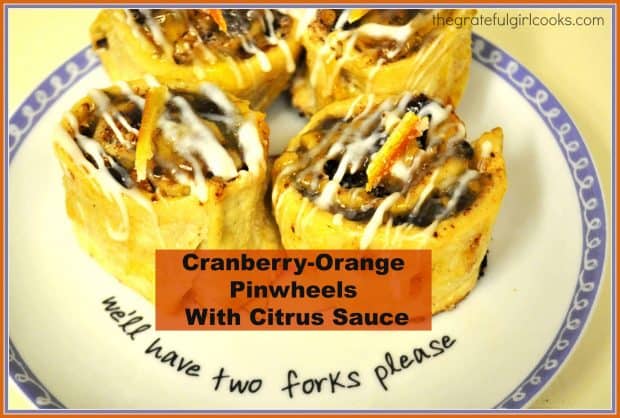 I'm sure glad I did try this recipe, because these ended up tasting pretty amazing (in my humble opinion). I love the flavor combination of cranberry and orange, and also love how these cute little pinwheels turned out! The recipe makes 20 servings , so there are plenty to serve to holiday guests – or to feed a hungry family.
The recipe is a "tweaked version" of a classic Greek baklava. For this recipe you use pie crusts, rather than a traditional phyllo, to make the dough, which makes it much easier to prepare!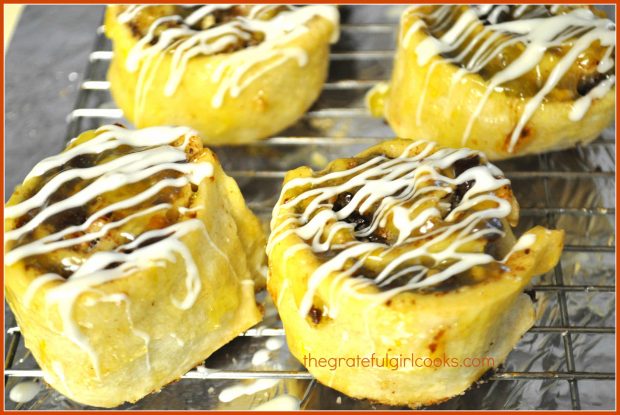 These delicious baklava style pinwheels are bursting with the flavors of orange, cranberry, cinnamon, pecans, etc., and are absolutely scrumptious! Sure hope you will give them a try!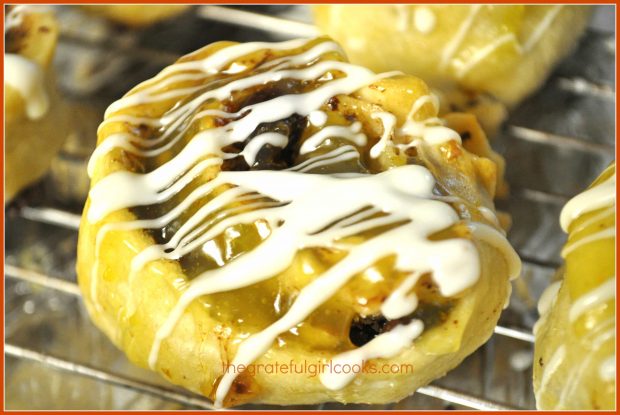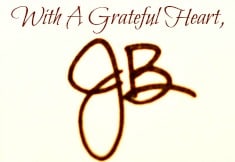 Recipe slightly adapted from: http://www.pillsbury.com/recipes/cranberry-orange-baklava-pinwheels/a3e53b3f-493d-4048-be58-bc66d0f98717?p=1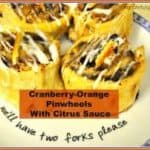 Cranberry-Orange Pinwheels With Citrus Sauce
An easy to prepare twist on classic baklava... these cranberry-orange pinwheels drizzled with a citrus sauce will delight one and all.
Ingredients
For pinwheels:
1

box refrigerated pie crusts

(2 pie crusts), softened as directed on box

2

Tablespoons

butter

, melted

1 1/4

cups

sweetened dried cranberries

(6 oz)

1

cup

chopped pecans

1/2

cup

granulated sugar

2

teaspoons

ground cinnamon

1

Tablespoon

grated orange peel

1

egg

2

tablespoons

water
For Citrus Sauce:
1

cup

granulated sugar

1/4

teaspoon

salt

2

Tablespoons

cornstarch

1

cup

orange juice

(processed or fresh)

1/4

cup

lemon juice

3/4

cup

water

1/2

teaspoon

grated lemon rind

1/2

teaspoon

grated orange rind

1/2

cup

white chocolate chips

, melted (for additional garnish, if desired)
Instructions
To make pinwheels:
Preheat your oven to 400 degrees. Line a large baking sheet with parchment paper (you can also spray a baking sheet with a non-stick baking spray) Unroll the pie crusts; lightly press each piece of dough into a 10 1/2-inch square.

Brush each of the squares with the melted butter.

Put the cranberries, pecans, sugar, cinnamon and orange peel into a food processor (or a heavy duty blender). Cover; and process only until the mixture is finely chopped. Spread half of the ground up mixture on entire surface of each of the pie crust squares.

Roll each of the pie crusts into a log shape; pinch the edges of the dough tightly together to seal. Set aside.

In a small bowl, beat the egg and water until they are blended. Using a pastry brush, brush this egg mixture over the surface of each log.

Using a sharp,serrated knife, cut each of the logs into 10 equal-sized slices. Place each slice, with the cut sides up, 1 inch apart on prepared baking sheet. If any of the filling falls out, just push it back inside the slice. You might need to slightly reshape the slices. No worries.

Bake the pinwheels at 400 degrees for 12 to 15 minutes (or until they become golden brown). !While pinwheels are baking, make the Citrus Sauce:

In a medium saucepan, stir together the sugar, salt and cornstarch. Gradually stir in orange juice, lemon juice, and water. Stir and cook over medium heat and bring to a boil. Boil mixture for 1 minute. Remove from heat. Stir in the grated lemon and orange rind. Set aside.

Once pinwheels are done baking, remove them from oven. Move them off of the baking sheet (but still on the parchment paper!) to a wire rack to cool.

Spoon about 1-2 teaspoons of the Citrus Sauce onto the top of each slice. Let cool. Once pinwheels have cooled, drizzle each slice with melted white chocolate (if desired).

Serve warm or cool. Enjoy!
Recipe Notes
The original recipe, as written, calls for 1/2 cup honey (1 teaspoon honey per slice) over the tops of the pinwheels (*instead of the citrus sauce and white chocolate drizzle I added). I wholeheartedly prefer the taste of the citrus sauce on these pinwheels, but wanted you to know this is another option.
Save
Save