Here's a really easy recipe for Pecan Squares, or as a lot of people call them… Pecan Pie Bars. I love to bake these delicious treats during the Holidays.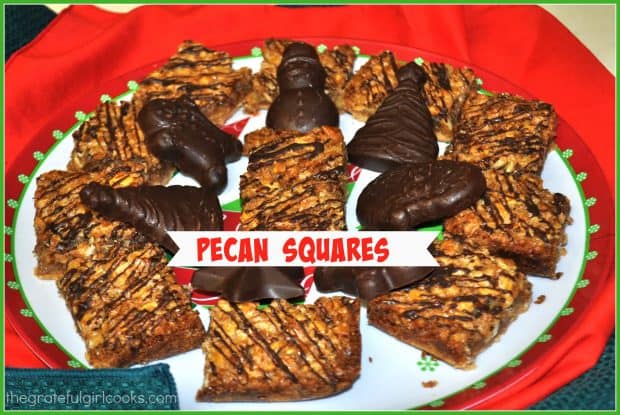 If you like pecan pie, you will love these Pecan Squares… it's just that simple! These bars are perfect for taking to a party (if you're the "designated dessert-bringer"), but they are equally good  sitting out on the kitchen counter to snack on,  to be devoured by hordes of ravenously hungry houseguests, OR to give to friends on a platter of holiday goodies.
This recipe makes 4 dozen of these sweet and chewy pecan bars; and as an added bonus, they freeze well, also. Just think, if you want, you can stick some in the freezer and grab them whenever you have the urge for pecan pie. How deliciously convenient… and dangerous… (trust me, these are GOOD…)
Sure hope you will try them… and I hope you get better photos of them than I did. Ha Ha.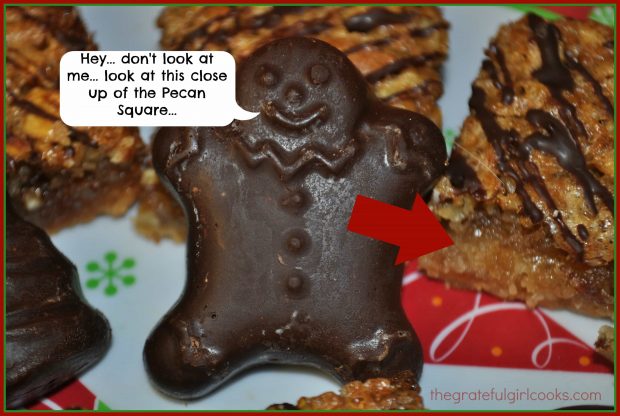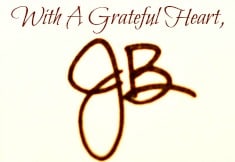 Original Recipe Source: "Taste of Home" Magazine, author was Sylvia Ford (I cut out the recipe from my magazine years ago, but don't know which issue…)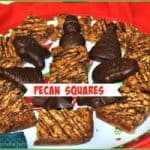 Pecan Squares
If you like pecan pie, you will enjoy these Pecan Squares, a bar cookie with all the flavors of classic pecan pie!
Ingredients
For crust:
3

cups

all-purpose flour

1/2

cup

sugar

1

cup

butter

, softened

1/2

teaspoon

salt
For pecan filling:
4

eggs

1 1/2

cups

light or dark corn syrup

1 1/2

cups

granulated sugar

3

Tablespoons

butter

, melted

1 1/2

teaspoons

vanilla extract

2 1/2

cups

chopped pecans
For chocolate drizzle:
1/2

cup

semi-sweet chocolate chips

, melted (to drizzle on top of finished bars, if desired)
Instructions
Preheat your oven to 350 degrees.
To make the crust:
In a large bowl, mix together the flour, sugar, butter and salt until the mixture turns into coarse crumbs.

Press the crumbs firmly (and evenly) into a greased 15 x 10 x 1 inch baking pan.

Bake crust at 350 degrees for 20 minutes. Remove from oven when done.

While crust is baking, prepare the pecan filling:
To make the pecan filling:
In a large bowl, combine the eggs, corn syrup, sugar, melted butter, and vanilla extract, until well combined. Stir in the chopped pecans.

Spread the pecan filling evenly over the top of the baked (hot) crust.

Bake bars at 350 degrees for 25 minutes or until they are "set" in the middle.

Remove pan from oven and cool on a wire rack.

Once bars are completely cooled, cut into 4 dozen bars.

Drizzle with melted chocolate, if desired.
Save
Save