Our family LOVES Mexican food! (It's my favorite!) I am routinely cooking tacos, enchiladas or quesadillas, and we never seem to get tired of them.  Today I want to show you a Flour Tortillas DIY, in case you ever want to make your own tortillas! It's fairly easy!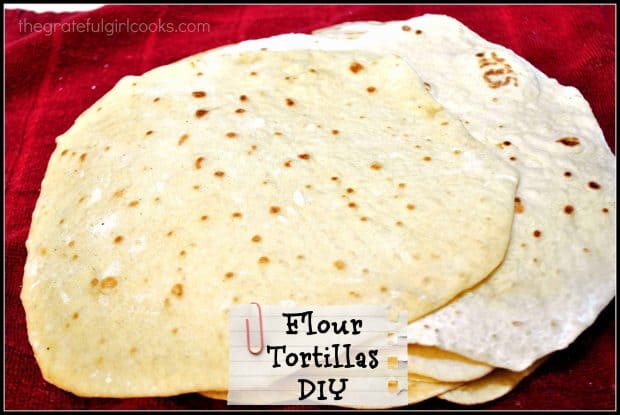 I am curious and love to try and figure out how to make things myself, so because of this, my quest to find a good homemade flour tortilla recipe began a few years back.
It's really true that fresh flour tortillas taste better than store-bought (and you can control what is in them)! There are many recipes out there for making tortillas. Here's one of the recipes we like and use often. I found it on a website I like called "Mennonite Girls Can Cook". They are very easy to make. Experiment and give them a try…no fancy equipment needed.
Dough is mixed and is now ready to knead…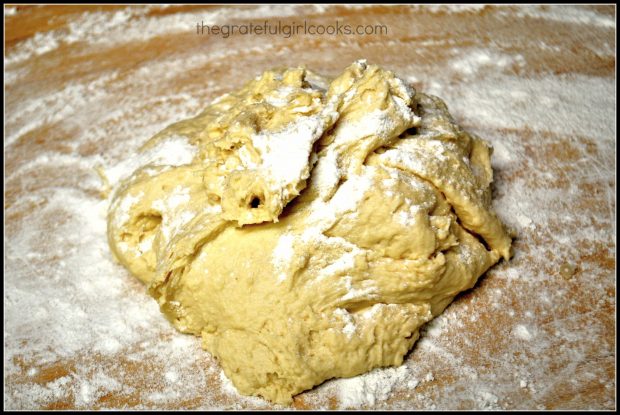 Dough is formed into 8 balls.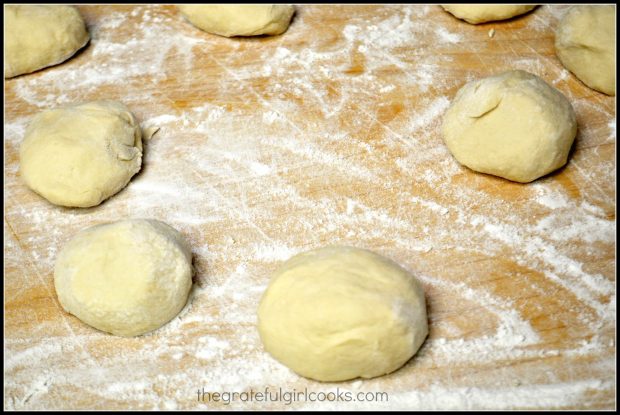 A dough ball is rolled out, and then is ready for the hot skillet.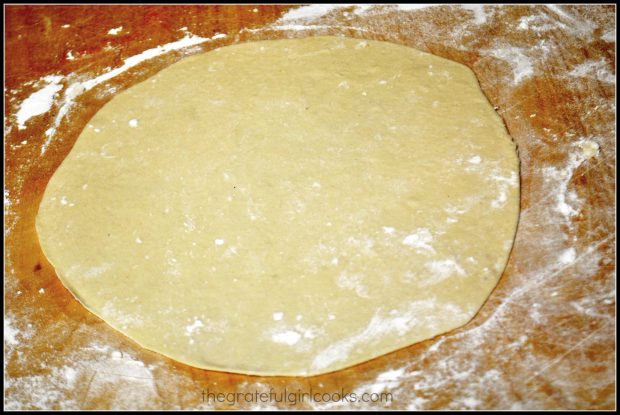 Tortilla is cooking. Wait for small bubbles to appear before flipping it over to cook other side.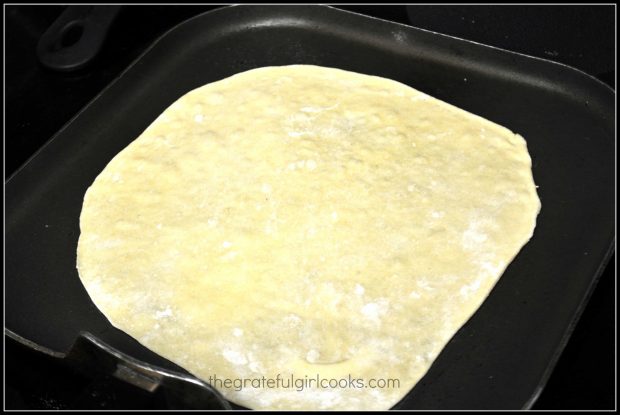 I used this batch of tortillas to make some shredded chicken quesadillas. My only regret is that I apparently cannot cut a straight line… ha ha!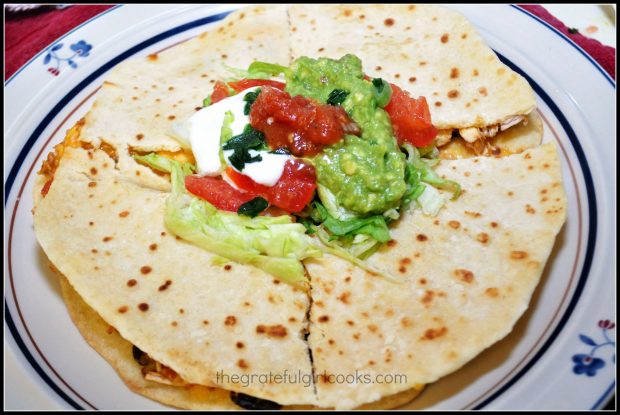 It's simple to make flour tortillas from scratch… hope you will give it a try sometime!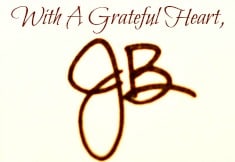 Recipe Source: http://www.mennonitegirlscancook.ca/2013/02/homemade-flour-tortillas.html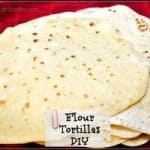 Flour Tortillas DIY
Making your own flour tortillas is easy, and inexpensive!
Ingredients
2

cups

all-purpose flour

1/2

teaspoons

baking powder

3/4

teaspoon

salt

1/4

cup

vegetable shortening

2/3

cup

hot water
Instructions
Whisk the flour, baking powder & salt together. Cut in the shortening with a pastry blender until crumbly. Pour in the hot water, a little at a time with a fork, and mix until the dough comes together. (I also have made this in the food processor with the dough blade on...works well, also!)

Place dough on a lightly floured work surface, and knead a few minutes until smooth dough ball is formed (use your food processor for this, if using)

Cover the dough with a towel and let it rest for approx. 45 minutes.

Divide the dough into 8 equal pieces; roll it with your hands; shape into a ball. Cover the dough balls with plastic wrap.

Using a rolling pin, roll each ball into a 6-7 inch circle. Don't freak out...they do not have to be "perfect" circles... (that gives them their personality!) You can cook one tortilla while you roll out the next one, if you want.

Preheat your skillet (non-stick or cast iron-done it both ways...cast iron is my preference) on medium high heat. DO NOT ADD OIL.

Place tortilla in the hot skillet; cook till small bubbles appear on the surface before flipping the tortilla to the other side. You will end up cooking each side for about a minute (typically).

Stack and cover the cooked tortillas (with a tea towel) as you remove them from the skillet until all the tortillas are cooked.
Recipe Notes
Once done, you are ready to use them for your favorite recipe. They are even good served hot off the grill, with butter (just sayin'). These tortillas can be frozen to use later. If freezing, be sure to wrap them in plastic wrap, then in aluminum foil for best storage.
Save
Save