Blood Orange Mini-Cheesecakes are decadent treats, with a graham base, orange/cheesecake filling, ricotta glaze, bruleéd topping and a citrus sauce!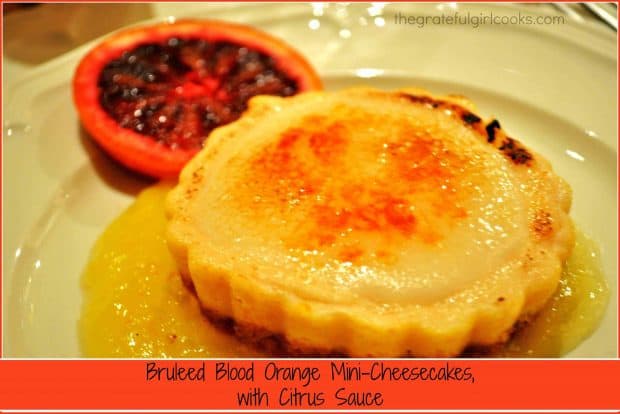 My husband and I, along with four dearly loved friends, have enjoyed fantastic "Themed" dinner parties together for the past several years. We have cooked and celebrated great meals with one individual theme for each evening. I prepared these Bruleéd Blood Orange Mini-Cheesecakes with a Citrus Sauce for an "Orange" themed evening.
Scroll Down For A Printable Recipe Card At The Bottom Of The Page
Themed Dinners For The WIN!
Other evenings of "featured ingredients" or "Themes" have included Chocolate, Pomegranate, Orange, Pasta, Mediterranean, Burger Test Kitchen, and Watermelon. Every course for the themed dinner (appetizers, beverages, soups, salads, main dishes and desserts) has to include some form of the featured ingredient.
Our hostess for these evenings, my deeply treasured friend Shari (and my inspiration for all things "food"), is a wonderful cook. She specializes in the main dishes (usually 2-3) and they are unbelievable! I usually end up making the desserts (usually 3-4), and our other friends bring an appetizer and/or the beverages (also utilizing the same "themed" ingredient).
We have so much fun together and LOVE devouring the crazy recipes we all come up with! And we are all so FULL when we leave, we usually just waddle or roll out the door to our cars. Seriously.
How I Came Up with This Recipe
For our "Orange" themed dinner a year or so ago (named "Night of the Bloody Oranges" by the way), I experimented with a recipe I found online. I ended up bringing these blood orange mini-cheesecakes as one of my dessert contributions that night. I took the original recipe and then made a citrus sauce to accompany it, and the results were delicious!
The cream cheese, ricotta, citrus, and graham cracker crust blend to make this a delightful cheesecake…and when paired with the bruleéd topping AND citrus sauce…whoa! This dessert is really, really good, and it looks great on a dessert plate, too! I'm not sure my photos do this dessert justice. Trust me…these are good. Really good.
Making The Orange Mini-Cheesecakes
Graham cracker crusts are made in small tart pans. These tart pans have removable bottoms, which makes it easy to remove and serve the desserts.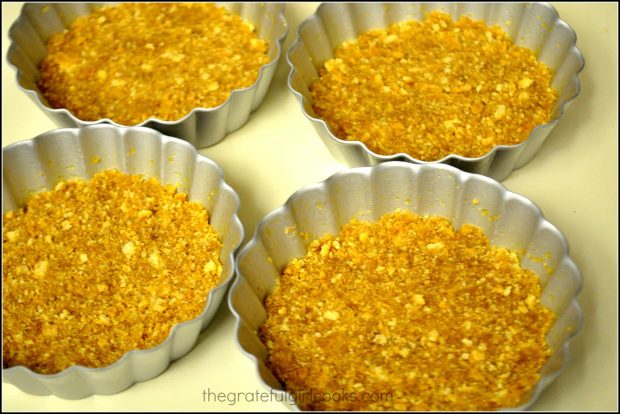 The cheesecake filling is loaded in, and then the orange mini-cheesecakes are baked. Once baked, the little cheesecakes cool on wire racks.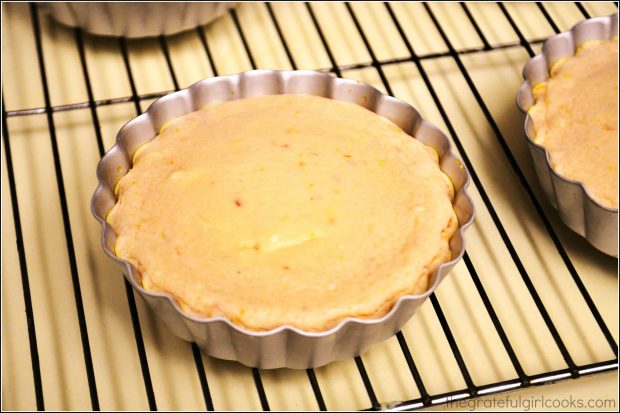 To Serve The Blood Orange Mini-Cheesecakes
Once totally refrigerated, carefully remove the tart pans from each orange mini-cheesecake. Add the ricotta topping to the top of each of the cheesecakes.
When you are ready to serve, it is time to bruleé the top of each dessert. Sprinkle sugar on top of each cheesecake. Use a kitchen torch to heat the sugar until the sugar is bruleéd, golden brown, and crunchy on top. Now the orange mini-cheesecakes are ready to serve!

Serve The Orange Mini-Cheesecakes
The bruleéd orange mini-cheesecakes are served surrounded by citrus sauce, and with a slice of a blood orange on the side! YUM! It is such a delicious dessert!
Hope you enjoy this recipe for blood orange mini-cheesecakes! If you enjoy cheesecake-style desserts, be sure to check out my recipes for Chocolate Fudge Truffle Cheesecake! Have a great day!
Looking For More DESSERT Recipes?
You can find ALL of my recipes in the Recipe Index, located at the top of the page. I have LOTS of delicious dessert recipes, including:
Interested In More Recipes?
Thank you for visiting this website. I appreciate you using some of your valuable time to do so. If you're interested, I publish a newsletter 2 times per month (1st and 15th) with all the latest recipes, and other fun info. I would be honored to have you join our growing list of subscribers, so you never miss a great recipe!
There is a Newsletter subscription box on the top right side (or bottom) of each blog post, depending on the device you use, where you can easily submit your e-mail address (only) to be included in my mailing list.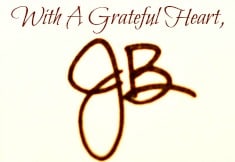 Cheesecake recipe source: http://domesticfits.com/2012/02/22/bruleed-blood-orange-and-ricotta-mini-cheesecakes/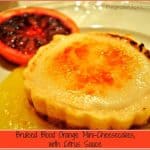 Bruleed Blood Orange Mini-Cheesecakes, with Citrus Sauce
Blood Orange Mini-Cheesecakes are decadent treats, with a graham base, orange/cheesecake filling, ricotta glaze, bruleéd topping and a citrus sauce!
Keyword:
orange mini-cheesecakes
Calories Per Serving
:
562
kcal
Ingredients
For The Crust:
4

standard sized graham crackers

, crushed (about 3/4 cup crushed)

2

Tablespoons

brown sugar

3

Tablespoons

butter

, melted
For The Cheesecake Filling:
8

oz.

cream cheese

, softened

1/4

cup

ricotta cheese

1/2

cup

granulated sugar

1

egg

2

Tablespoons

blood orange zest

(finely grated blood orange peel)

1/4

cup

fresh squeezed blood orange juice

(or use regular if you can't find blood oranges)
For The Topping:
1/3

cup

ricotta cheese

1/3

cup

confectioner's sugar

(powdered)

1/4

teaspoon

vanilla extract
For The Citrus Sauce:
1

cup

granulated sugar

1/4

teaspoon

salt

2

Tablespoons

cornstarch

1

cup

orange juice

1/4

cup

lemon juice

3/4

cup

water

1/2

teaspoon

finely grated lemon rind

1/2

teaspoon

finely grated orange rind
For The Brulee:
Granulated sugar

(to garnish and brulee the top of each mini-cheesecake-1 1/2 teaspoons per cheesecake)
Instructions
Make The Crust: Spray mini-cheesecake pans or small tart pans (with removable disk on bottom) with non-stick spray.

Process the graham crackers and brown sugar in food processor until it becomes small crumbs. Add the melted butter and mix until it looks like wet sand. Place 1 Tablespoon of the crumbs into the bottom of each pan. Press the crumbs together with your fingers or a spoon until well compacted. Set aside.

Make The Cheesecake Filling: Place the cream cheese and 1/4 cup ricotta cheese in the bowl of a stand mixer (or a large bowl, if using hand mixer). Beat on high until combined. Add 1/2 cup granulated sugar, and beat on high until mixture is creamed. Add the egg, orange zest and blood orange juice; beat until well combined. (Scrape the bottom of the bowl to ensure all ingredients are mixed in well). Spoon the batter into the prepared crusts, being sure to only fill them 3/4 of the way to the top.

Bake the cheesecakes at 375 degrees for 12-15 minutes (until the cheesecake filling no longer jiggles when rack is shaken). Remove from oven and let them cool on a wire rack for at least 20 minutes before attempting to remove the cheesecakes from the pans. Once they cheesecakes have cooled, press gently upward on the bottom disk. The cheesecake should remove easily from the pan. Now careful remove the bottom "disk" from the cheesecakes. (TIP: If you are making these in batches, as I did, this is where you wash the tart pans and bottom disks and begin again with the crusts).

Once the cheesecakes have cooled, you will notice that they sink slightly in the middle. That is normal. Now make the topping (this will fill in that indentation rather nicely!)

Make The Topping: In a small bowl, mix the ricotta, powdered sugar and vanilla with an electric mixer, till well combined. Top each cheesecake with enough topping to fill the indented hole in the center till entire top surface is level. (see photo above). Place the cheesecakes in the refrigerator and refrigerate for at least 1 hour.

Make The Citrus Sauce: While the cheesecakes are chilling, make the citrus sauce.

Stir together the sugar, salt and cornstarch in a saucepan. Gradually stir in the orange juice (regular), lemon juice and the water. Stir. Cook these ingredients over medium heat till mixture has boiled for 1 minute and has slightly thickened. Remove from heat, and add the finely grated lemon and orange rinds. Cover and let cool in refrigerator until ready to serve.

To Serve: Right before serving, sprinkle an even layer of granulated sugar (approx. 1 1/2 tsp.) over the top surface of each cheesecake. Slowly pass a kitchen torch over the sugar (about 2-3 inches away) until the sugar melts and turns golden brown (be careful not to burn the sugar OR your fingers!).

Place the citrus sauce on each serving plate, and center the cheesecake on top. Garnish with a slice of a blood orange. Take a big bite (scoop up that citrus sauce) and ENJOY!
Recipe Notes
Prep time indicated includes an hour "inactive" refrigeration time.
Nutrition Facts
Bruleed Blood Orange Mini-Cheesecakes, with Citrus Sauce
Amount Per Serving (1 tart)
Calories 562
Calories from Fat 207
% Daily Value*
Fat 23g35%
Cholesterol 96mg32%
Sodium 363mg16%
Potassium 228mg7%
Carbohydrates 83g28%
Protein 7g14%
Vitamin A 955IU19%
Vitamin C 36.5mg44%
Calcium 115mg12%
Iron 0.9mg5%
* Percent Daily Values are based on a 2000 calorie diet.
Here's one more to pin on your Pinterest boards!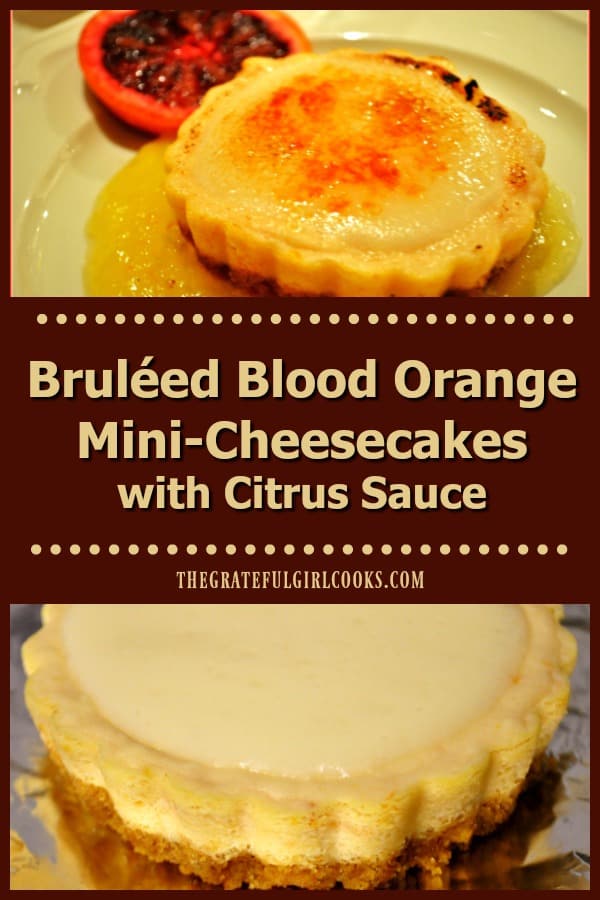 Save